Depending on who you ask, it's either been a very wet or very dry summer. Often enough, there's good reason for this: we see huge variations in precipitation totals across very small geographic areas along the Front Range and eastern plains, especially during the summer months.
Sometimes, it's simply a matter of perception –– I don't think of June and July being particularly wet around here, but thanks to a few good storms, our weather station actually ran above average over these two months. I find myself thinking of just how HOT it was to start the summer instead, even with the recent relief from the heat we've seen.
In this week's State of the Atmosphere, I pointed out how much more precipitation we have seen year-to-date at our station compared to Denver International Airport, where official records are kept. Several of you asked about this.
We've long advocated for Denver's official weather station to be moved into the city, as it's often not a great representation of the weather where most people actually live in Denver. As it turns out, this summer may be a great case study...
Between June 1st and July 31st, we picked up 3.98" of rain at our station, located 2 miles south of downtown Denver. Over the same period, DIA saw just 1.46" of rain. This is a big difference when the average yearly precipitation for the city is just over 14".
This got me thinking: did someone pour water into my station accounting for the discrepancy between the two stations? Or have other stations seen similar totals?
I first checked another station I trust located on the CU Denver campus. It recorded 3.78" over the period. Being just about 2 miles north of us, this was reassuring!
I then pulled all the CoCoRaHS data for stations in Denver County between June 1 and July 31 to compare their numbers as well. All 33 stations recorded more precipitation than DIA over the two month period. Now, many still fell shy of the 3.3" Denver sees on average over these two months... but I'd argue not insignificant nonetheless. Check it out: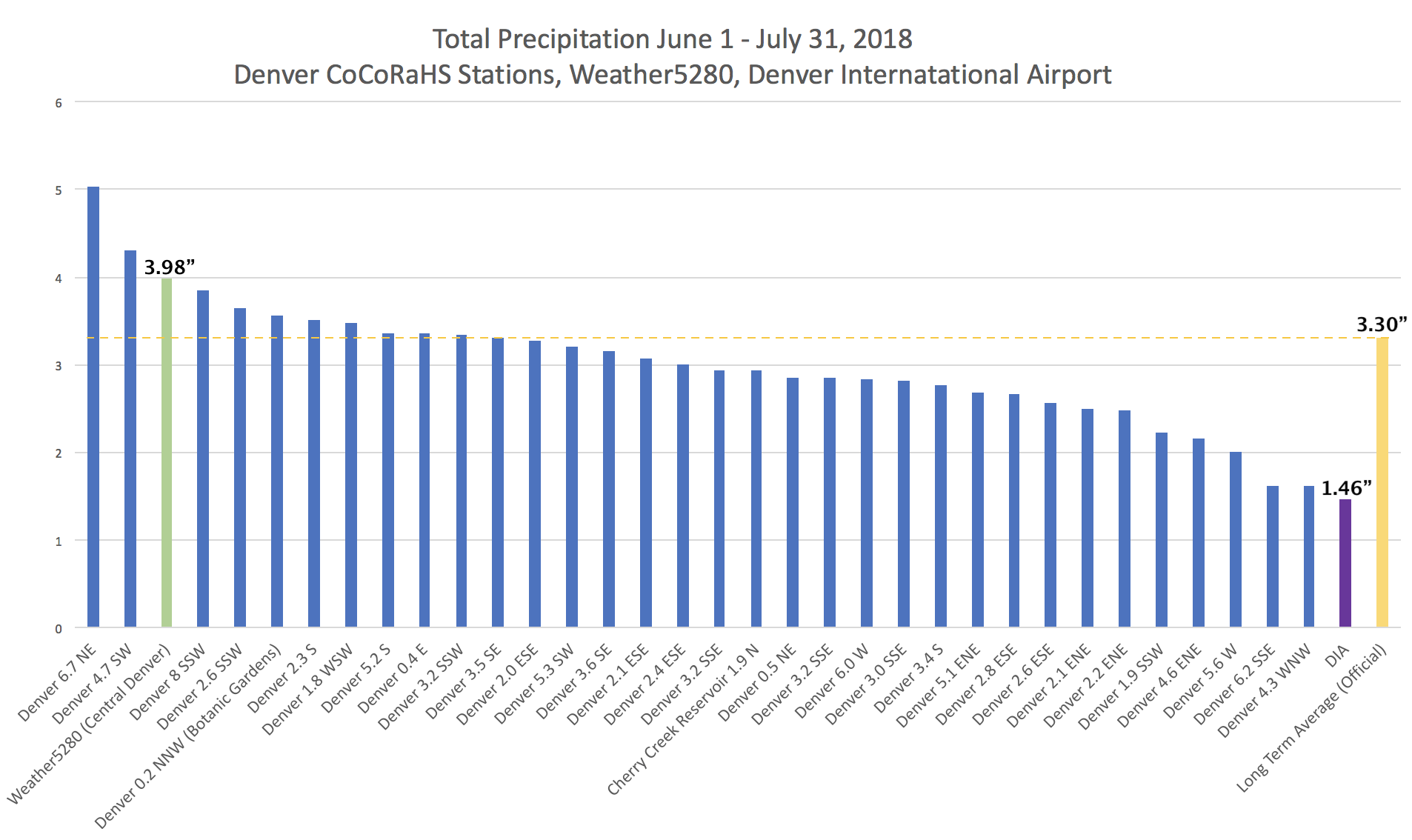 Over the last 90 days DIA has lagged much of northeast Colorado in the moisture department. Someone recently pointed out that there is some argument to be made that it being an actual station its numbers may be more accurate than some of the surrounding estimates in the HRAP grid. However, when compared to other area stations it appears to still be quite far behind... adding some validity to the map below: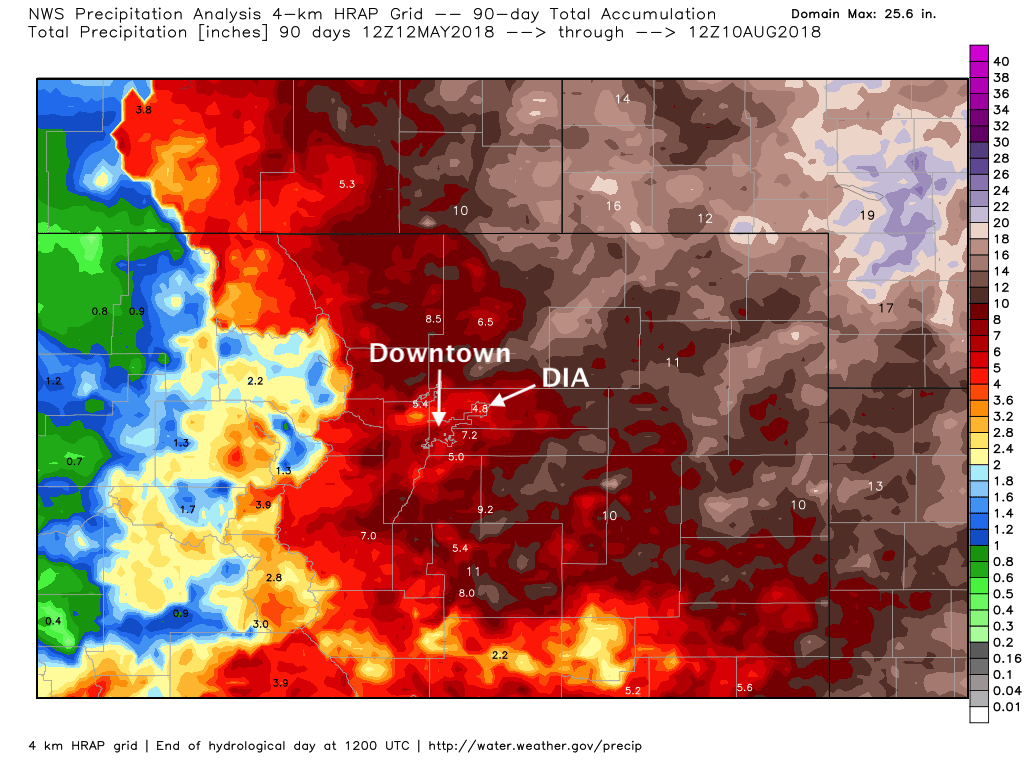 For much of northeast Colorado, the last 90s days have in fact featured above average precipitation (sorry northwest Denver!). That green blob over the southwest metro area should probably include a bit more of the city proper, but you get the idea.
We enter a drier period for a few days now, so could be a bit before DIA has an opportunity to catch up. The outlook for the weekend is a pretty dry one (60 hour precipitation forecast below), at pattern that is likely to spill into next week –– at least for the northern half of the state.