Often enough August is a pretty quiet month when it comes to the weather across Colorado. Hints of the transitional season ahead, the hot summer days of summer holding on, and plenty of blue sky.
For Denver, the last week was another quiet one. This was true for much of the northern urban corridor (black outline), where conditions have been quite dry to start August.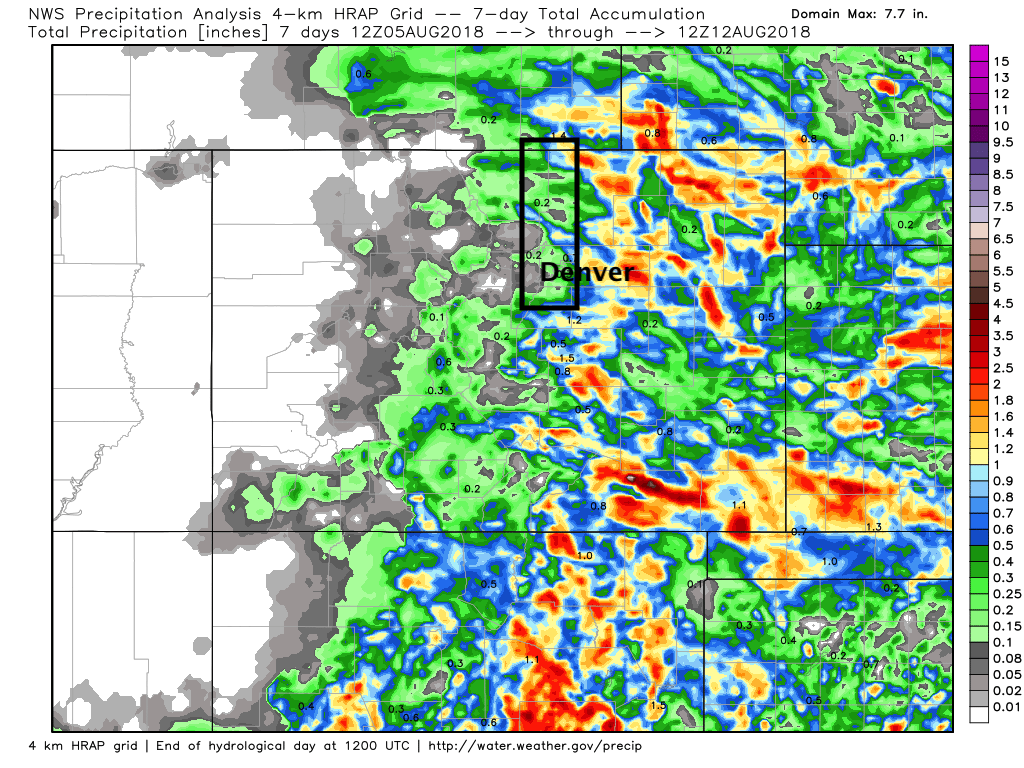 The week ahead features for of the same, with perhaps a few better chances for rainfall in Denver over the next seven to ten days. Our current forecast has Tuesday as the "coolest" day of the upcoming work week with a high around 85°F in Denver. Otherwise, temperatures should be near average, or perhaps a degree or two below through the week, with MOS guidance topping Denver out in the 87 - 89° range each day. The average high to start the work week in Denver is 88°F.
On Weather5280 Insider: Exploring some analogs as ideas for winter start to take shape
For rain, it looks at the moment like Wednesday will feature the best chance for storms along the urban corridor during the work week. The GEFS is bone dry for Monday, with a bit more storm coverage (though isolated east of the mountains) on Tuesday, and a surge of subtropical moisture for Wednesday. Each ensemble member shows some QPF for Wednesday, so let's hope.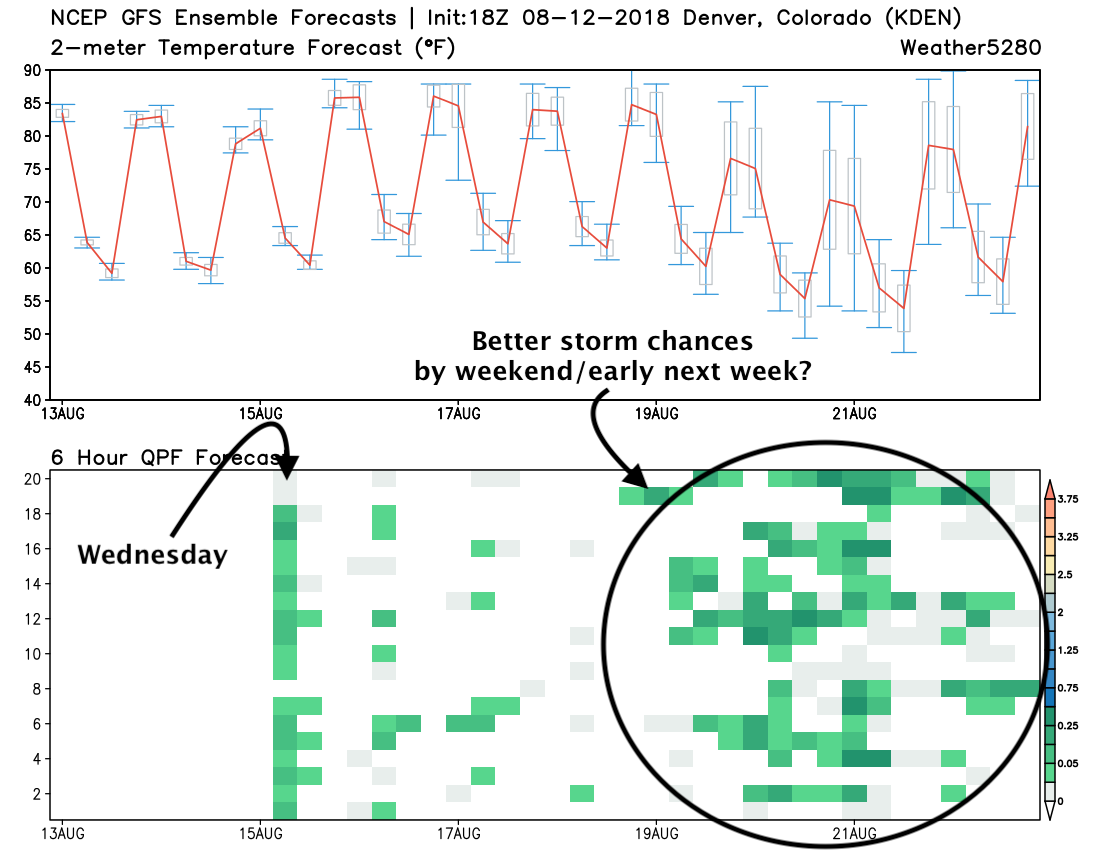 By the weekend, we see temperature fall once more –– at least late in the weekend that is. With the cooler temperatures we again see tropical moisture advect north into to Colorado out of the southwest, interacting with an upper trough over northern Colorado to increase those storm chances once more.
If we look at the EURO ensemble probabilities for >0.1" of precipitation through Friday, we see greatest probabilities confined to the mountains: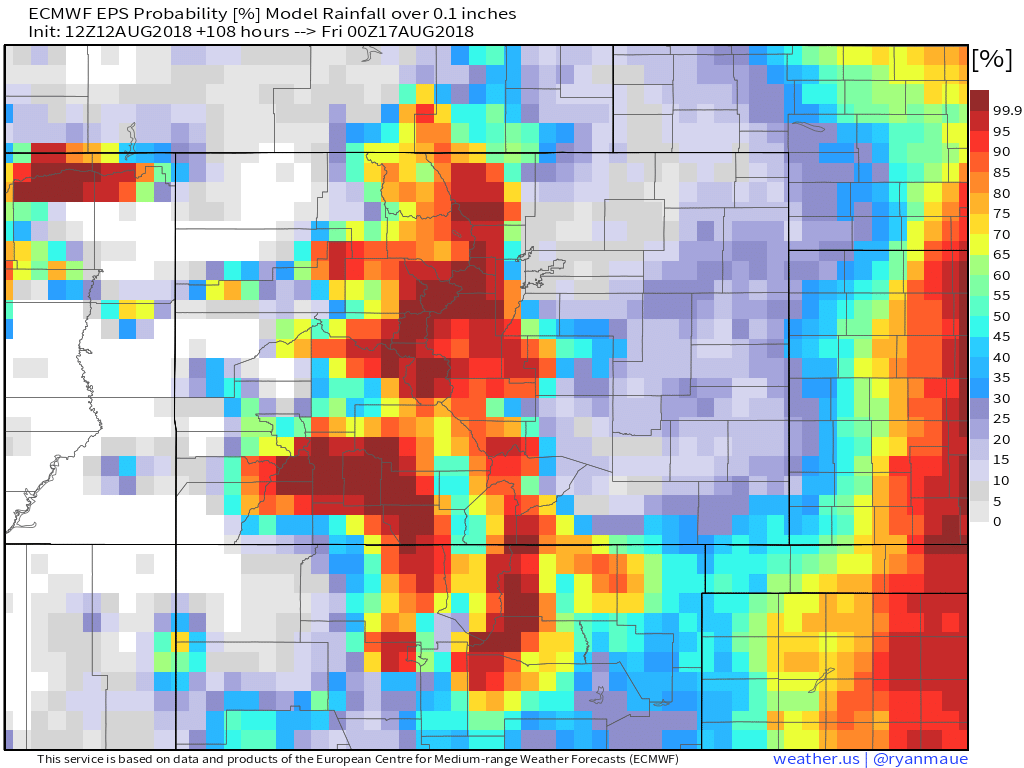 By by early next week we see most of eastern Colorado with >90% probability of seeing some moisture:
Is it underestimating Wednesday's storm chances east of the mountains? Perhaps, but large-scale it might be okay. Likely a few areas see some nice rain Wednesday, but many will no doubt miss.
The 10 day GFS echos the above: some nice storm coverage for the mountains coming up, and likely some more moisture for the plains on the way as well, at least in the later days. It focuses the best 10 day totals over the Palmer Divide and southeast plains, we'll see.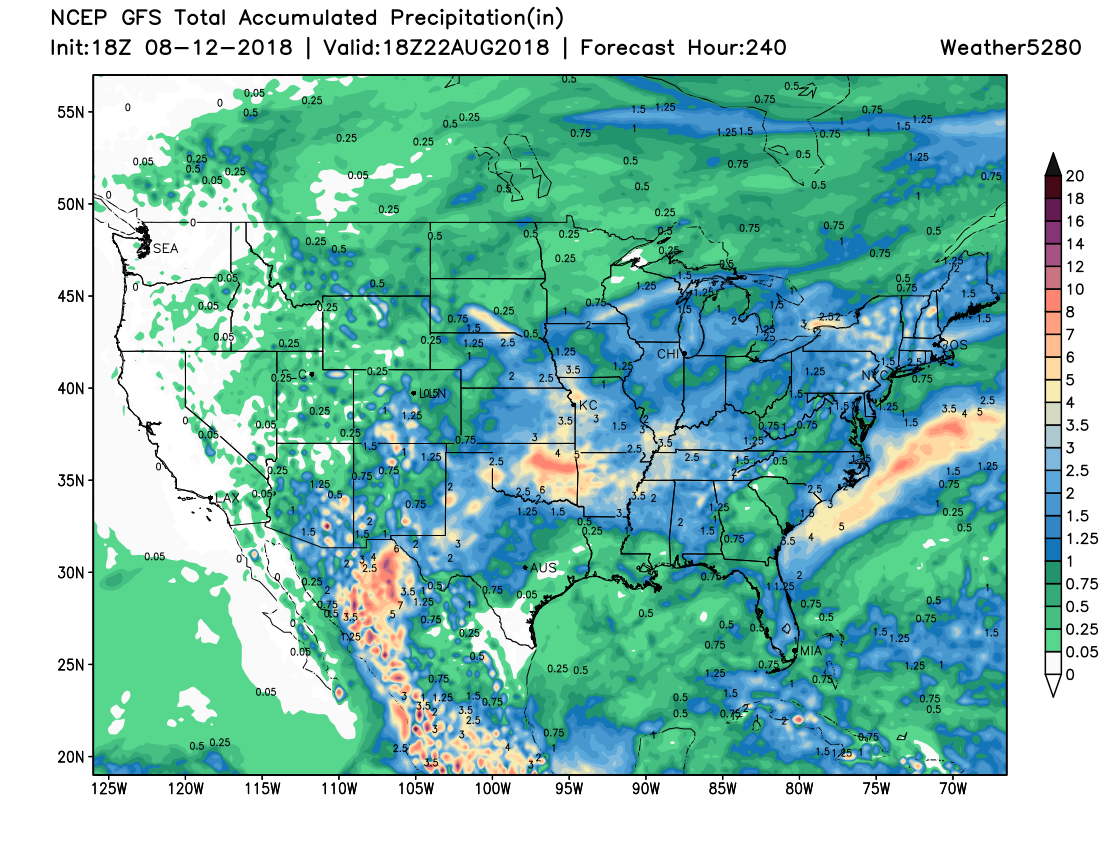 And finally, yet another week where the 6 to 10 day outlook shows temperatures at or below average for eastern Colorado. Keep it coming.