If you are a Weather5280 Insider you know we've had our eye on the Eastern Pacific for months now in anticipation for it to not only get active late in the season, but perhaps deliver some much needed moisture to the parched southwest as well.
As we close out September and head into October this will hold our focus, as several tropical storms are forecast to impact first the southwest United States, and eventually areas north into Utah and Colorado and beyond.
Hurricane Rosa, forecast to weaken to a tropical storm on Sunday, is forecast to take a relatively rare path over the coming days (especially considering where it's currently located), and make landfall as a TS on Monday in northern Baja California, before moving into Arizona as a tropical depression Tuesday: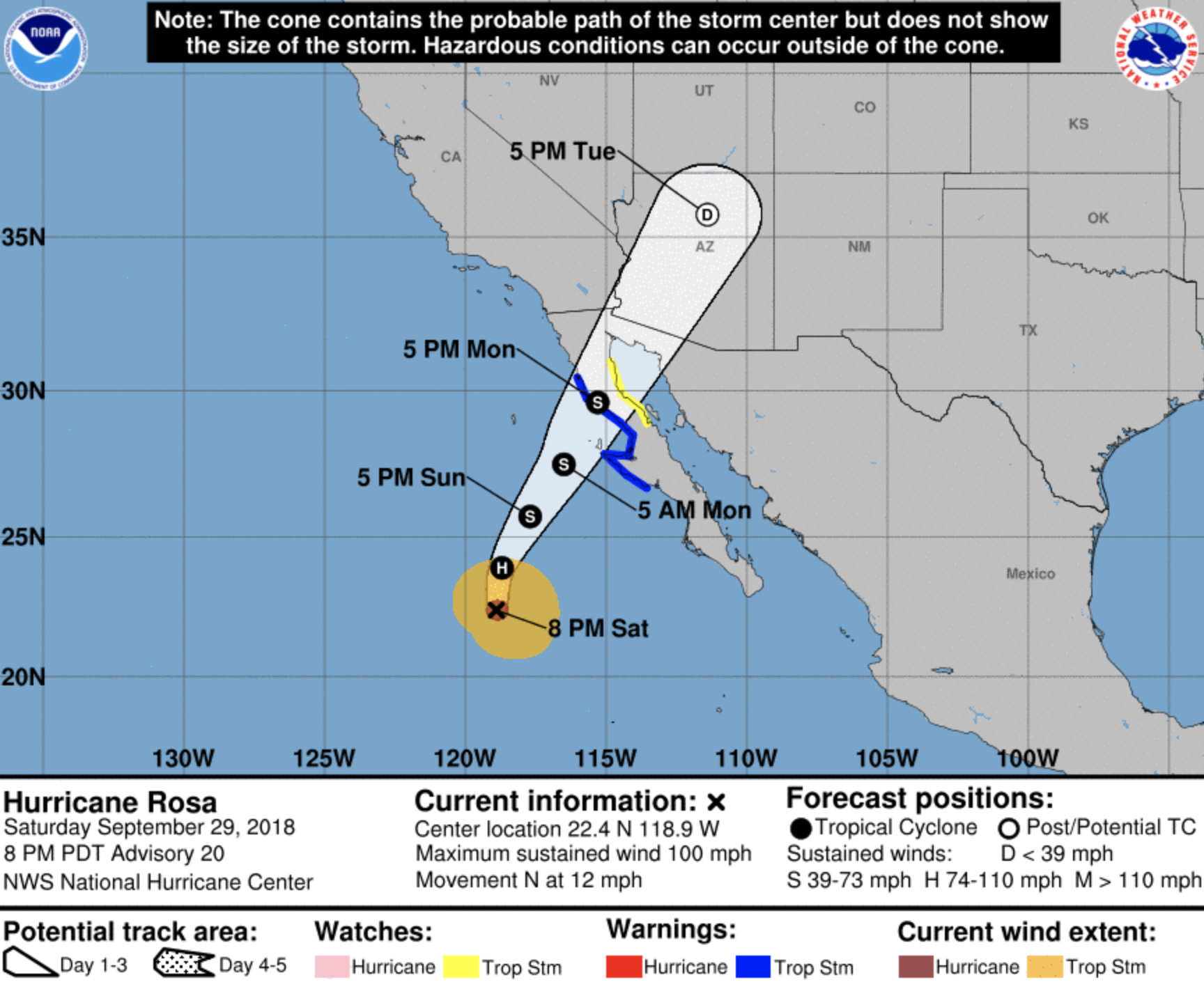 There's pretty good model agreement with the track of Rosa over the coming days as well: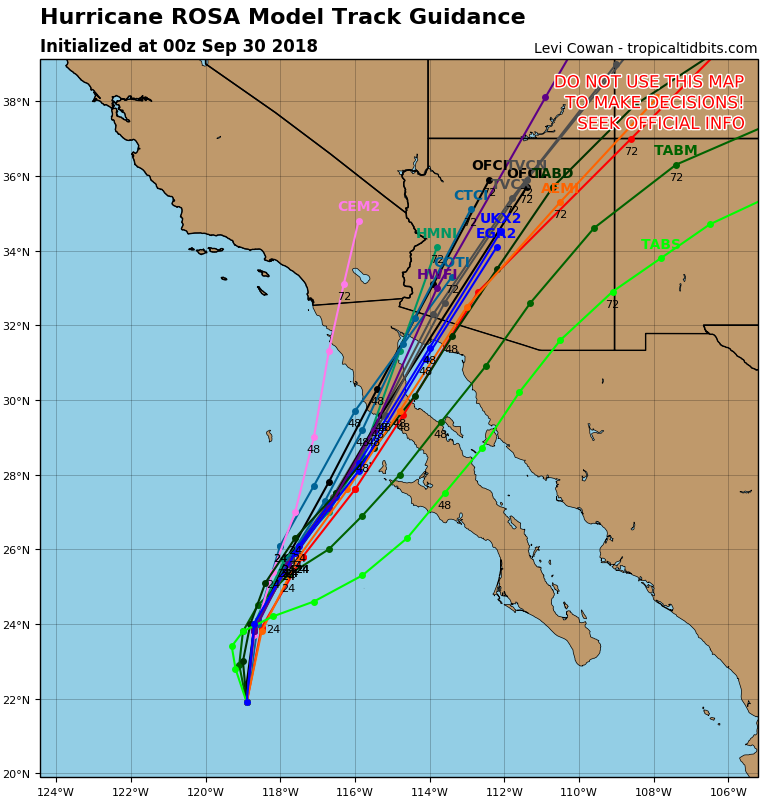 If we look at historical tropical storm tracks, this one is certainly taking a rare road. Of the 23 storms I found that crossed within 200 miles of where Rosa is forecast to make landfall, most moved north when they were much further east, with only a couple getting so far west before curving northeast: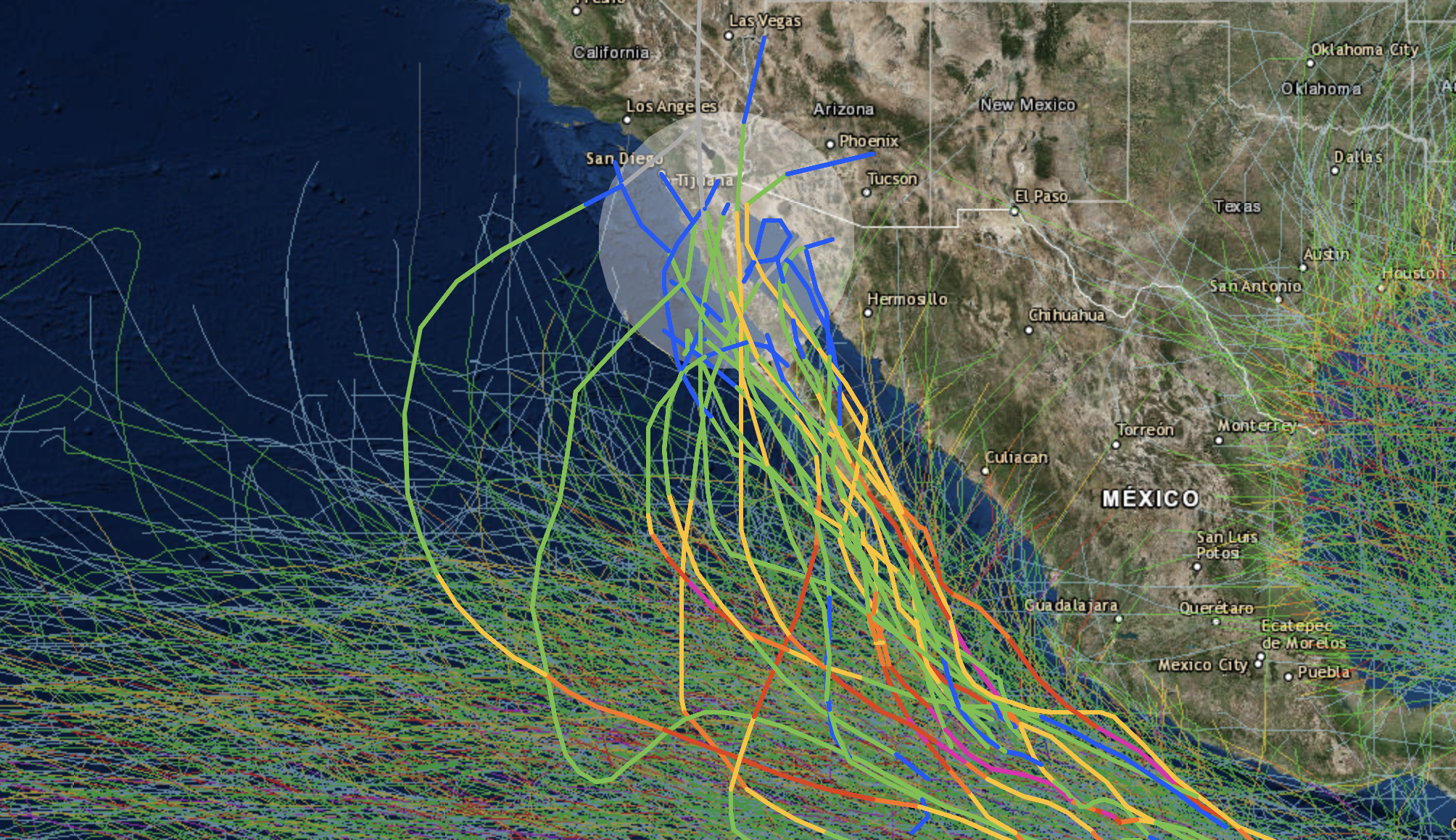 In anticipation of all that tropical moisture expected to move into Arizona, portions of southern California, and Utah early next week, a huge area of Flash Flood Watches are already in effect: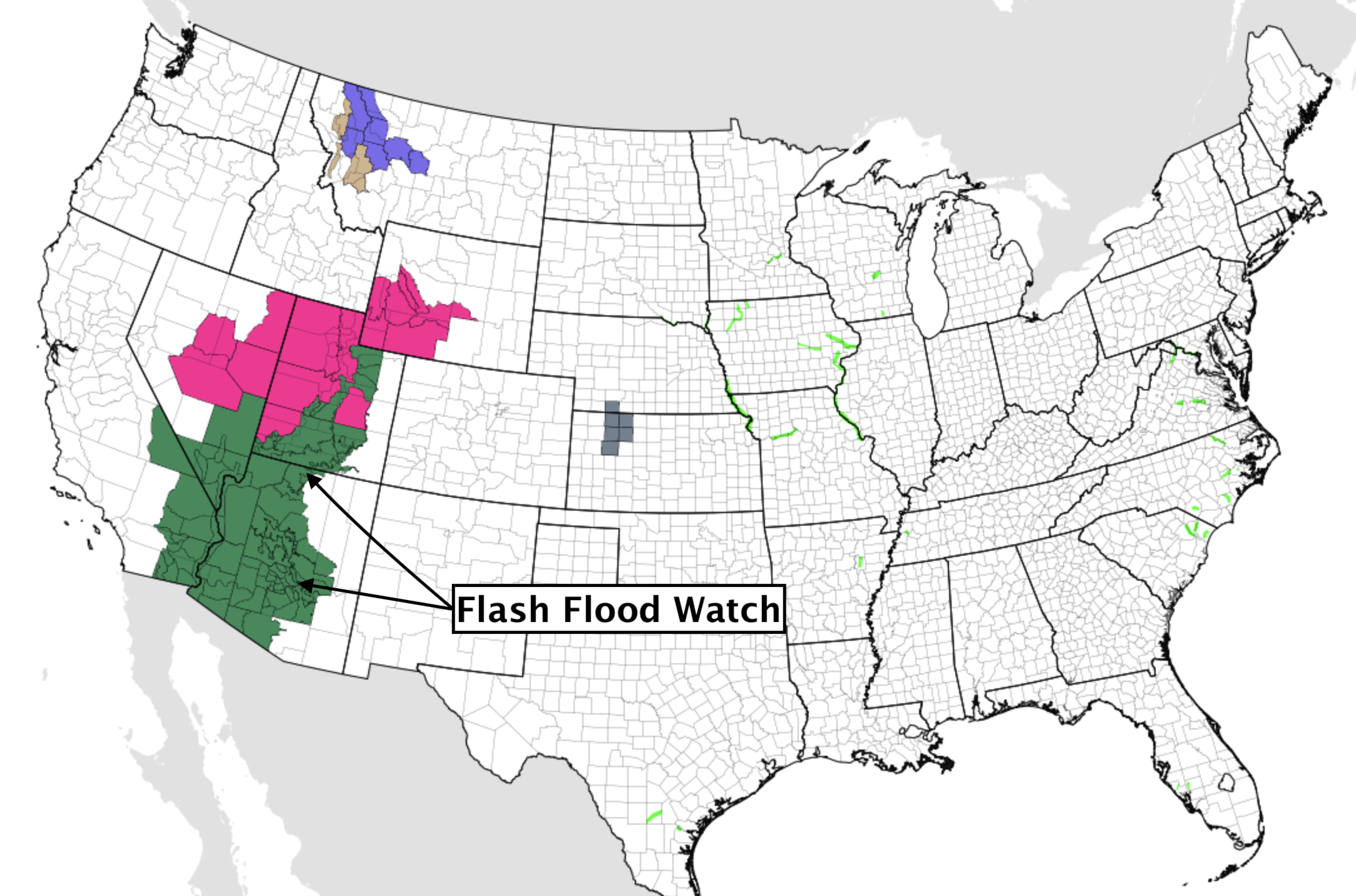 As you can see, for now this does not include any areas in Colorado. I do expect that may change, however, but that depends on how exactly Rosa (or remnants of Rosa) track as they move inland early next week. I'd expect portions of western/southwestern Colorado to see some Flash Flood Watches posted as well, perhaps as early as tomorrow.
The WPC precipitation forecast through early Friday shows a LOT of moisture on the way for Arizona. Surrounding states stand to do pretty well as well, with southern California, Nevada, Utah, and Western Colorado all looking to pick up appreciable moisture: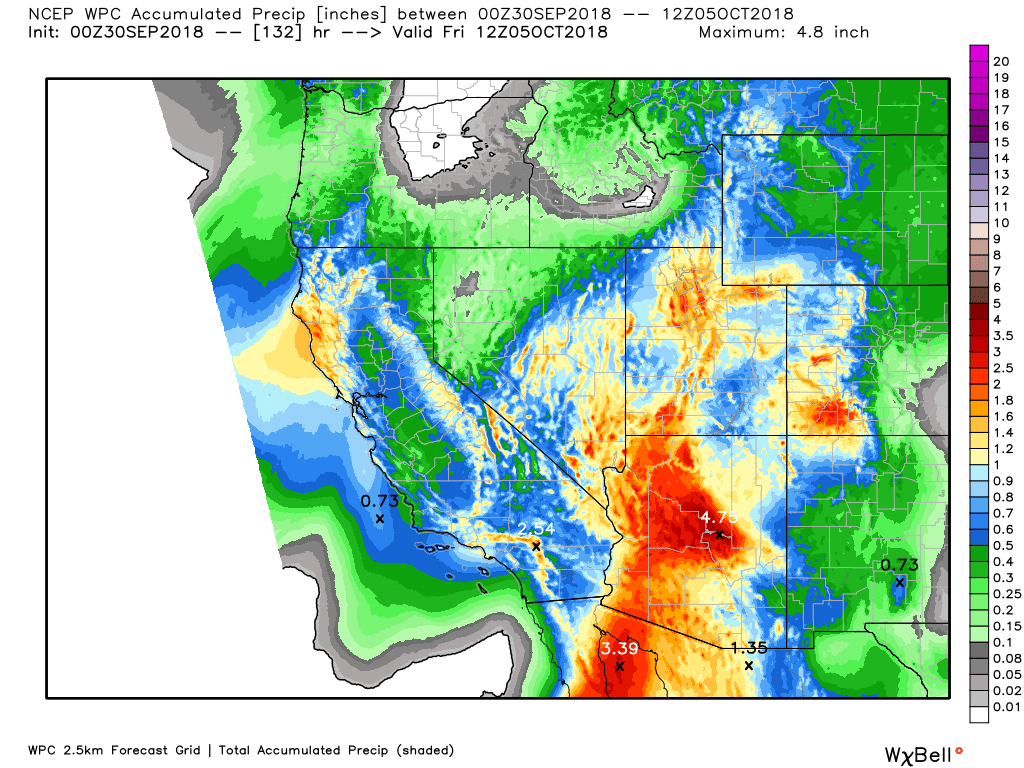 If we look at the latest drought monitor... areas set to see moisture from Rosa are currently experiencing some of the worst drought conditions in the country. Good and bad news ahead to be sure with the flooding concerns, but the moisture is certainly needed.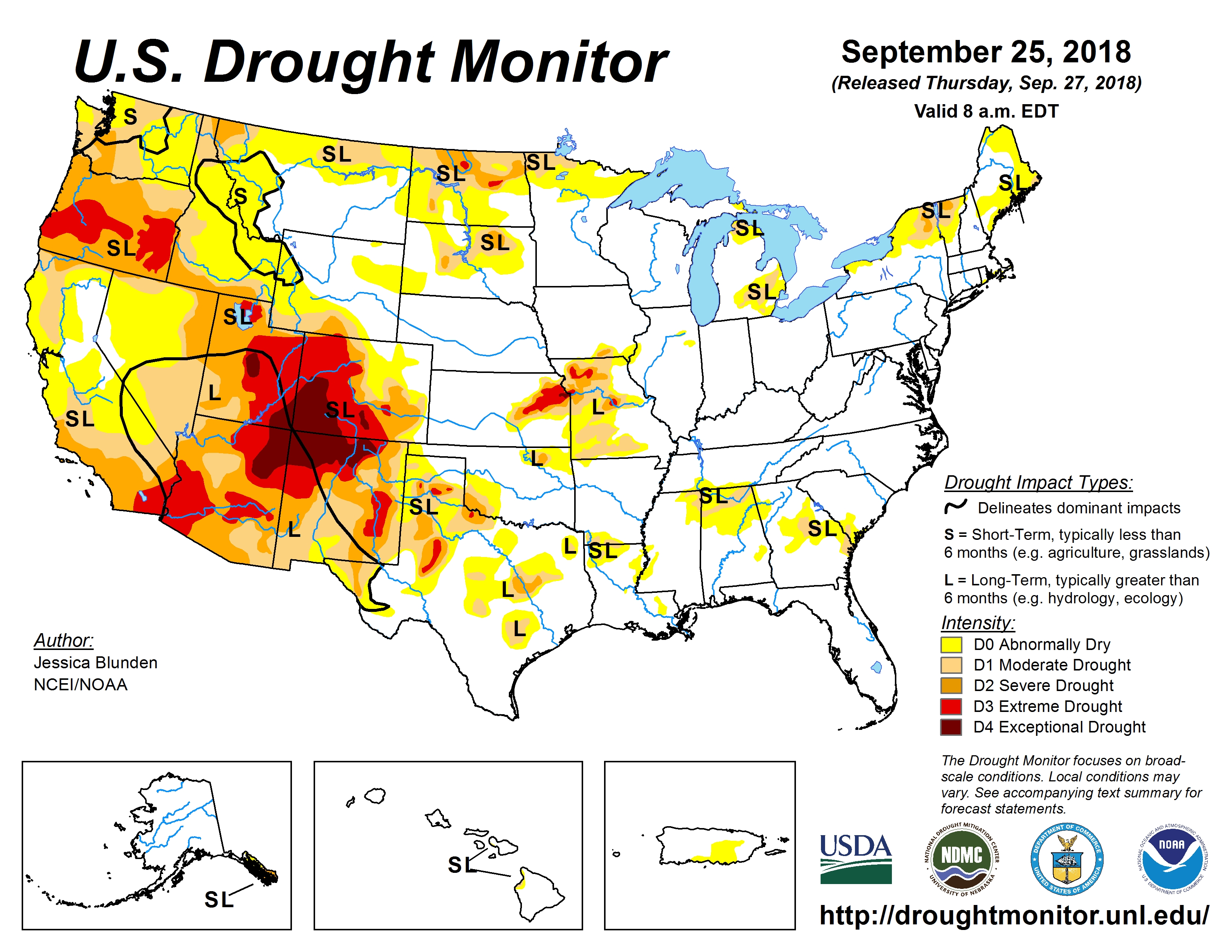 We'll be watching to see how much of that moisture can make it into Colorado this week. The western half of the state NEEDS this.
Closer to home... Rosa and its remnants likely won't have much of an impact across northeast Colorado. We may see some shower activity try to jump the divide on Tuesday, but chances will be low. By Wednesday the remnants are harder to discern and likely move up into Wyoming/Nebraska. We'll see a cold front move through the region Wednesday and likely some showers/storms accompany it, but how much of that moisture is from what's left of Rosa is debatable.
By late in the week and next weekend we'll see another short wave and cold front move through northeast Colorado. Perhaps some decent moisture associated with this front, and chilly autumn air. We'll discuss further in this week's SOTA.
For now, eyes on the southwest over the coming days, and let's hope for some good moisture across western Colorado where severe drought conditions continue.