Well, this is probably the least exciting way to end the first measurable snowfall forecast contest, but Denver International Airport picked up 0.5" of snow early this morning bringing the contest to a close early. Most of us saw nothing at all, aside from a few flakes mixing in late. Perhaps another reason why Denver's official weather station should be moved!
Evaporative cooling did work last night, and cooled many of us enough to see at least some flakes mix in with the rain a little after midnight. Most areas didn't see anything stick, the exception being across the southeast metro, and far eastern metro -- including DIA. Totals were generally around a Trace to 0.5" range, and it was a slushy early-season snow.
So early, in fact, that NCEP's interactive 24 hour accumulation map is still reporting totals from last June. On the zoomed out view we see the north-central mountains saw some snow yesterday, and if you squint you can see the little swath of Trace to ~0.75" snow across the southeast metro area: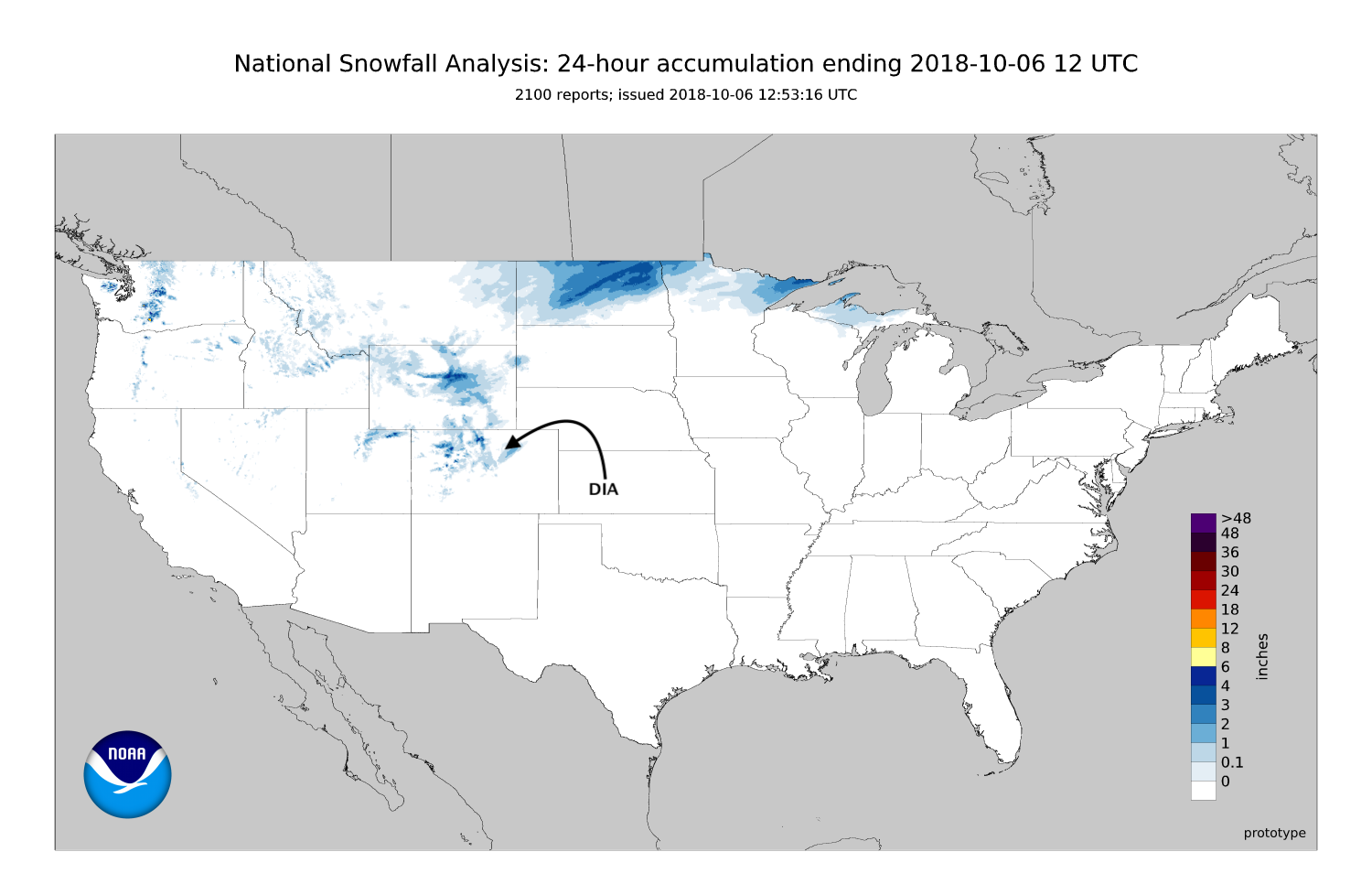 As for rain... not a huge event in that department either. Our station picked up 0.12" of precipitation between yesterday evening and early this morning, which is about what most of the immediate metro area saw. Heavier totals were observed southeast of the city, where we saw the changeover to snow and the light accumulations: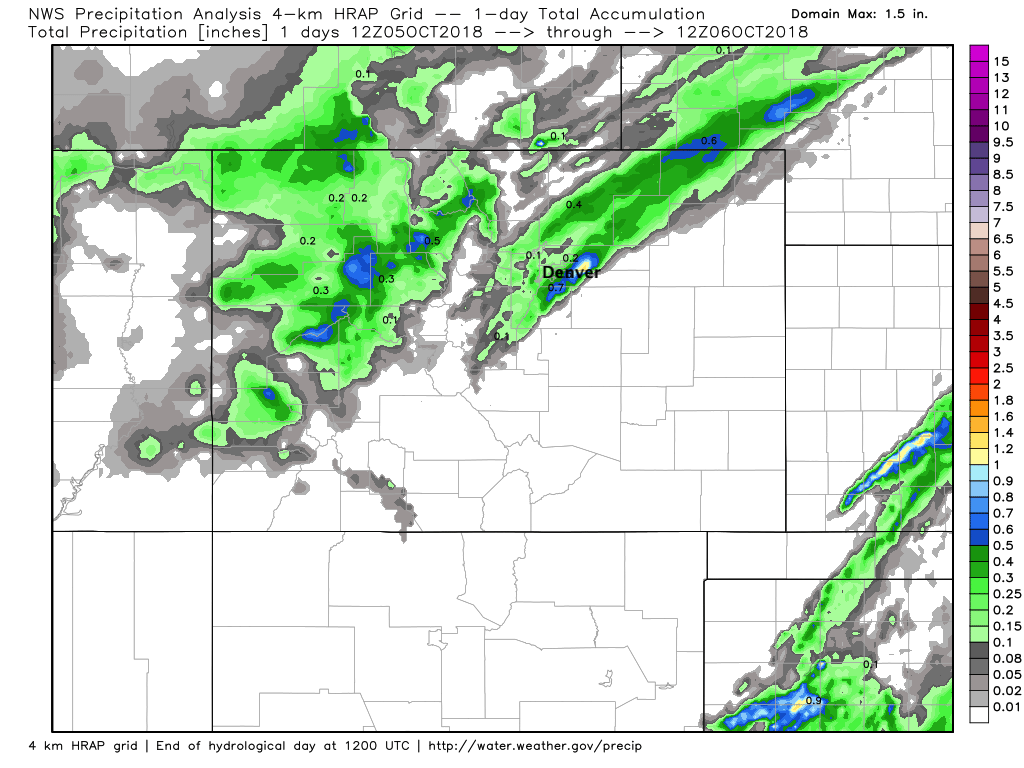 And the winners are...
Rules are rules, and despite seeing no snow accumulation in the city proper, for the second year in a row the First Measurable Snowfall Forecast Contest has come to a close early.
Of the nearly 200 entries, no one guessed October 6th (aside from my test entry submitted September 26th 😎, and one that came in this morning, after the snowfall had been recorded)! One contestant guessed October 5th, four contestants guessed October 7th, with many taking October 8th (which is likely our next "best" chance for snow).
So... the first place winner and recipient of TWO lift tickets to Loveland Ski Area is Brian Dingman. Brian guessed 0.2" on October 7th. Second place belongs to Diana Beatty. Diana guessed 0.1" on October 5th. And finally, Reagan Humber takes third, guessing Oct 7th and 0.1" as the tie-breaker.
Congratulations winners! 🎉
Here's a breakdown of where all the guesses landed with this year's contest.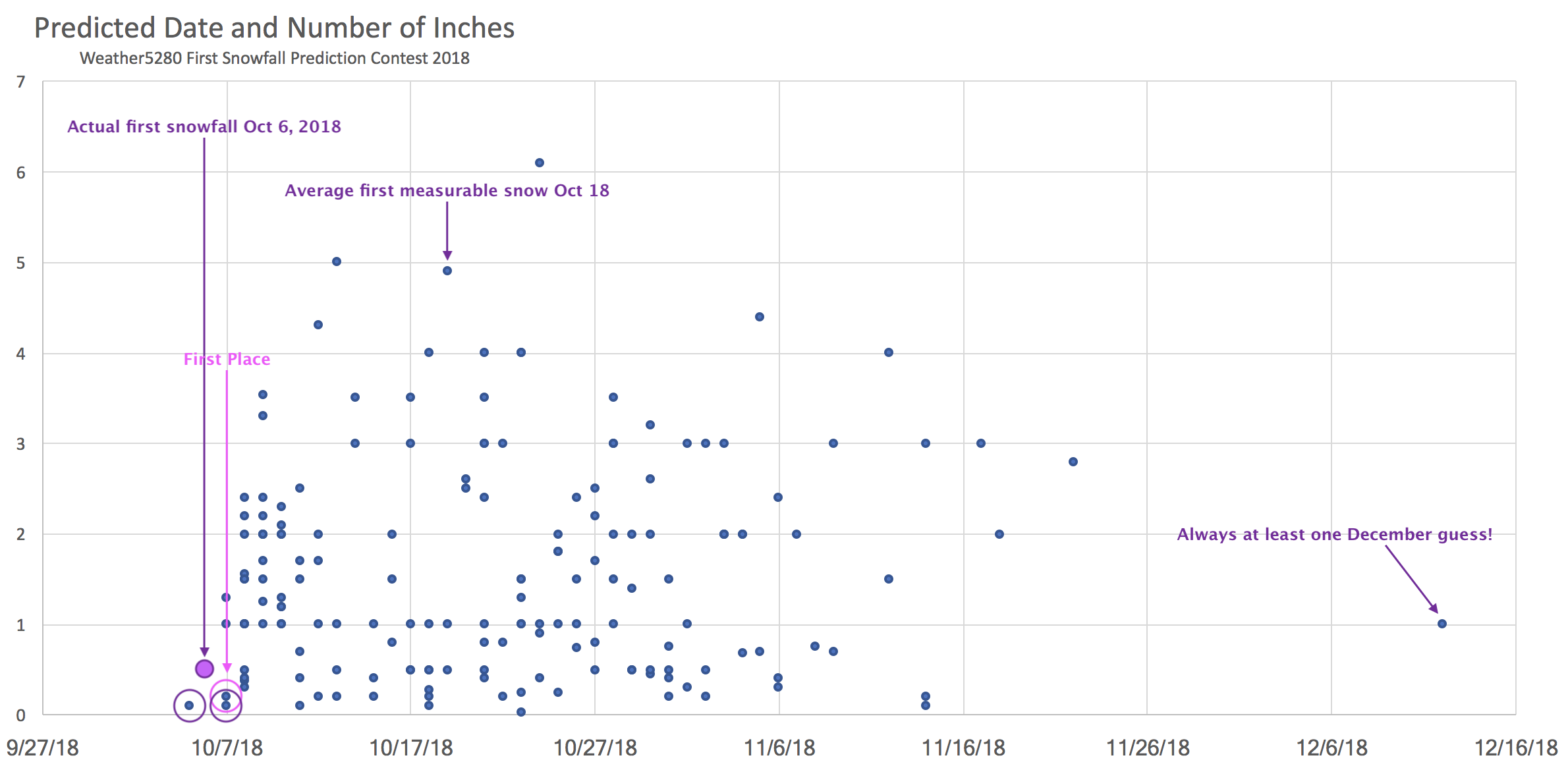 Still tracking those snow chances in the Sunday night - Tuesday night timeframe. Still not overly excited about prospects down low... but certainly won't rule out some light accumulation on either of those mornings either. Models today are overall drier than we saw yesterday, with confidence remaining quite low as to how much precipitation we actually see east of the mountains. So that's fun. Between that and last night's "snowfall", I may not look at anything until SOTA tomorrow, we shall see.