As expected, the big story of the last week was all the moisture from one-time Rosa across the southwest U.S. Take a look at rainfall totals across Arizona (Phoenix recorded it's wettest October day on record), extending up into Utah and western Colorado: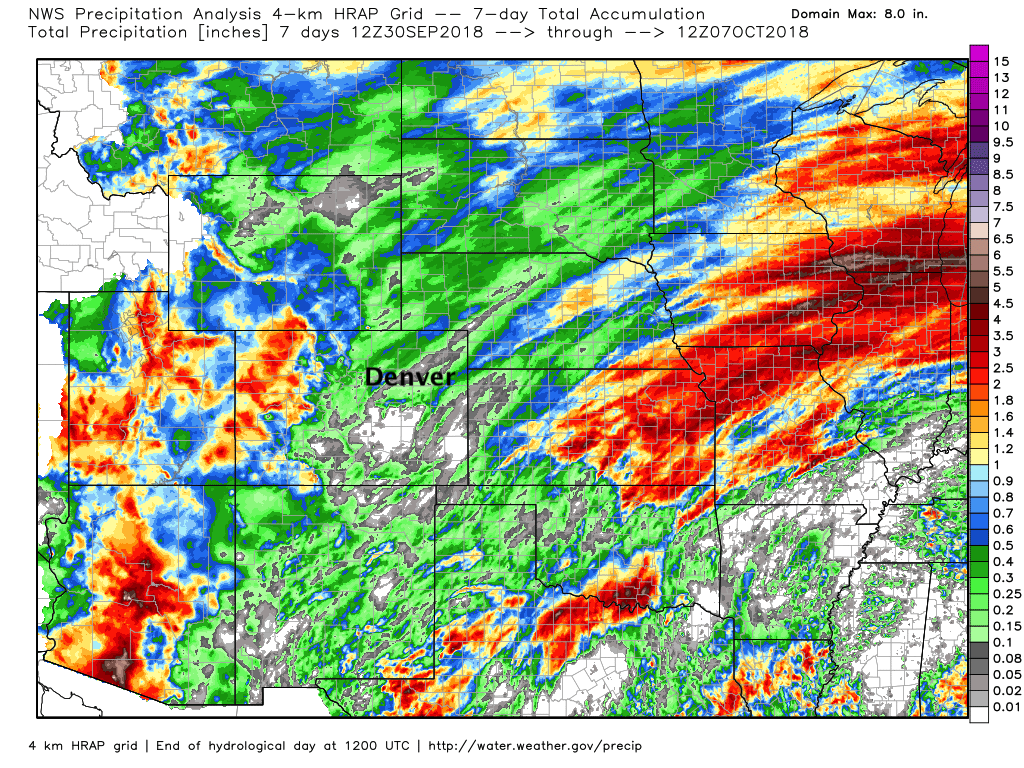 Across eastern Colorado it's been quieter. Despite Denver's first official snowfall of the season... not much else in the way of rain or snow to speak of across the eastern half of the state through the first six days of the month.
The week ahead
The next 72 hours or so remains a difficult forecast. In a word, we'll call it unsettled, with little change overall to our forecast on Friday. Chilly temperatures, scattered rain showers, and still the potential for snow across the region beginning this afternoon through Tuesday night.
Confidence for snow, especially anything that sticks, in the city is quite low. Will we see some flakes mix in, Monday and again early Tuesday? This seems probable.
A look at the WPC 50th percentile snowfall forecast shows the potential for a Trace to 1" of snow over the next two days, mainly across Denver's southern and western suburbs. Foothill communities west and southwest of town (keep an eye on things southeast as well) may see a couple inches tonight through Tuesday night. This includes the Palmer Divide.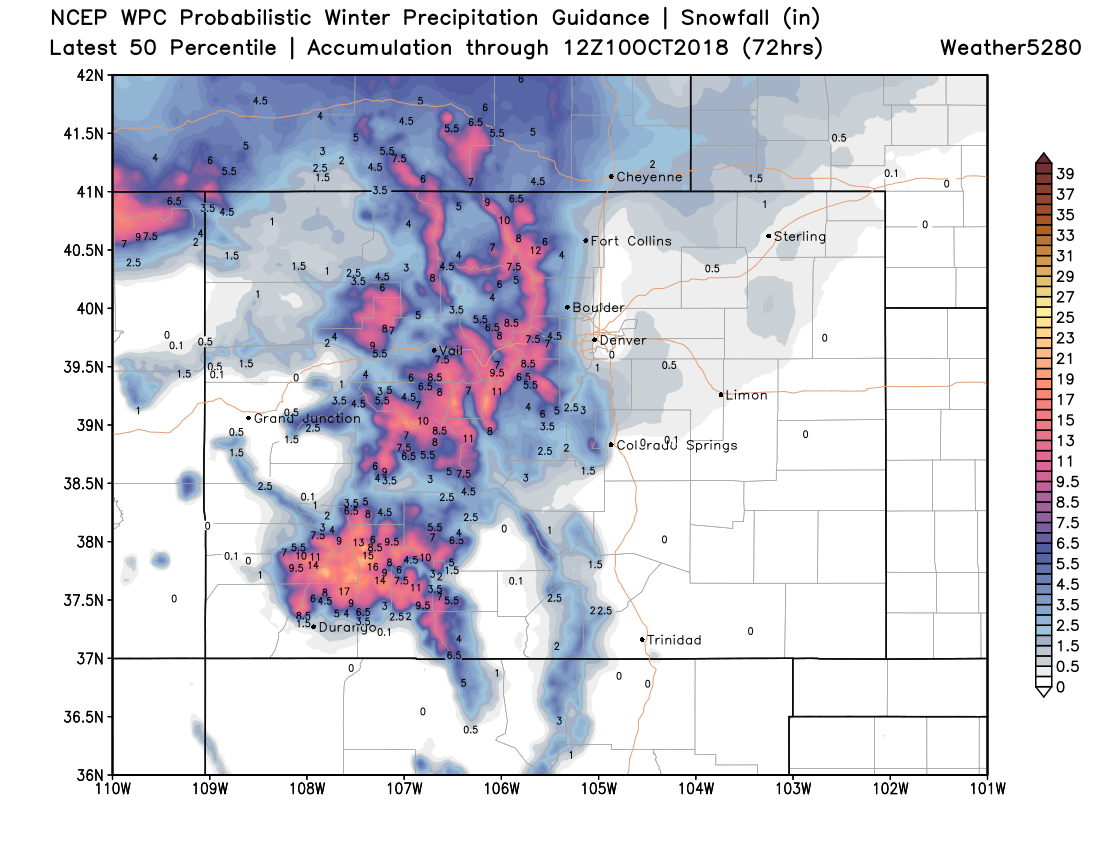 This is the outlook from the Colorado NWS offices, which is in good agreement as well. Note the potential for some snow along the Cheyenne Ridge as well: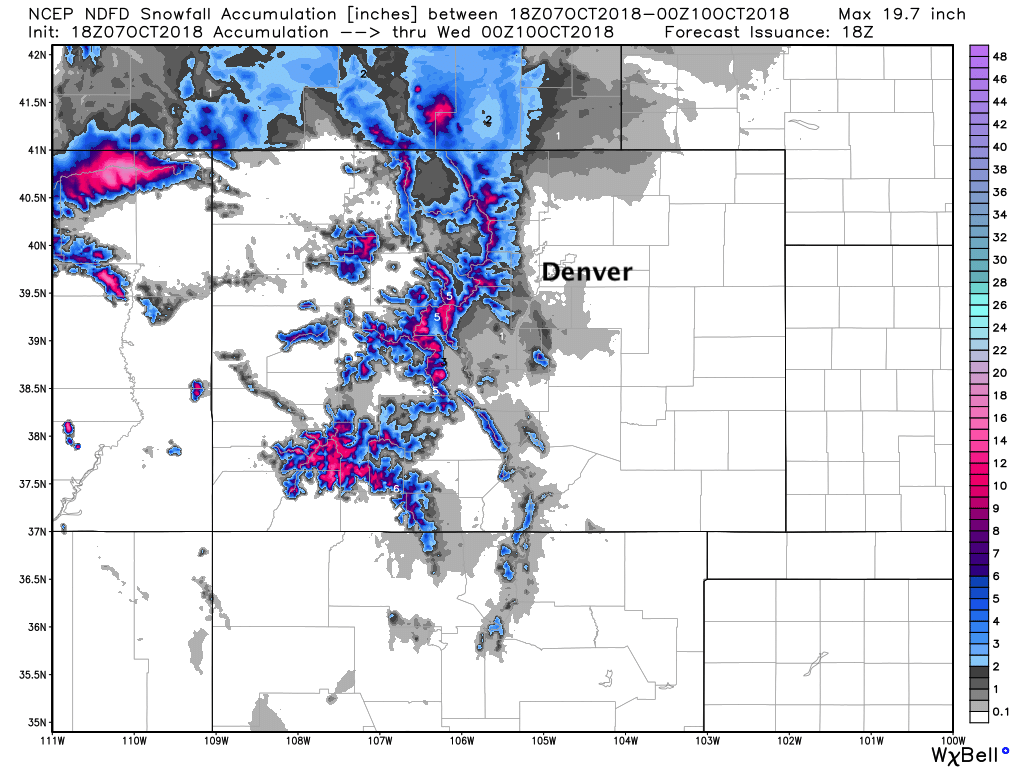 If we do see snow in Denver, it looks like the most likely window for that to happen will be Monday afternoon into Tuesday night. The cold air that arrives tonight likely comes too late for the rain we're expecting Sunday evening/night. Right now even with the colder solutions from the NAM/Canadian it appears as though the "boom" snow scenario will be 1 - 3" across Denver's southern/western areas, mainly Monday/Monday night. In the city proper I just don't see a good case to be made for accumulating snow... though certainly completely can't rule out some slushy accumulation, especially if temperatures cool by just a few degrees more than currently forecast. Tough call.
If we look at probabilities from the EURO which continues to run colder than the GFS, we see probabilities for and inch or more of snow are pretty good for Denver's south and west side: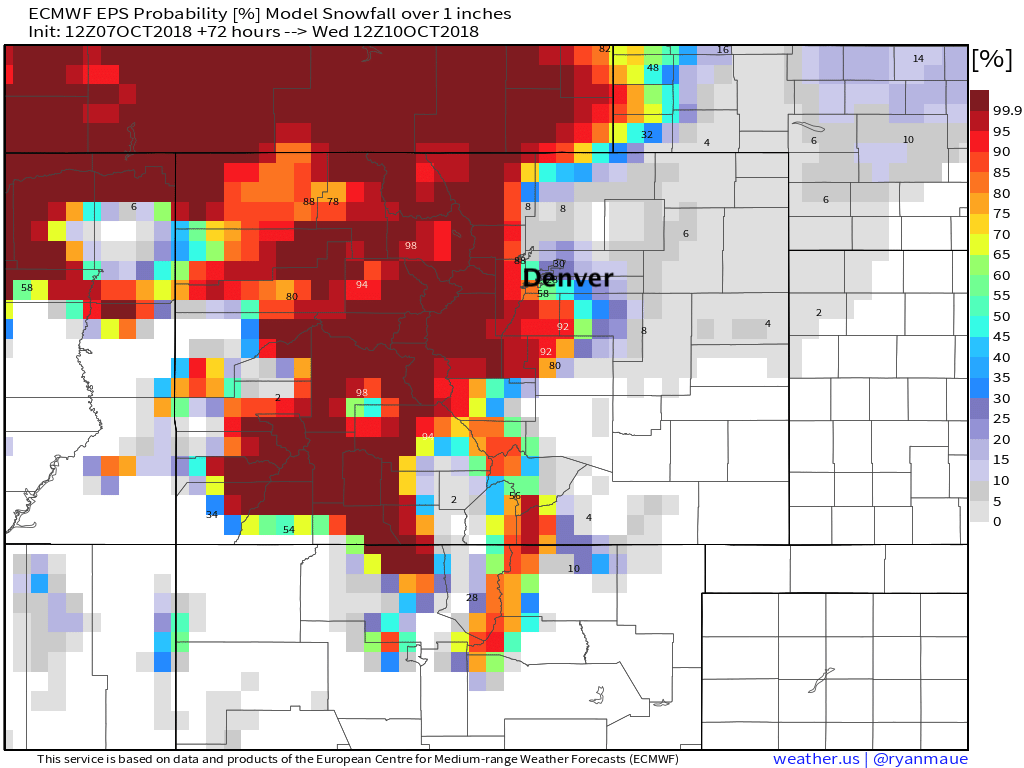 If we look at 3" or more, we see those probabilities drop off considerably, with the best chances across the western Palmer Divide: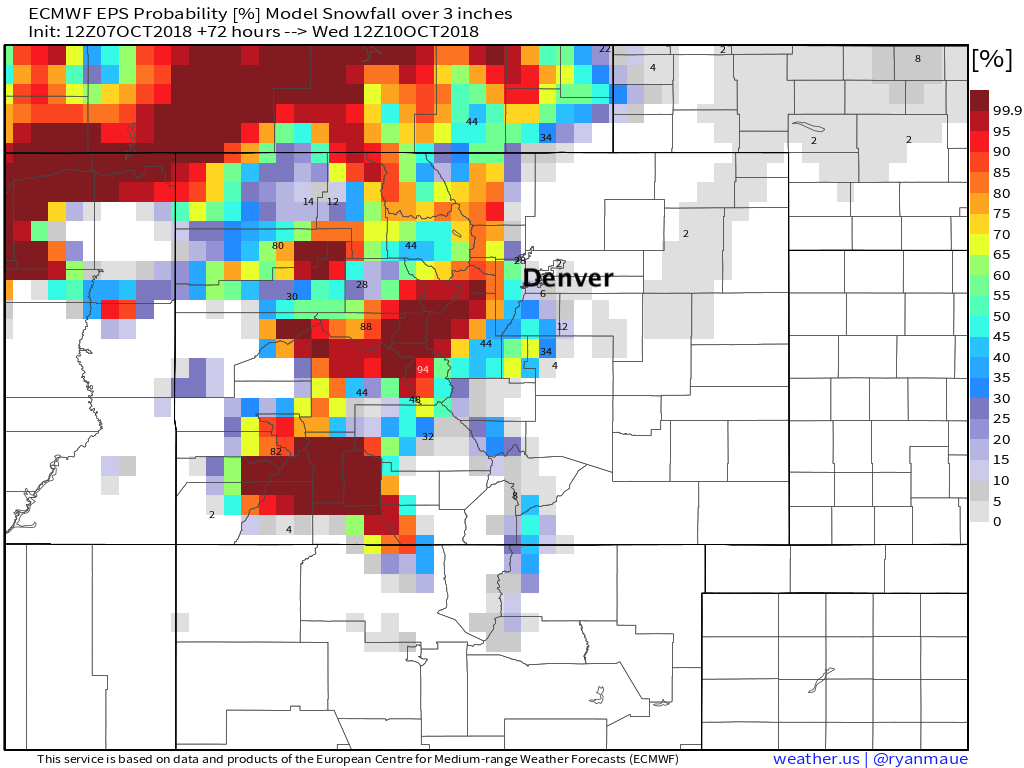 The bigger story over the next several days will likely be the chilly temperatures and intermittent rain/rain snow mix we'll see, rather than the accumulating snow. Highs Monday and Tuesday will be in the 40s for Denver with a scattered rain and snow showers, with lows near (or below) freezing both Monday night and Tuesday night. The National Weather Service has issued a Freeze Watch for Monday night across most of northeast Colorado, including the Palmer Divide and Colorado Springs. Temperatures may dip into the upper 20s by early Tuesday. Protect any outdoor vegetation you do not want to get hit the next couple of nights... With those freezing temperatures, and even if we don't see snow, look for patchy ice on the roadways the next couple of mornings as well.
Planning forecast
Rain showers increase through the remainder of the day, with a good chance of rain Sunday evening across much of eastern Colorado. Here's the latest HRRR showing the increase in coverage through late tonight: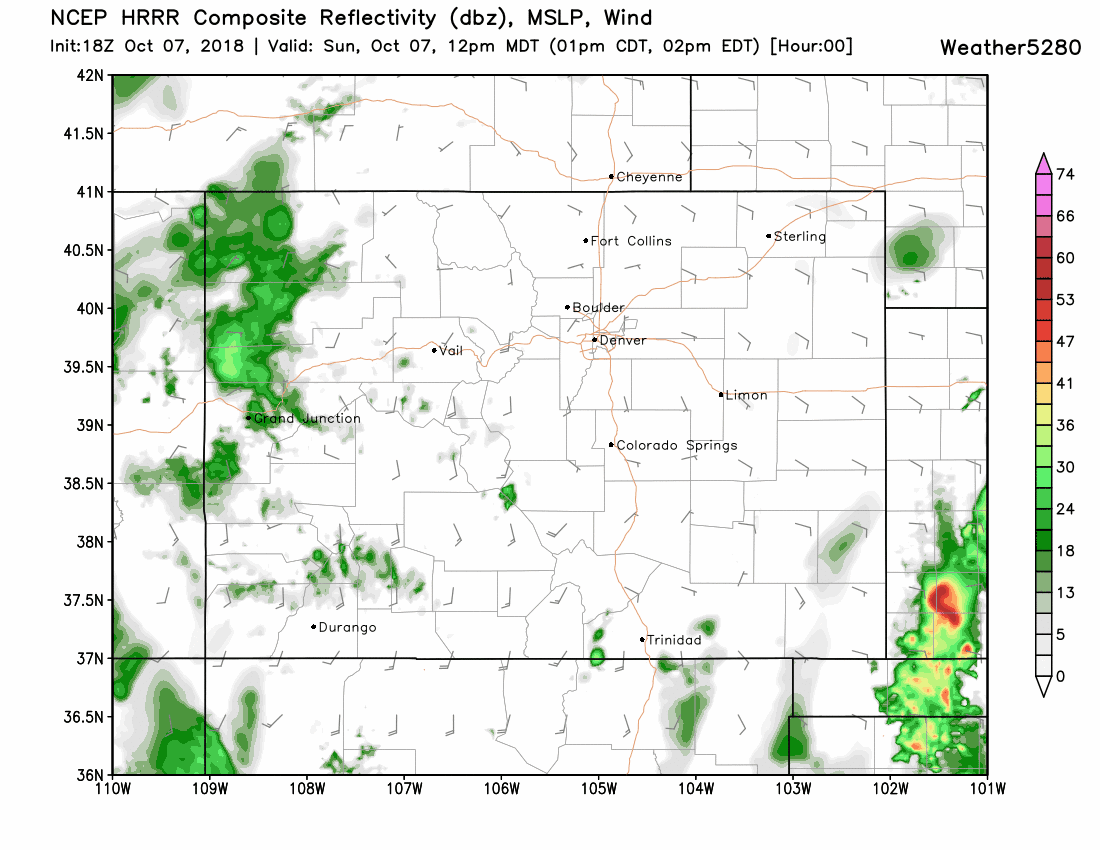 Temperatures fall into the 30s tonight with scattered rain showers continuing across the plains.
Monday we'll see a 60% chance of rain and snow along the urban corridor, with patchy fog as well. Highs will be in the 40s.
Monday night we dip into the low 30s, perhaps upper 20s, with areas of rain and snow continuing.
Tuesday doesn't look like much of an improvement. Highs in the 40s once more, with a 30% chance of rain and snow, continuing into Tuesday night.
As for how much moisture we'll see over the coming days? It'll be hit and miss a bit depending if you end up under a heaver shower or not. Anywhere from a half inch to an inch looks possible across northeast Colorado through Tuesday evening: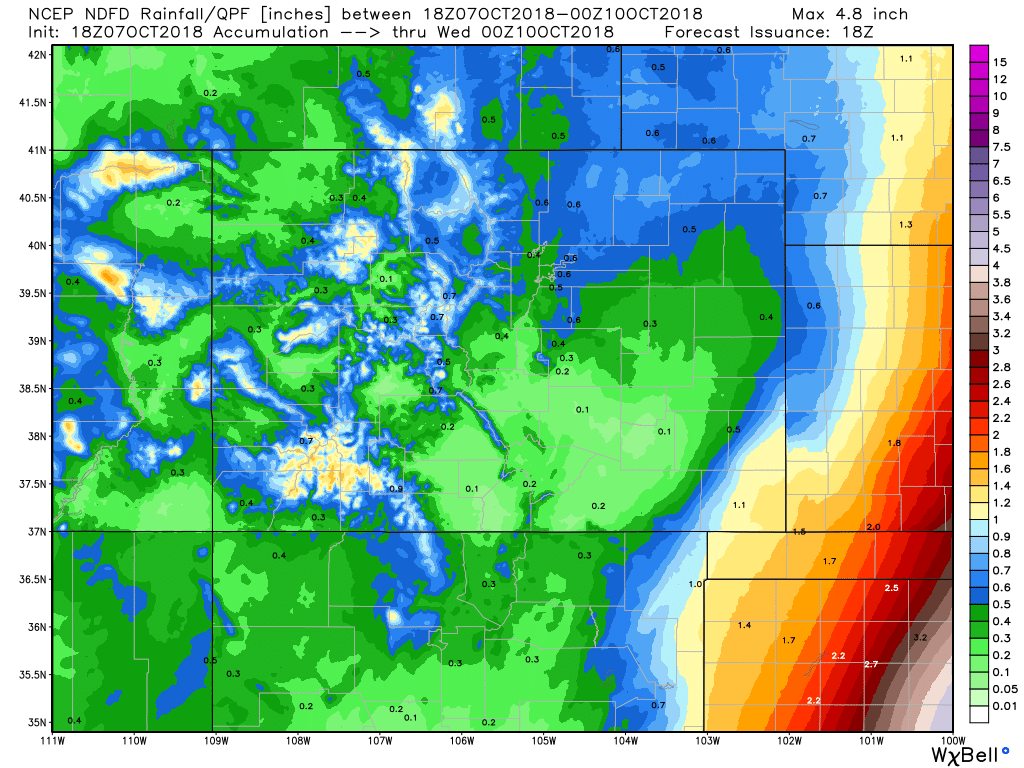 We'll see how things look tomorrow morning and adjust as needed. For now will lean less accumulating snow, and instead just wet/cold. If it looks like the snow threat is greater when we wake up tomorrow, we'll adjust.
Beyond Tuesday, the mean trough continues to linger through end of the week. We should see temperatures warm a bit for the latter half of the week, but still remain below average, with the chance of rain and perhaps some snow back in the forecast later Wednesday and Thursday. Not looking like a huge deal at this time, but something to watch even as we head through the next unsettled 72 hours or so.