Plenty of moisture in place and cloud cover likely kept our temperatures up a bit last night. We bottomed out at 37°F last night at our station, with the low at Denver International Airport dropping to 35°F early this morning.
Tonight we should dry things out a bit across the metro area, and likely see temperatures tumble a few degrees colder than we saw this morning. MOS guidance has lows in the mid to upper 20s for Denver, which seems reasonable if we can clear the cloud cover out a bit. The HRRR shows temperatures dropping to near freezing by midnight, with mountain temperatures dropping into the teens overnight, and we should cool a few more degrees than this by early Wednesday morning: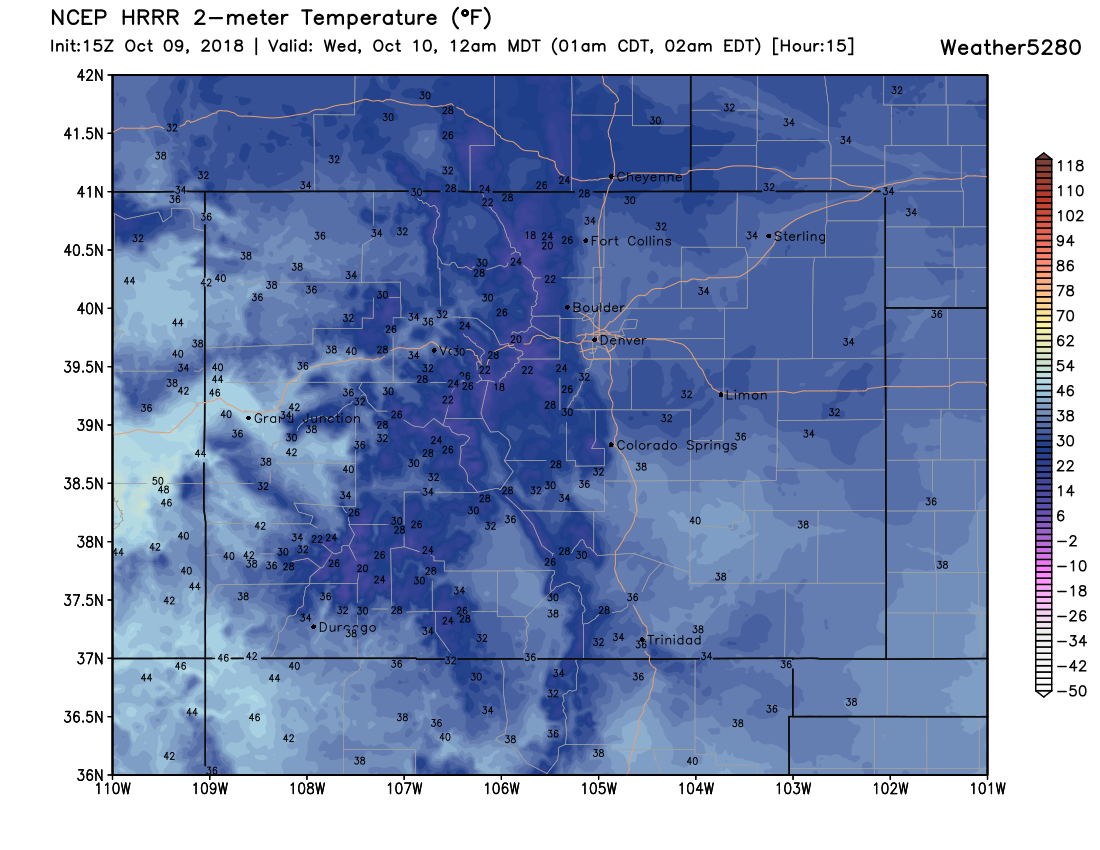 Where the clouds clear, it's quite possible we see some low 20s show up tonight across eastern Colorado, perhaps most likely over the Palmer Divide. At any rate, very likely our first hard freeze of the season across the region. If you didn't winterize your irrigation last night, it's a good idea to do so today, and cover or harvest any sensitive vegetation as well.
The heaviest precipitation (rain, snow, and mix) we see now just east of Denver and across the plains should continue to move slowly east through the evening. The HRRR shows another little round of snow showers pushing off the foothills later tonight, so we'll keep an eye on that. Probably about a 30% chance of snow tonight, with little to no accumulation expected outside of the immediate foothills that could see a patchy inch or two.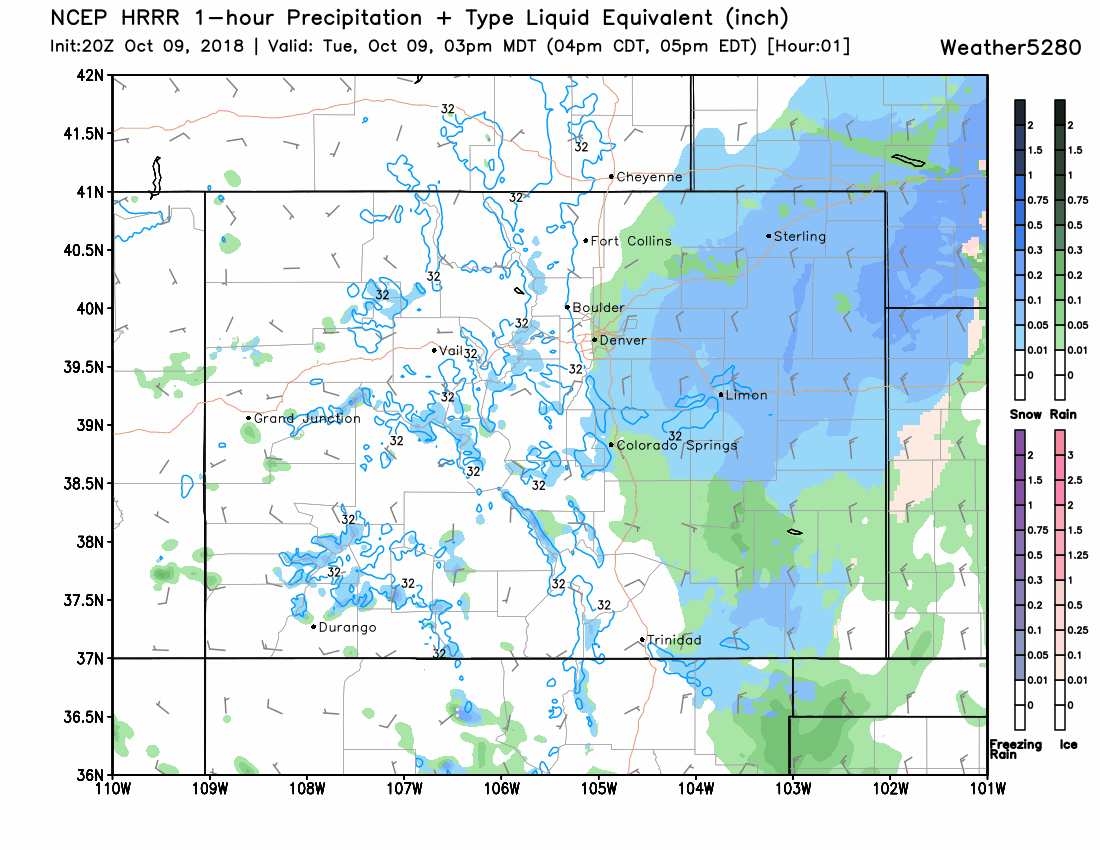 The Freeze Warning is in effect until 10am Wednesday morning, though temperatures aren't likely to warm all that much on Wednesday. Highs are expected to remain in the 30s for Denver, with a 30% chance of rain/snow showers as well. Little to no accumulation is expected along the urban corridor Wednesday.
Remainder of the week and the coming weekend
Thursday and Friday look a bit warmer, with Friday showing as the warmest and driest day of the week. Highs Thursday should be around 50 with a 10 - 20% chance of showers, with highs near 60 on Friday under mostly sunny skies.
Our focus then shifts to Saturday and Sunday, as models are coming into better agreement around another strong wave and associated cold front diving out of the northern Rockies and across Colorado Saturday afternoon and overnight into Sunday.
The EURO was first to pick up on this, but the GFS has come around in recent runs as well. The Canadian too shows a wave moving through this weekend, but for the time isn't as strong as the GFS or EURO.
At 700mb on the EURO we see good upslope by early Sunday morning: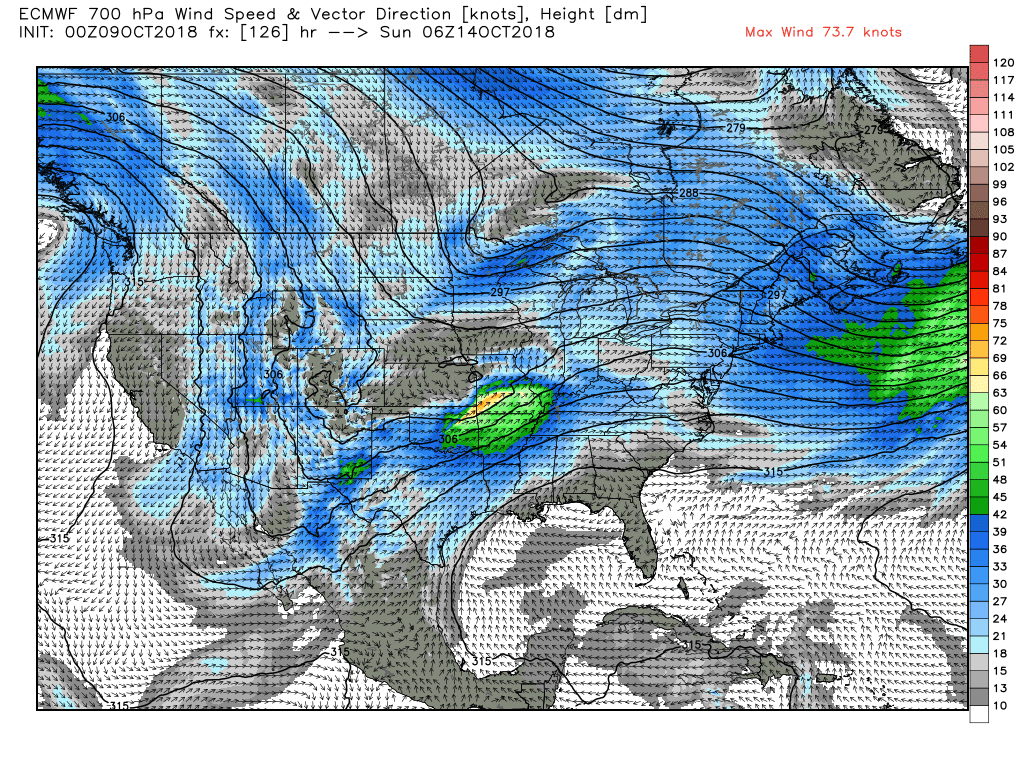 And a strong cold front at 700mb would be fully supportive of all snow Saturday night across the plains if everything holds: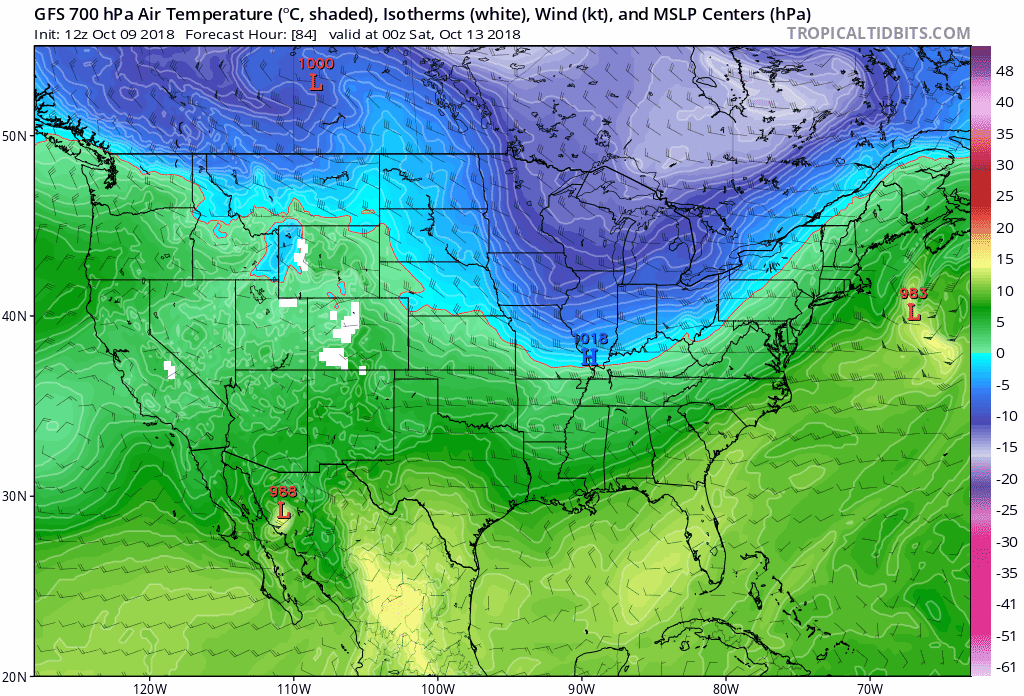 And two meter temperatures dropping well below average by Sunday across eastern Colorado: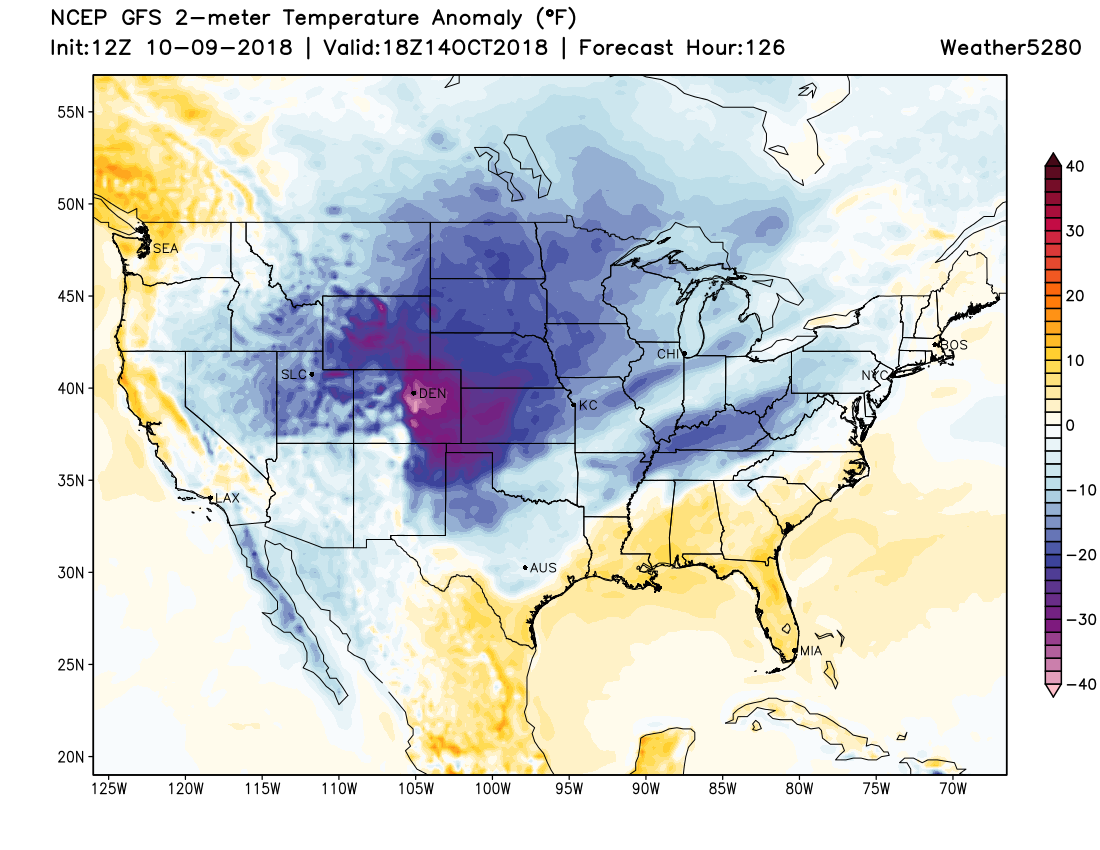 So what could go wrong? Well, a lot. We're still several days out, and models have struggled quite a bit with details over the last week.
That said, the pattern supports it... we carved out this period several weeks ago for Insiders as a cold and unsettled one, so catching our first real snow at the end of it would feel good. That, and reasonable support from the GFS/EURO ensemble members as well has our attention this weekend.
If we look at the latest EURO probabilities for snowfall over 3" through Friday we see we see virtually zero odds for that happening along the urban corridor between now and the weekend: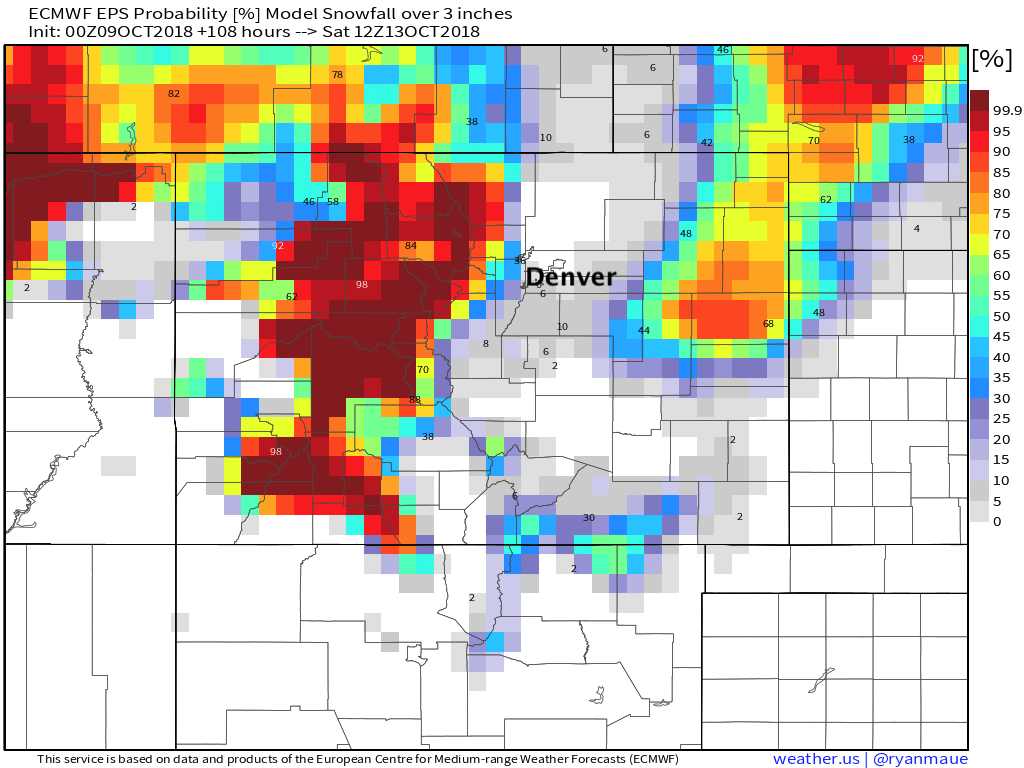 By Monday, however, we see a pretty good bump in probabilities across the urban corridor and the Palmer Divide: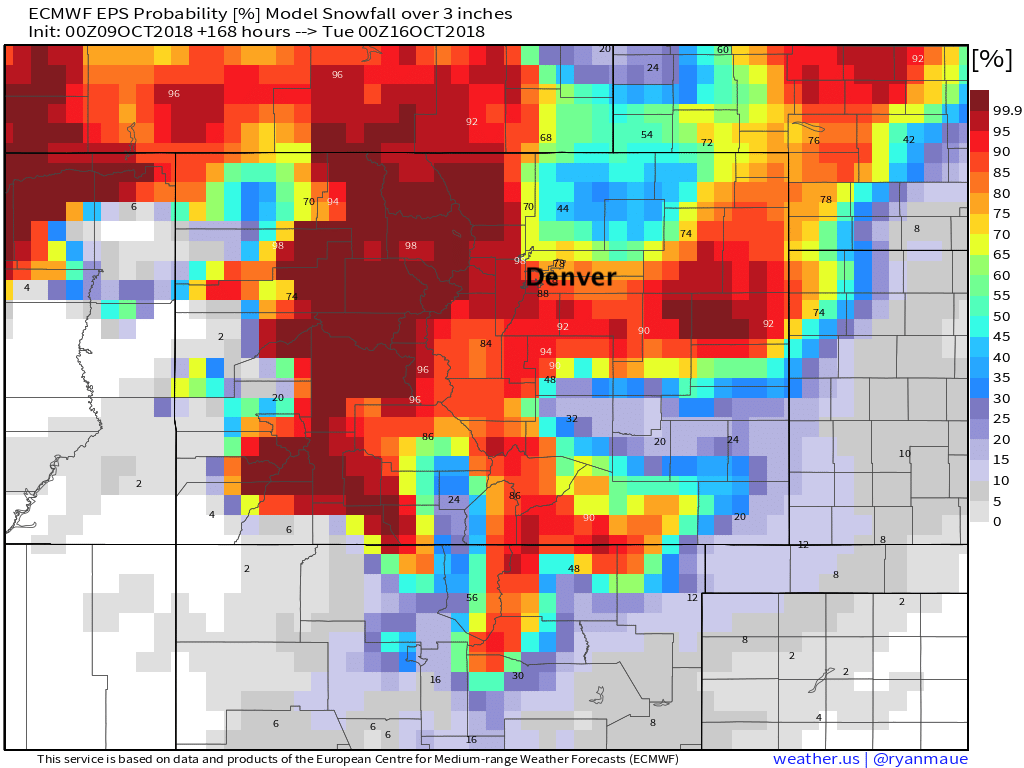 How will this all shake out? We'll see. For now too early to get too attached to any given solution. We'll go ahead and highlight the following, and continue to work on the details as the week progresses –– snow this weekend is far from a done deal, but the trend is certainly pointing to the potential:
Chilly and unsettled weather sticks with us through Wednesday, with a hard freeze likely tonight across much of eastern Colorado.
Snow showers are possible, if even likely, across the metro this afternoon/overnight, but little if any accumulation is expected. Heavier snow across the eastern plains is possible, with several inches possible in some locations.
Warmer and drier days ahead for Thursday and especially Friday.
Our next system approaches Saturday, with a strong cold front expected to move through sometime Saturday afternoon or evening, though timing is likely to change here.
Barring any changes to current thinking, we're likely to see snow along the urban corridor Saturday PM into Sunday, with very chilly temperatures following for your Sunday.
Stay tuned!