Saturday update: [Cold and snow on the way](Saturday PM Update: Cold and Snow on the Way)
---
The forecast from yesterday appears on track. A mild start to the weekend will quickly give way to a sharp cold front Saturday afternoon across northern Colorado, followed by a chance of rain, then snow across much of eastern Colorado Saturday evening through Sunday.
Our snowfall forecast from Saturday PM through Sunday PM is as follows: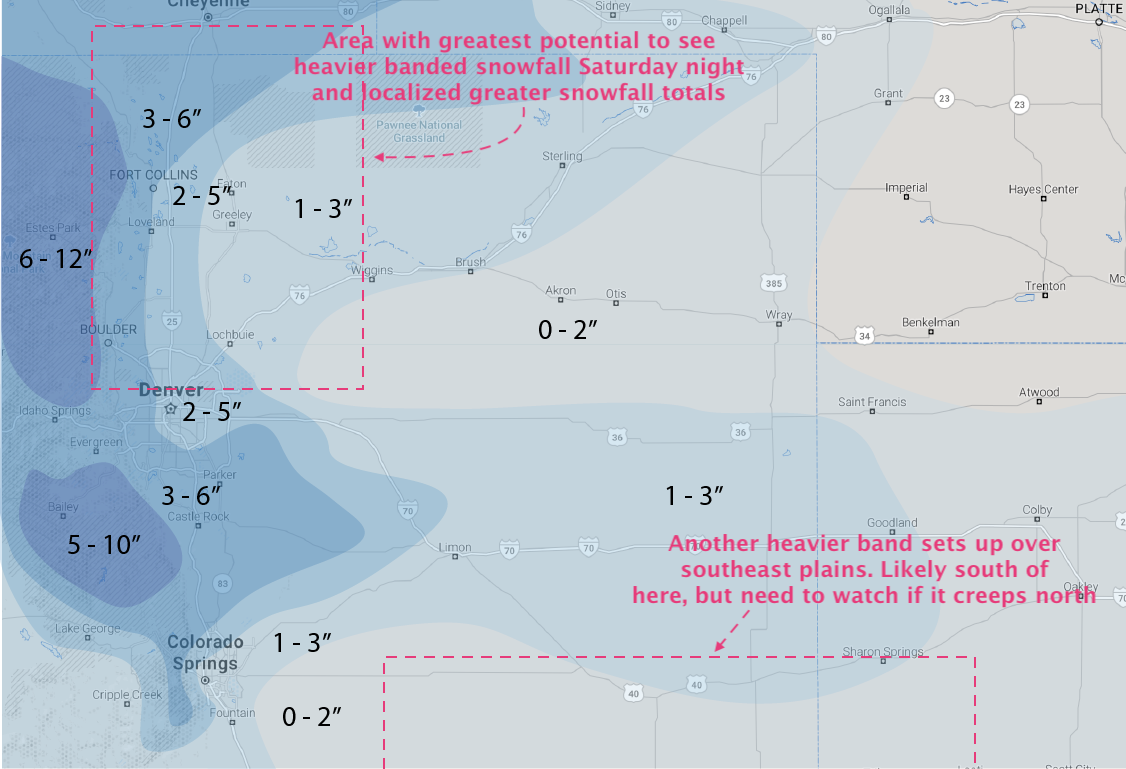 For downtown Denver we're going with 2 - 5", with highest totals on the western and southern sides of town. Areas along and west of I-25 up and down the urban corridor will see the greatest potential for heavier snowfall, especially Saturday night as heavier bands are expected to set up. Here we'll go with a broad-brushed 3 - 6", with locally higher amounts possible where heavier snow bands set up.
Hard to say exactly where any heavier snow band might set up Saturday night into Sunday morning. Best guess would be somewhere north of Denver and south of Fort Collins. If I lived in Westminster/Thornton/Broomfield, I'd be on the lookout for the potential for some high-end "boom" snowfall totals. That's not to say it can't set up over Denver or Fort Collins, but probabilities here are lower.
Cold!
Still expecting the coldest air of the season to move through with this system as well. With that, expect most precipitation to fall as snow, with perhaps some brief rain at the onset late in the day Saturday.
Temperatures will climb to near 60 in Denver early in the day Saturday, then fall through the remainder of the day Saturday and on into Sunday. Temperatures by Sunday evening will be in the low 20s and teens, with lows Sunday night into Monday forecast to be quit cold across eastern Colorado; we currently have Denver bottoming out at 15°F Sunday night. Watch how the deep blues and purples dive out of the northern Rockies tomorrow, then focus over eastern Colorado on Sunday. The animation ends early Monday morning: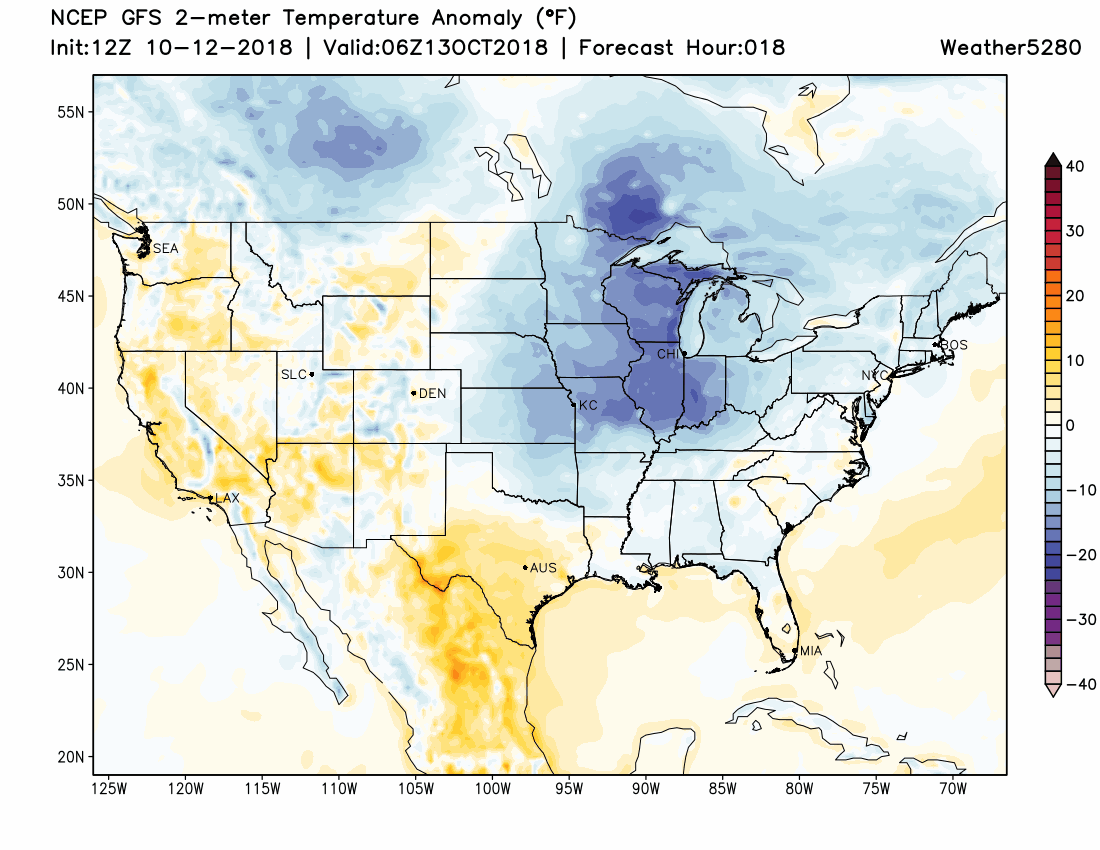 Timing and impacts
The cold front will be pushing into northern Colorado as early as Saturday morning, but shouldn't make it into the metro area until later Saturday afternoon. Fronts always seem to run ahead of schedule, so we'll see if this timing holds... but for now, looks like we should a least start the day mild in Denver before the cold invades.
Areas north, like Fort Collins, will see the cold air first, as well as a chance of showers Saturday afternoon. For Denver we expect precipitation to hold off until Saturday evening, beginning first as rain (briefly) then quickly changing to all snow Saturday night.
Snow across the metro area is expected to be heaviest between 9pm Saturday and noon Sunday. Snow will gradually come to an end Sunday, first to the north, then south across eastern Colorado.
Latest guidance is a bit slower than earlier this week, with areas south of Denver (Palmer Divide, Colorado Springs, etc) likely seeing their best chance for snow coming early Sunday morning through Sunday afternoon, with perhaps less activity Saturday night. The Palmer Divide should see some good snow accumulate on Sunday, but those to the south are still expected to see lower-end totals as winds to shift to the north and downslope off the Divide. Colorado Springs is in our 1 - 3" range for now, but may struggle to see that in many cases.
Expect travel to become tricky across the northern Front Range and adjacent plains Saturday night. Despite warm surface temperatures, the COLD air associated with this system will likely lead to icy and snow-packed conditions. If you can avoid travel Saturday night and Sunday across eastern Colorado, that would be advised.
And finally, keep an eye on your trees! Most trees are still fully leafed, and while the cold temperatures may help mitigate some of the damage we may typically see from an early season snow... if you can (safely) knock snow of your tree branches, you may want to do so.
We'll keep an eye on things today and tomorrow and make adjustments as needed. For now enjoy the sun and milder temperatures, and be sure to share with us your snow reports and photos this weekend!