Well, it wouldn't be a good old fashioned forecast bust without also busting in our back yard as well. We were sitting comfortably at 4" (top of forecast range) as of 6am this morning before a rogue band of moderate snowfall moved through and pushed us over the edge.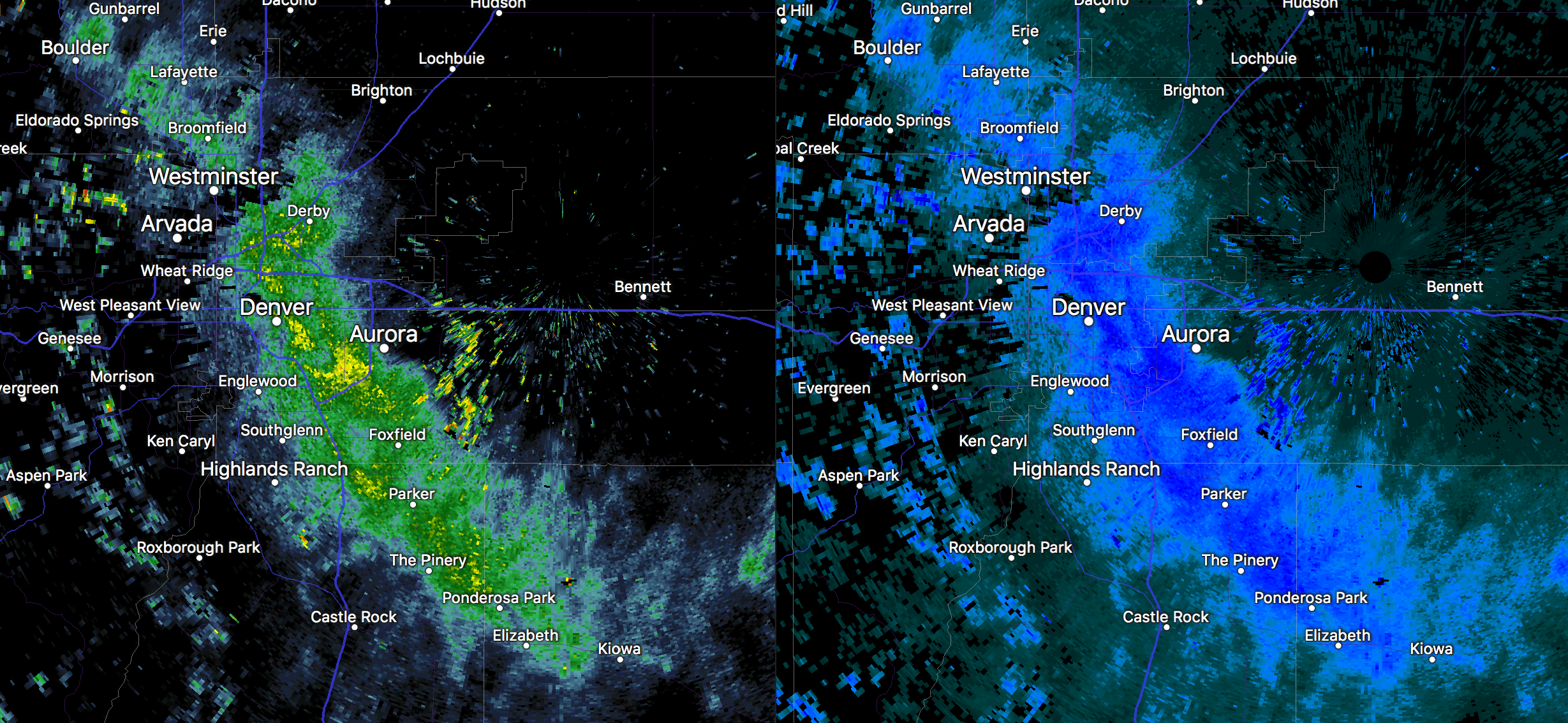 This morning's band added about 1.5" of fluff on top of yesterday's snow, bringing our total to 5.5" at the Weather5280 south of downtown Denver. Of course we mentioned the likelihood of some additional snowfall last night/this morning padding totals a bit in Saturday's post, but regardless, it didn't really help an already pretty rough forecast.
Models struggled with this whole system start to finish. Many (reluctantly) picked up on the higher-end totals by Saturday evening, but even this morning we saw the high resolution models completely miss on the snow. Here's the composite reflectivity forecast from the HRRRs 3am forecast run for 7am this morning. Now compare that to the radar image above.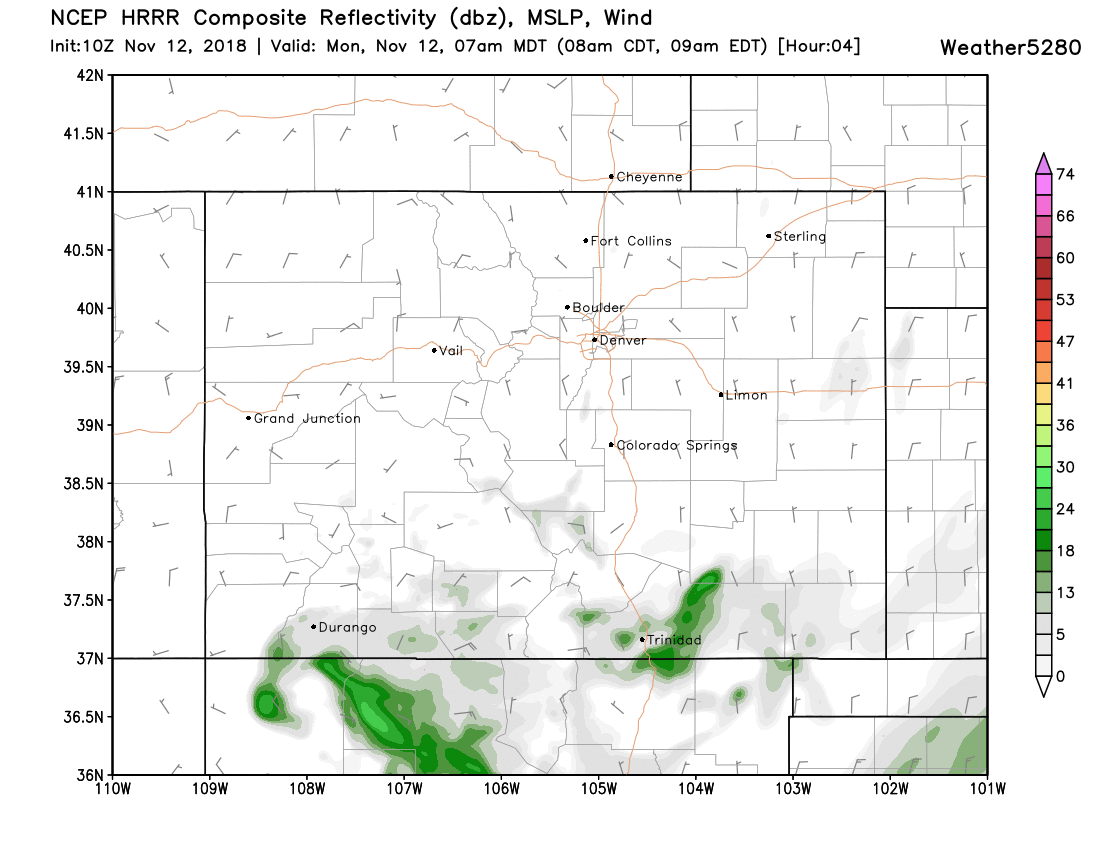 From what I have found, nowhere did we have a greater bust than in Boulder. As we showed with the gambler charts on Saturday, Boulder certainly presented as having the greatest odds at far exceeding forecast expectations... but those odds weren't overwhelming by any means. As of 7am this morning Boulder had recorded 13.4" of snow (!!!!!!!!!!!!!) not even close to our 3 - 6" forecast. 🙈
Meanwhile, as of 6am Denver International Airport had recorded just 2" of snow, easily within our 1 - 4" range. This morning's band added another 0.6" to that total, bring the storm total to 2.6". Likely our best forecast across the entire region, thankfully it's the official one for Denver!
In chatting with Matt Makens this morning he looked at radar accumulation and it was generally 0.2-0.5" around the area and that is within acceptable range of the QPF forecast by the modeling. However, the eyesore was the 0.7" liquid that fell on Boulder which was only forecast once. Boulder melted down to 0.68" so definitely greater moisture than many models had... though 0z 3km NAM from Saturday night nailed it. Ratios of greater than 20:1 helped produce higher snowfall totals than we anticipated. Matt: "The only guidance we had to suggest the event was the gamblers high end probabilities. Maybe we need to have greater faith in those but when nam and SREF and HRRR didn't really get the message it was hard for me to see any reason we'd get dumped on." He's been working on those Gamblers for years... have some faith in them, Matt, 🤪!
Kudus to the National Weather Service for jumping on the higher totals Saturday. While we did too, it's clear we could have gone even higher. Rather remarkable that as of early Saturday morning most forecasts where somewhere in the 1 - 4" range for all cities along the Front Range... and in the end many 5 - 14" totals have been logged. Below is a look at snowfall totals as of early Monday morning from across the region. For Denver/Aurora and points south it's safe to add another 1 - 2" to these totals with this morning's snow band.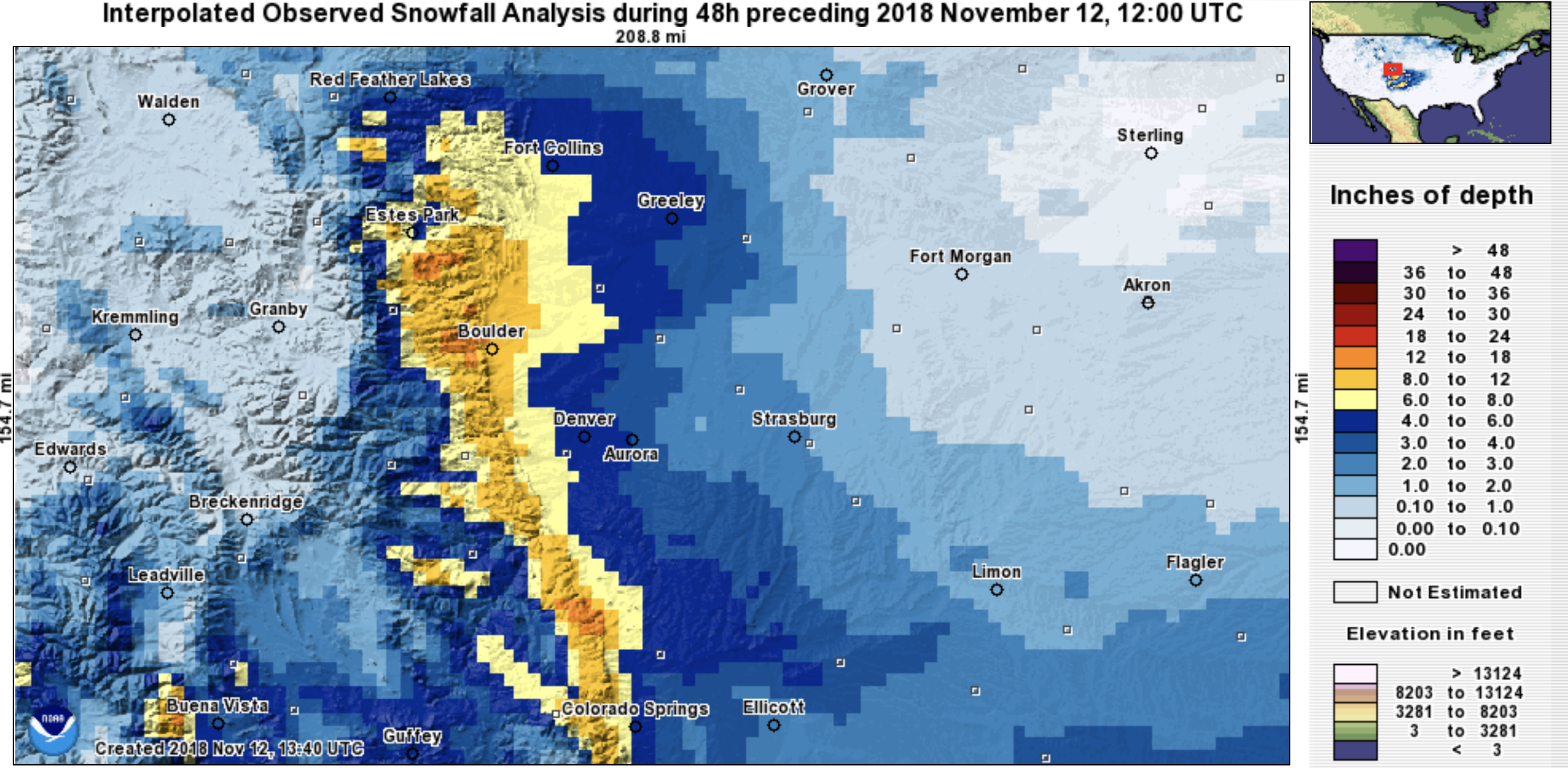 Interactive map of totals: https://www.weather.gov/source/crh/snowmap.html?sid=bou
This system has ended up being one of the biggest snows in two seasons for many climate stations across the region –– and a heck of a way to do it. In fact, the last time Boulder saw more than 12" of snow in a two day period was way back in January of 2017, when 13.8" of snow fell on the city. For Denver, the greatest two-day total over the last two years is 5.7" (January 2018), a number beat by this system across most of the metro area, though again, well below the 2.6" we saw at DIA.
We hope everyone enjoyed the snow (we did!) and if you're lucky enough to have the day off today enjoy that as well. A warming trend is still set to kick in tomorrow, with highs near 60 possible by Wednesday.