As we covered on Weather5280 Insider earlier this week, our next chance of snow arrives this weekend replacing a very mild and dry end to the work week. This next system does not look as sneaky as our previous one... but we'll continue to watch for any changes to the going forecast as we get closer to Saturday. For now it looks like a big cool down is on the way (30 for a high in Denver on Saturday), and mainly light snow, with the best chance for accumulation along the northern urban corridor.
The GEFS ensemble forecast shows nicely the changes on the way for the weekend. Highs in the upper 50s and low 60s today and Friday, then the bottom drops out for Saturday with the chance of light snow in Denver, especially by late in the day: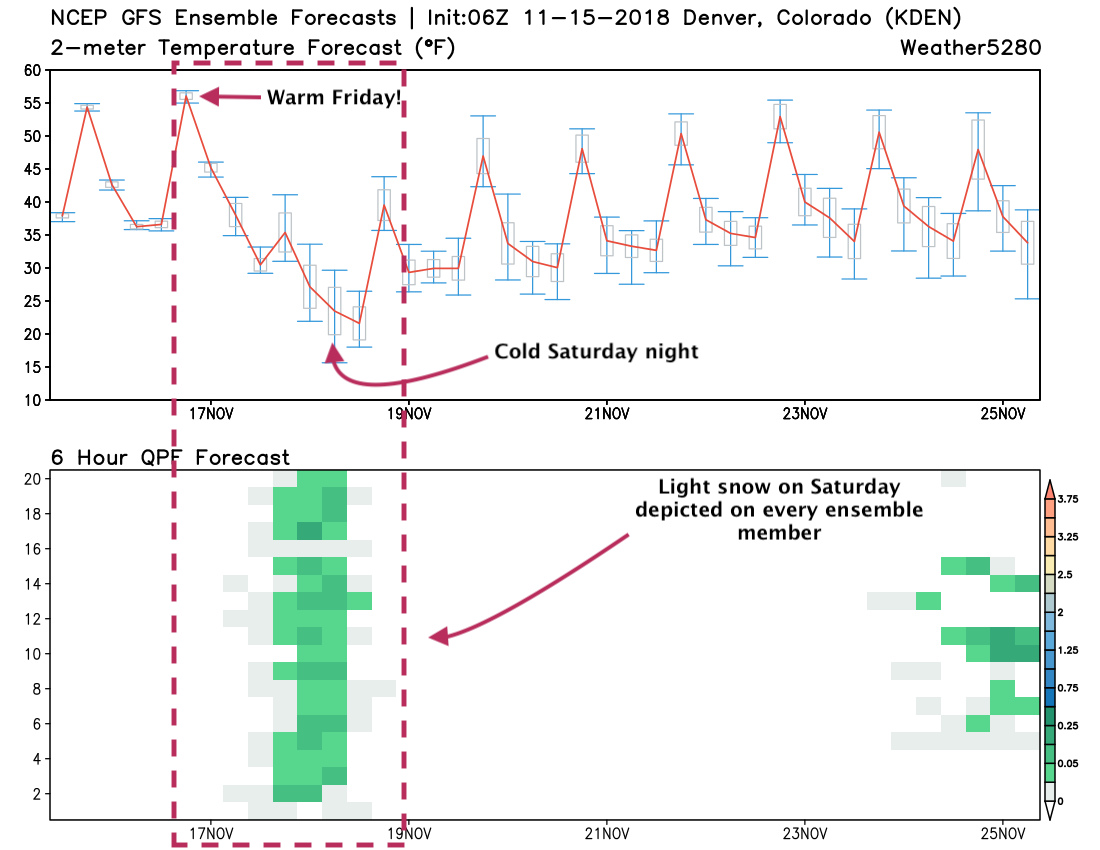 A look at our gambler charts shows Fort Collins and Boulder with the greatest probabilities for seeing >2" of snow this weekend. We also see the higher end potential for these two cities as well with those trailing probabilities (6" and higher), as compared to a sharper cutoff for Denver and Colorado Springs. For Denver, we see 52% odds for an inch or more of snow as of midday today, and less than 10% for 2" or more. For Fort Collins those 2" probs are showing better than 50%, with Boulder showing (low) but trailing probabilities to see higher totals as well: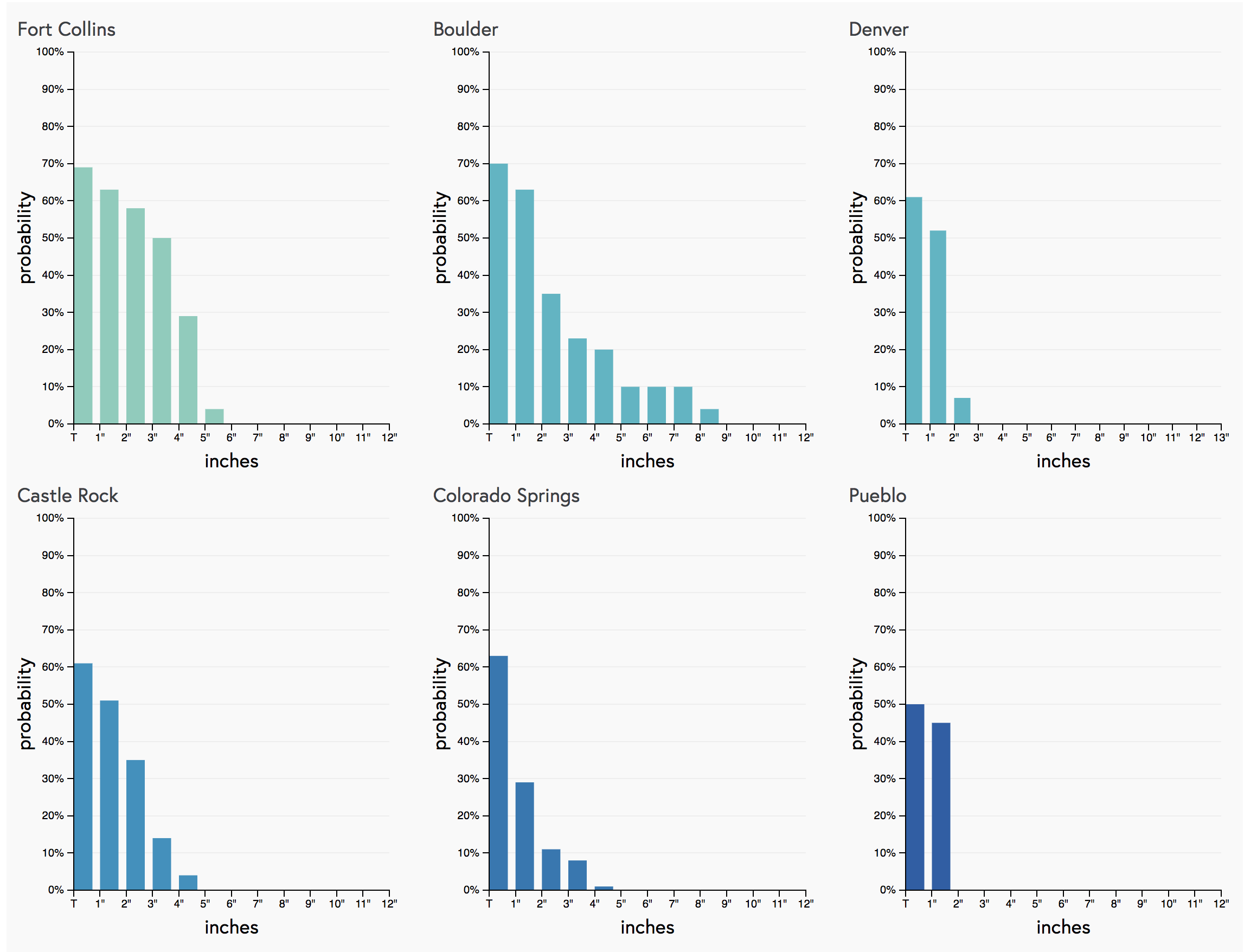 Snowfall forecast
Our initial snowfall forecast is pictured below. Generally looking at a 0 - 3" event for the Denver area, with perhaps 2 - 5" or 3 - 6" as you move north/northwest of Denver. Fort Collins, Loveland, Boulder, all stand a decent chance at seeing a couple of inches from Saturday am through Sunday am. The big question at the moment is if we see downsloping off the Cheyenne Ridge as depicted in the last NAM products or not –– if so, we'll likely see low-end totals (0 - Trace) for areas south/east of Fort Collins. If not, the Denver metro area could see at least some light accumulation.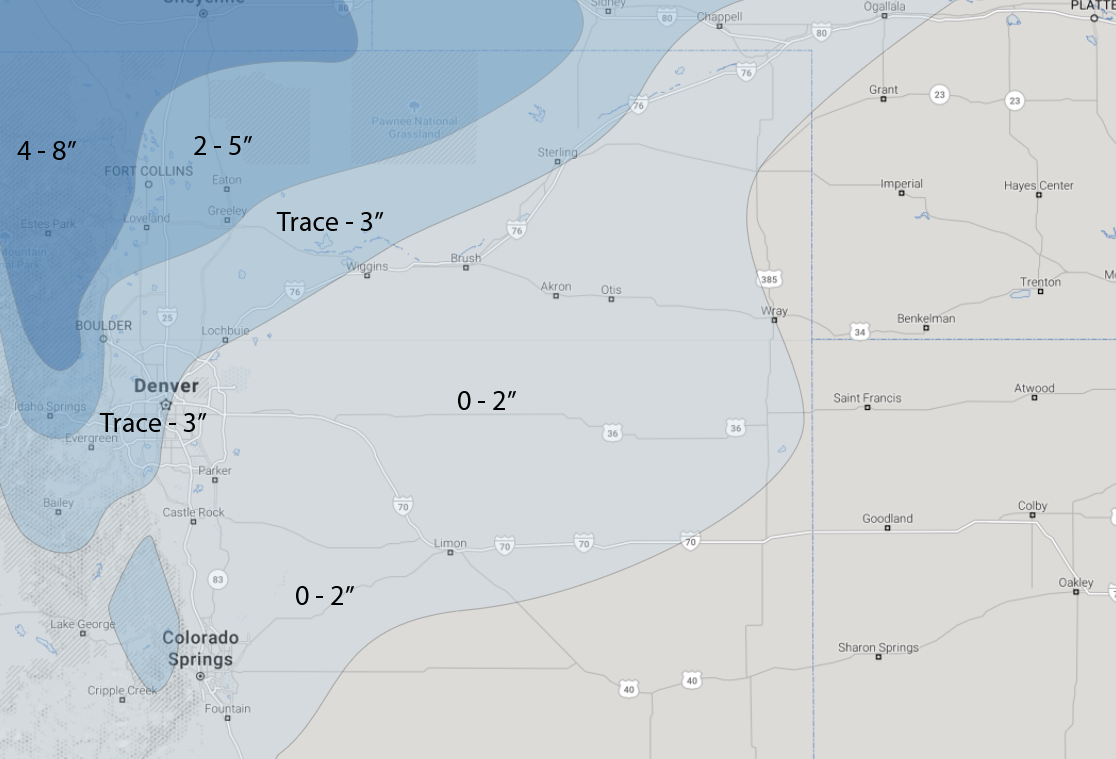 The usually bullish WPC probabilistic outlook actually tends to agree with us this go around (though I'm not sure if that's good or not?). But again, shows best potential for a couple inches of snow in Front Range communities north of Denver – though some light accumulation in Denver and south is possible as well.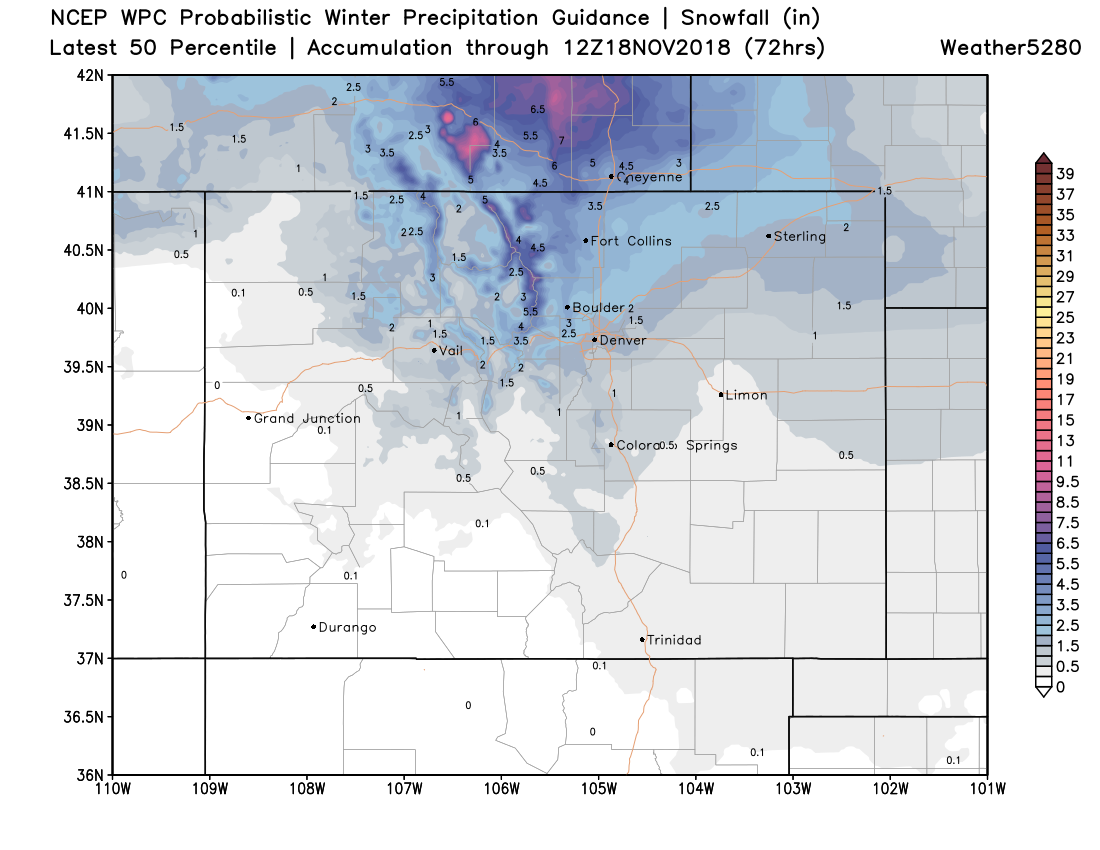 Timing
Look for snow showers to begin pushing into northern Colorado early Saturday morning, then slowly sag south throughout the day. At the moment the best window for snow in Denver is somewhere in the noon Saturday to midnight timeframe, before snow begins dissipating overnight Saturday into Sunday morning.
Here's a look at the GFS forecast for early Saturday morning, most of the snow still north of the border, but beginning to work into northern Colorado: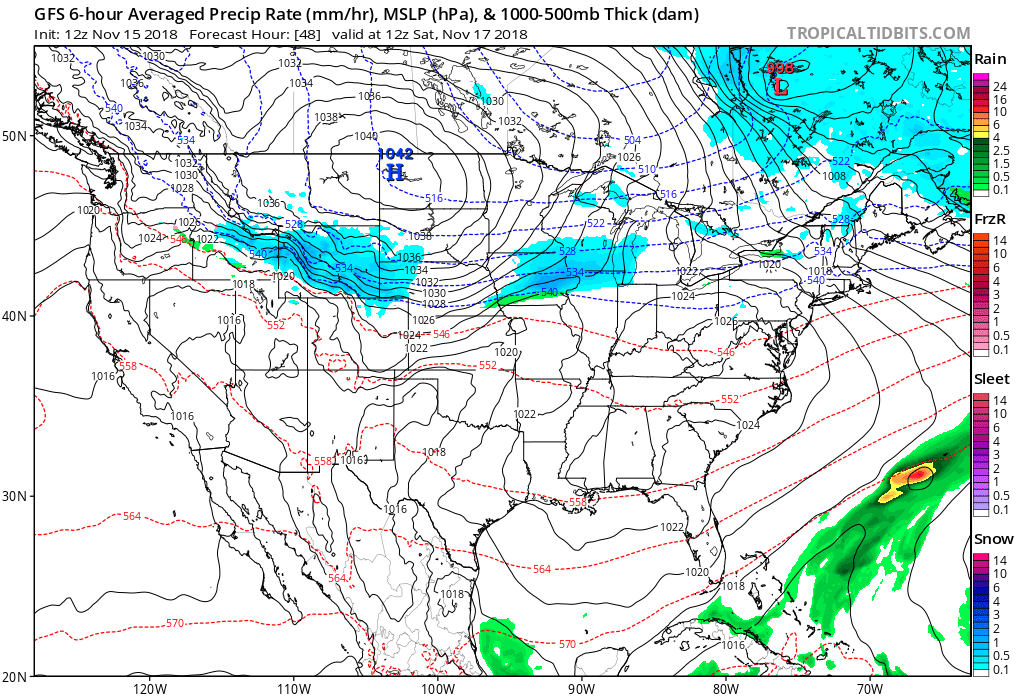 By Saturday afternoon/evening widespread light snow across northern Colorado, mainly from I-70 north: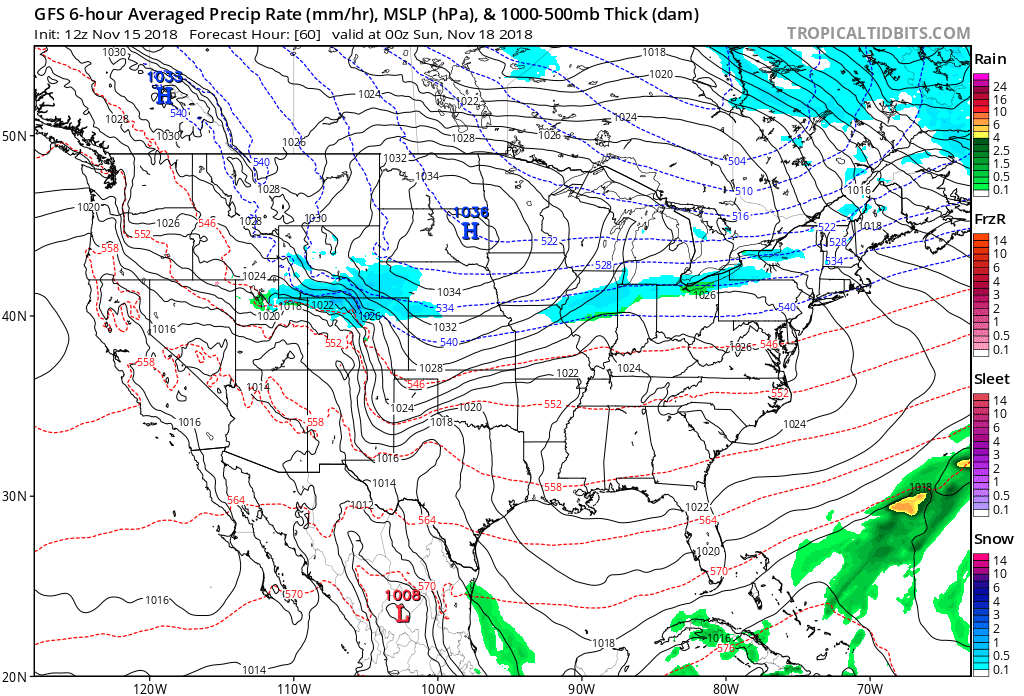 By Sunday morning just a few lingering snow showers across the state and those very cold temperatures: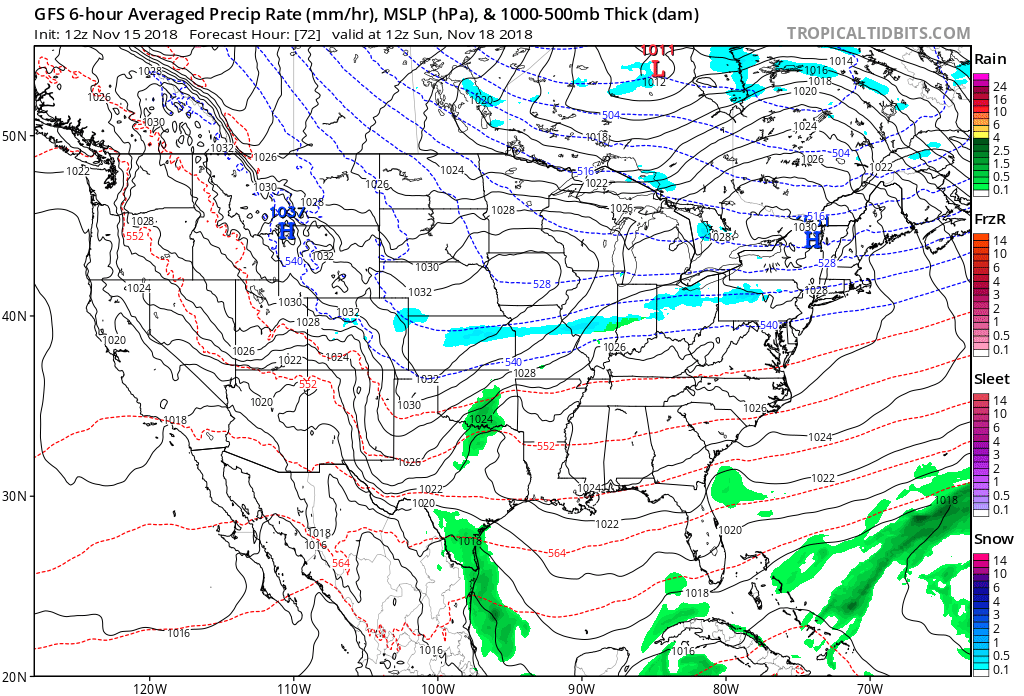 Sunday looks chilly (highs in the 40s) but dry with sunshine returning. A warming trend continues into Thanksgiving week.