We hope you got out and enjoyed the last couple of days as colder air is quickly approaching this evening. Latest surface analysis has it moving into northern Colorado around 6pm:
Not much change to the forecast we put out yesterday. For most of us, the snow aspect of this storm won't be a big deal. Instead, a sharp drop in temperatures Saturday, and perhaps some slick roads if freezing drizzle does materialize late tonight into Saturday morning as the National Weather Service Winter Weather Advisory that is in place indicates.
We won't make adjustments to the snowfall forecast we issued yesterday as our low-end totals are pretty low. We do have less confidence in higher end totals today, however, with a likely just a few exceptions to the rule. If we look at low-end totals from our map we issued yesterday, we're talking 0" - Trace across the Denver area, with perhaps 2" north from Loveland through Fort Collins. For higher end potential (which have low probabilities, but are possible) we see 2 - 5" along the Front Range and immediate plains: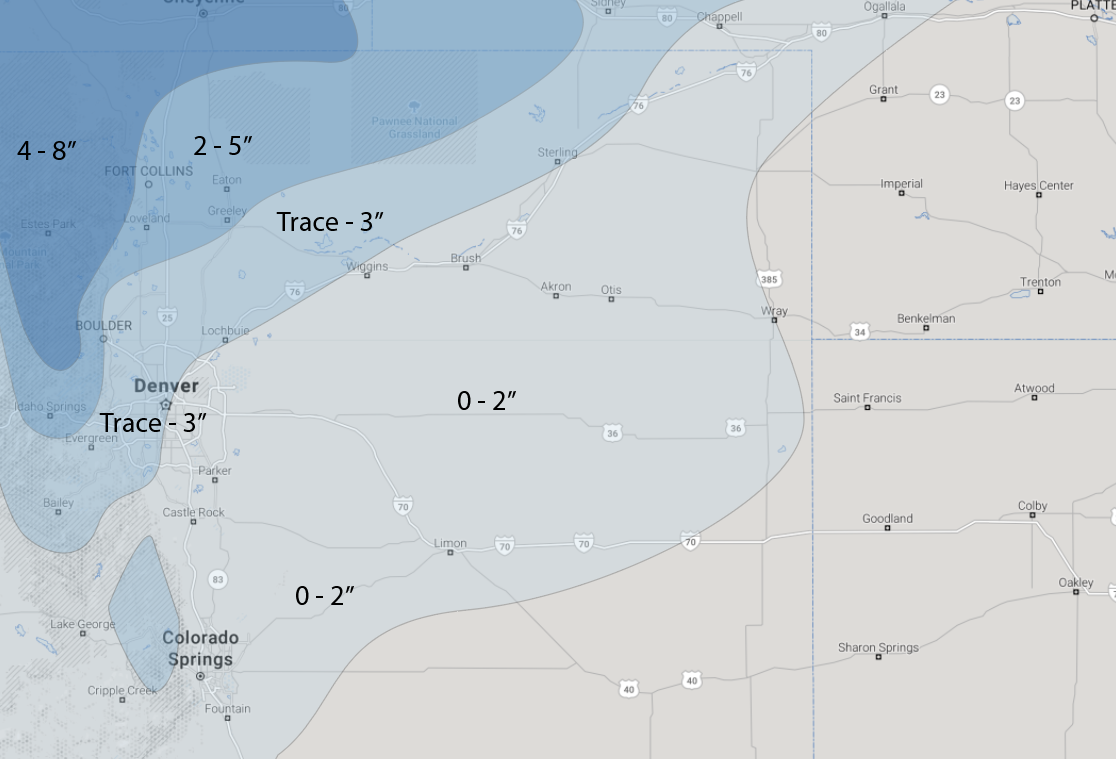 The latest gambler charts support this, with Fort Collins and Boulder showing the best potential for a few inches of snow, but generally pretty low probabilities for all cities to see more than 3":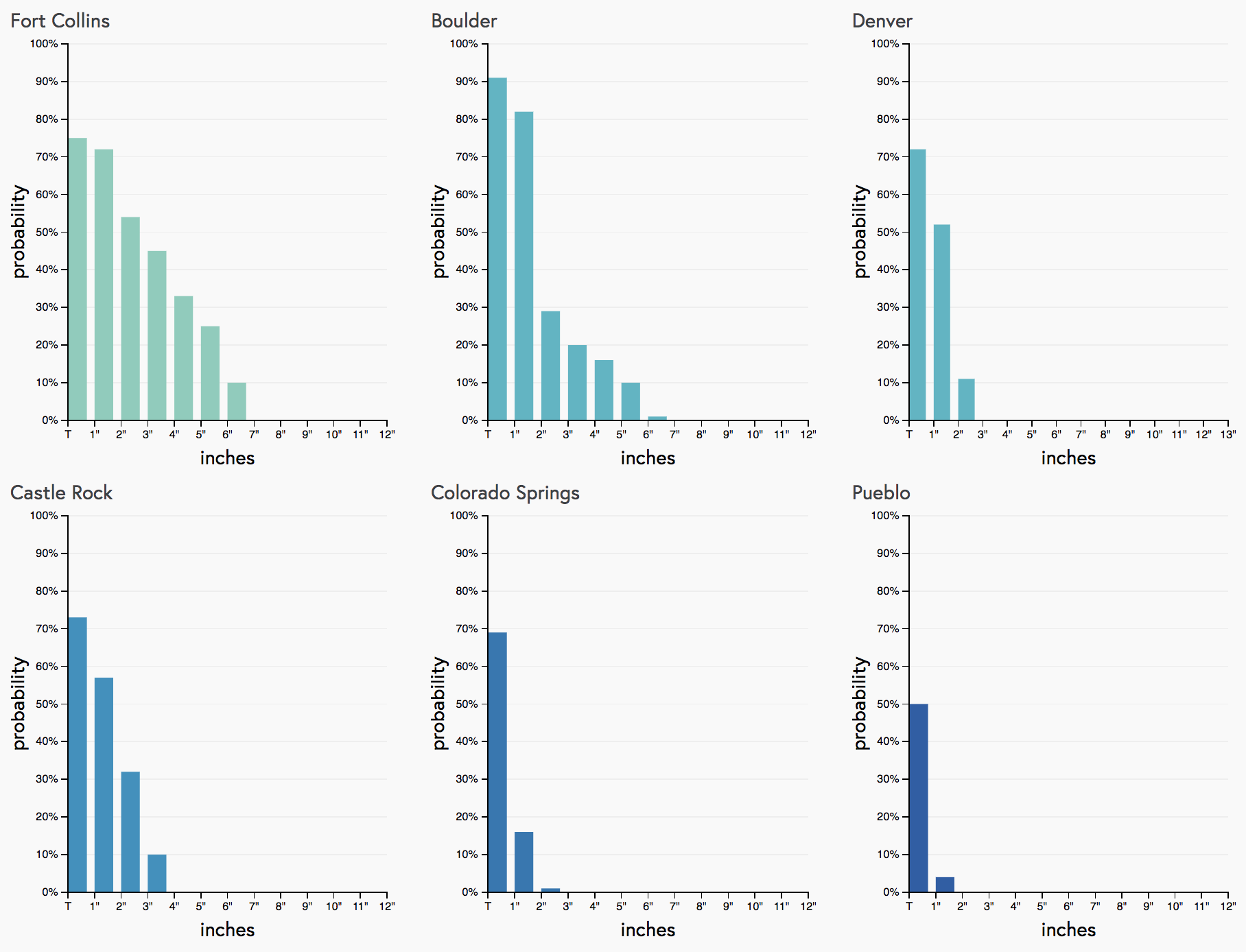 The GFS remains one of the more bullish models, with 3 - 5" for Fort Collins, and 2 - 3" for Denver: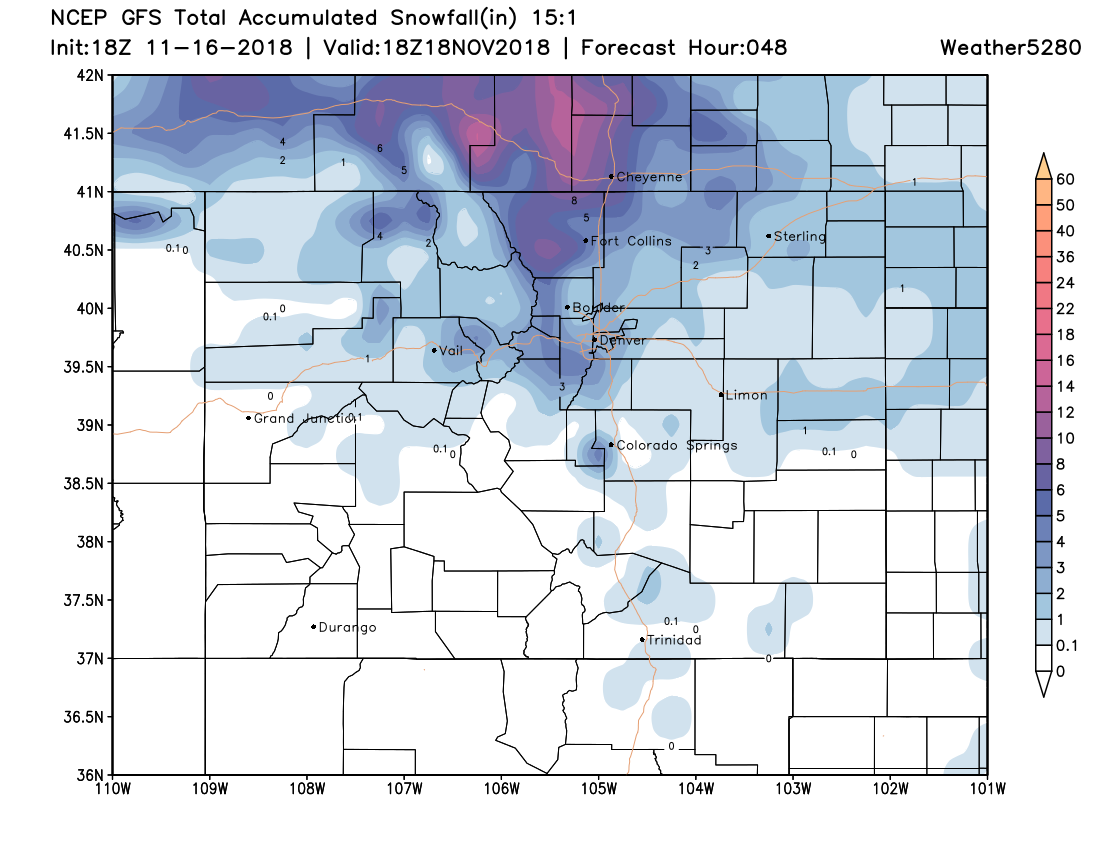 If you're looking for a boom, have some hope the EURO from today verifies. It's operational model has totals from 3 - 6" along and west of I-25 (mainly north of Denver), and right now is probably the outlier for such widespread coverage of the higher totals:
As you can see in both of the above images, if you live south of Denver, the chances for the higher snow totals really drops off.
Timing and temperatures
Look for the chance of light snow and freezing drizzle to increase from north to south overnight tonight. Denver isn't likely to see much frozen precipitation until after midnight.
Light snow will continue off and on through the day Saturday, gradually ending from north to south as we head into Saturday evening and overnight. With the cold temperatures in place, and perhaps some icing from drizzle, roads may be tricky at times across northeast Colorado on Saturday and Saturday night.
For temperatures, MOS guidance has highs in the upper 20s for Denver Saturday, falling into the low to mid 20s Saturday afternoon. Saturday night into Sunday will be quite cold across eastern Colorado, with morning lows on Sunday in the teens.
A chilly Sunday is forecast, but the sun will return. Still looking at a warming trend as we head into Thanksgiving week.
Travel Impact
The time of "greatest travel impact" will come Saturday into very early Sunday morning. Areas to the east, west and north of Denver will likely have the slowest travel due to weather conditions and potential icing on the roads. However, if you leave early and take it slow, you shouldn't have any major problems. If you don't have to travel on Saturday, and can leave Sunday, do that. Sunday is looking chilly, but decent, especially during the afternoon.