I understand that we typically measure seasonal snowfall totals (September - May) rather than annual, but given we're not even halfway through this season, let's take a quick look at how annual snowfall since January 2017 in Denver stacks up against previous years.
2017 was the least snowy year on record (dating back to 1882) for Denver. At just 17.2" on the year, it nudged out 1887 (18.9") as least snowiest, with 1888 coming in as a close third at 21.5". Remarkably, Denver has only recorded less than 30" in a year just 12 times in the last 137 years of record keeping. Two of those 12 came last year and this year (we need 3.4" of snow before the end of the month to hit 30" this year), several focused in the late 19th century, and just a few sprinkled in during the "big snow years" of the 20th century.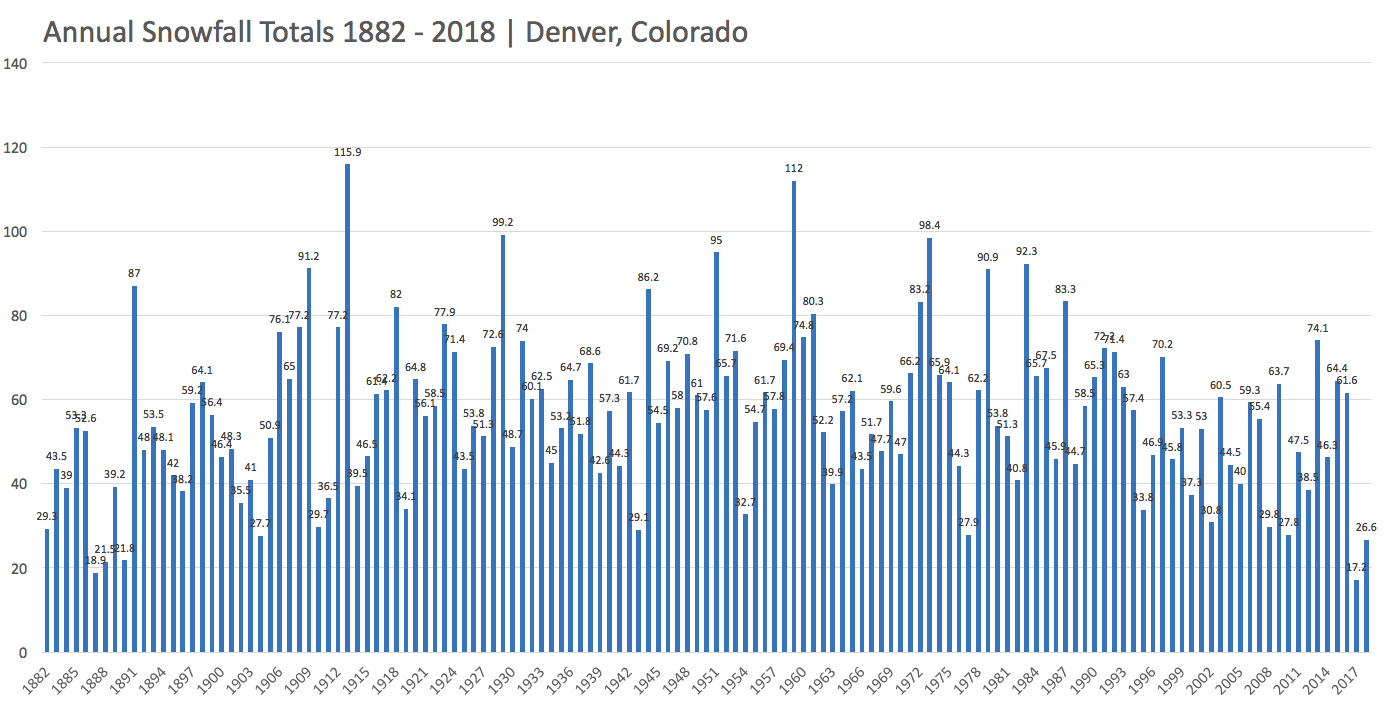 As you probably gathered above, the least-snowy two year stretch for snow in Denver came in 1887 and 1888, when just 40.4" of snow fell in the city over that period. Last year and this year are pulling in as close second, with 43.8" of snow recorded in Denver since January 2018.
This is an exceptional snow drought we are in, no two ways about it. The 43.8" we've seen over the last two years is running about 13" below our annual average. If we compare these last two years to our snowiest duo (1912 - 1913) when 193.1" fell on the city, well... as a snow lover, I just get depressed. I can't even really fathom what a two year period like that might be like? Of course, a huge chunk of that came in one epic snow in December of 1913, which blanketed the city in 45.7" of snow. Somewhat remarkably, that's again more snow than we've seen in the last two years combined.
Of course, the year isn't over, so perhaps we'll round out 2018 with an unexpected boom of heavy snow. The problem is that time is running out... and as it stands, we aren't staring any big storms directly in the face. Our next chance of snow appears to be mid to late next week... let's see how we do.
We've got a long way to go this season, a new year is around the corner, our analog package and winter outlook offer some optimism for moisture returning as we head into late winter and the spring. Let us hope we turn things around.