We're tracking some snow across the high country today, and even some showers across the eastern plains, but most of the urban corridor should remain dry. Biggest issues we'll see east of the mountains will be the wind through the remainder of the day, with a High Wind Warning in effect until this evening for much of the northeast plains, not including Denver (though gusty winds are still likely in the city today).
Below is the latest HRRR snowfall forecast through 10pm tonight. Generally light (but snow nonetheless!) accumulations for portions of the high country, with little expected elsewhere: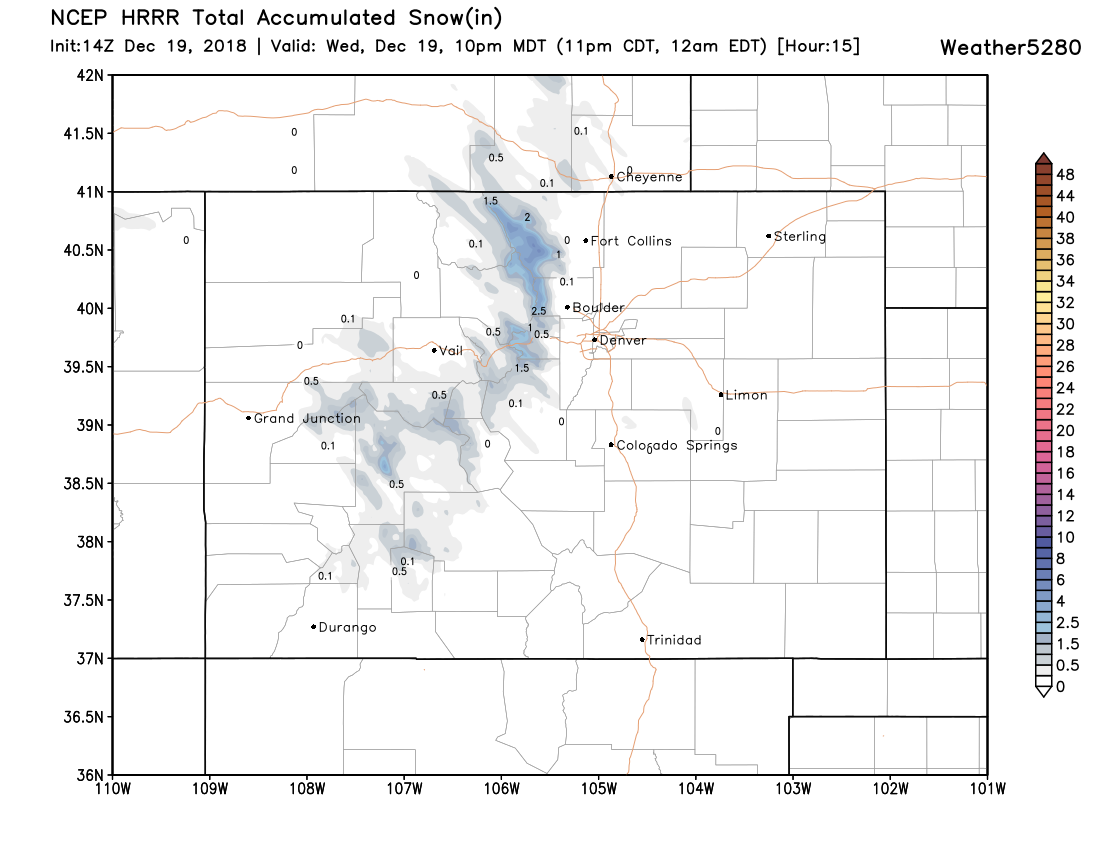 Our focus then shifts to the weekend, where latest data shows a slight increase in odds we see a bit of rain and snow spill over onto the plains by Saturday and Saturday evening. As we discussed in this week's SOTA, this isn't looking like a blockbuster event... but perhaps enough of a change to remind us it is indeed December if latest data is correct.
Strong winds associated with a quick-hitting disturbance Saturday will attempt to pull some moisture off the mountains and out east across the Palmer Divide and plains. The window will be a relatively small one, and this setup won't mean rain/snow for everyone, but looks more and more likely for some: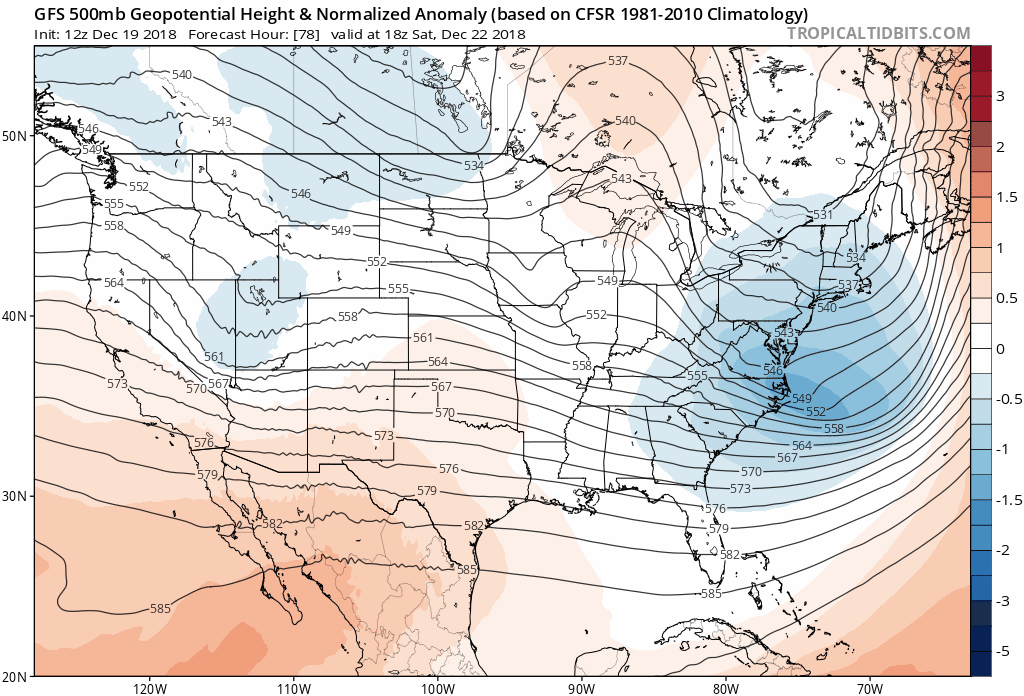 We'll be looking at hit and miss bands of snow pushing off the mountains Saturday and Saturday evening, which will likely equate to a few areas seeing some light snowfall accumulation, and other areas seeing nothing. Until we get closer to Saturday, hard to say where best chance for those bands to set up will be. For now we'll keep those rain/snow chances low... maybe in the 20 to 30% range for now, and see how/where we need to adjust as we get closer to the weekend.
An early look at the GFS shows the best chance for accumulating snow will be across the Palmer Divide, again, we expect the placement of these snow bands to fluctuate over the coming days. As you can see, however, not a huge event overall, but perhaps just enough snow in a few locations to get you in the holiday spirit? I'm grasping at straws here.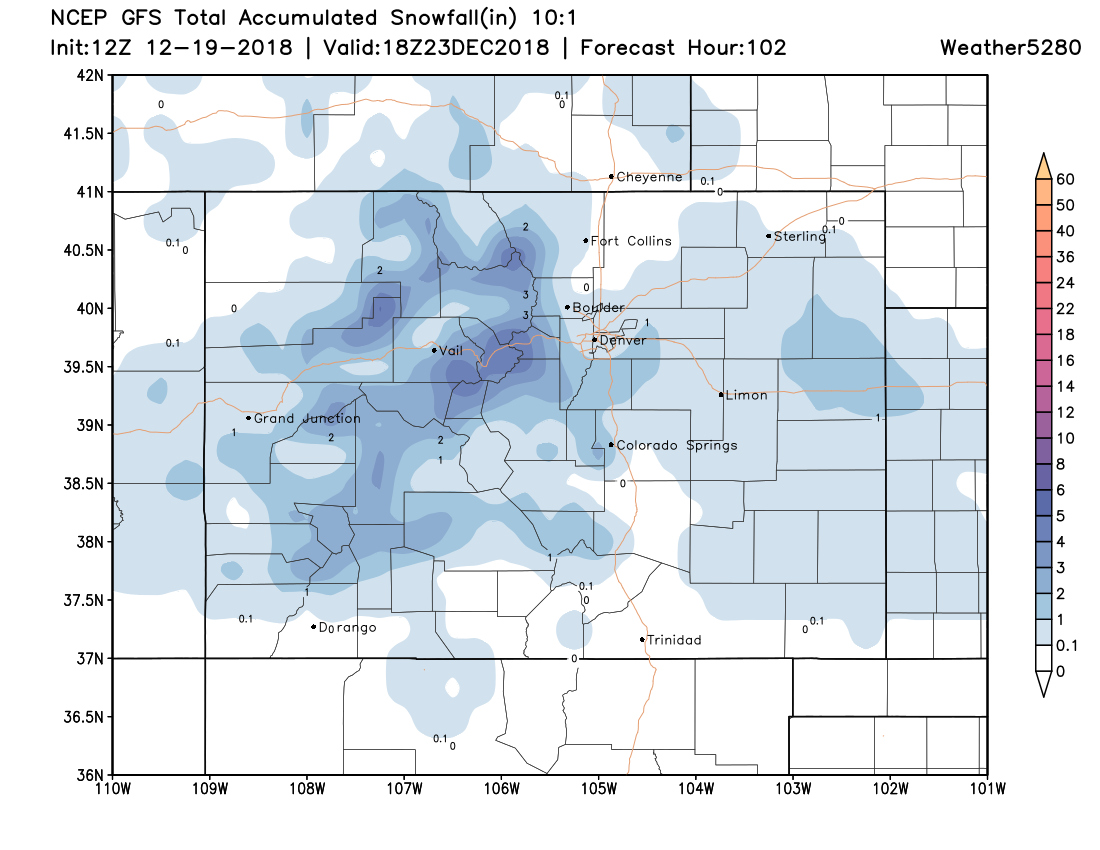 Timing for the next system still looks to be late Christmas day or perhaps the 26th. This system does look a bit more organized than anything we've seen in a long time... but if that equates to snow along the front range or not remains very much in question.