Quick update today to check in on our storm system due in Wednesday. Overall, little change to what we discussed yesterday. It continues to look like the greatest impacts from this event will be felt across the eastern plains of Colorado (perhaps even east of the state line), rather than along the Front Range and urban corridor.
We do expect a chance of snow across the entire area Wednesday into Thursday, but snow totals at this time look relatively low -- likely in the Trace to 3" range for the greater Denver area. The EURO mean snowfall forecast looks okay. Trace - 3" for the northern urban corridor, perhaps some better snowfall along the Palmer Divide between Denver and Colorado Springs, with greater totals possible out east/southeast: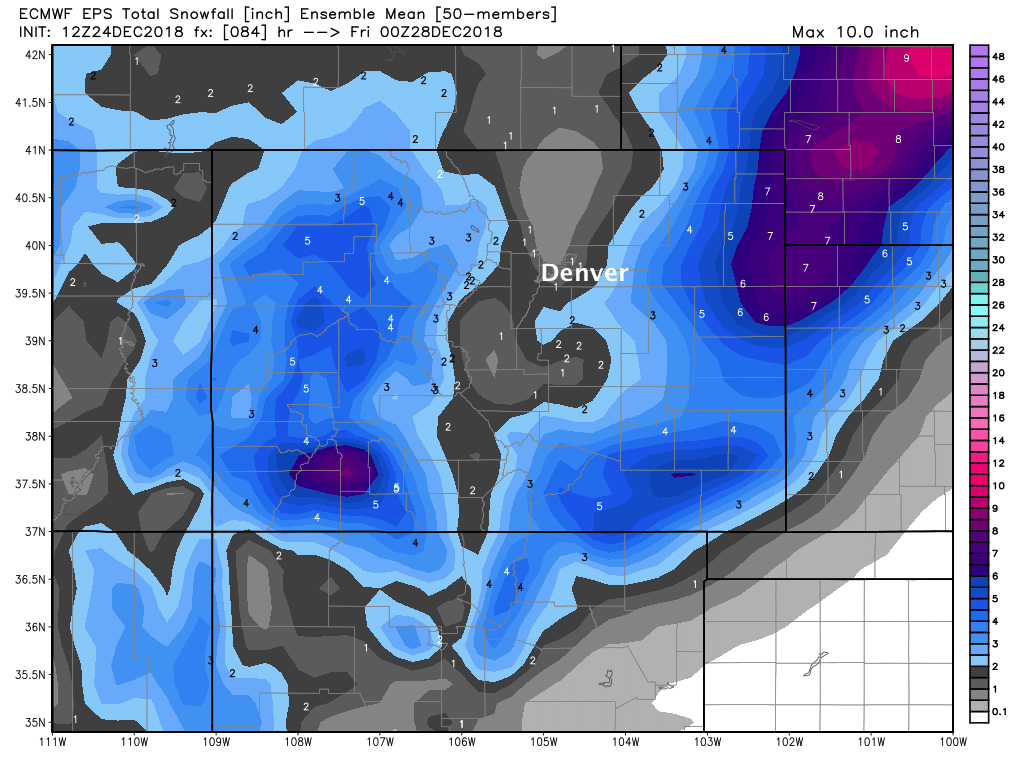 Timing looks to be from Wednesday morning into Thursday night for those snow chances around here, with the best chance of snow at this time looking like Wednesday evening.
Frankly, if some of us don't even see any accumulation I wouldn't be shocked, especially north on I-25 out of Denver. Probabilistically, however, it looks like most of us will at least see some snow on Wednesday.
There's still time for things to change... but models have been pretty consistent on keeping greatest impacts east and for now we see little reason to disagree. Our system is just coming inland now... so we'll have to see if tonight's data shows any change to the forecast track or not. If the storm tracks a bit further east with a more elongated trough (the GFS has been hinting at this) might mean the heaviest rain/snow ends up east/northeast of Colorado. A stronger more western track than currently forecast could mean greater totals for the Denver area than discussed above. Somewhere in between is where we sit now... with little reason at this point to believe much will change between now and Wednesday.
A quick look at our gambler charts this afternoon agree with this thinking. Decent odds we see a Trace to 1" around here Wed/Wed night, but odds drop off considerably after that. One mildly interesting note from this afternoon's gamblers is we see a bit more of the high-end potential showing up again as compared to yesterday. Not great odds by any means, but shows something more interesting than currently forecast is not 100% off the table?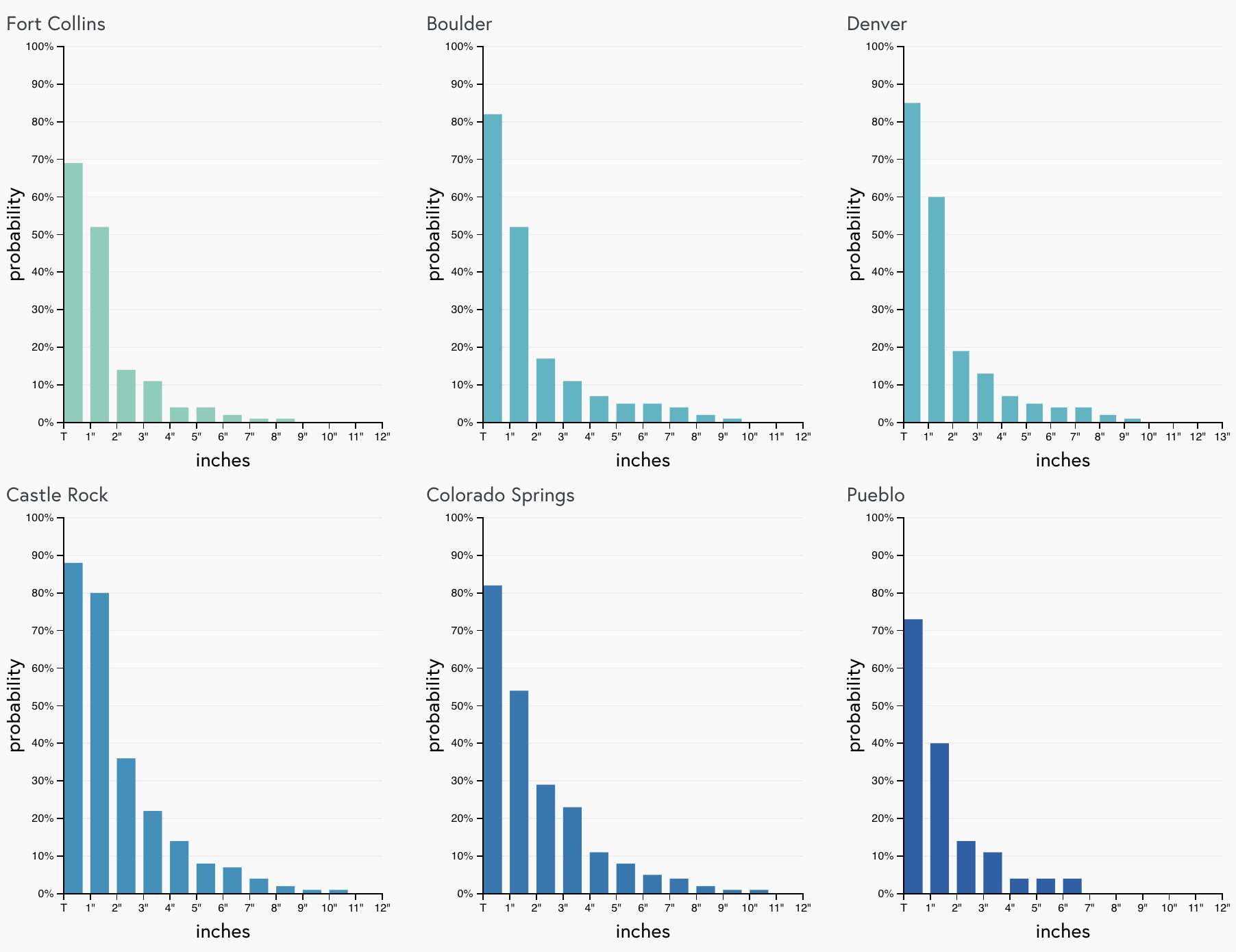 And finally, as a bit of a programming note... we'll keep an eye on the forecast tonight and tomorrow but likely won't plan to offer an update again before Wednesday unless we see a significant shift in the forecast as this system comes inland today. We'll plan to do an update Wednesday morning unless blue sky and sunshine has us down!
A few more systems to watch behind this one to round out the year, including one the EURO seems mildly excited about around the 31st. Hard to get too excited about much at this point... but the window looks to remain open at least to close out 2018, so we'll see how things shake out.