If you're like me and always hoping for a sneaky "boom" snowfall, these are exactly the types of setups you should like. My unscientific take is that when models show a big storm a week out it likely won't materialize, but when they catch it late there is a fighting chance.
Interestingly, two weeks ago this system was a lock on most of the medium range models. Then they lost it. But, as we mentioned in last week's SOTA, it didn't mean take your eye off it. Yesterday we started seeing several models jump back on board with a decent snow event along the Front Range, with support even from the least likely of suspects –– the European model.
The question of course is if this one of those cases where we see a sneaky "boom" snowfall? Or does this system go the way of virtually all the others of the last few years and come in DOA. Here we are a matter of hours away from when the snow is likely to start and models are struggling, especially with regard to how much moisture we're likely to see and how temperatures Friday might impact totals.
The high-resolution models continue to be quite bullish, with the 3km NAM showing from 0.5" to >1" of liquid for the region tomorrow/tomorrow night. This solution, even with marginal temps and much of the snow falling during daylight hours would likely equate to one of our bigger snowfalls in years across the Denver metro area: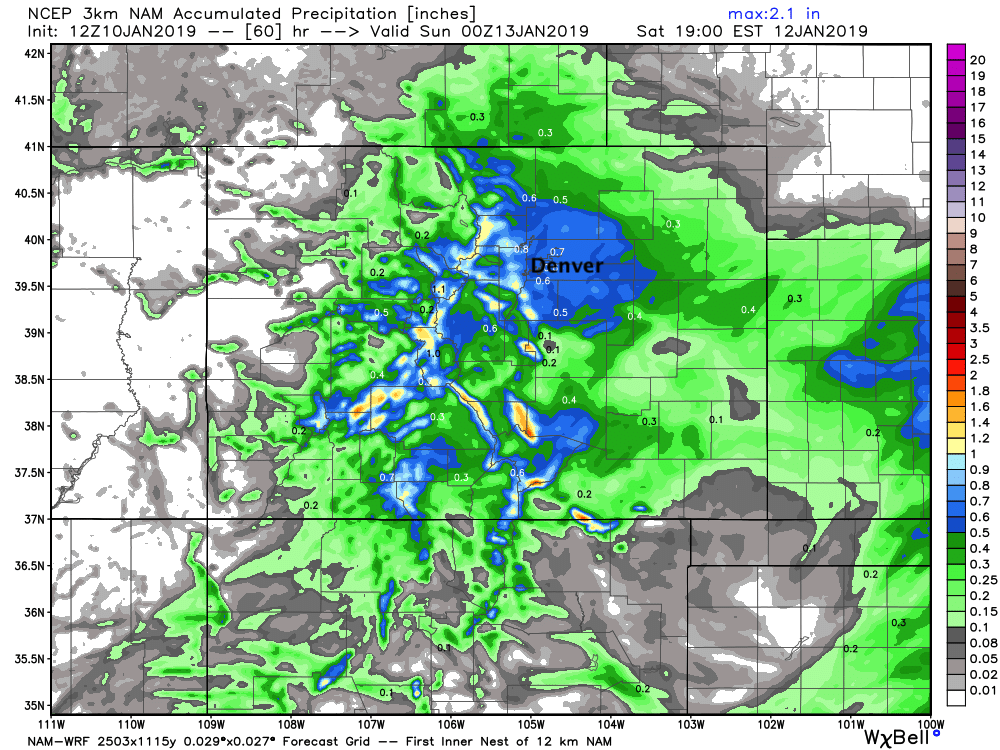 Meanwhile the GFS remains remarkably consistent, and drier (another bust for most):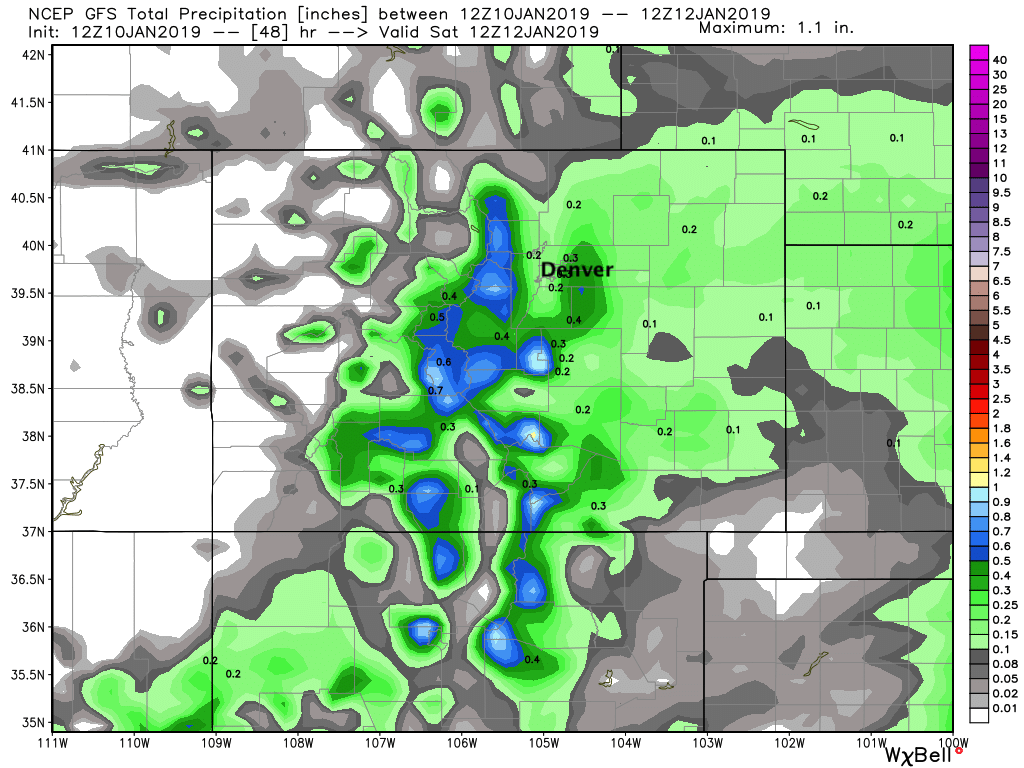 A feedback issue in the NAM products? Perhaps. But when we look at the EURO model, we see it continue to be considerably more bullish as well. It has 0.5" to 0.7" liquid across the city, which at 10:1 (low ratio for this storm) would equate to 5 - 7" of snow across the city by Saturday morning (!!). As if we needed any more of a reason to throw out the GFS.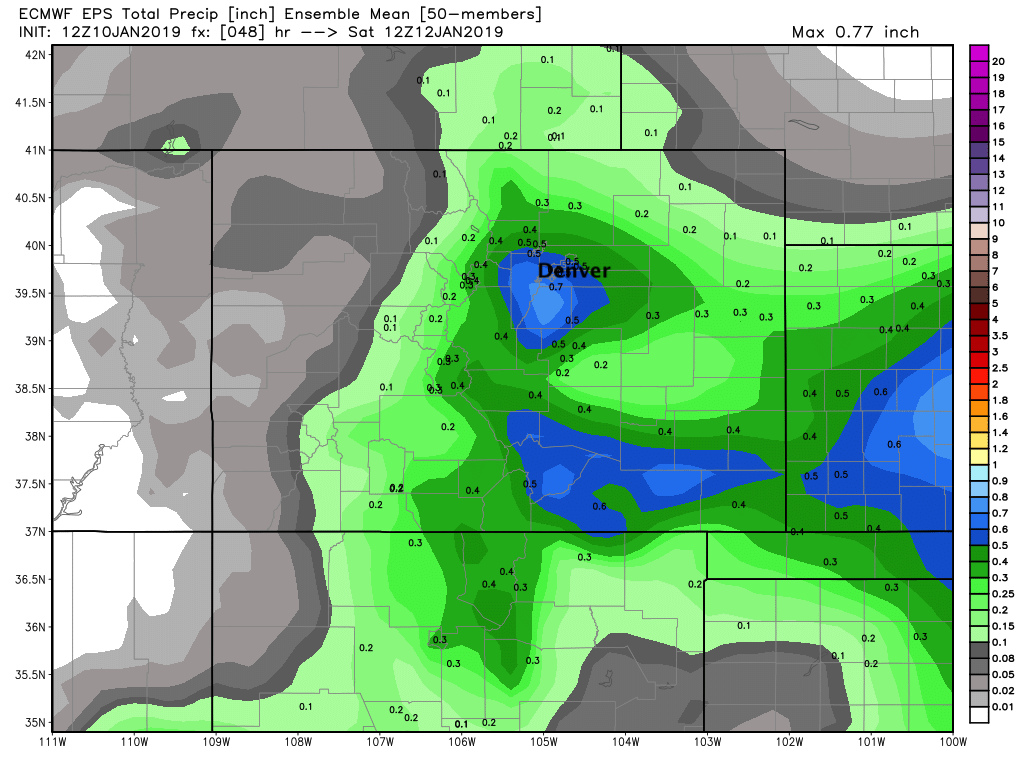 The question of how much snow we see is likely two-fold. How much moisture are we actually looking at here, and what will daytime temperatures do to accumulation. Temperatures aren't likely to be all that cold for much of the time we see snow on Friday –– highs in the 30s, which would likely mean we see slushy accumulation, and won't be looking at the high snowfall ratios we've seen in recent events.
Overall this looks increasingly like a pretty good setup for portions of the area. Mainly Denver south, the western Denver suburbs and foothills, and across the western Palmer Divide. For those living north toward Fort Collins the boom chance is much lower. Same being true for the Colorado Springs area which northerly winds may limit snow in the city proper. South of Colorado Springs/Pueblo across the Raton Basin and extending into western Kansas should also do quite well with this setup.
Snowfall forecast
We are largely ignoring the GFS at this point, and with that going for it on some higher end totals in spots. Key again will be how impactful event will be with best window for snow coming between 5am and 5pm Friday as it looks now. If we get some snow a bit earlier tomorrow morning, then we likely wont see a lot of opportunity for warming Friday, and of course this would mean a more difficult morning commute. If it comes later, it could be we miss on some accumulation during the day, but still likely to see a slow evening commute.
Some models that try to resolve for these temperatures/day time concerns are lower on totals (especially in the city), but even with marginal temperatures –– it's January, not April. If we bust low it's likely a temperature issue, or we see the heaviest precipitation end up across southern/southeastern Colorado, and just a simply miss on our area.
For totals look for greatest potential for greater totals along Denver's south and west side. The further north toward Fort Collins you go, it looks like the chances are lower. In Denver... I always worry about downtown, but the southern, southwestern, and southeastern suburbs could do well. We'll go 3 - 6" for the city, with greatest boom potential in areas previously listed.
Travel between Denver and Colorado Springs on Friday is likely to be challenging. We expect the heaviest snow to fall across portions of Douglas County, with totals of a foot in some spots not out of the question. Here temperatures will be cooler as well, so more impact on roadways is likely.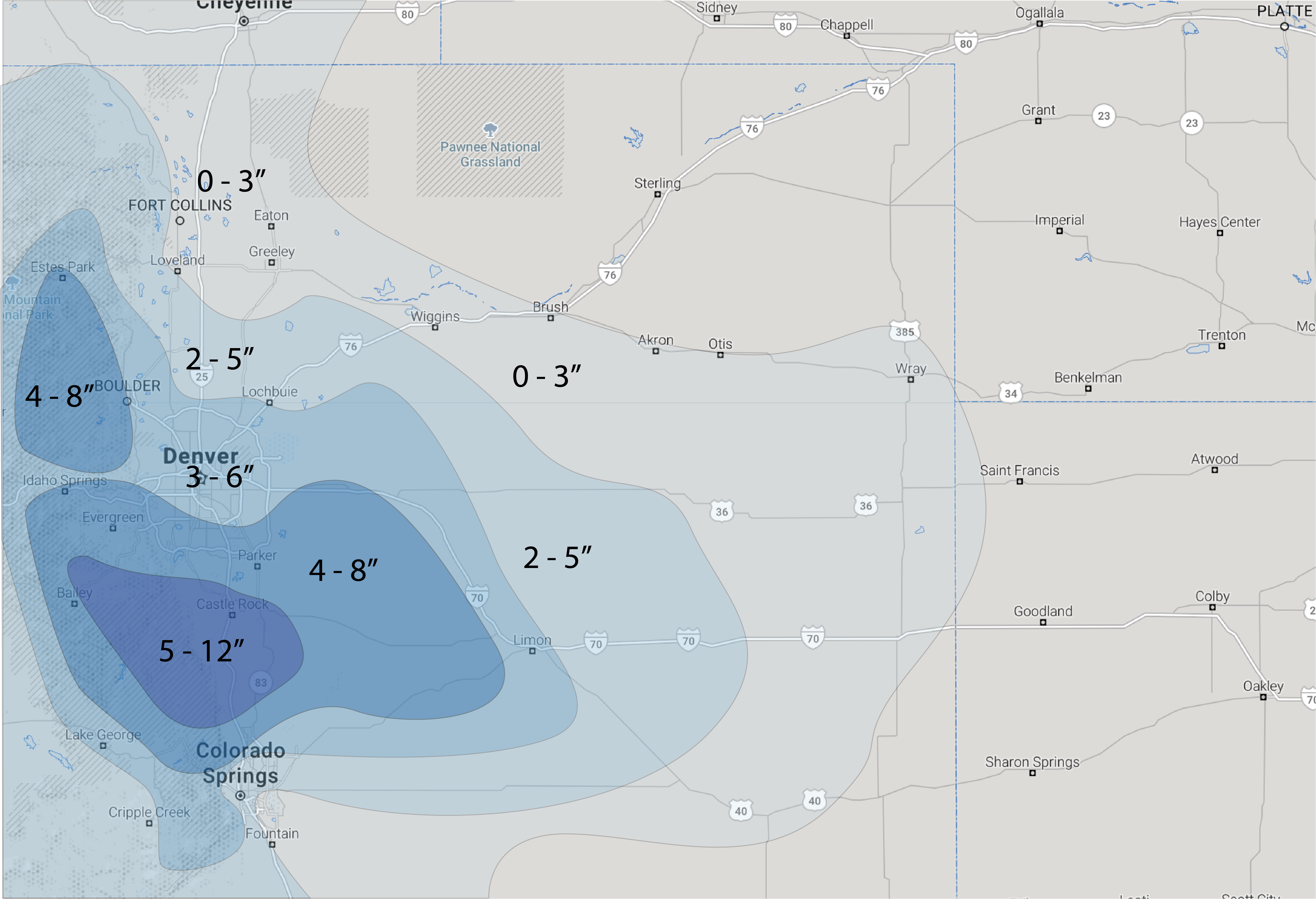 Timing and impacts
Snow is likely to push off the mountains by day break on Friday. If we see snow develop a bit earlier than that it could make for a slow commute Friday morning, so please plan for that. Otherwise, look for snow off and on through the day Friday, ending overnight Friday into Saturday.
I-25 between Denver and Colorado Springs will see some of the worst conditions Friday, but roadways across the region are likely to be impacted –– even if mostly slushy during the day.
By Friday evening icing will become a concern, with temperatures falling into the low to mid 20s with light snow diminishing after midnight.
Finally, there are no winter highlights issued yet from the NWS, but unless everything completely crashes and burns in the next hours I'd expect that to change. At the very least it seems as though we'd see highlights for the Palmer Divide issued by mid to late afternoon.
Boom or bust?
This is by no means a done deal (is it ever?) but for some areas we could see some of the greatest accumulation we've seen from a single storm in quite some time. With that please travel with care.
Forecast confidence here is medium at best. We'll be watching all the data tonight and see if we need to adjust totals or not. Recent history would tell us we're in for a devastating blow to the current forecast this evening... but maybe we're getting late enough in the winter that this time we can buck that trend. Until I measure 6" of snow IMBY, it'll feel like I'm trying to will something to be that never will be.
Keep us posted on how things shake our where you live, and of course DO check back as things might change again by tomorrow.