Things are playing out about as expected across the region today, with wet heavy snow (mixing with rain at times) developing just before dawn this morning, and likely to continue off and on into tonight.
Temperature have been just dreadful for those hoping for big snow totals in the city. We bottomed out at 33°F earlier this morning, but have since warmed about a degree. Despite continual snow, we've only managed about 2" with a great deal of compaction and melting to boot.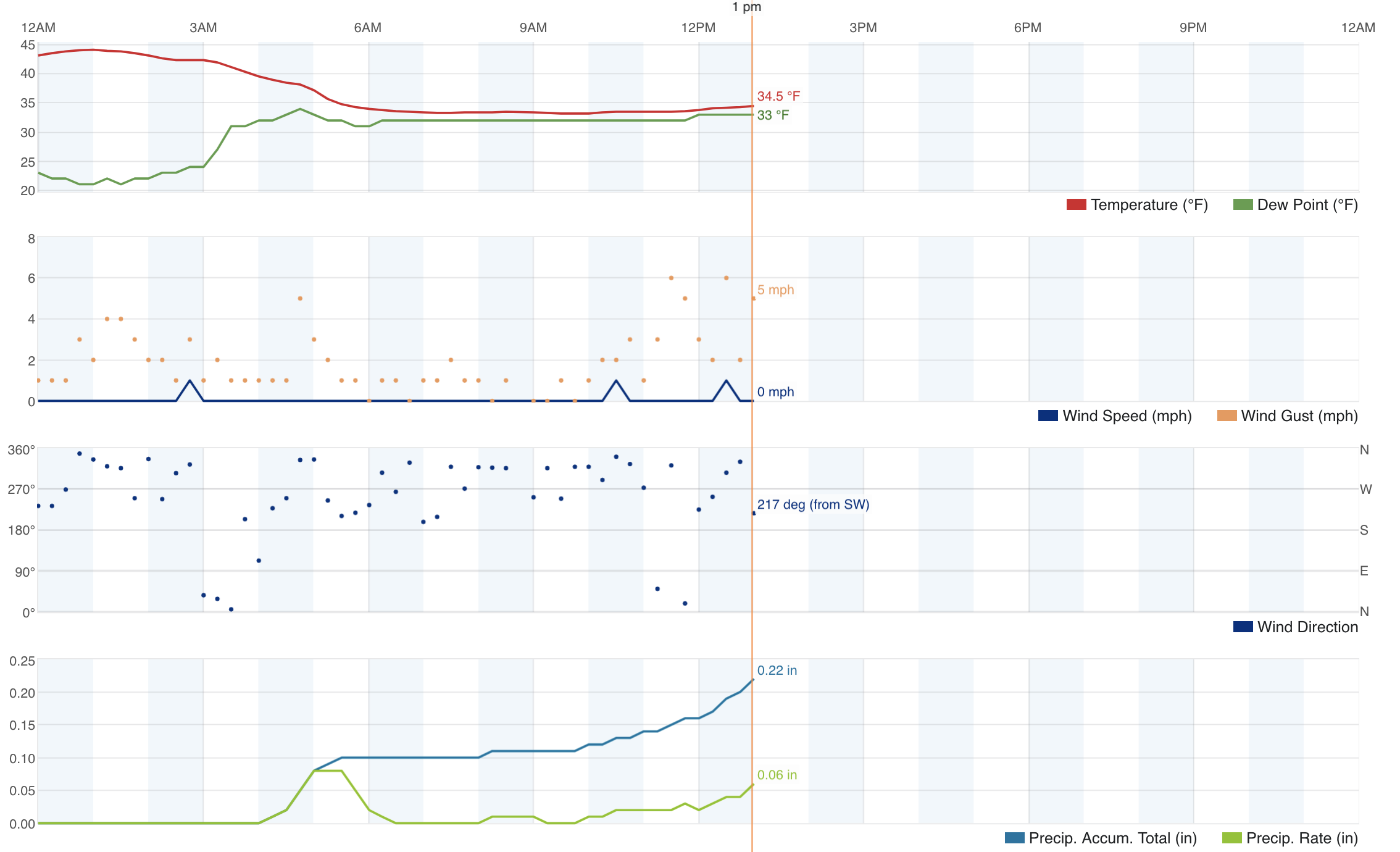 A check on local storm reports from the National Weather Service show totals generally from 1 - 3" below about 5,600 feet, with some totals upwards of 6" now starting to show as you go up in elevation outside of town in places like Castle Rock and western Douglas County.
This will continue to be the theme through the afternoon, which is why we painted areas south, southwest, and to an extent southeast with greater accumulation with this system as compared to Denver and points north.
Bottomline: if your area busts it's a temperature issue. The moisture is there (sorry GFS!) but hoping for big time totals with the bulk of snow falling during the day with temperatures in the 30s is a tough one to pull off. This feels like a late March snow here in the middle of January which is pretty remarkable. Very Niño even if not officially a Niño.
A look at midday temperatures (red numbers below) shows upper 30s and 40s across northern/northeast Colorado, 33°F at DIA, and 31°F at Centennial Airport. Thus, while it continues to snow in Denver it'll struggle to accumulate until the sun starts to set, but if you live to the south just a few degrees cooler may be just enough to deliver on those higher totals.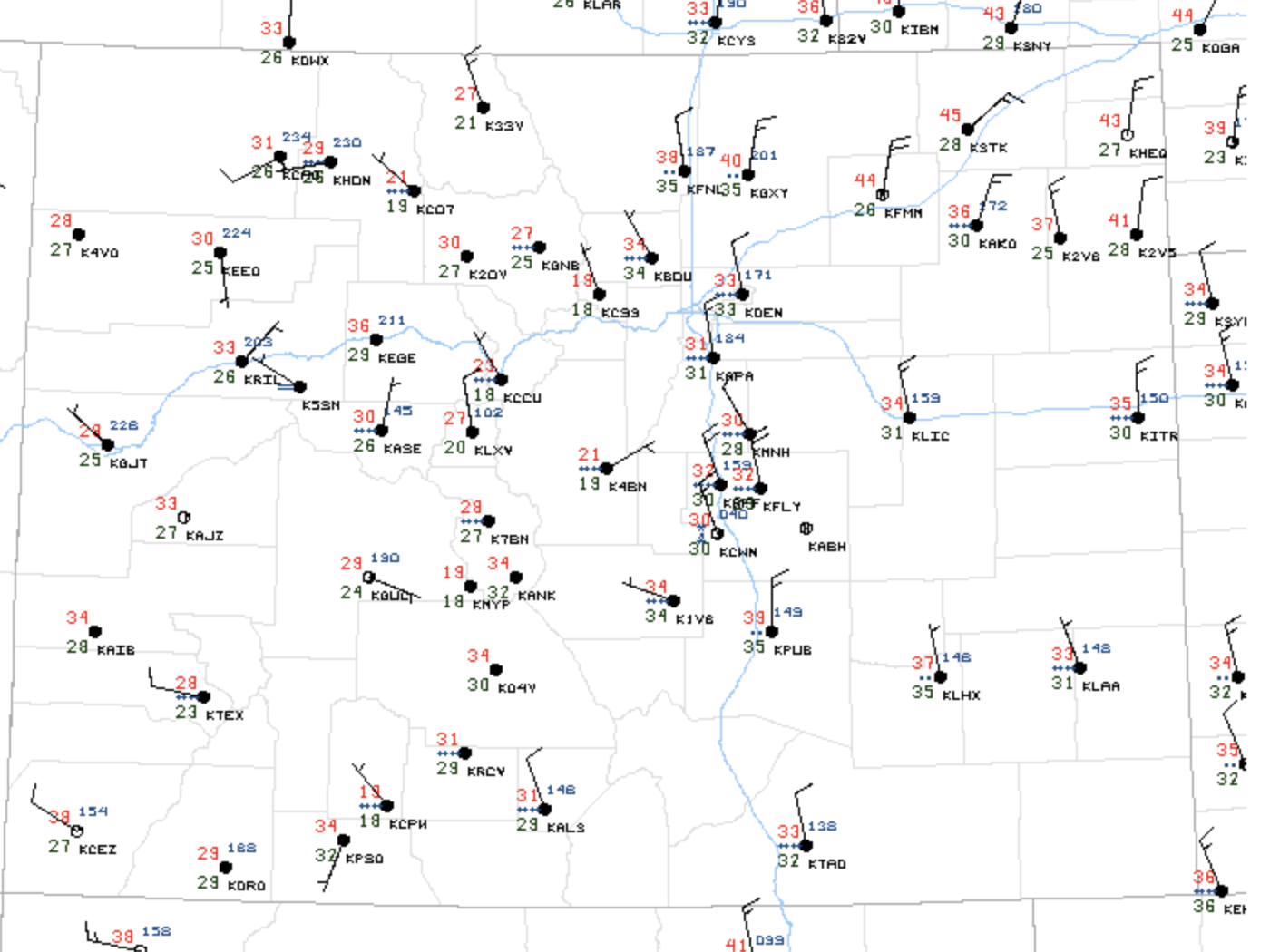 After slowing late morning and to start the afternoon we're seeing snowfall intensity pickup again around Denver. Here's the radar as of 1:30pm today with some heavy snow showers around town trying to combat the temperatures: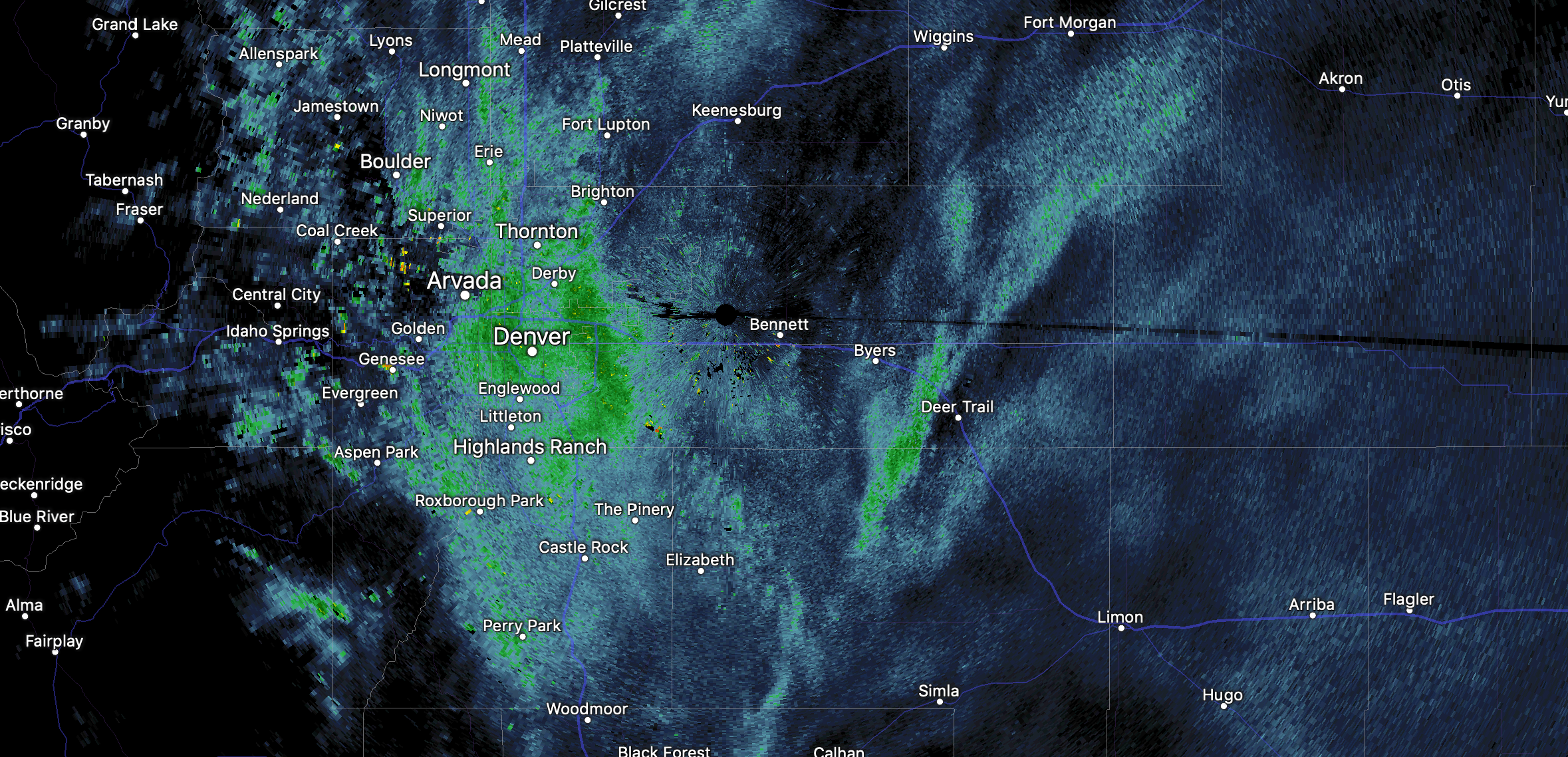 Most of the high-resolution models coming in this afternoon keep rain and snow going through about midnight tonight before things taper off. Both the HRRR and 3km NAM show snow showers increasing in intensity through the evening rush before letting up a bit by 7 or 8pm. If this is true... not only will we see another slow commute this evening, but we'd certainly have a shot at helping those totals as snow should better accumulate as we head toward 4 and 5pm.
Here's the 3km NAM simulated radar for 5pm, with heaviest snowfall over southwest Denver and the Palmer Divide, with snow for Denver and still some mixing north of town: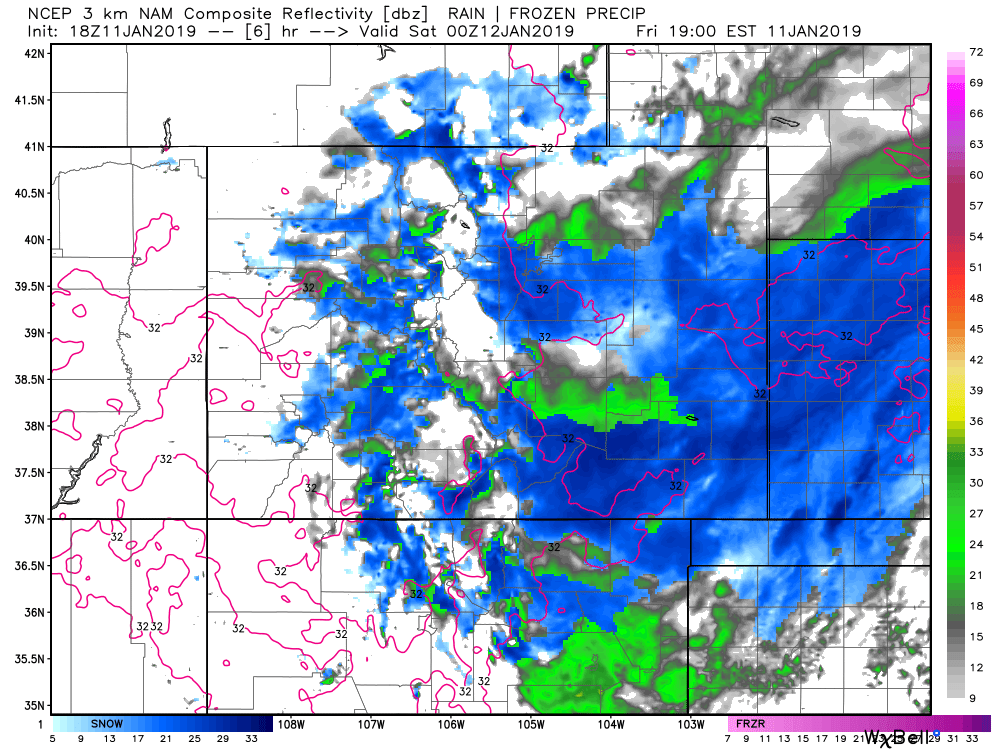 By 9pm it still has snow around, and even with temperatures not cooling all that much, having the sun down will help accumulation: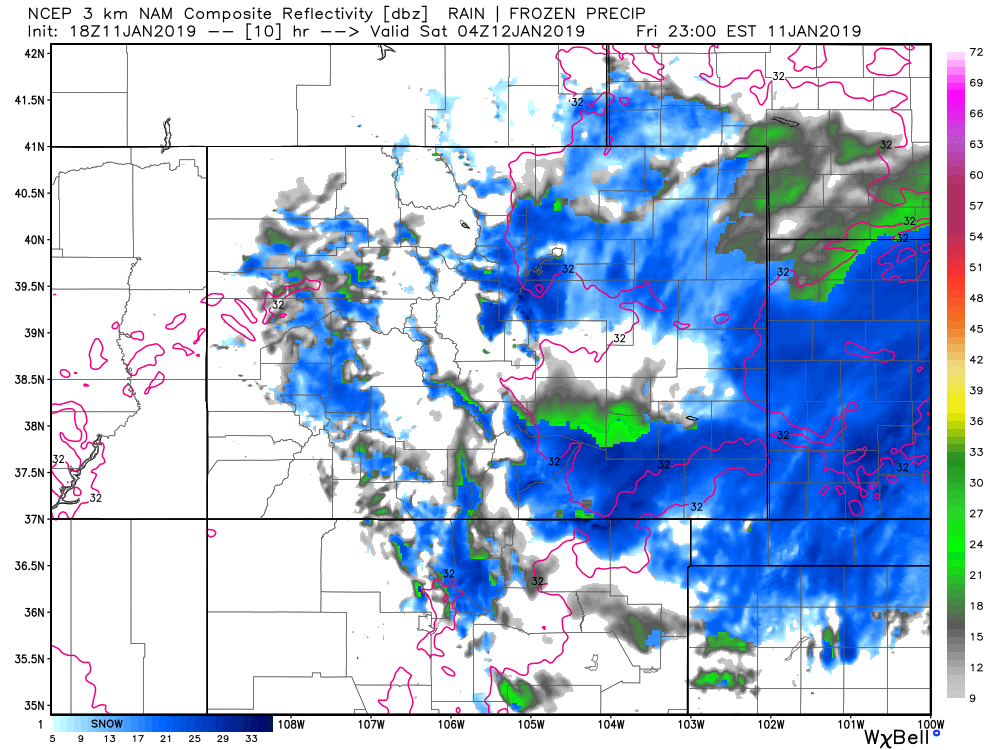 The HRRR looks similar:
4pm: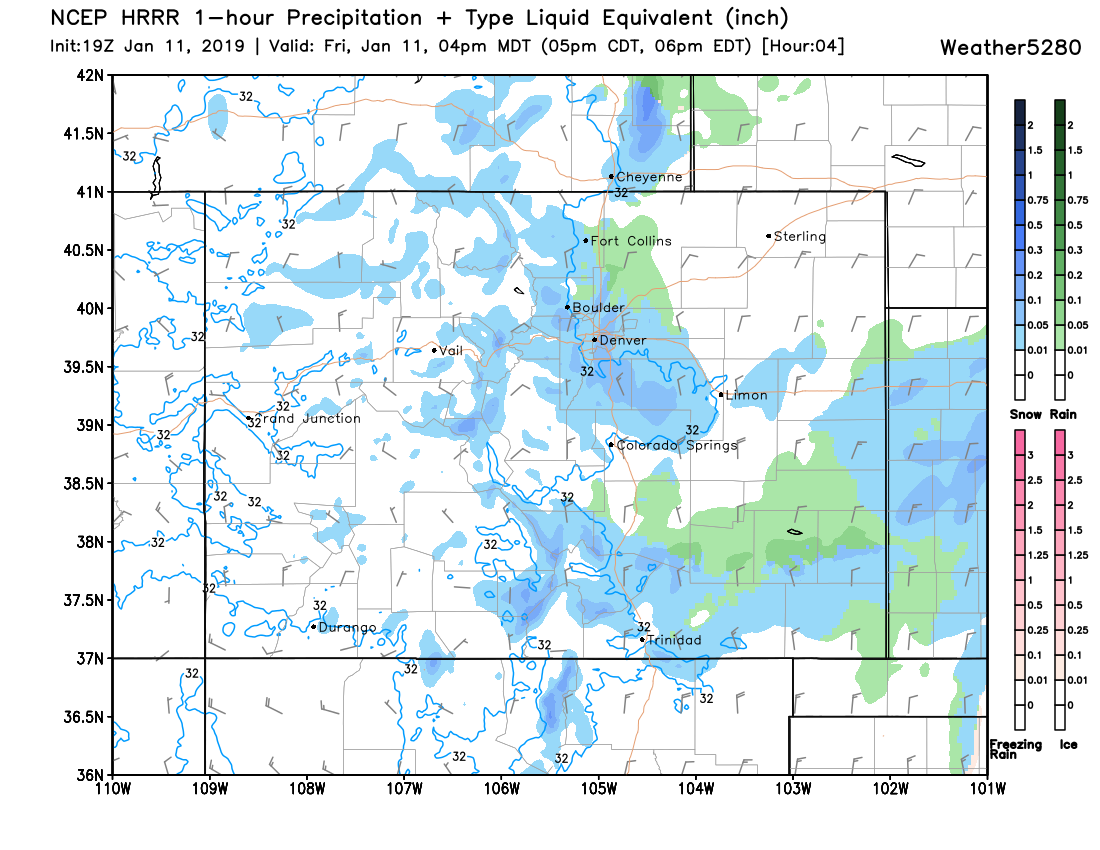 8pm: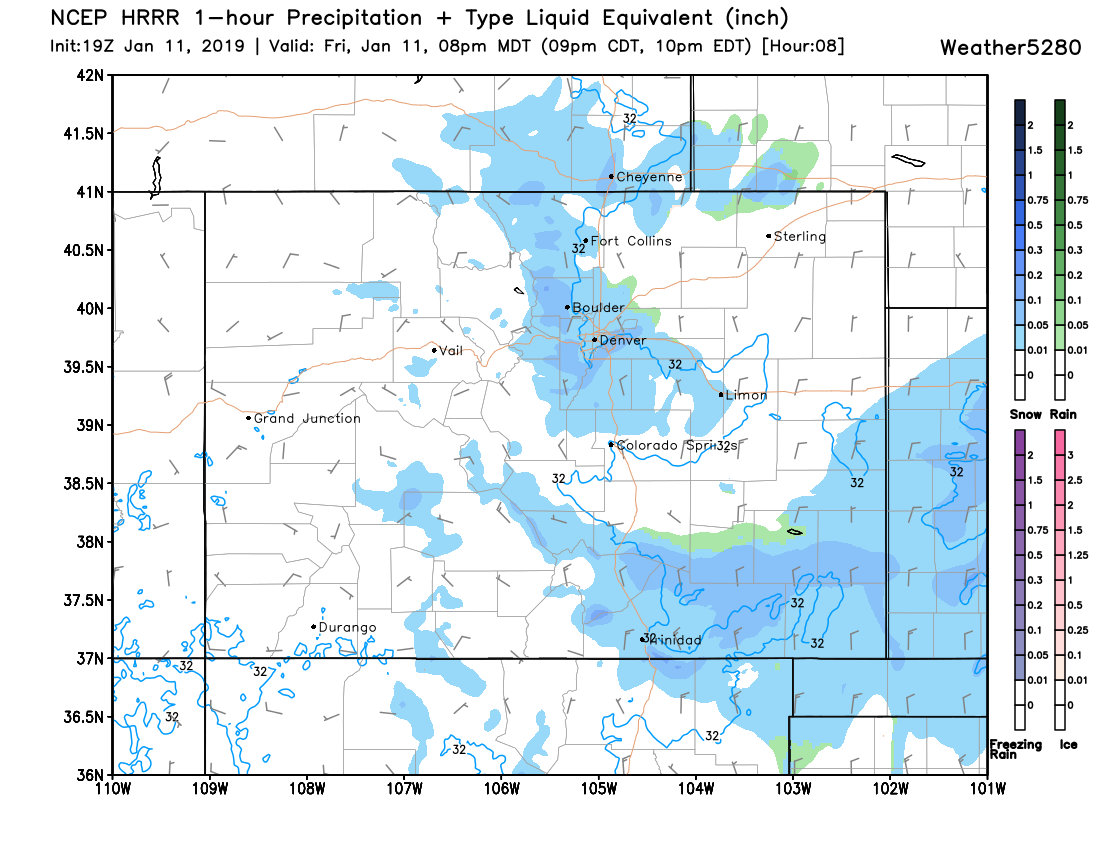 2am: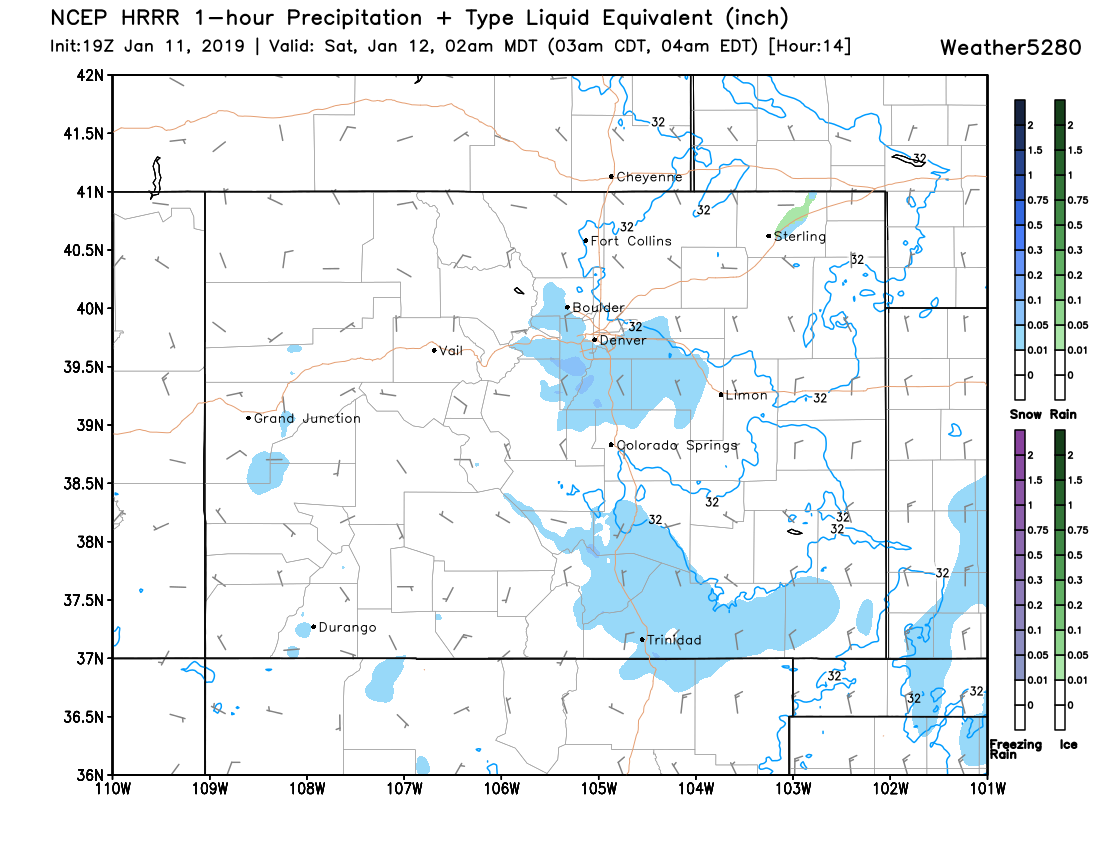 So, not over yet. If we can really keep snow going into the evening then I won't be worried about anyone hitting those low-end totals (many areas already have), and perhaps exceeding high-end forecast totals in some spots. If snow tapers off quicker than anticipated, those at lower elevations will be shorted in some cases. At our station we only need about another inch to hit the low-end threshold, and it seems likely we'll be able to do so. Again, areas at higher elevations to Denver south (between Denver and Colorado Springs) will do best today –– so if you live down there please keep us posted! –– and if you need drive down that way, please use caution and give yourself plenty of extra time.
Snow should clear the state by Saturday morning. Highs Saturday will be in the 30s for Denver and dry with a similar outlook for Sunday.
I hope everyone's enjoying this snowy Friday! Stay warm.