Our system has moved into the midwest and will deliver heavy snow from eastern Kansas into the Mid-Atlantic states this weekend.
Behind it chilly temperatures and flurries persist, but the impactful snow and rain should be done. The 3km NAM shows pockets of light accumulation across the area through Sunday evening, but most snow showers should be light with little to no accumulation, or nonexistent. A spotty 1/2" to 1" in spots should not be ruled out, with highs near 40F today and Sunday in Denver.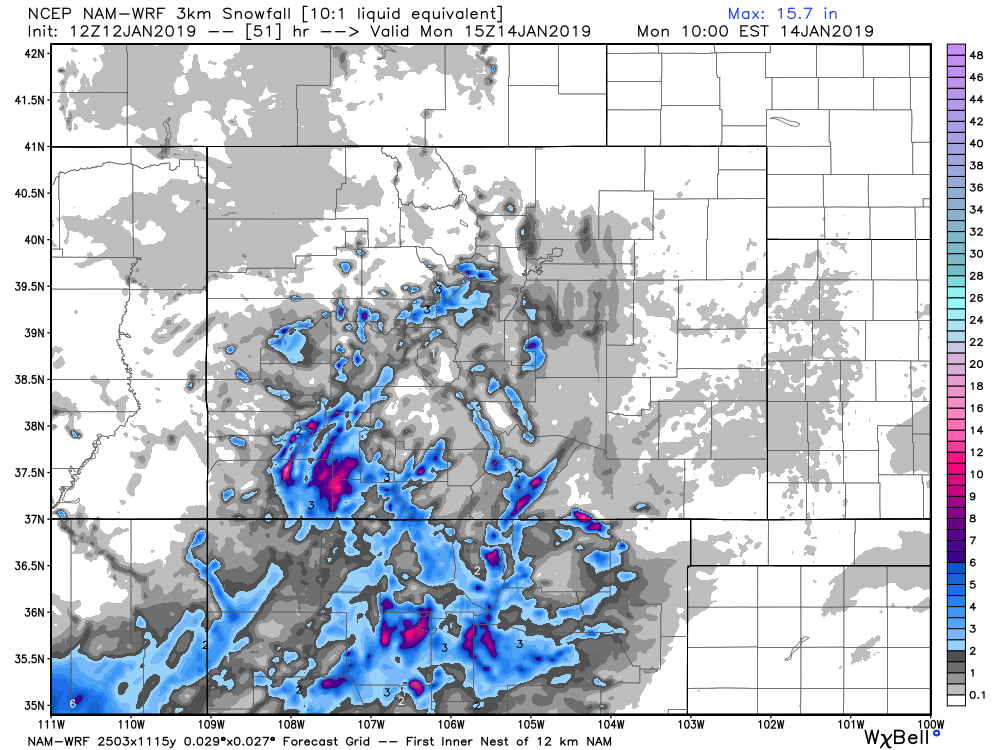 A more zoomed out view shows the heaviest snow moving east... with some residual snow across the southwest as well through the weekend: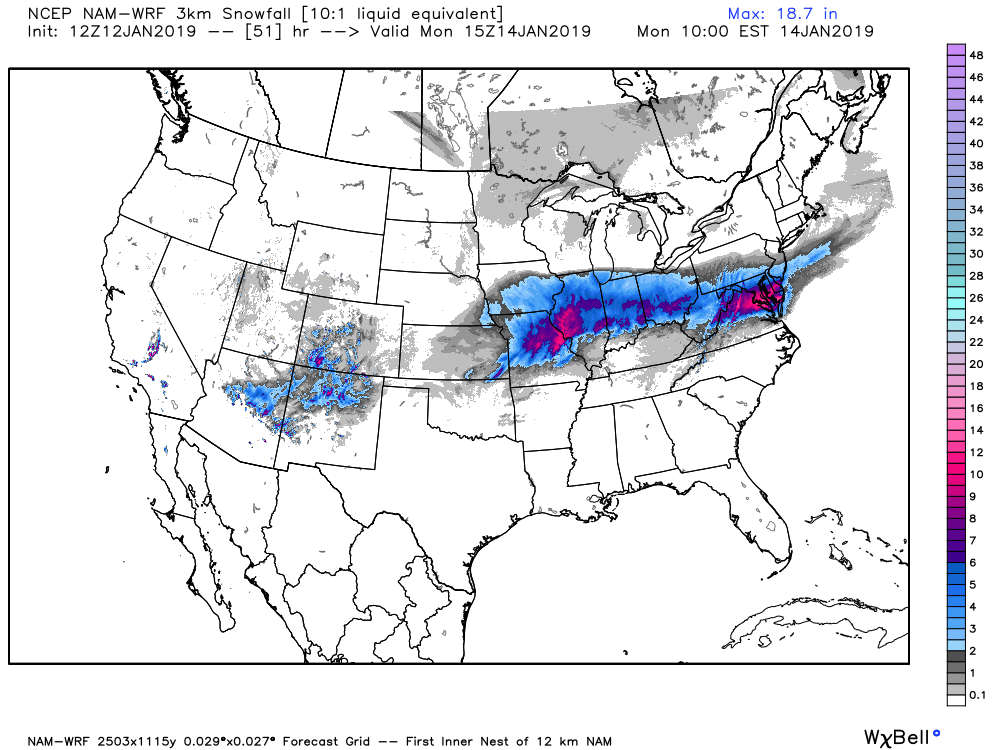 Overall we're quite happy with how the forecast worked out. Of course, not as happy with all the rain and melting that we saw yesterday, especially along the northern urban corridor, but it's hard to be too upset with the great moisture this storm delivered to the area –– especially for January!
We ended up with about 3" of slushy snow at our station 2mi south of downtown Denver (forecast was 3 - 6"). Denver International Airport is reporting just 1" of snow which maybe seems a touch low, but not impossible. This was our biggest bust area, with most other locales coming in more or less as expected. Temperatures just never quite cooperated in town, with temps dropping into the low to mid 30s early Friday morning then not really going anywhere all day: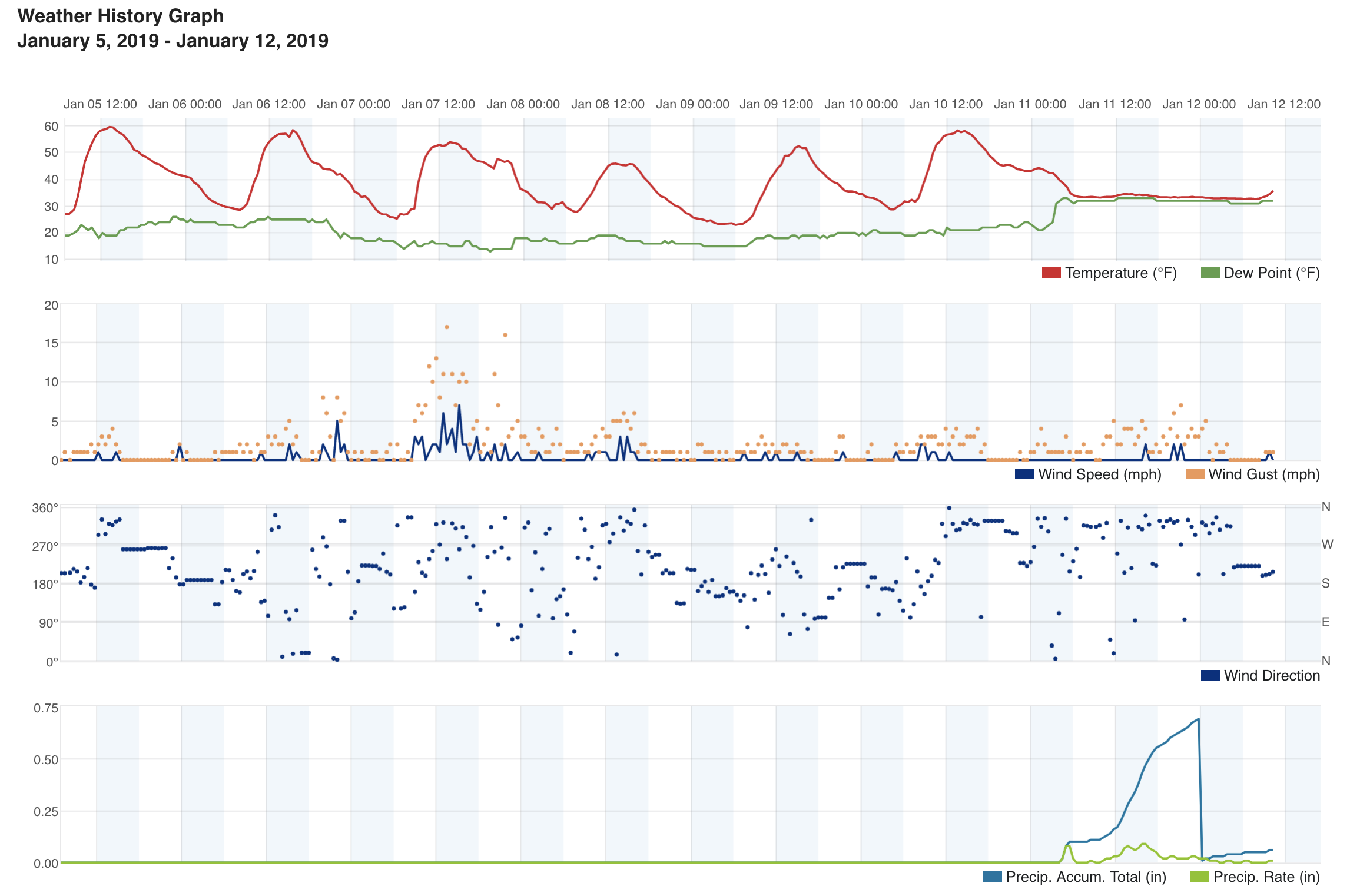 As you go up in elevation out of Denver west and south totals were more impressive. Totals along the Palmer Divide fit pretty well into the 6 - 12" range we had forecast with the southern Denver suburbs mostly seeing from 4 - 8" of heavy, wet snow. A few foothill communities southwest of Denver saw upwards of 12" of snow (it's about time!). Here are the 48 hour snowfall totals ended this morning: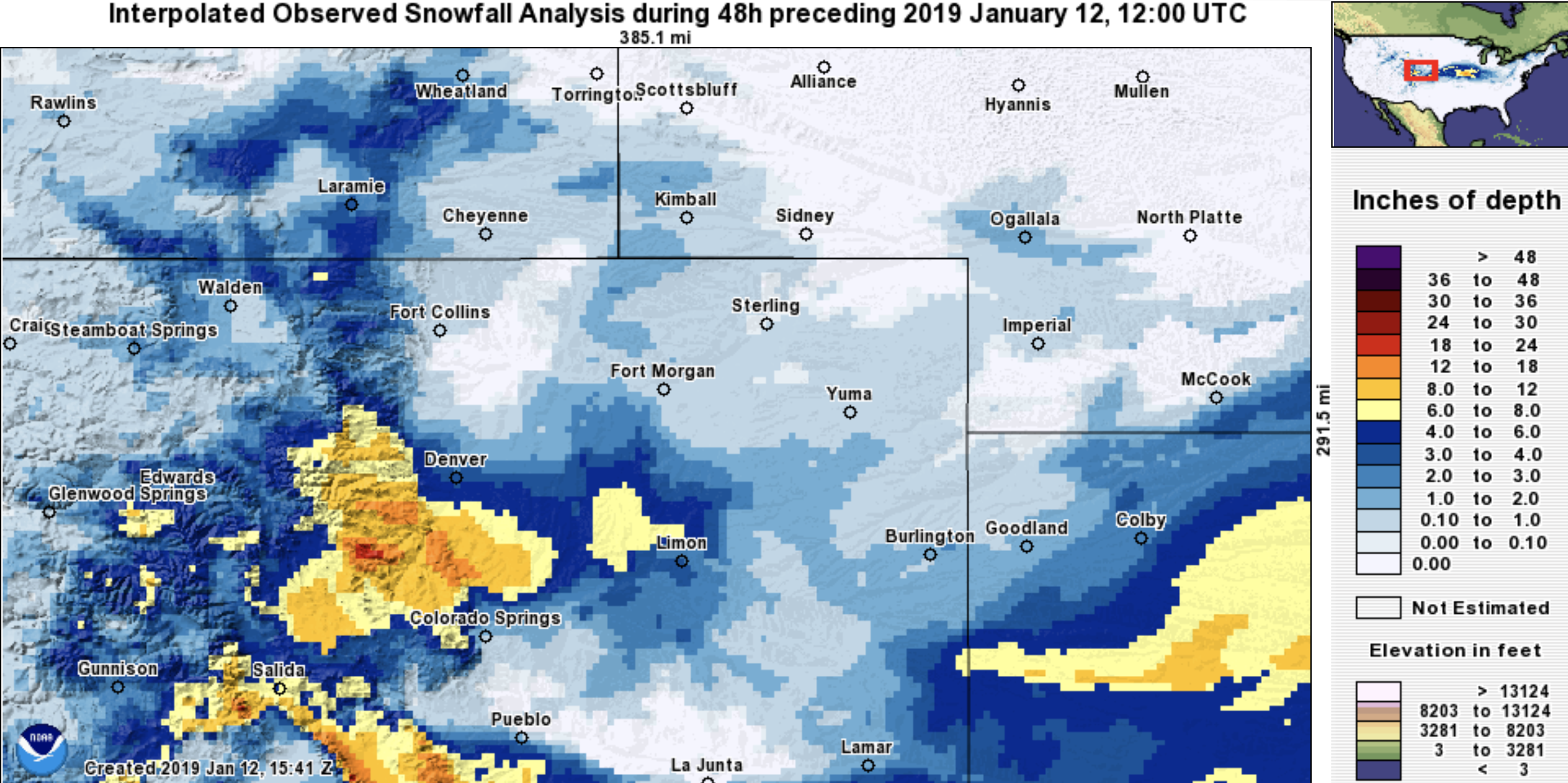 DIA picked up 0.45" of liquid from this system and we picked up nearly 0.70" at our station. In a "typical" January storm you'd think that would equate to a minimum 4.5" and 7.0" respectively, and likely somewhere closer to 9" and 14" for this time of year. The inability for this system to tap into any cold air this time of year was certainly remarkable. Here are the 24 hour precipitation totals across eastern Colorado ending this morning: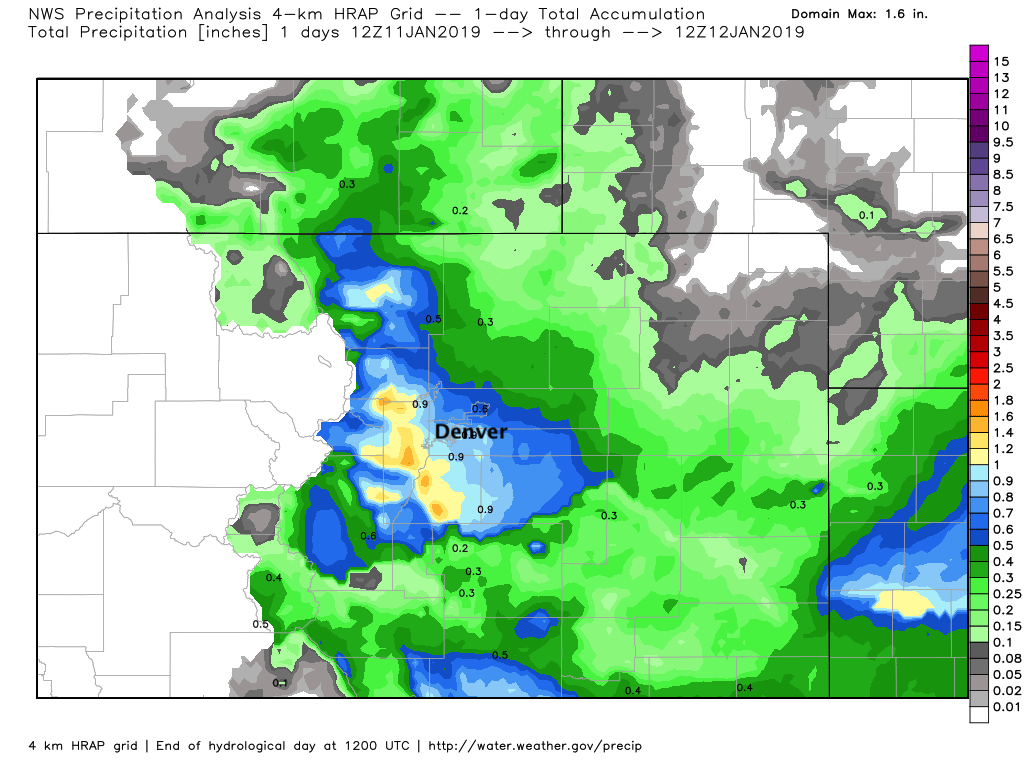 Quite a map, eh? The 0.45" that fell at DIA yesterday marks the wettest day for Denver since May 2, 2018 (remember the airport missed virtually our the big storm this summer). Areas southwest of Denver saw upwards of 1" of liquid which is a great storm any time of year, but especially in January.
It wasn't just Denver where numbers seemed flipped on their head yesterday. We saw this across the region, including in Boulder which recorded just 3.3" of snow but received 0.77" of liquid!
Despite a pretty good snow for many, the with the airport missing again Denver's season-to-date snow total ticked up just slightly to 9.5" since September. For reference, on average the city has picked up 27.4" over the same period. Oof.
A quick look ahead doesn't show much in the way of storms to anticipate here along the Front Range in the near to medium range, but has enough going on I wouldn't sleep on this pattern either. The mountains look to continue to do pretty well as we head into the middle and second half of the month, with likely the big winter headlines starting to show up across the midwest and eastern United States to end the month.
Here's the latest 15 day precipitation anomaly forecast from the EURO showing a very wet period for California, a good look for our mountains, and what's likely to be a snowy pattern for the Mid-Atlantic and Northeast as well: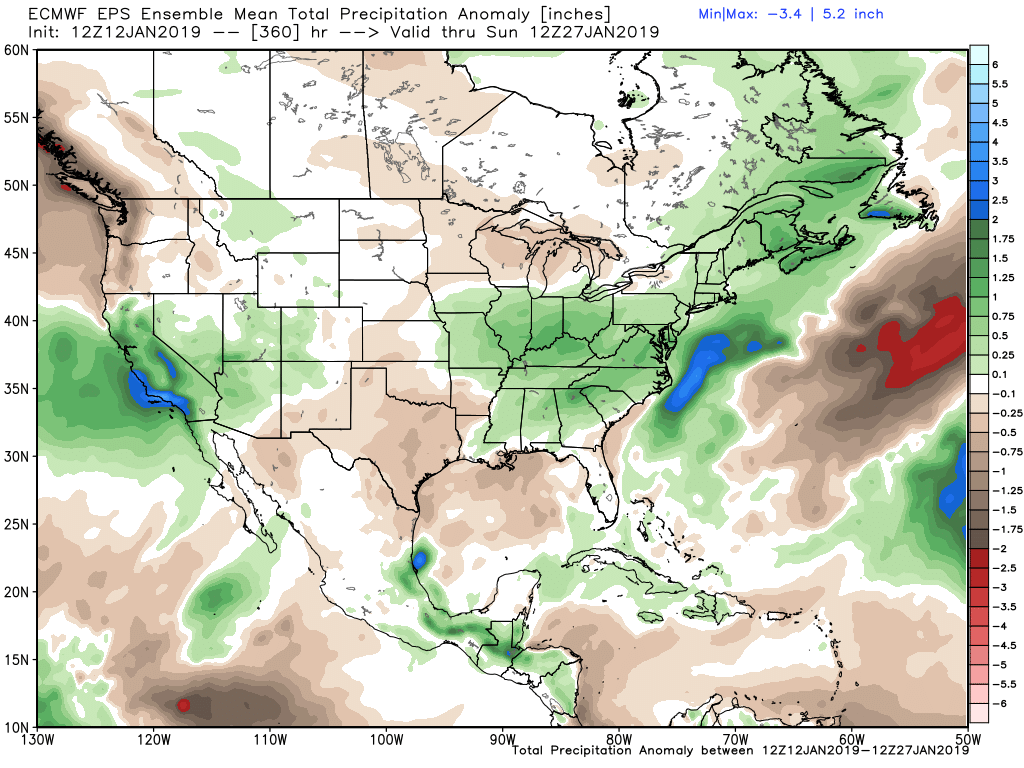 Next system that looks like we should keep an eye on east of the mountains arrives late next week or next weekend. Right now it looks a bit too progressive to offer a good snow setup for us along the Front Range, but it's quite a ways out there. It will have cold air unlike this one, but we'll see if it ends up east instead.