A tricky forecast ahead as data continues to change regarding snow and wind across northeast Colorado Monday into Tuesday. Models have by and large backed off their precipitation forecasts since yesterday's Insider update, but continue to show potential for blizzard conditions across the eastern Plains as well as some accumulating snow (and gusty winds) across the greater Denver metro area.
The best chance for snow in Denver is likely to arrive Monday afternoon/evening and continue into the early hours Tuesday morning. Areas south and east of Denver highlighted below (issued for our Insiders yesterday) will have the greatest chance at the best accumulation from this system. Denver and points northwest may struggle –– especially if the trend continues to be faster and more progressive as we've seen many models move toward today.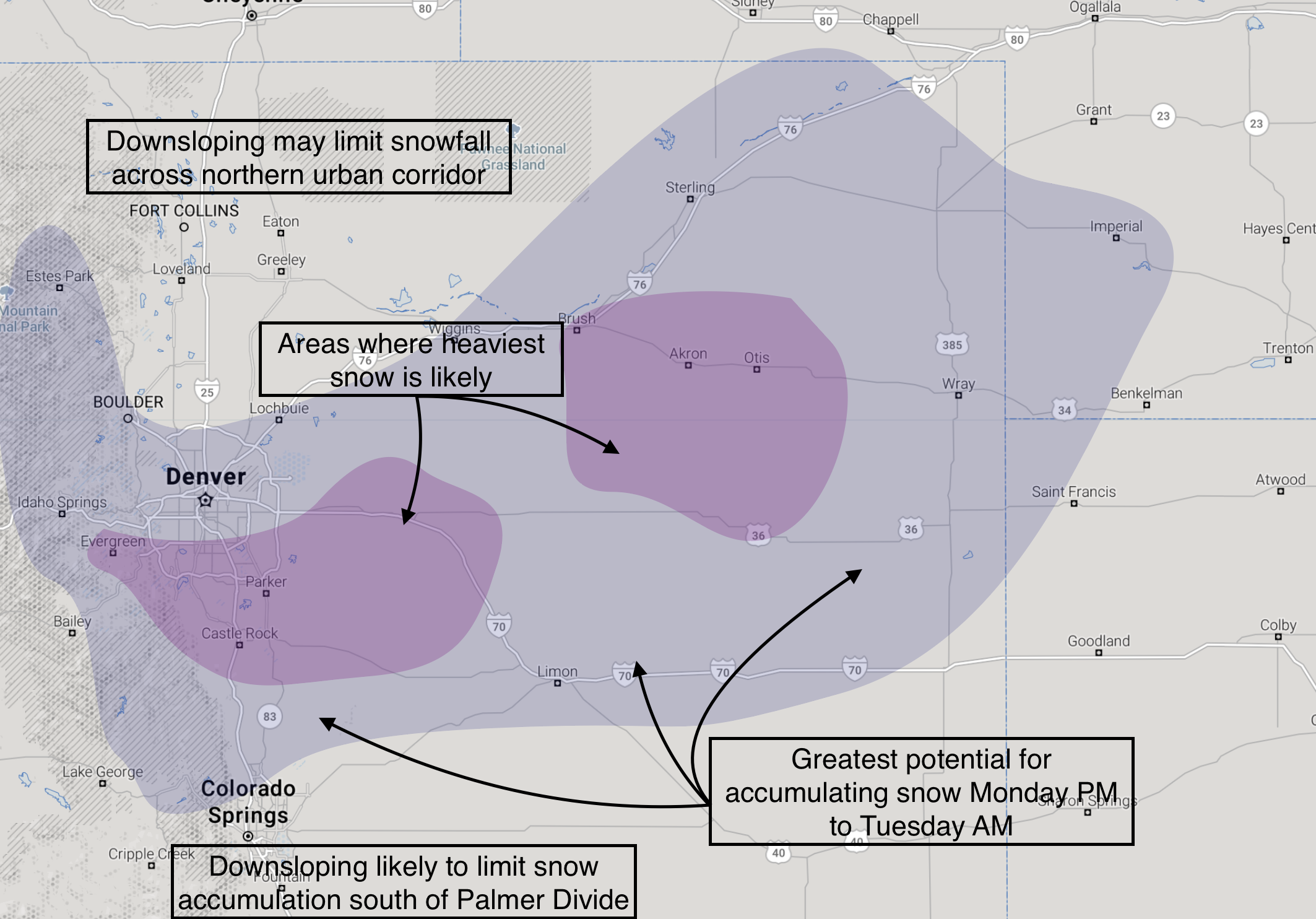 The data
The GFS and NAM products are most concerning if you are hoping for snow (especially a "boom" snow) in Denver. They both have trended faster and weaker overall since yesterday, kicking the low north and east pretty fast Tuesday night. The Euro remains a bit deeper and slower.
Take a look at the two images below. Both are for 06z Tuesday morning, or around midnight Monday night. The top is the European model, note it as the closed circulation (black circle) over central Colorado at this time. Now compare it to the GFS which has the low well northeast of this and moving into Nebraska. This subtle difference in track and speed is really the difference between a decent snow storm across the Denver area and Palmer Divide and well... another disappointing snow.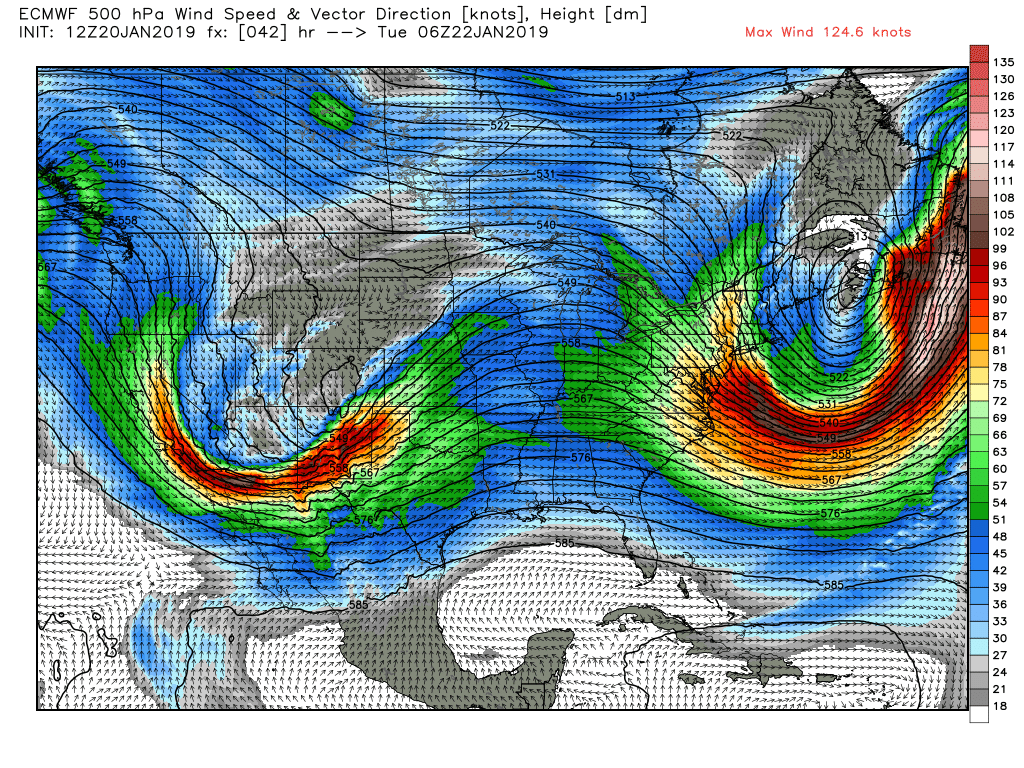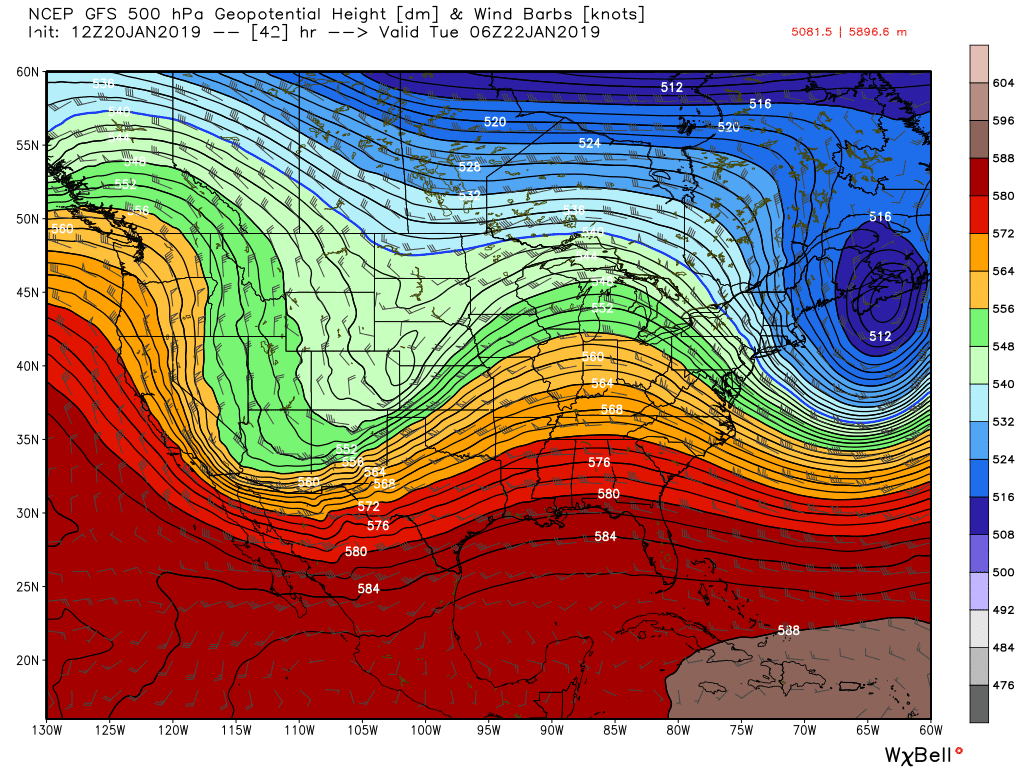 If we look at the GFS forecast trend for this same time over its last four runs, we see that it was closer to the European solution yesterday, but has since weakened and moved through quicker. Absolutely remarkable to AGAIN see modeling trend this way in the 11th hour, and if right... yet another remarkable let down of a "snow".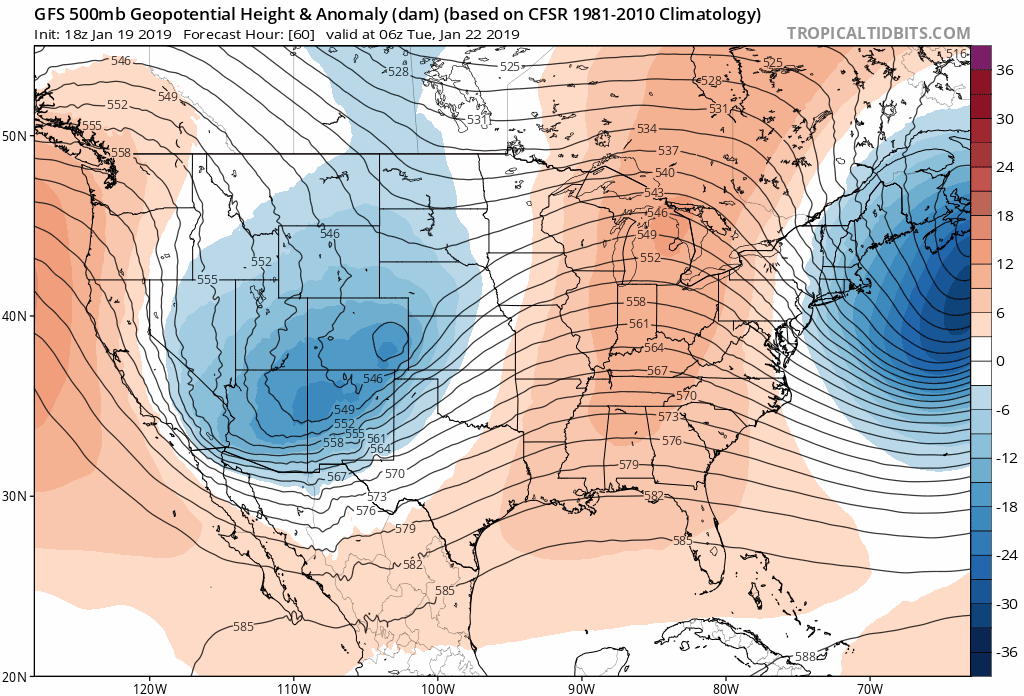 Given the GFS track record with the last two systems it makes more sense to err on the side of the Euro once more. With that, we'll again be a bit more bullish with our forecast totals in spots as compared to what you may see elsewhere. Aside from temperature issues north, that has worked well for us in both of the last two systems. Here's the QPF forecast from the Euro, which if it's right on track and speed seems reasonable. This gives downtown Denver and north 0.1 to 0.2" of liquid, and areas south and east 0.3":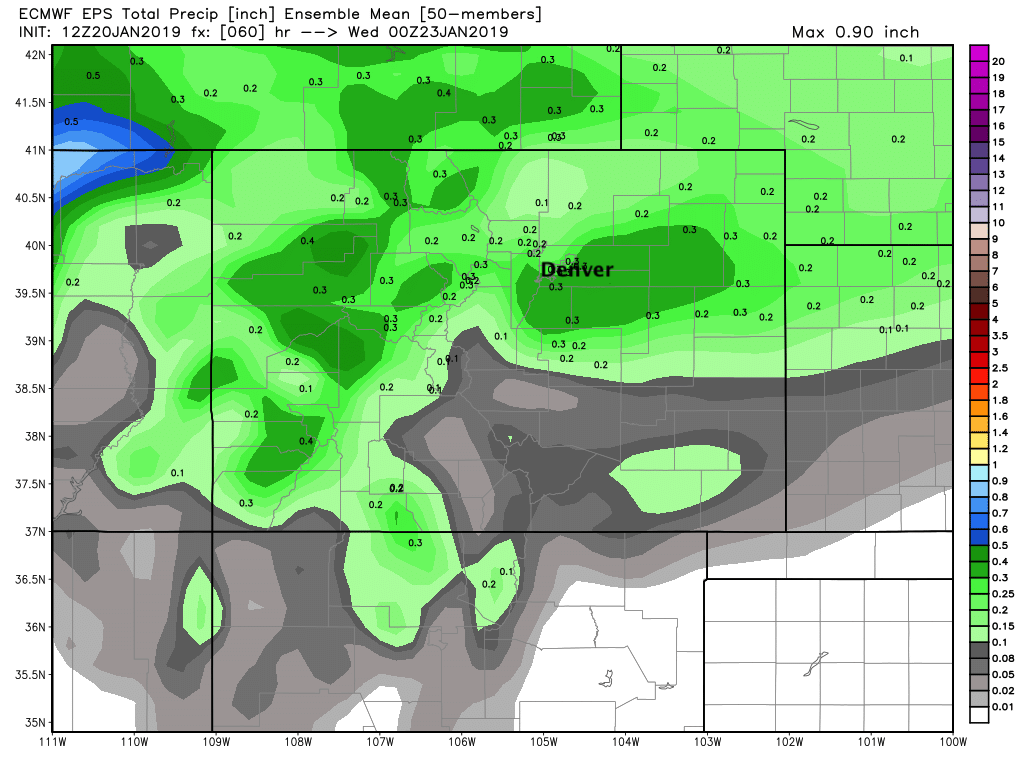 Roughly translated at 10:1 that's somewhere in the 0.5" to 2" range for the northern urban corridor, 2 - 3" range for the city of Denver, and maybe 2 - 5" on the south side. If ratios are a bit higher by late Monday night you'd likely add an inch or two to those totals, especially on the south side.
Snowfall forecast
After all the yada above, where does that leave us? Well, with a low confidence forecast –– at least for the metro area. If you live north we have greater confidence this isn't the best set up for you, if you live south of the Palmer Divide (Colorado Springs) the same is true.
We'll go Trace - 3" on Denver's north side, 1 - 4" for much of the city, 2 - 6" on the south side, with likely some 4 - 8" totals within the 2 - 6" swath. Wind will cause drifting snow as well, especially points southeast and east of Denver.
Somewhat interestingly, it seems as though Denver and the surrounding suburbs have both the highs "bust" potential with this system of anywhere across Northeast Colorado, and the highest "boom" potential, if that's even possible. In that, if the system slows just a little (a la Euro) we could very end up too LOW where our forecast totals for metro area (boom!), but if the faster trend continues... we're likely far too high (bust!).
Look no further than the 3km NAM to see what could happen tomorrow night if things move too fast. Basically nada along the northern I-25 corridor, with Aurora/Parker seeing the best accumulation, and then really just an Eastern Plains storm. At least this scenario gives the airport a fighting chance to see some accumulation which it hasn't seen much of this season?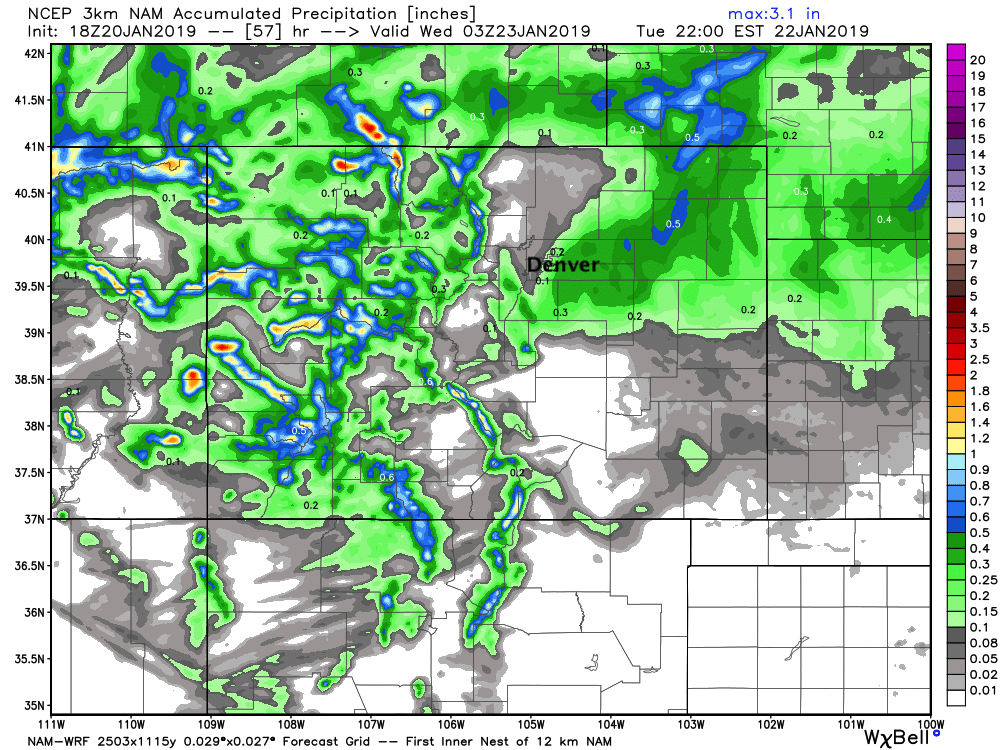 Our forecast is as follows: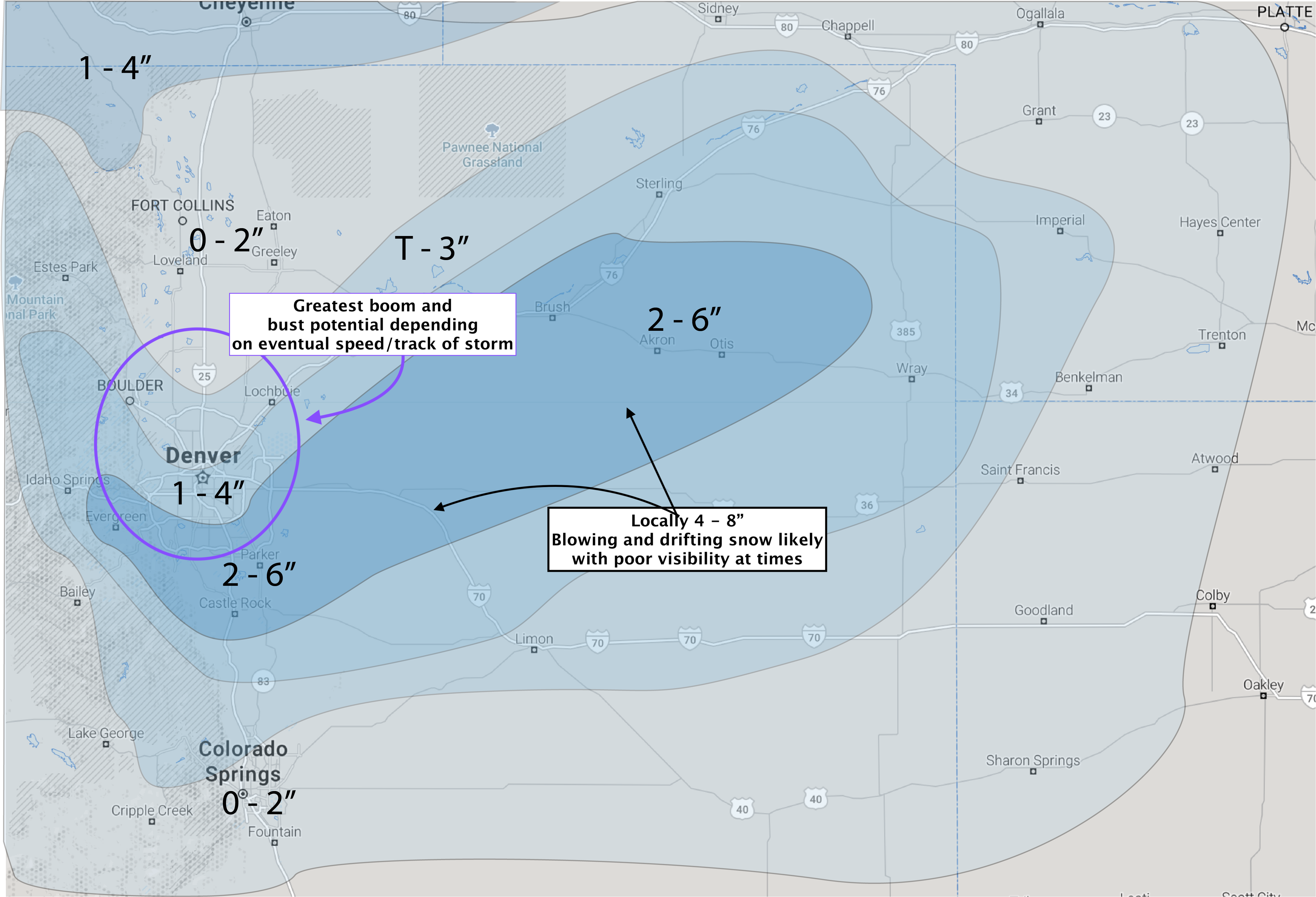 tl;dr and impacts
The long and the short of it is... another low-confidence forecast that frankly could go either way. The U.S. generated models are trending away from snow in Denver (at least anything significant), while we continue to think that given the setup we should end up better than this.
Look for snow to begin across northern Colorado Monday afternoon (perhaps some rain too!) before moving south and east overnight Monday into Tuesday. Best chance for snow in Denver looks to come between 4pm Monday and 4am Tuesday, with perhaps some snow showers lingering into Tuesday.
An earlier arrival could change this, but for now it looks like the Tuesday morning commute could be the trickiest. We may also see gusty winds (especially east of Denver, but perhaps in the city too) which could only add to the traffic headache late Monday and early Tuesday.
A faster solution means low-end snow totals at best along the urban corridor, a slower solution could mean we're too low on our forecast.
If need be we'll adjust our snowfall forecast Monday morning, but for now this is where we land. We continue to like the setup overall and have so for about a week, so we won't bail on this system just yet. Keep us posted as to conditions where you are over the coming days!