Another day, another storm to ponder. Tonight's system again has the ingredients to be sneaky good for someone, though who is most likely to have that chance to over-perform is a bit harder to pin down than with yesterday's system.
Overall this won't be a big deal for the majority of locations. We're talking a broad-brushed Trace - 3" event for the urban corridor, with most locations likely to come in closer to a Trace than the other way around. However, it looks increasingly like there will be a band of heavier snow that will work its way across the metro area Thursday morning, which could deliver a swath of greater snow totals to wherever it forms.
If we look at the latest NAM simulated radar product, we see snow over the high country today eventually spreading onto the plains late tonight and lingering into midday Thursday. If you find Denver county, you'll see it has the focus of the snow in and around the city Thursday morning before dropping south and dissipating: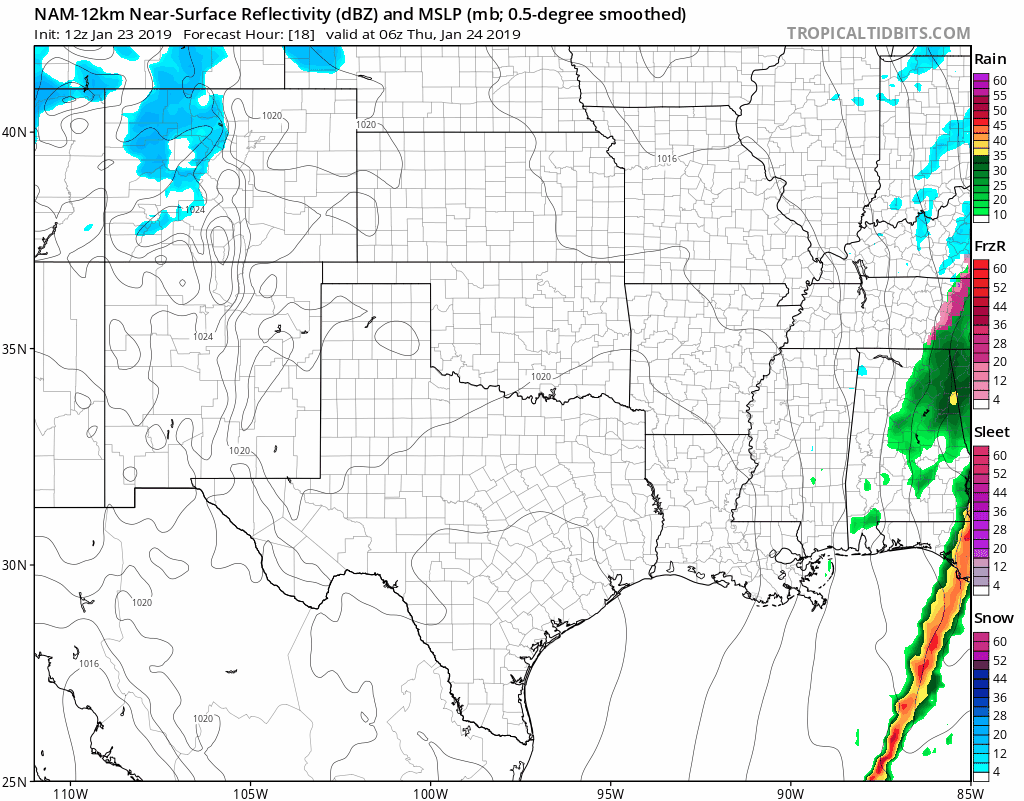 Interestingly, the GFS is most bullish at the moment with snow, painting a narrow swath of 3 - 4" across the metro area Thursday morning. The Euro is less excited, showing about half the QPF, but a similar "look" overall. The latest gamblers show about a 70% chance for most areas to see a Trace of snow from this, and trailing higher-end probabilities indicating the chance really any of the Front Range cities listed could over-perform: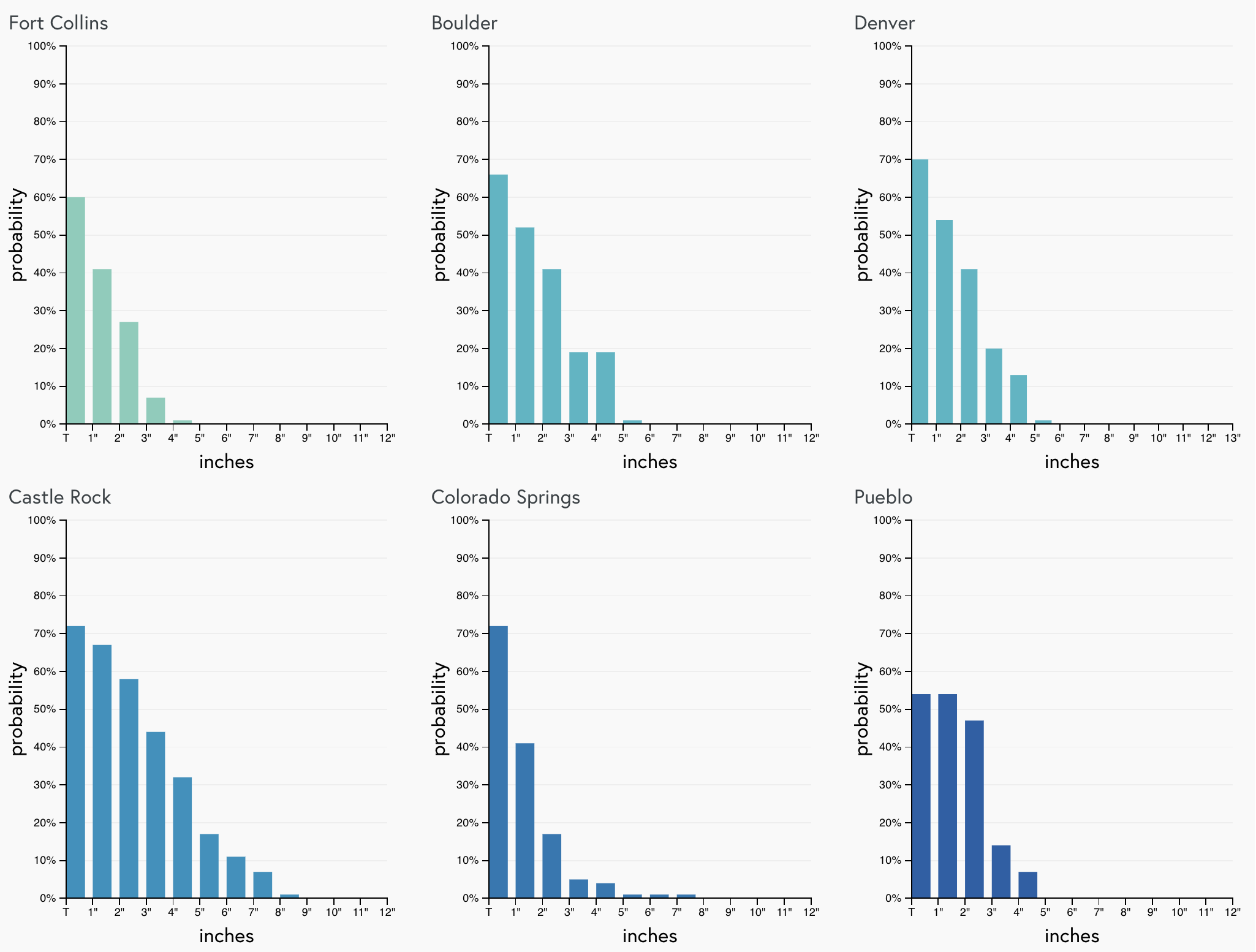 Needless to say, banded snow events are hard to forecast, and models do an awful job with them as well. What's most important to know is that a) there's a chance of snow late tonight and Thursday morning, and b) most areas won't see a whole lot, but we've seen these setups park a band of heavy snow for a few hours in the same location and suddenly one neighborhood is reporting 6" of snow. It's not out of the question that some areas across the metro area do a lot better tomorrow than they did with yesterday's snow.
In any event, expect some snow around tomorrow morning (perhaps heavy at times), so give yourself extra time on that morning commute. Many of the models show the band moving through between 6am and 10am Thursday, which could be ill-timed for that morning drive.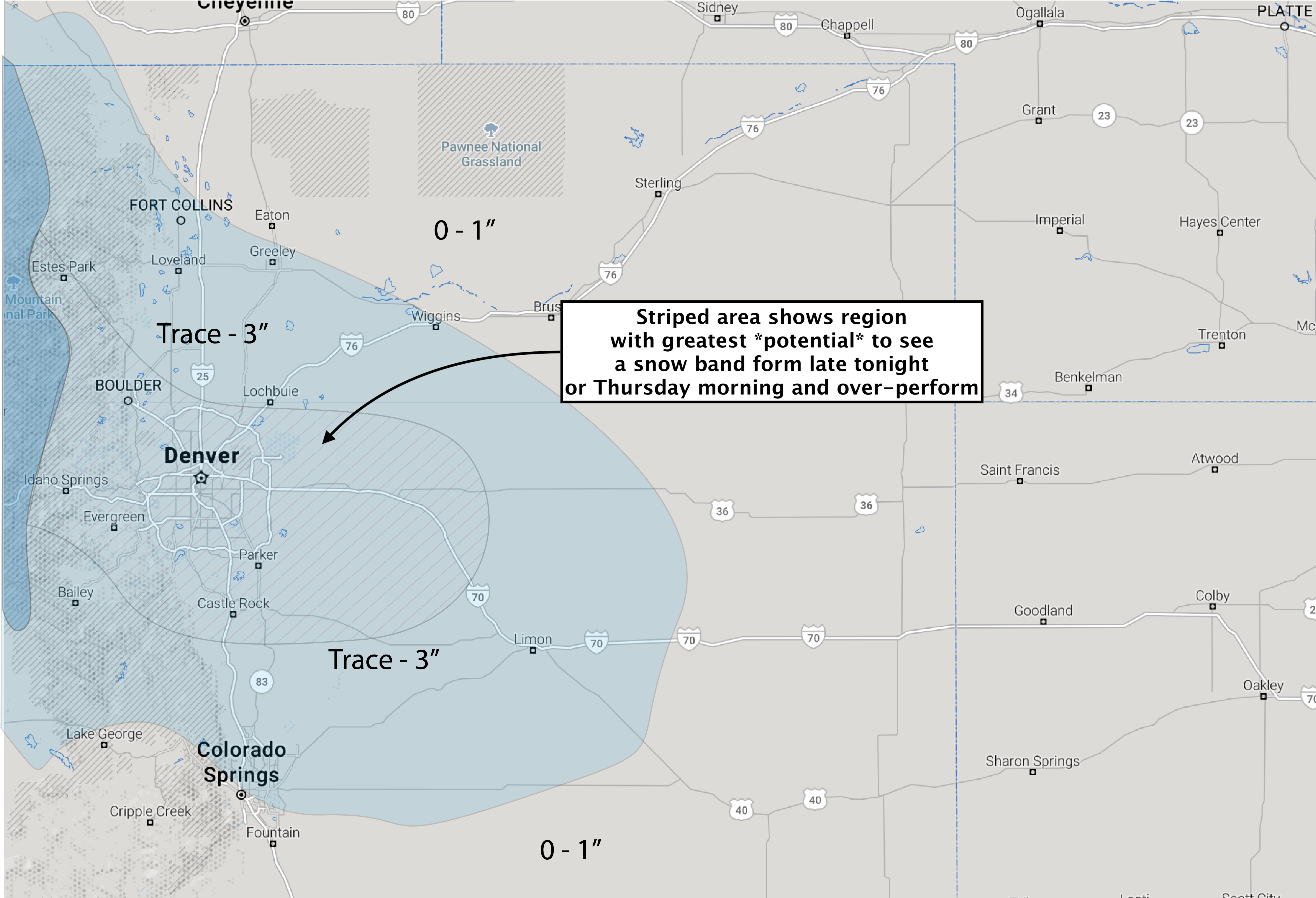 If we happen to "boom" tomorrow morning, I'll go ahead and reference my unscientific observation here, and if we don't... well, business as usual and we'll look forward to a warming and drying trend for Friday and Saturday instead.
As always, keep us posted how you do! We've been loving the commenting as of late.