The state of the atmosphere has has been a busy one over the last several weeks. We're again tracking a big change on the way to Northeast Colorado to start your week as temperatures today have warmed into the 50s across the region, but will drop below freezing for most of the day Monday.
This drop in temperatures is associated with a larger arctic outbreak that will impact most of the eastern two thirds of the country for much of this week. A look at forecast temperature anomalies for Monday show the coldest temperatures relative to average spilling into the heart of the country, including most of Colorado: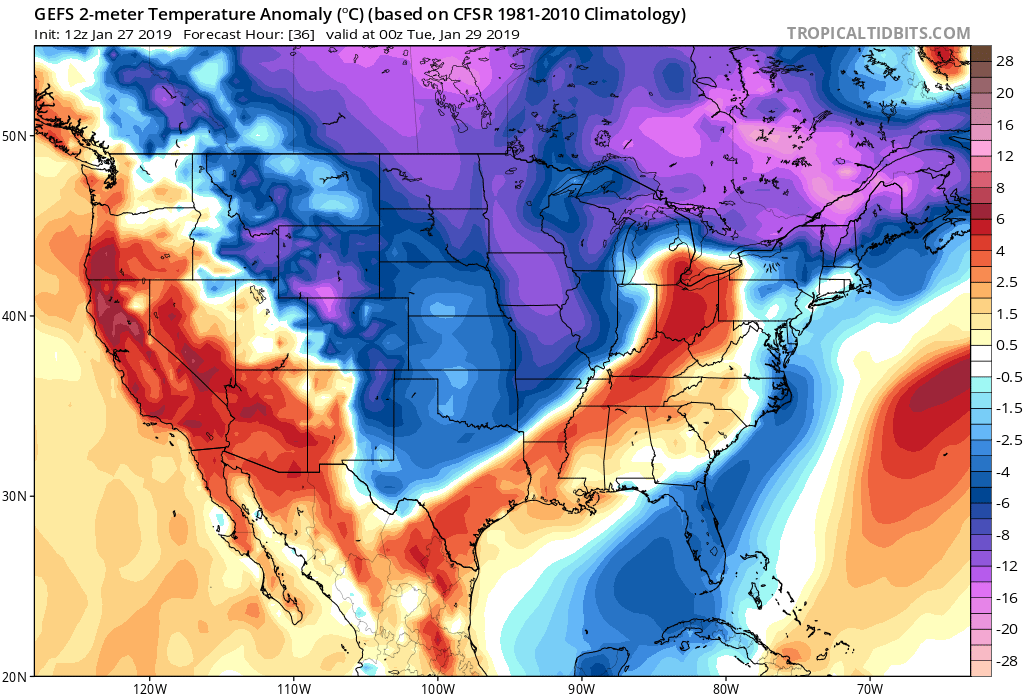 By Wednesday the cold is locked in across the northern tier, Great Lakes, and on into the Northeast: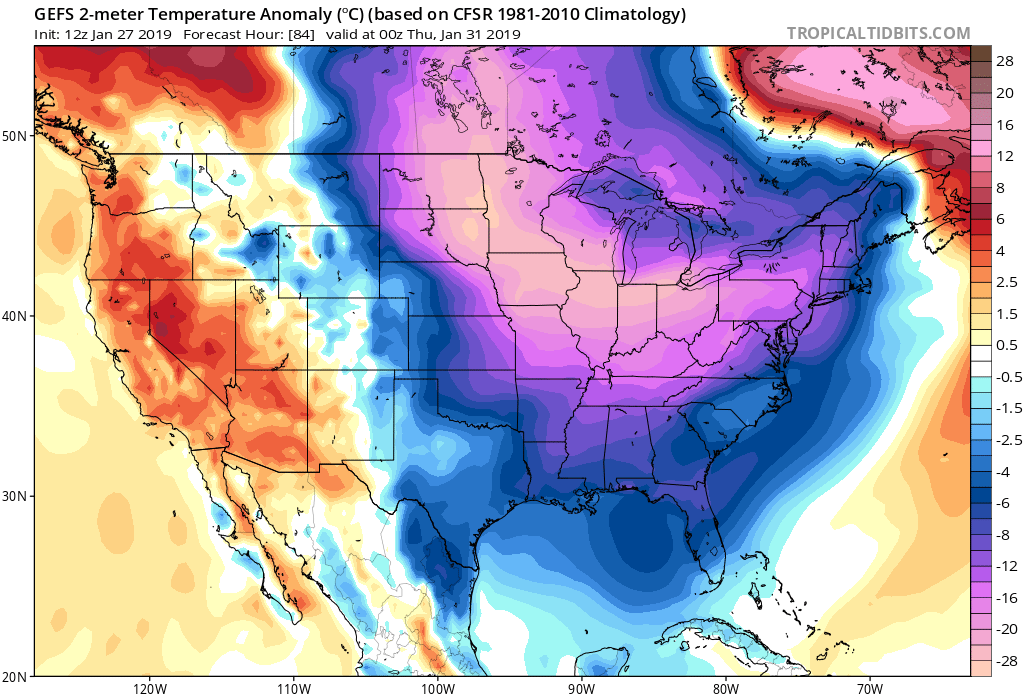 This will be a brutal week for winter weather across these regions. Take a look at the going forecast for Chicago, where highs are forecast to be some 13 degrees below zero on Wednesday!

For Northeast Colorado the worst of it comes Monday and Tuesday. The far eastern Plains may remain pretty chilly through much of the week, but the urban corridor will gradually moderate in temperatures through Thursday, with perhaps some real warming by Friday. MOS guidance has highs in the 20s Monday, near 40 on Tuesday, and near 60 by Friday for Denver.
Wind
We'll be dealing with cold and a bit of snow over the next 24 hours hours, but also some very strong winds. This is especially true if you live in the foothill and Front Range mountain communities across northern Colorado. For these areas there is a High Wind Warning in effect until 10pm tonight, with winds from 30 to 40mph and gusts to 75mph.
By tomorrow morning we'll see that cold air working its way south across eastern Colorado and the wind will continue to be an issue. Gusts of 20 to 30mph will be possible in Denver late tonight through the morning, with the chance of snow increasing after midnight.
How much snow?
In some ways we're looking at a similar setup to Thursday, but slightly less favorable overall to see the kind of snow production (at least as widespread) that we saw Thursday morning last week. Most of the models are bringing anywhere from 0" to about 2" of snow to the Front Range between about 3am and noon Monday. The exception being the Euro (and now perhaps the GFS?), which much like last week, is again more bullish. It paints some 3 - 5" totals in and around Boulder, extending a swath of heavier snow across the northern suburbs of Denver, into the city, and southeast. Its ensemble mean is the same.
If we look at our Gamblers we see those high-end (but low) probabilities again showing up for Boulder, Denver, and Castle Rock. This usually indicates data seeing some potential for a heavier band to setup, even if probabilities for that are low. For Boulder and Denver a dusting to an inch looks most probable... for Castle Rock that could be more like 1 - 4", but totals in the city upwards of 2" area not zero odds: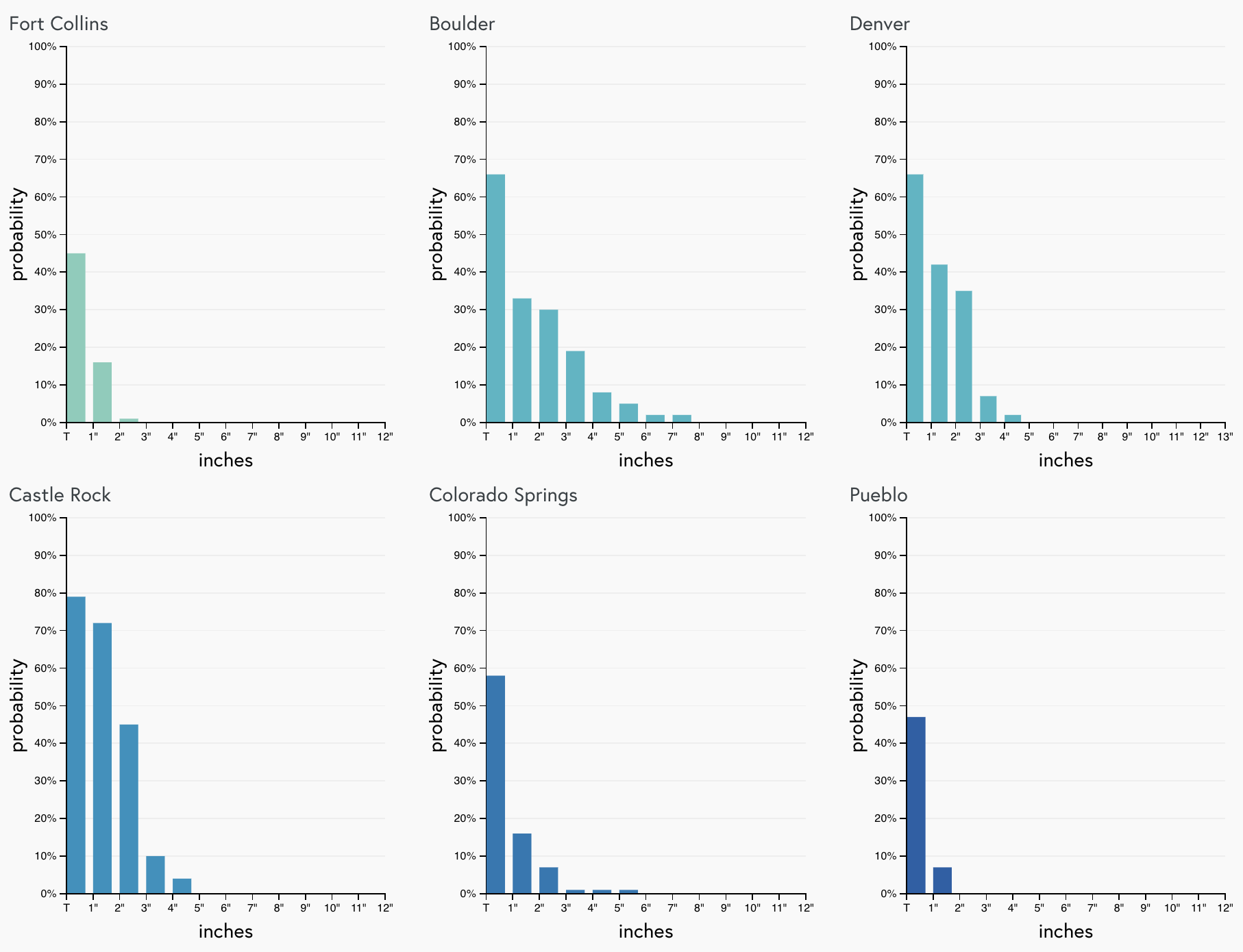 A look at the high-resolution NAM shows what is also possible: a total non-event for virtually everyone. Most of the high resolution models by this time Wednesday were starting to pick up on things... today not so much. Even the SREF shows most of the area seeing just a Trace of snow tomorrow. So while the Euro ensemble mean has 0.2 to 0.3" liquid across Denver tomorrow morning (a pretty good snow!), the NAM is dry as a bone: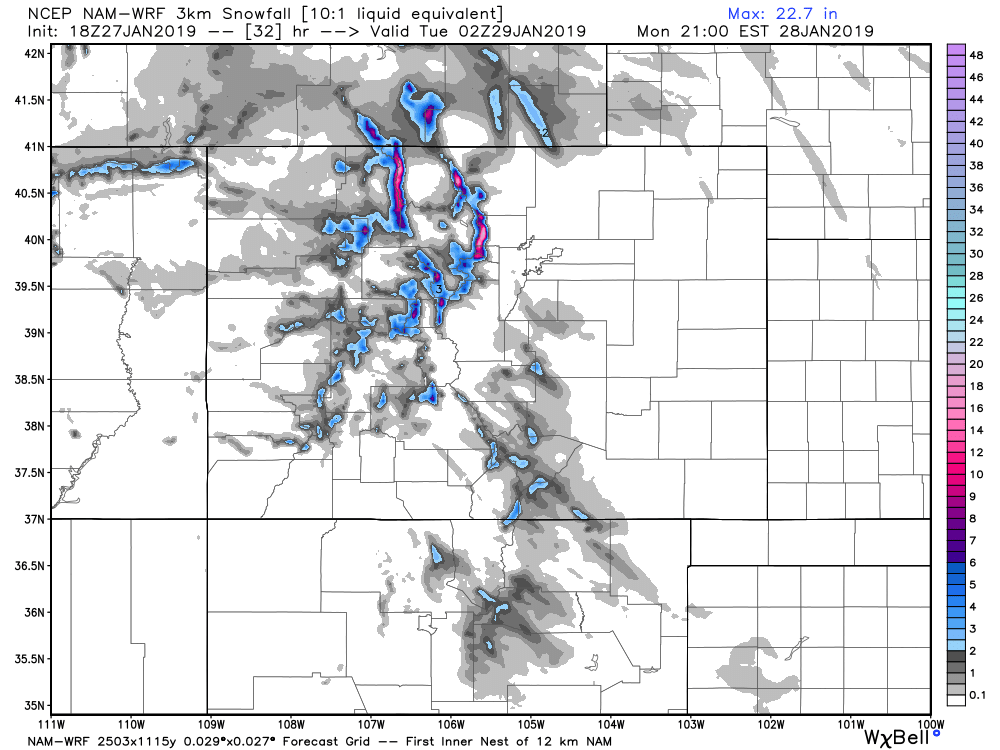 The latest GFS looks a bit better. Here we see a narrow area of 0.1 to 0.2" liquid (1 - 4" of snow with high ratios) right across Denver. Note it's not for everyone... very little to nothing showing up in this model for Fort Collins and again south side of the Palmer: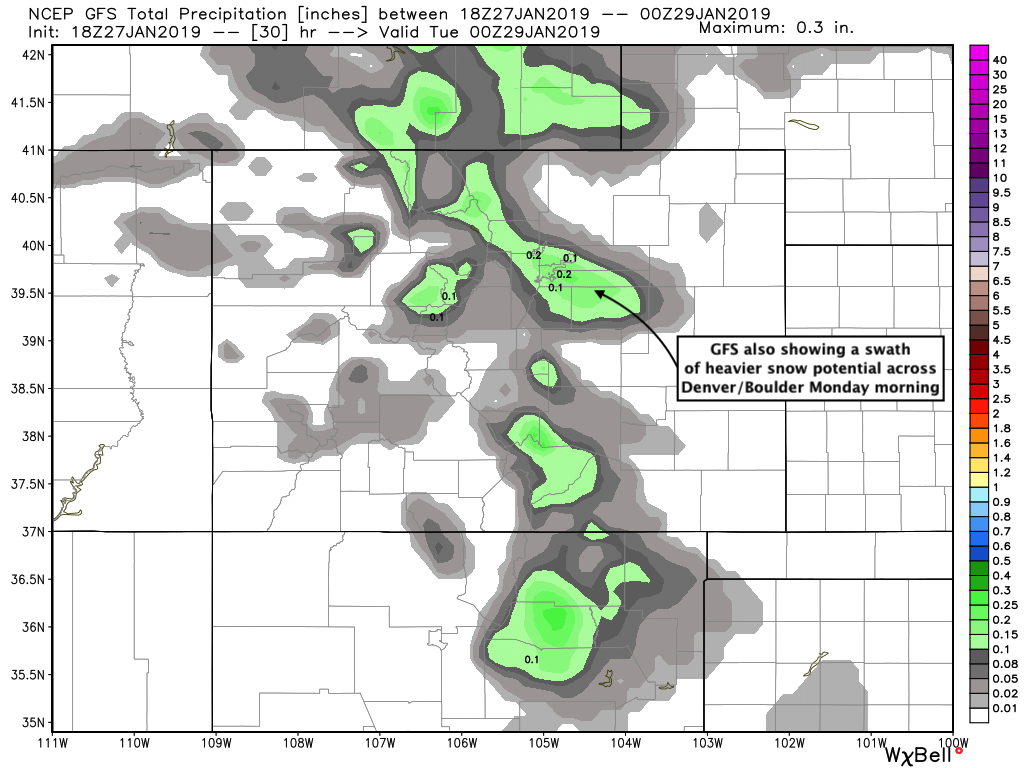 So, am I feeling as bullish that this thing will over perform as I was for Thursday? No. But the Euro should give pause, and seeing those trailing probabilities in our gamblers certainly suggests someone has the potential to see another nice snow.
For our forecast we'll go with a Trace - 2" zone and 1 - 4" zone. Lower confidence in the 1 - 4" zone, but if the Euro is right, a good bit of the greater Denver metro area and Palmer Divide could again see several inches of snow Monday morning. We'll see how data looks tonight... perhaps more support will come in for those 4" totals. Given the last three systems, hard to ignore the fact that models have largely missed on potential until almost too late. For now, plan on a higher probability of the low-end totals, but with timing right before or during the morning rush we could again be in for a tough commute.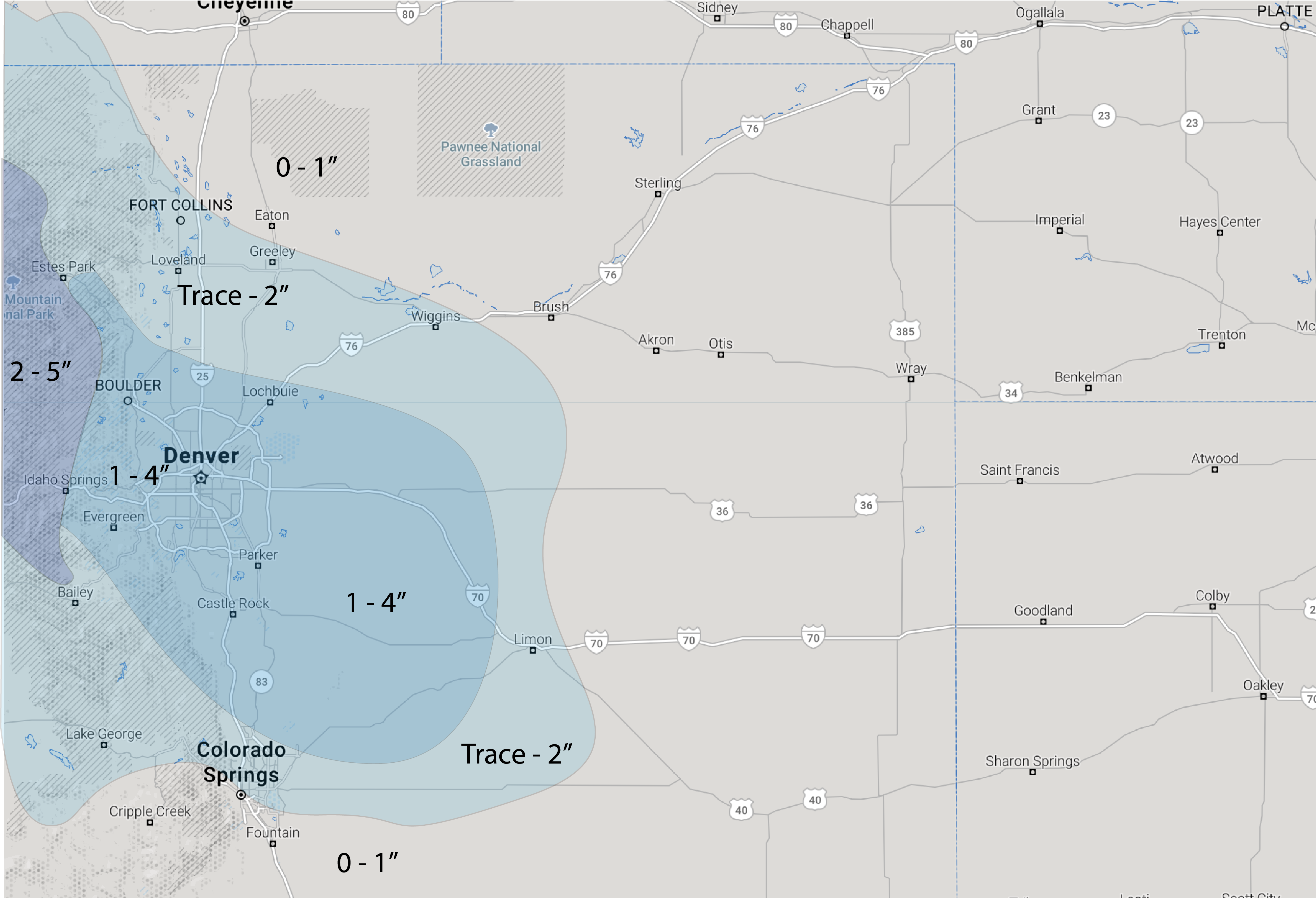 What snow we do see will come to an end for most areas by late morning or early afternoon. Behind it will just be those very chilly temperatures which will stick with us through Monday night. GFS MOS has a low of 12F Tuesday morning in Denver, with NAM MOS coming in at 5F. We'll see... all a question of how much cold air backs in, but in either event – cold. Here's a look at the GFS 2-meter temperatures forecast for Tuesday morning across the high plains:
Quieter weather for eastern Colorado through the remainder of the week. Next system to watch at this point looks like it'll be at the tail end of next weekend.