The weekend snow event is on track to spread heavy snowfall across many areas, including sections of Denver and potentially near Fort Collins this time too.
Skiers/riders will love the weekend trip, heavy snowfall in the mountains Friday and Saturday with well over a foot of new snow on a lot of ski areas.
Locally, there are ultimately two waves of energy that will bring snowfall to the area. The first scheduled for late Friday through Saturday morning and this will hit Northern Colorado and Southern Wyoming the hardest. The second is late Saturday through Sunday morning and this will impact more the Denver and Colorado Springs areas to the plains.
Timing
Initially, rain and snow will mix Friday evening in isolated areas and then heavy snowfall develops overnight. Again, most of this initial activity misses Denver by staying north it appears. For Denver, heavier snow is expected later Saturday through early Sunday. Here's a Colorado view of the storm's timeline: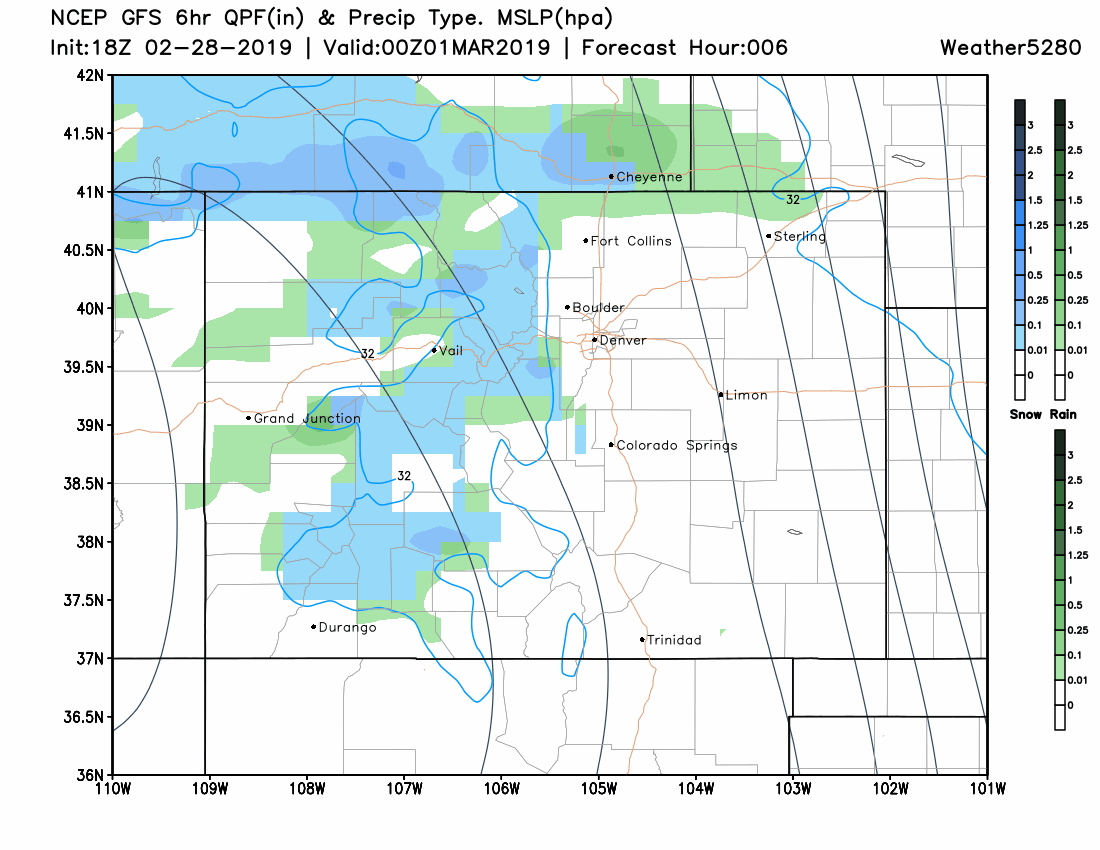 Totals
Since there are decent agreements amongst the models, it is relatively certain that folks will have enough snow to be an impact on travel and most of us will shovel.
Analogous snowfall events in the past, model output snowfall, and statistical probabilities all point to snow being heaviest west of I-25 into the higher terrain and on sections of the Palmer and Cheyenne Ridges - again, higher terrain.
Analogous snowfall events in the past have shown this median snowfall total in the region: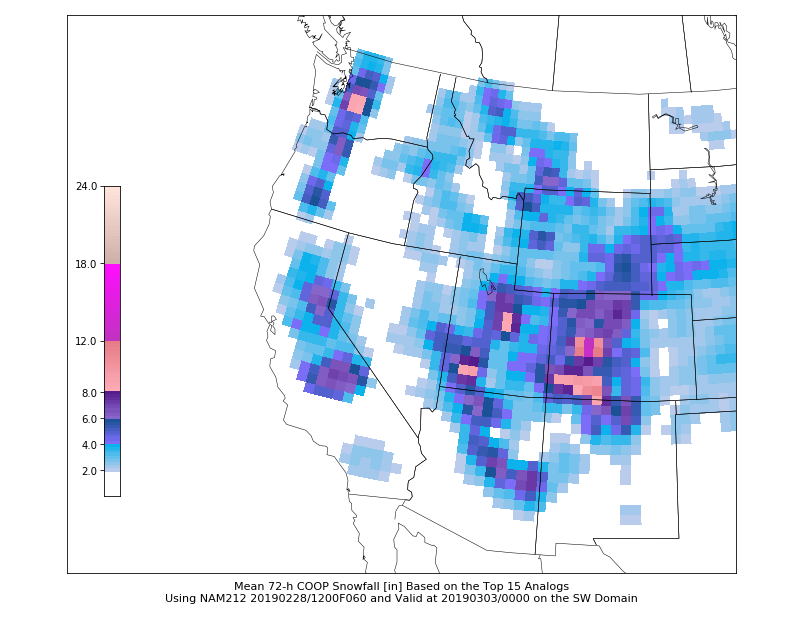 Note the favored area of the analogous forecast, southern Wyoming and Colorado's mountains which matches the GFS model's projection (as just one model example):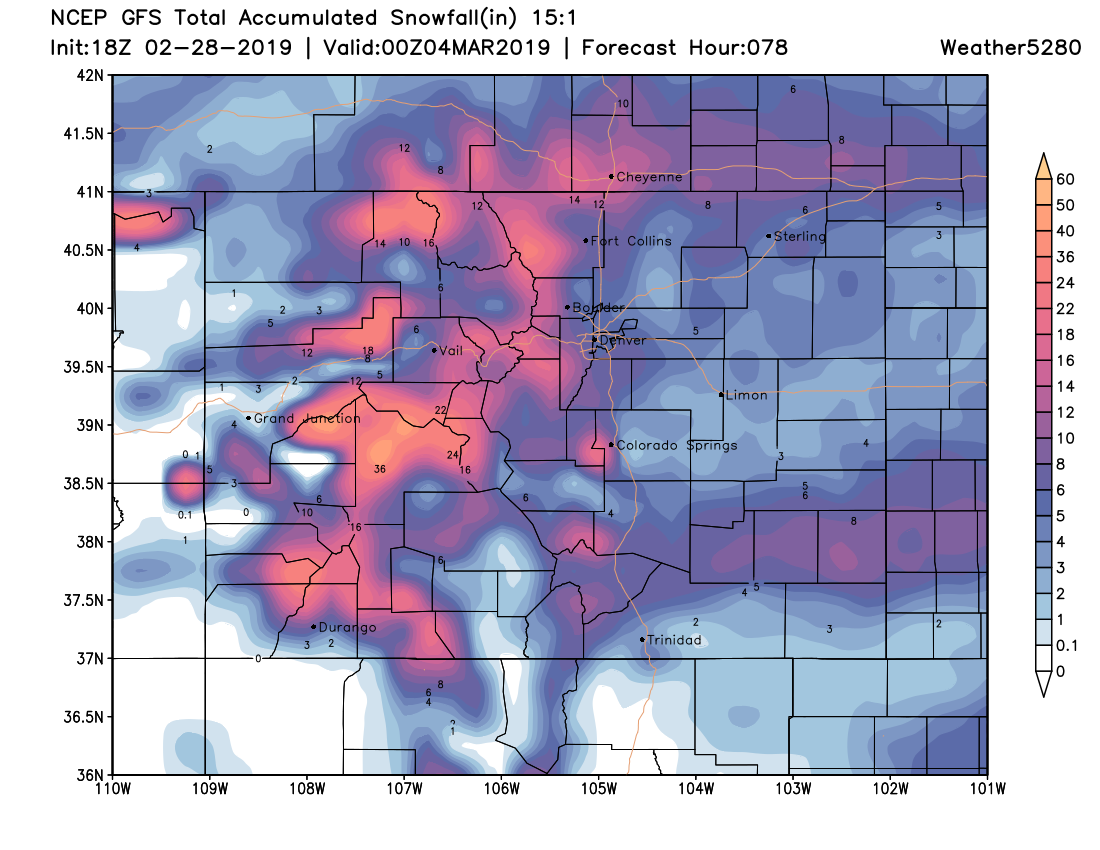 Now to the statistical analysis, just looking at the Denver metro area's Gambler Chart shows the higher reaching snowfall potential: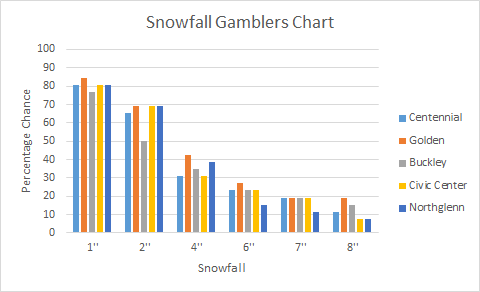 The above considerations boil down to a forecast for the Denver area in the 3 to 7-inch range with the higher terrain suburbs south and west within a 6 to 12-inch range. Fort Collins will likely fall into those ranges as well, lower totals near I-25 and higher totals nearer the mountains. I-25 is a bit of a cutoff point separating higher totals to the west from lower totals to the east. Colorado Springs is likely in a 2 to 5-inch range.
We will have a more specific forecast Friday. It is, after all, 48 to 72 hours before most of the state is done receiving snowfall from when we published this post.