There's really not much fun in trying to forecast a banded snowfall event, especially over such a large area. The last 48 hours brought a huge variation in snowfall totals from Colorado Springs to the Wyoming state line. In some areas our forecast has held up great, in others it's been a tragic bust.
Overall, things actually have gone just about as expected. Friday night we saw banded snowfall across the northern urban corridor, delivering anywhere from 3 - 7" to the greater Fort Collins area and Cheyenne Ridge. Saturday we saw a break in the snowfall, followed by a push of VERY cold air, and snow developing up and down the Front Range between 3 and 5pm –– right on time.
Snowfall totals, unfortunately, just didn't added up to expectations in all areas. I believe that 8 times out of 10 totals across the board would have been greater than what we've seen so far given the exact same setup. But, alas.
If we look at snowfall totals from across the region we see some areas have done just fine, in some not so much, and in some spots we'll add to these totals today and tonight:
For the Front Range foothills and mountains we have 8 - 16" forecast. Here we've actually done quite well overall, the glaring exception being areas between say Coal Creak Canyon and 285. Evergreen has picked up just 4 - 5" through this morning, so will need to get real lucky today to hit that 8" mark. Others in this zone have seen anywhere from 8 - 27" of snow, so a pretty great snow for the Front Range mountains!
In Fort Collins we have 6 - 12" forecast. Spotter reports show most of the city and surrounding areas have picked up 6 - 7" of snow, with 8 - 10" in the foothills west of town.
Boulder is also in the the 6 - 12" range (more on the west side), and as of 7am this morning we've seen a storm total of 6.4".
For Denver we have 4 - 8" along and east of I-25, with 6 - 12" west. The west side was a clear bust, with most areas from Lakewood, to Golden, to Highlands Ranch reporting 3 - 5" –– well short of the 6" minimum we expected. At our station (in the 4 - 8" range) we've picked up 3.75" so far. Denver International Airport is also reporting 3.7", so perhaps a little light snow today and tonight will get us to that 4" verification. 😅
There's no sugar coating most of the Palmer Divide. In Elizabeth we saw about 6" of snow, so right on target (4 - 8" forecast), but to the west (Castle Rock/others) totals have been in the 1 - 3" range. Whatever snow we see today and tonight will have a hard time making up ground here.
And finally, Colorado Springs which we bumped up to 4 - 8" on Friday night did just fine as well. Most of the reports coming in this morning are in the 6 - 7" range on the north/west side, with 3 - 4" on the south/east side.
So, a mixed bag. The two areas we missed most were the western Palmer and west Denver metro/immediate foothill communities. You can peruse the latest totals from the NWS for yourself here.
Here's an interpolated snowfall total map through this morning, with areas we've see a rather notable bust highlighted in white: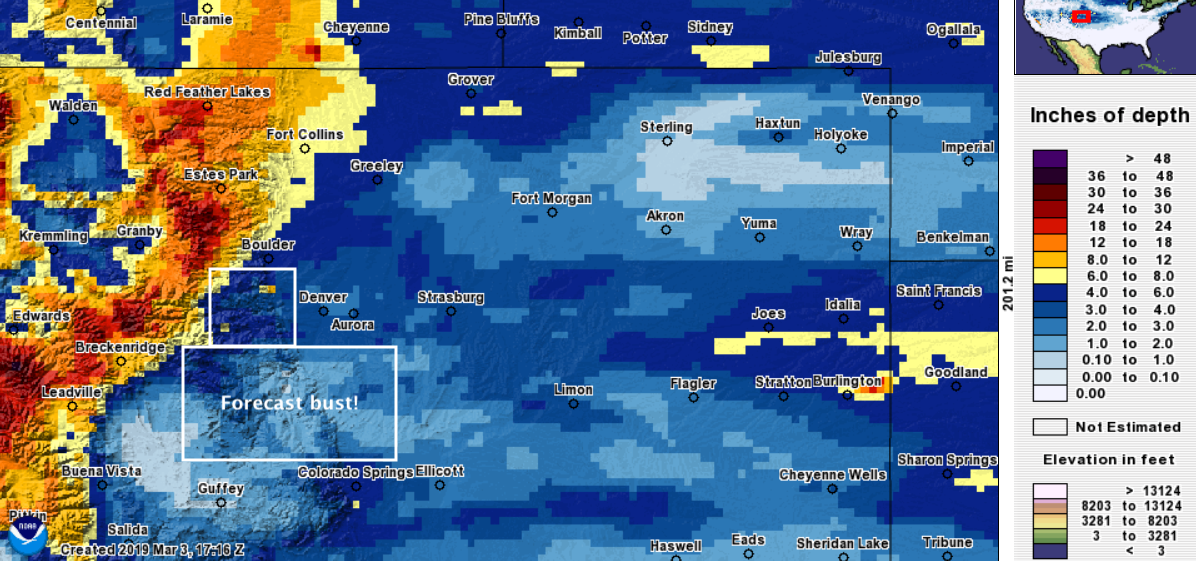 Why the huge variation in totals, and why have some areas just not lived up to expectations? Banded snowfall. These events lead to huge variations in totals over small areas. Why we didn't see more widespread higher totals is largely two-fold: we didn't see as many of the heavier bands we might have otherwise expected in a similar setup (2"/hr+ rates), and the bands that did form were moving fast. Here's an example of the narrow banded snowfall we saw yesterday (around 8pm). The greens indicate the narrow band of heavy snowfall: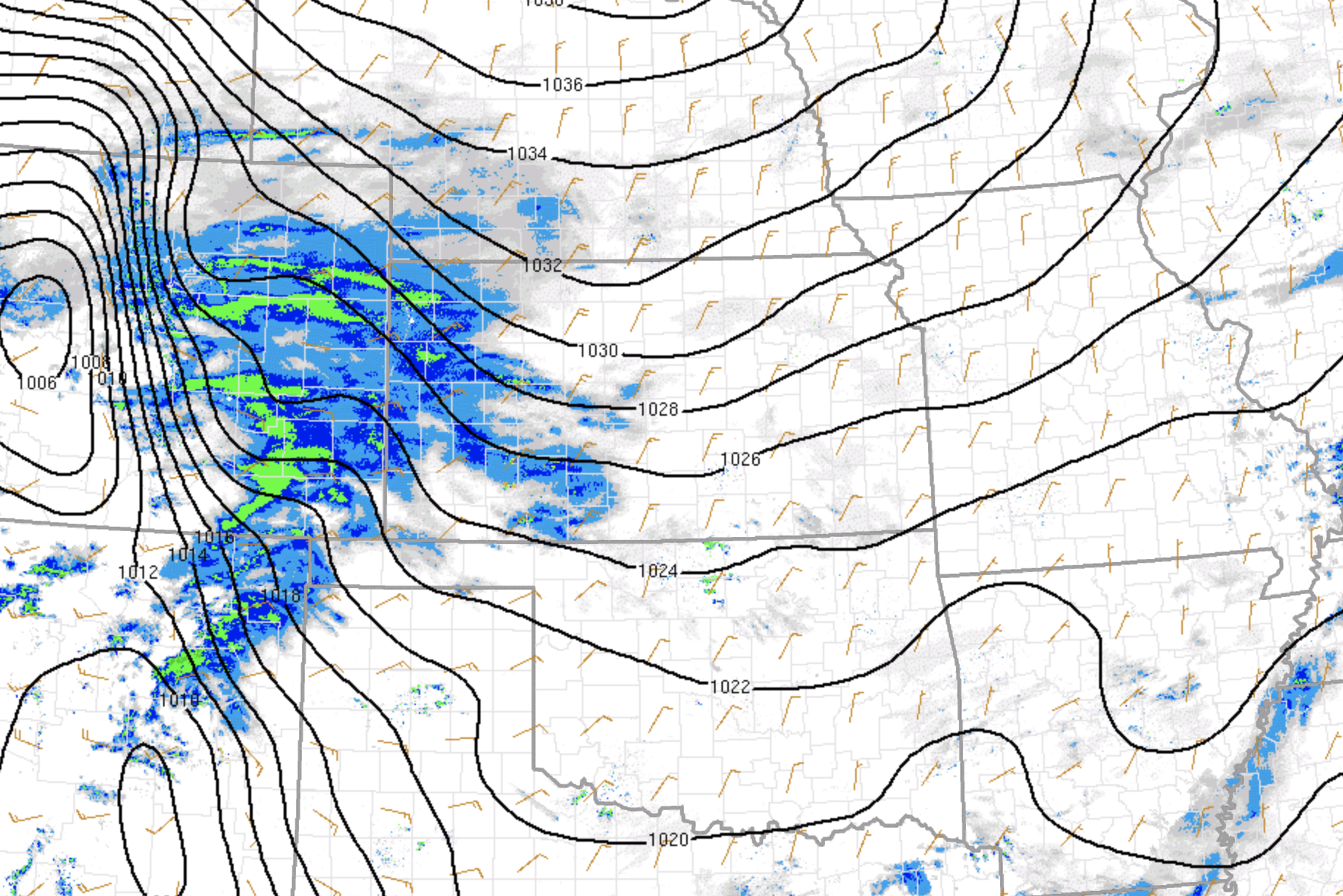 Today and tonight
Main story through the remainder of the day and into Monday will be the COLD. Highs will be in the teens across the urban corridor today, with overnight lows once again near 0°F and below. Monday will be only a bit "warmer", with MOS guidances showing daytime highs around 25°F on Monday in Denver. Here's a look at the incredible cold we saw across the state and High Plains this morning: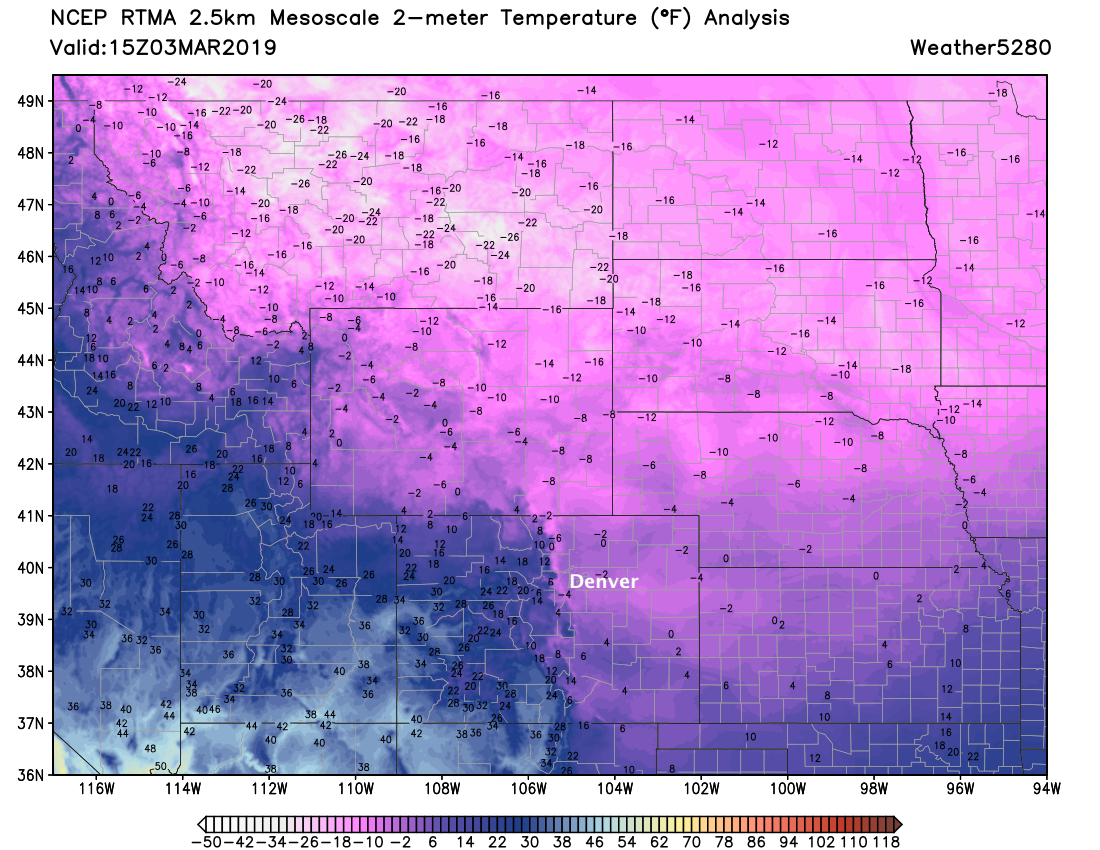 We'll see occasional snow showers and flurries through the remainder of the day and overnight as well. Best chance for anything to accumulate looks to be in the foothills west of Denver, and from say Boulder south through Colorado Springs and onto the Southeast Plains.
Totals aren't expected to be great in most cases. We may see a few 1 - 4" totals (especially across the Palmer Divide), but most areas will just see a dusting to 1" of snow between now and Monday morning. Here is the latest forecast from the 3km NAM which I have a hard time arguing with. Again, a couple 3 - 4" totals if you end up under a heavier band... but for the most part just enough to keep roads slick in spots into your Monday morning drive.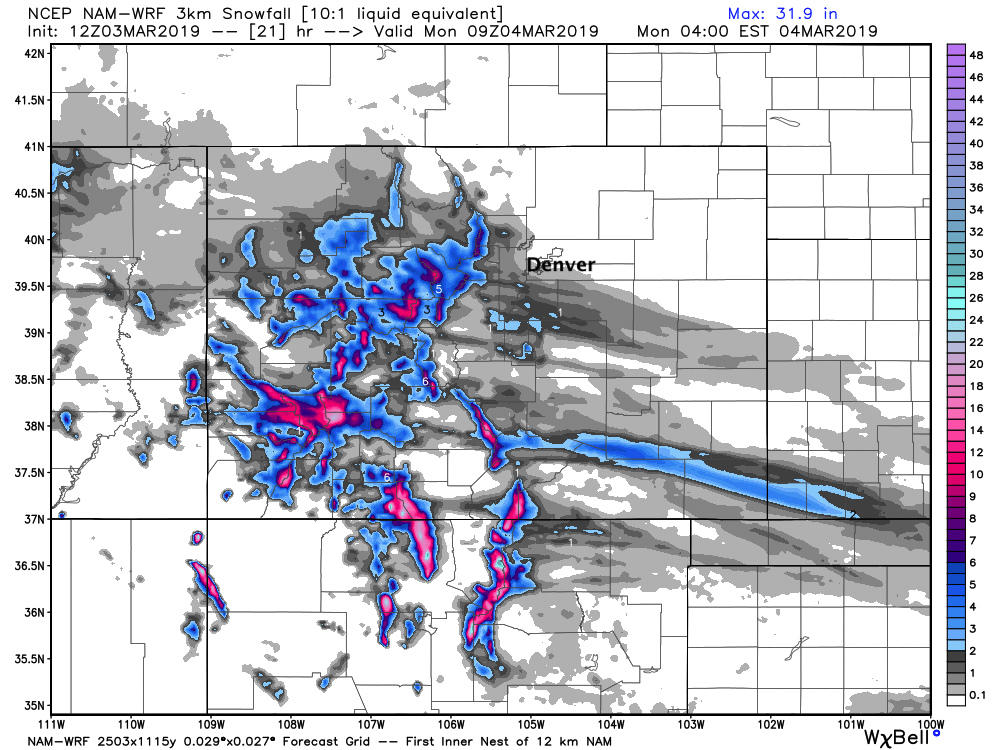 After tomorrow, a drying and warming trend through the middle of the week. We should be back in the 40s for highs by Wednesday in Denver.