Another consistent 24 hours from the modeling since our update yesterday, with a major winter storm set to bring strong winds and areas of heavy snow to Northeast Colorado by Wednesday, prompting a Winter Storm Watch to be posted by the National Weather Service. While apparently the NWS does not issue Blizzard Watches anymore –– let's be clear, that's exactly what this is. Much of eastern (especially northeastern) Colorado will experience blizzard conditions Wednesday, especially along and east of I-25.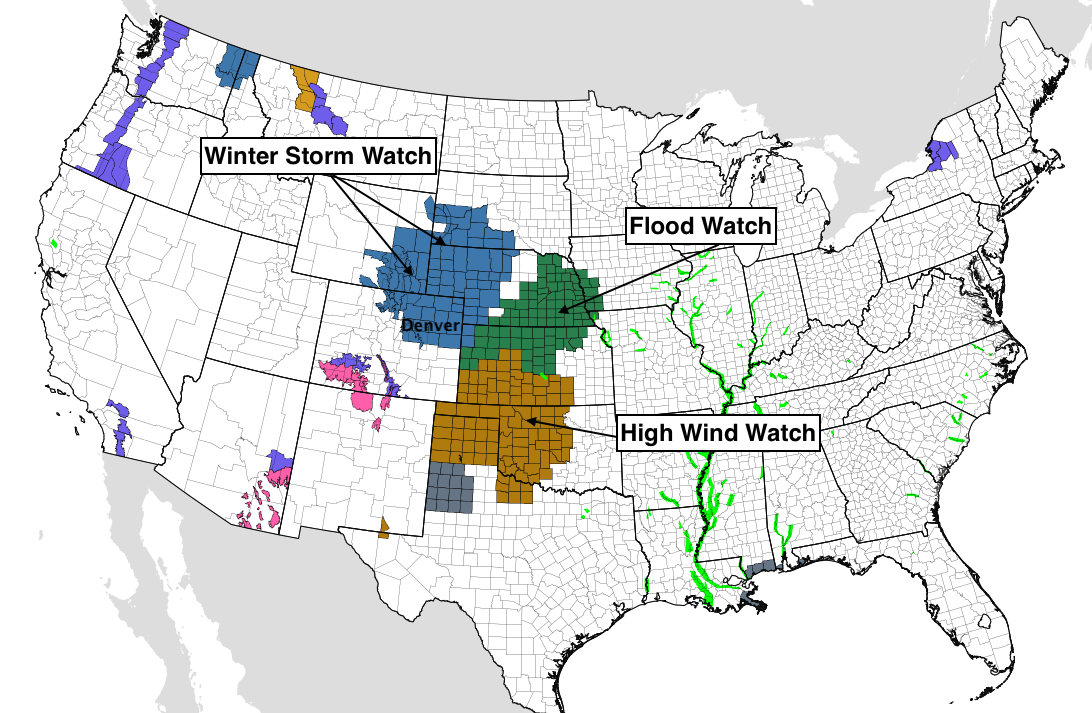 We are increasingly less concerned about storm track, as most models are in agreement in tracking this system right through the sweet spot for heavy rain and snow across Northeast and East-Central Colorado. If anything, we have seen models come in a little slower and a little further west this morning which lends confidence to a higher-impact event for the greater Denver area.
In discussing things this morning internally, temperatures may be our biggest concern at the moment with respect to big snow accumulation along the I-25 urban corridor –– but even here we think this rather dynamic storm should be able to overcome. We were recalling a March storm in 2013 that easily "snowed" a foot+ for Denver, but with melting and compaction during the day the city only really ended up with 3" or so measurable. A huge bust for all the 6 - 12"+ forecasts that were issued for that storm, despite sort of kind of being right. Is that possible with this storm? Yes, it's a concern. However, we think not as big a concern as we can sometimes have this time of year. Let's not forget it's been a rather chilly stretch leading up to Wednesday, vs some years when we see a storm like this roll through after weeks of anomalous warmth.
There are so many aspects to this system that it's a bit hard to gather one's thoughts if I'm being perfectly honest. It's going to be STRONG, like record or near-record level low pressure for eastern Colorado and Kansas as this low strengthens on the lee side of the Rockies Wednesday. With that, we fully expect wind to be a huge concern out across the plains –– even if heavier snow fails to materialize. Wind damage across the plains and on into Kansas, Oklahoma, and the Texas Panhandle is a big concern of ours. Rain, snow, flooding, whiteout conditions... you name it, we're going to see it all across the Plains with this one.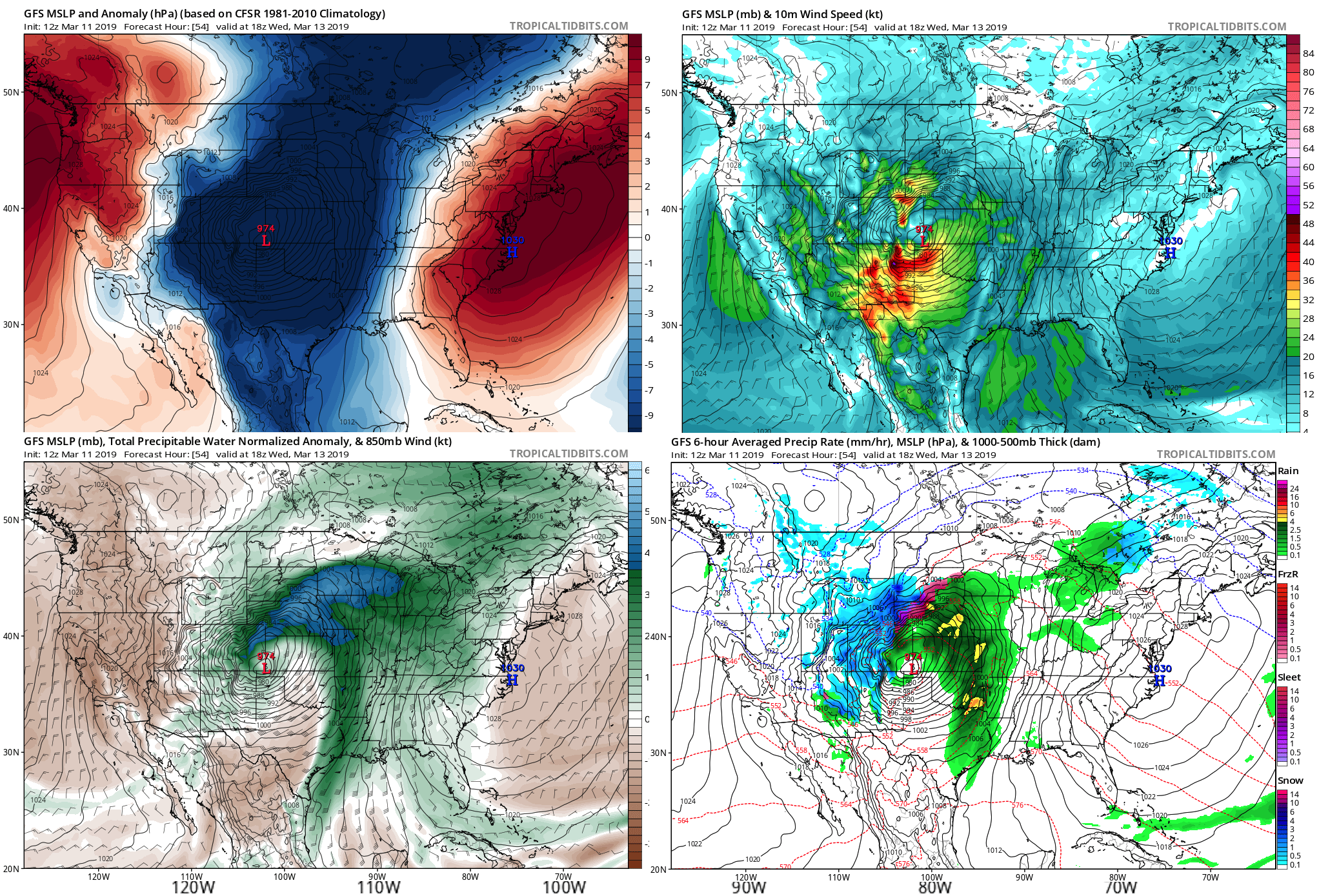 Snowfall forecast
The NWS is running with 4 - 8" for Denver in their Watch issued this morning. A good middle of the road forecast that is pretty hard to argue with. We are going to start a bit more bullish as we really like the look of this system. We have a full day tomorrow to adjust totals if need be, so please check back.
In short, we'll be going 3 - 7" (might need to bump this up) for the northern urban corridor. For Denver, and points along/east/southeast of I-25 and I-70 we will go 6 - 12". Areas of 8 - 16" within that 6 - 12" range will be possible, especially east/southeast of Denver and down along the Palmer Divide. In Colorado Springs, look for 2 - 6" of snow, with greatest totals on the north side of the city. For many, and we can't stress this enough, measuring snow will be nearly impossible anyway. Gusts to 80mph east of Denver will lead to huge snow drifts whether it snows 4" or 16".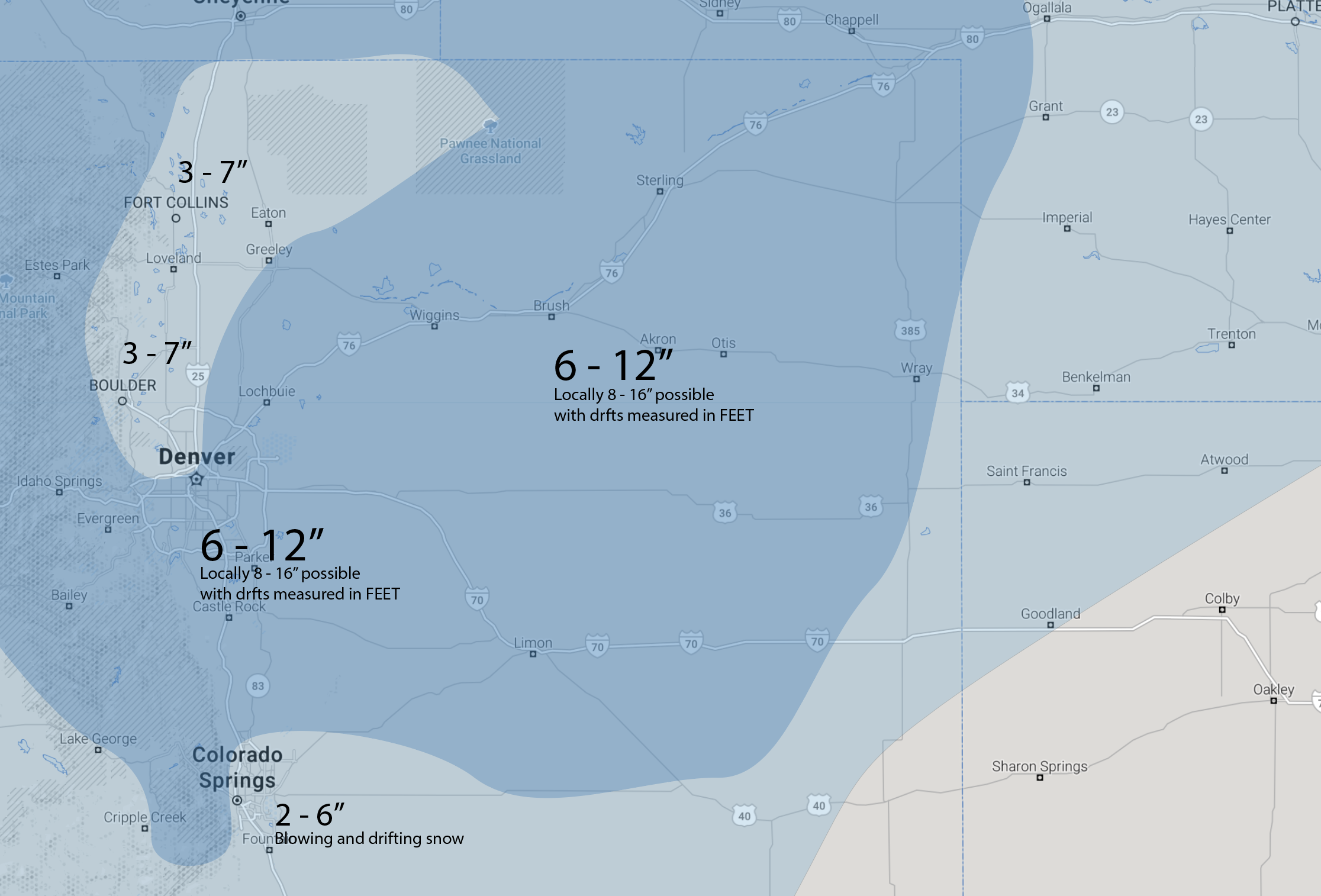 Our forecast should look similar to this WPC product below. We're starting with a 75 percentile look to this system, and if we have to adjust down tomorrow we can. It's in the sweet spot, and these storms can produce even when models don't see it: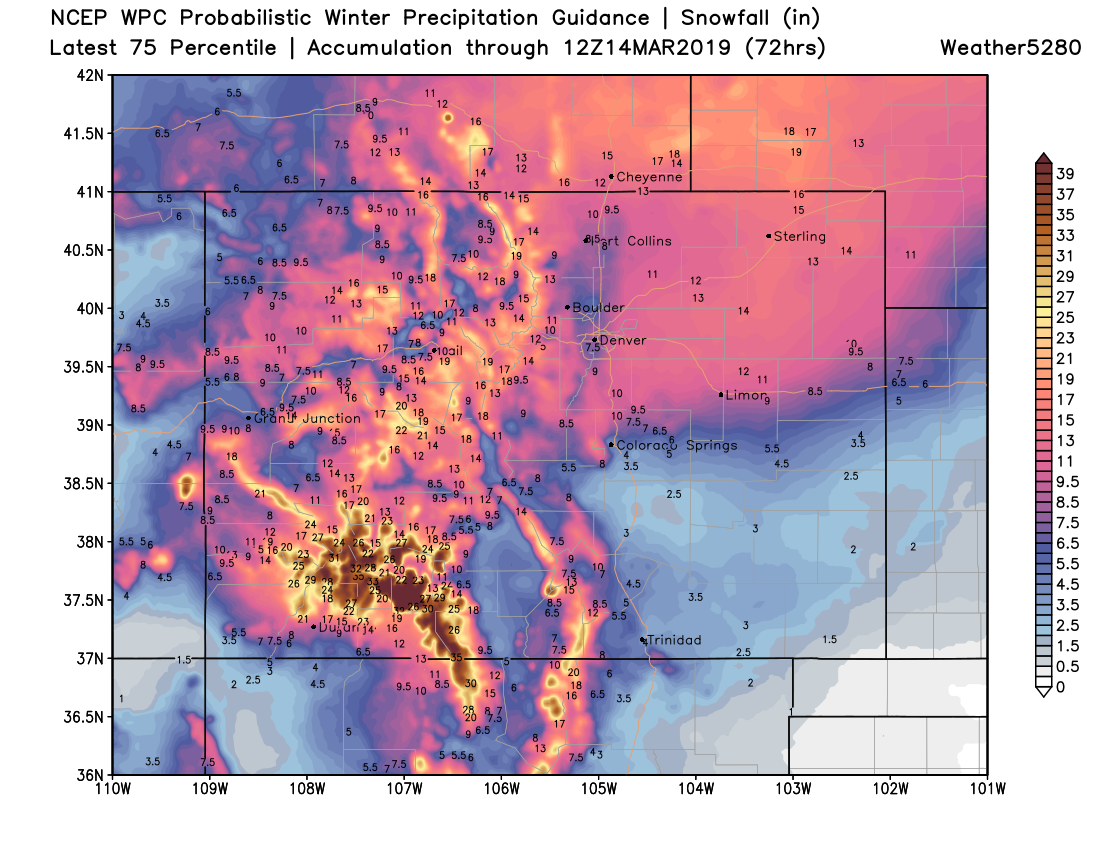 And this product from the European model showing upwards of 80 to 90% odds of 3" or more of snow across most of Northeast Colorado from this system: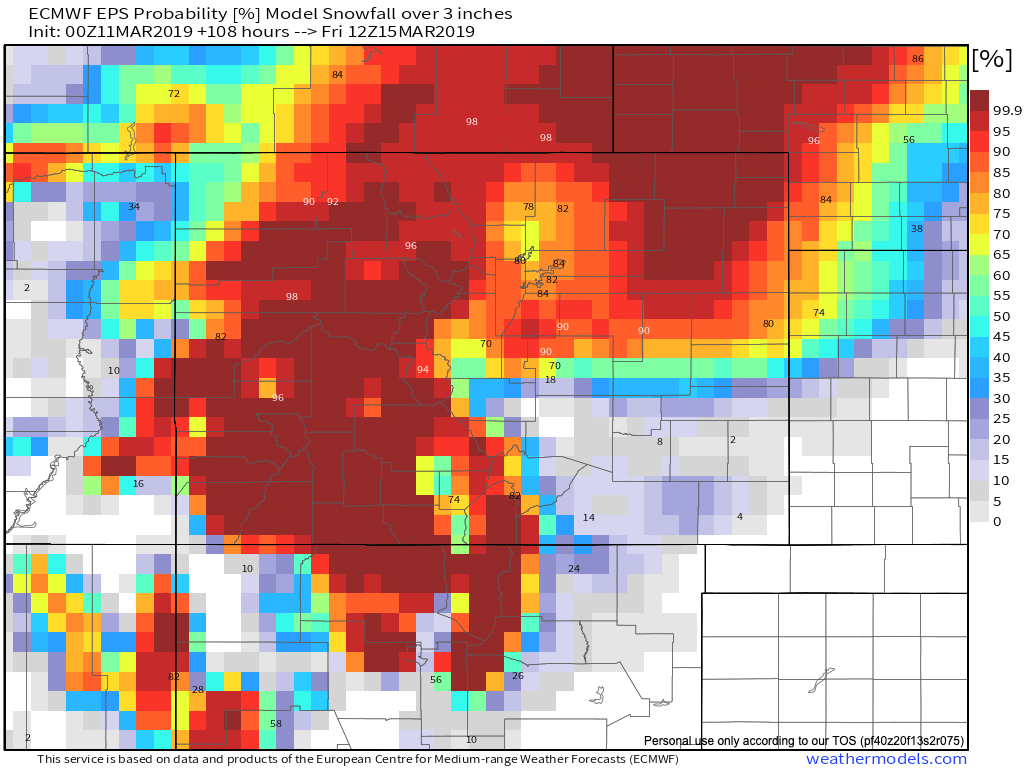 Timing
The system moves in late Tuesday night, with precipitation starting initially as rain then transitioning to snow. There are differences in timing still between the models... but our thinking is the best chance for heaviest snow in Denver comes between say 11am and 6pm Wednesday. Some rain and snow prior, and snow lingering into Thursday night as well (especially south and east of the city), but the main event looks at this moment to come Wednesday afternoon/evening. We'll be watching any signs of slowing (or speeding) of the system, and update this timeline as needed.
Here is the 3km NAM simulated radar for early Wednesday, showing mostly rain east of the mountains to start:
By afternoon the low moves into Kansas with pockets of heavy snow and wind across Northeast Colorado:
By Thursday evening snow really shutting off north of Denver, but still going pretty good for south metro area and Palmer Divide: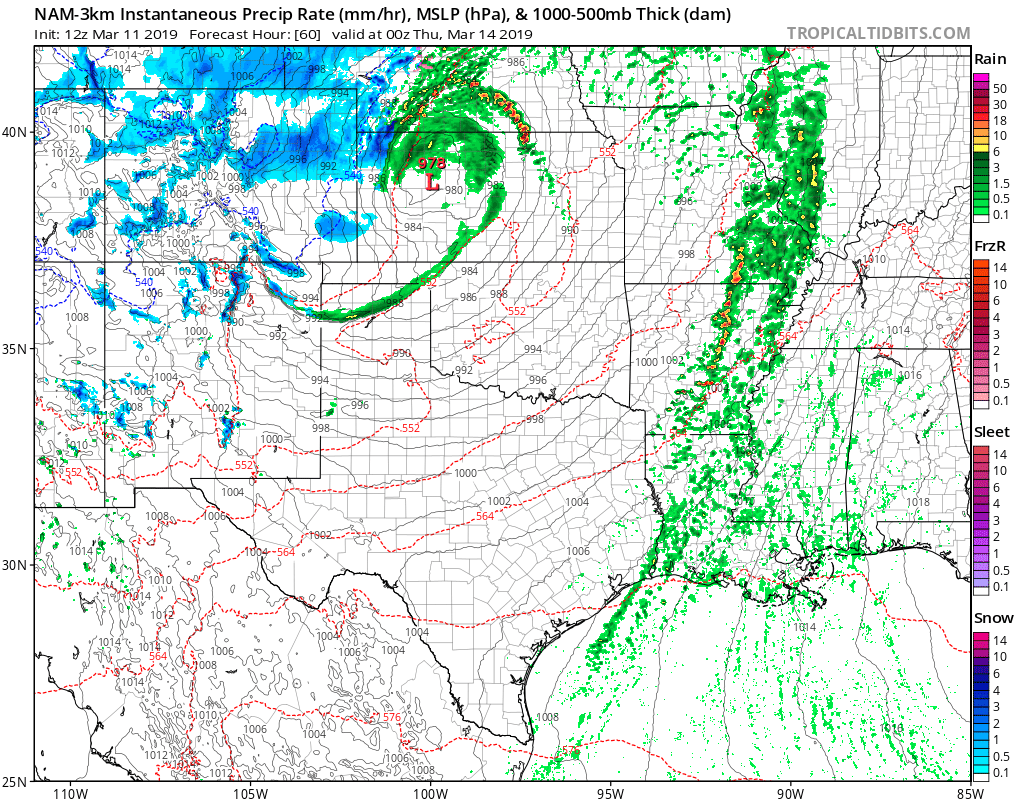 Snow clears Denver Wednesday night. We could still see some wrap around snow across the Eastern Plains into Thursday morning, as well as continued gusty winds as the low continues to track east/northeast.
Impacts
We always like to stress impacts over exact snowfall totals. This is especially true when wind will make measuring near impossible in many areas. It won't take a lot of snow to cause whiteout conditions on the plains. At this point we fully expect most of Eastern Colorado (east of Denver) will be shut down on Wednesday –– so if you're planning to travel east do so prior or wait until after the storm clears.
Data shows gusts to 50mph in Denver, with the greatest winds in the city expected east of I-25. On the plains, gusts to 85mph or higher will be possible. Here's a look at wind gusts from the Euro model for Wednesday evening: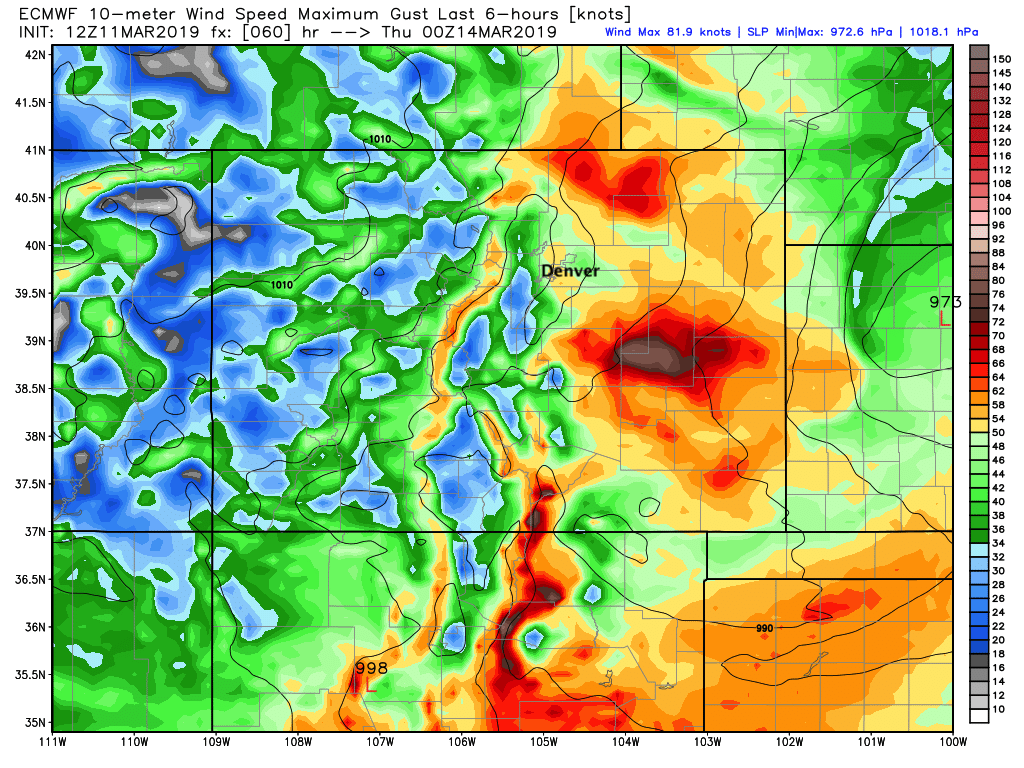 This is going to be a potent storm for many across Eastern Colorado. If it doesn't shake out exactly as you'd expect at your house, it's likely that somewhere down the road a few miles they are experiencing whiteout conditions. This looks like a very impactful storm regardless of how much snow falls. Stay tuned, and stay safe on Wednesday.
Questions
Again, temperatures are a question for us. We anticipate the rain/snow changeover to come quickly for the urban corridor, but of course if this is not the case... our forecast snowfall totals will take a hit. High sun angle and the bulk of the snow coming during the daylight hours is also working against us. However, this is a very dynamic storm and we believe it can overcome!
We'll be watching things very closely and update as needed. Slight changes in track and speed can mean big changes in eventual outcome. So even with our initial snowfall forecast above, best stay tuned in between now and Wednesday in case anything changes.