Yesterday's storm was ever bit as strong as advertised, delivering a wild assortment of weather to eastern Colorado on Wednesday. We set a new record low pressure for Colorado Wednesday morning as explosive cyclogensis took place over the Southeast Plains. A pressure of 969mb was recorded in Lamar, CO –– equivalent to one you'd find in a category 2 hurricane (the comparisons really end there). In a word: strong. In another word: incredible!
My only complaint? Not enough snow at my house! 😉🤓😎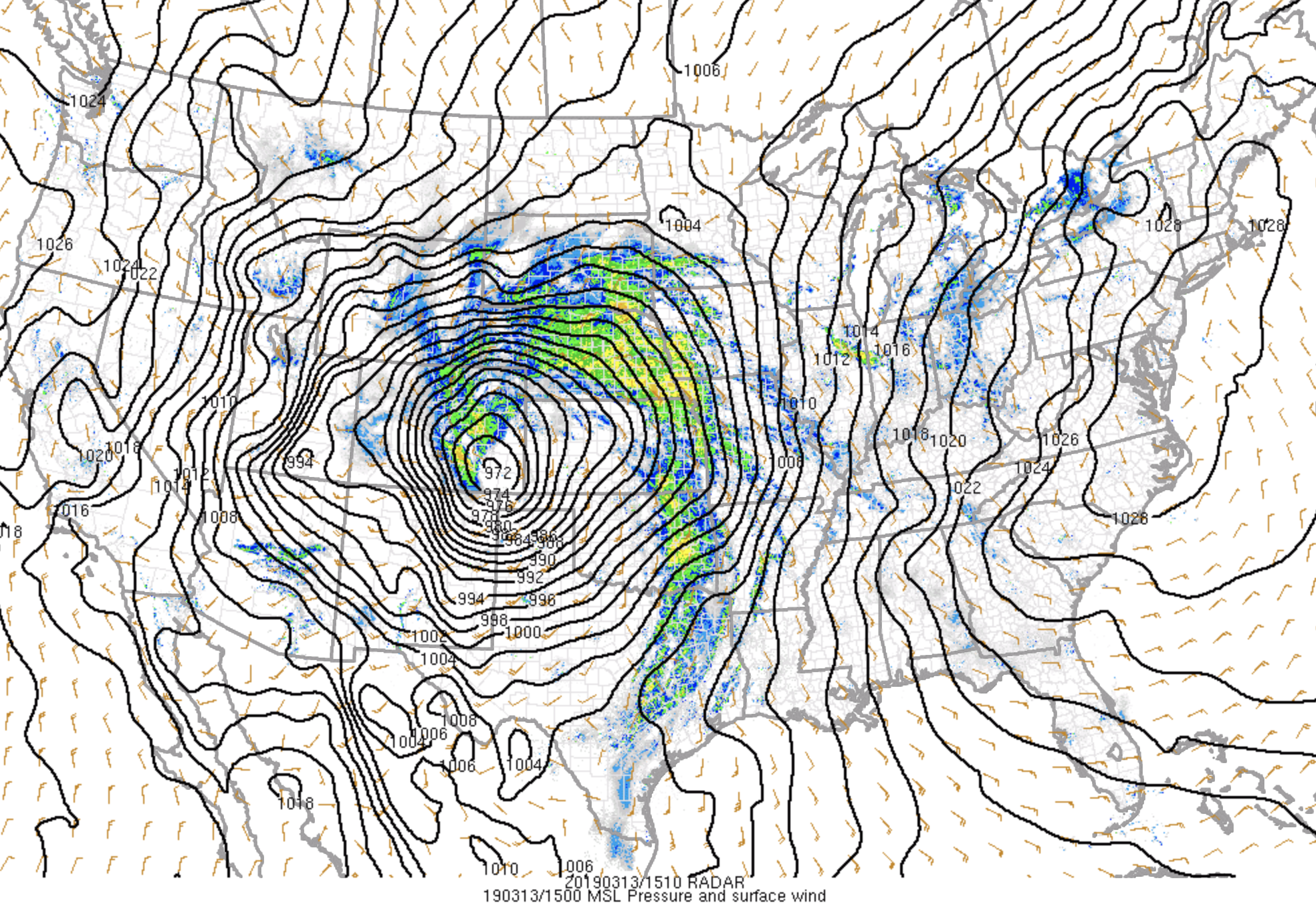 Snowfall totals
We couldn't be happier with how our snowfall forecast worked out. For many, as we stressed for a week, the snowfall totals were not all that epic –– largely 4 - 8" across Denver proper, just 2.8" in Boulder. For others, not only did they receive the full fury of the wind –– but also some pretty remarkable snowfall to boot.
Denver's official total was 7.1" at Denver International Airport as of 10:20pm last night. We had 6 - 12" forecast for the airport. In town, our station picked up 6.1" of snow, just hitting the low-end of our forecast. Temperatures were no doubt the biggest issue for why we didn't see more snow in the city itself.
This storm was the biggest single day snow for Denver since April, 2016 when 11.8" fell at DIA. Month to date Denver has now recorded 11.4" of snow (average for March), with 39.2" on the season. Thanks Chris Bianchi for doing the leg work on collecting these stats this morning!
Here are some additional totals from across the region. Many areas, especially along and east of I-25 were measuring feet in drifts. Fair to say all of these measurements were quite hard to do so completely accurately, but we appreciate everyone trying! You can explore additional totals from across the region here, an excellent resource of storm reports from the National Weather Service.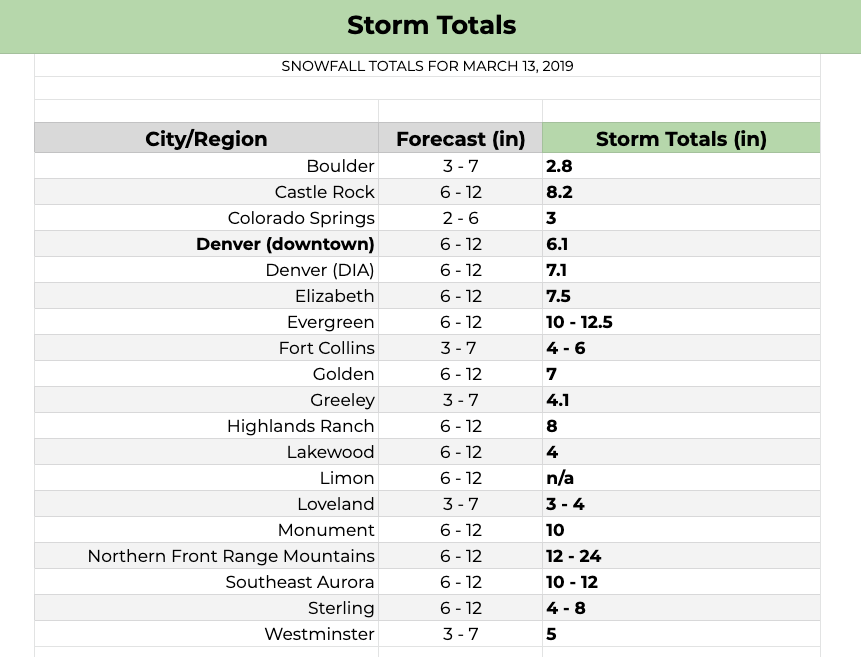 And interpolated snowfall from across the region –– should look quite a bit like our forecast map!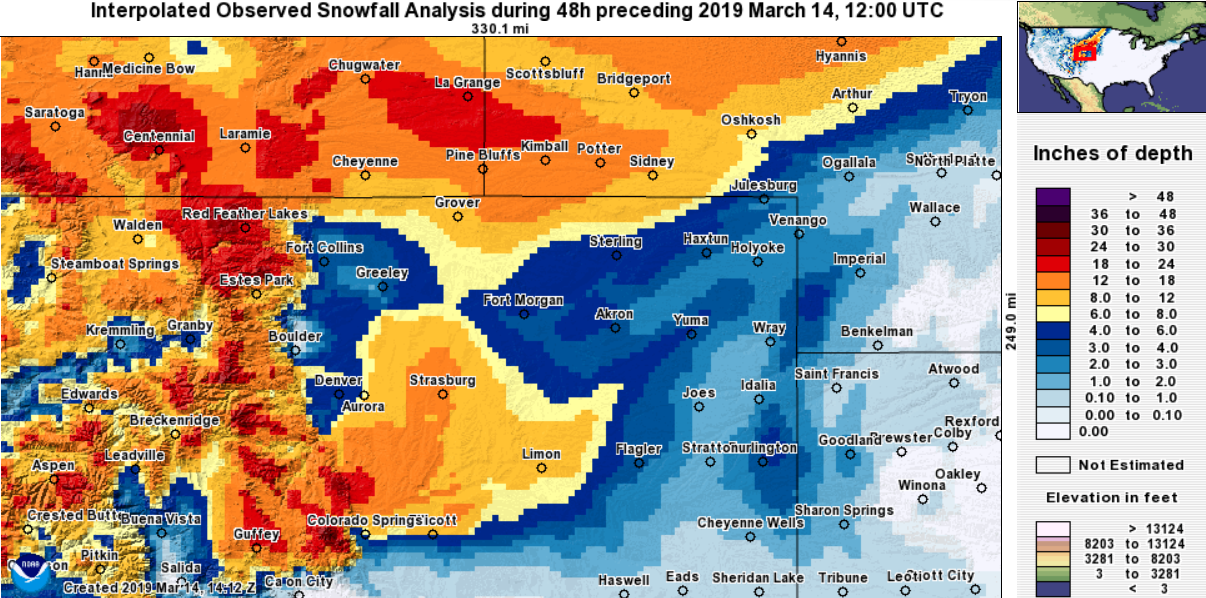 Even better than all the snow? Check out these 24 hour precipitation totals! Upwards of 1" of liquid for most of the urban corridor and adjacent plains: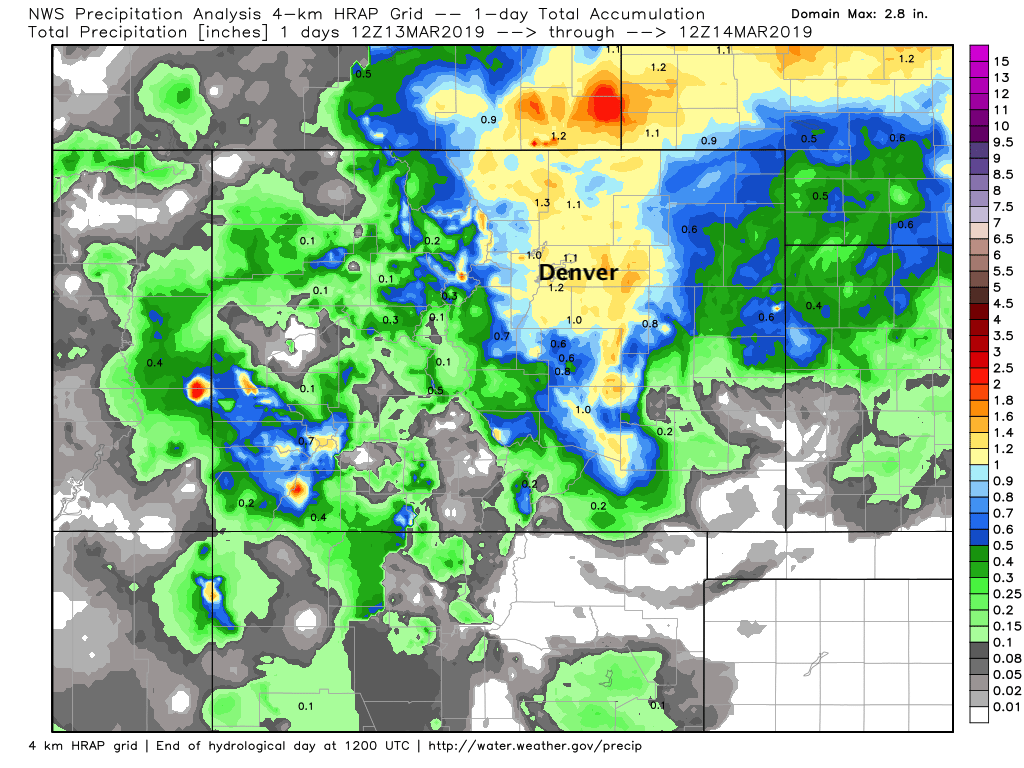 Highlights and lowlights from the storm
This will be a benchmark storm for the region in the years to come. Here are a collection of stats, headlines, and media we found most remarkable! Please share anything we missed in the comments below.
Whew!
Chilly today with winds continuing to cause blizzard conditions at times across the far eastern plains. We dry things out and warm things up a bit as we head into the weekend.
Thank you all of the readership this week, and above all else sharing your reports, photos, and videos with us through the duration of the storm!