With last week's storm behind us, today we spend some time looking ahead to the remainder of March.
The week ahead looks unsettled, especially for the southern half of the state. Even for Denver, look for off and on rain and snow chances in the forecast over the next several days, with perhaps some accumulation potential at times –– especially for the southern and western suburbs which are a bit higher in elevation.
If we take a high level look at the second half of March, we see an active storm track continuing across the southern tier, with a steady stream of storms ("bowling balls") crashing into the West Coast, and eventually across the Rockies –– each having an impact on our weather to varying degrees: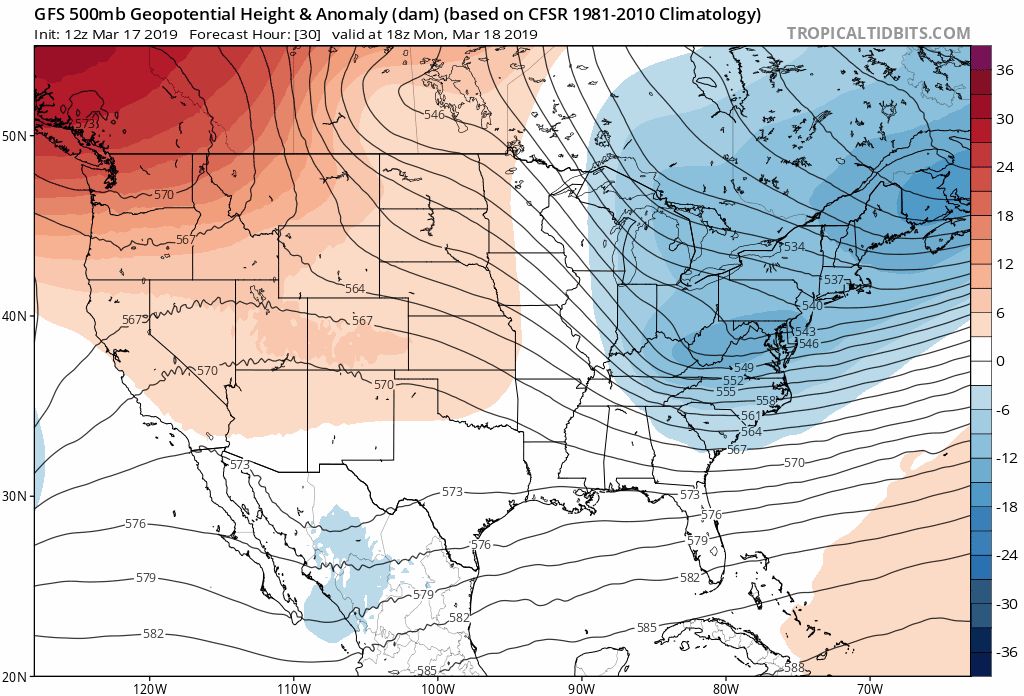 This week none of the systems look all that impressive for northern Colorado at this time, reliably anyway.
Our first disturbance moves through Monday afternoon into Monday night. Here we see a chance of rain and snow showers for the urban corridor, with perhaps some spotty light accumulation (Trace - 2" or so) for the Front Range foothills and western Palmer Divide. This will by no means be a widespread rain and snow event, but if you end up under a rain/snow shower Monday or Monday night do not be surprised! Here is a look at the 3km NAM simulated radar for Monday evening, a few showers around, but not a huge deal: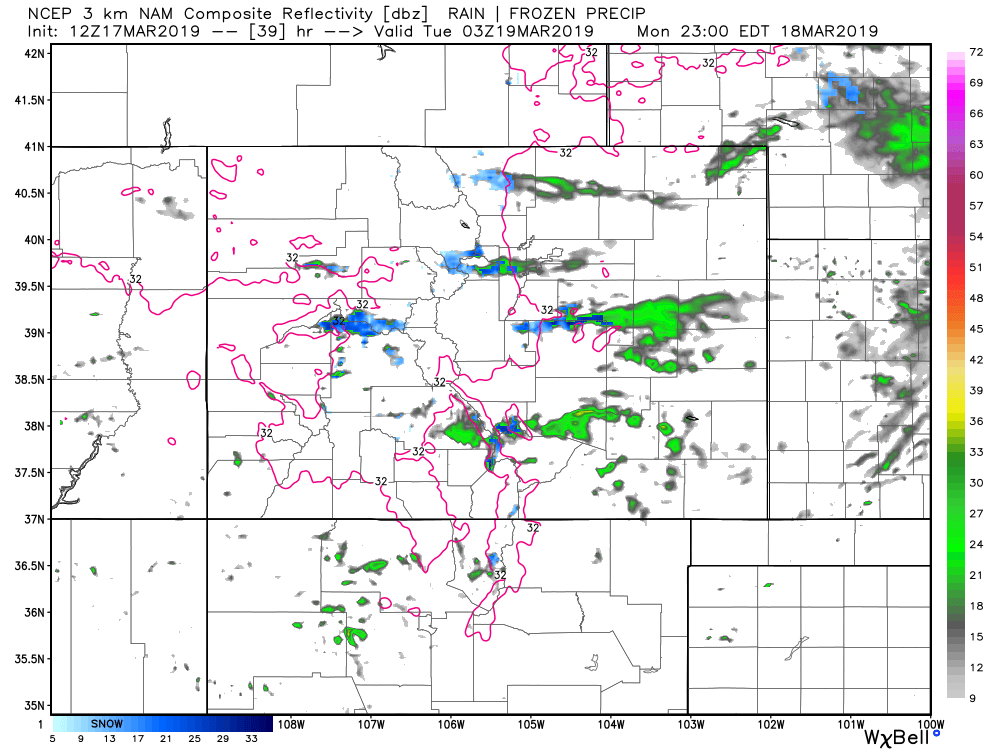 A slightly stronger disturbance drops south Tuesday into Wednesday. The European model is one of the more bullish models with this disturbance, showing a few inches of accumulation possible south and west of Denver, with perhaps even some slushy accumulation (Trace - 1") in the city. The NAM is showing greater coverage Tuesday evening as well, with perhaps some nice snow showers across the higher terrain north/south of Denver: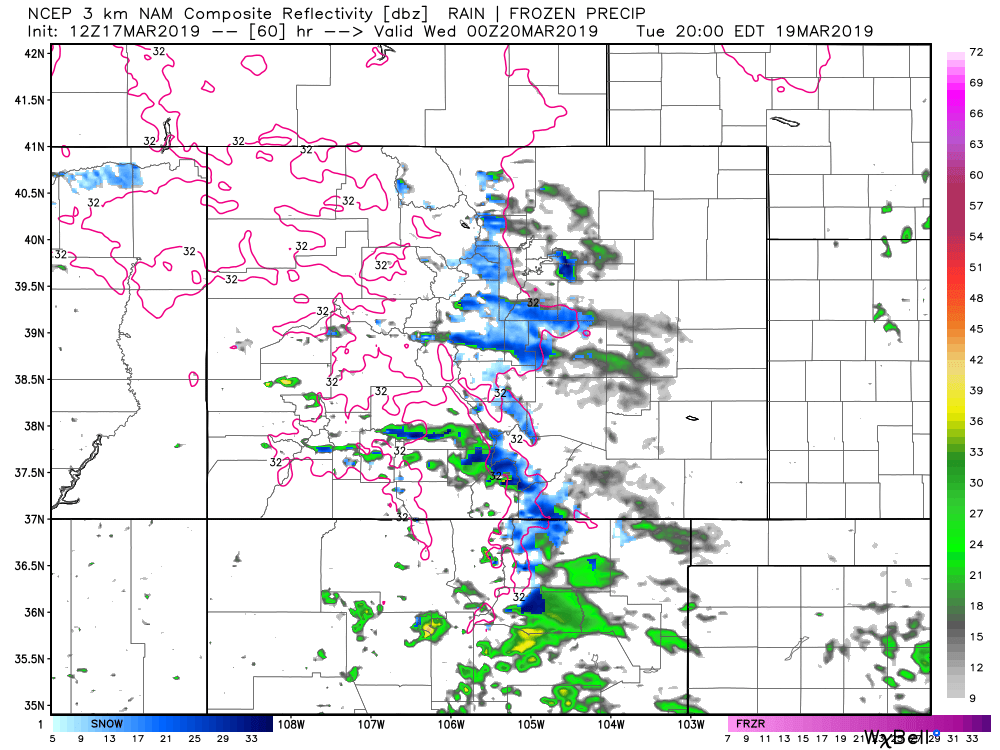 We'll keep an eye on both Monday and Tuesday and offer updates as needed. For the moment it looks like Tuesday holds a little bit of potential to be more impactful for folks, but not great agreement on this setup, so let's see how things look in a day or two.
By late Thursday and Friday we see our next system move in, which at times has looked a bit more organized. At 500mb we see it certainly looks a bit more "like something" with an area of low pressure moving through the Great Basin Thursday, then eventually into southern Colorado before ejecting northeast: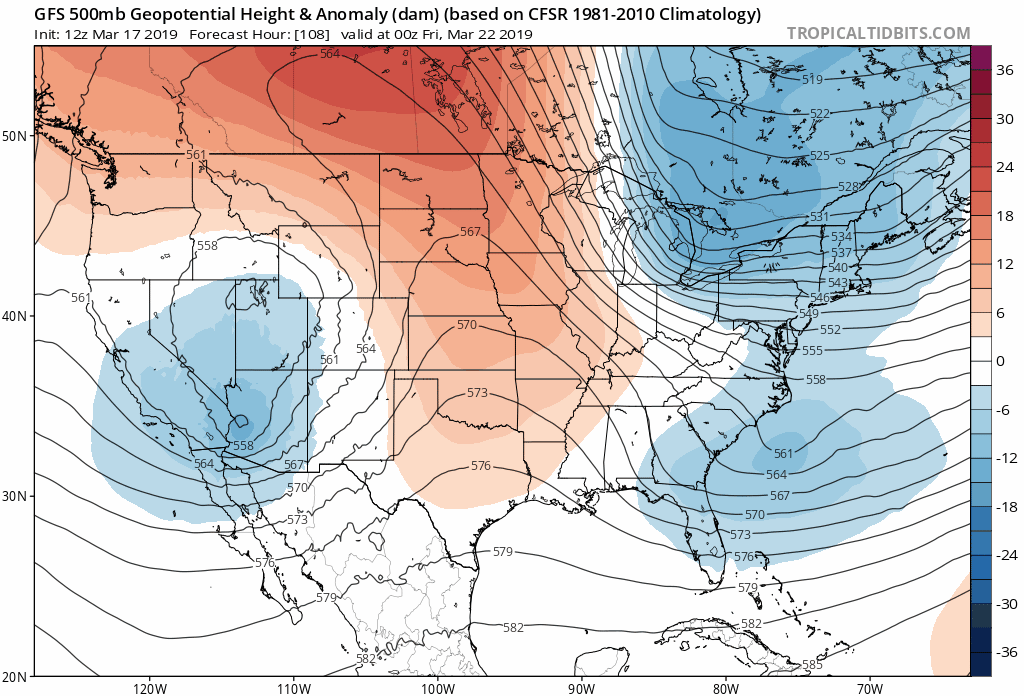 Again, the Euro has been most bullish of the global models especially with regard to snow. Today it's backed off a bit and looks more inline with the GFS. Neither look all that impressive, but both look worth watching. At the very least expect another round of rain and snow showers across eastern Colorado by Thursday afternoon, likely continuing well into Friday and perhaps into the weekend.
Word of the week it seems is unsettled. The GFS ensemble package shows this nicely. Good agreement on some showers Tuesday/Wednesday, a little break, then plenty of greens showing up late week into next weekend. Importantly, outside of early this week, not great agreement between each ensemble member (y axis) other than all are seeing some wet weather from time to time: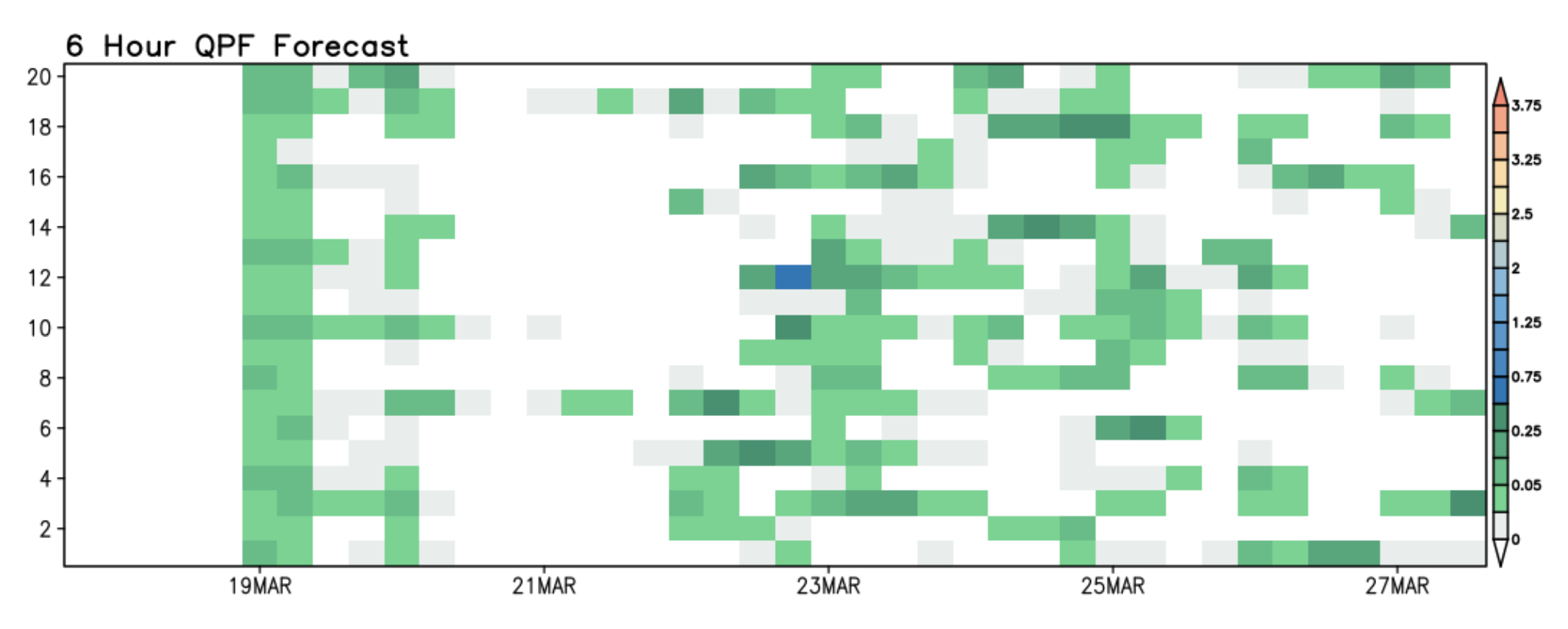 For temperatures, look for highs in the 40s and 50s most days over the next week. The warmest day of the week may come Thursday, with GFS MOS guidance showing mid 60s possible in Denver before a cold front Thursday evening.
With very little agreement between various models and their ensembles on exactly how strong each disturbance we see will be as it moves through... it's fair to say this is a very low confidence forecast for the next week, especially with temperatures. How things look today are posted here, but I expect to see those daily outlooks change a bit as we head into the week and get a better idea of each system's eventual impacts.
In short, plan for a cool but not all that cold week, with an unsettled weather pattern for the foreseeable future. We'll offer updates as we go this week in case any of the systems mentioned above look like they may come in with more umpf than currently forecast. Stay tuned.