We are tracking a storm system that will move through Colorado during the next 36 hours. While most computer models aren't terribly excited about it, the fact remains that we are talking about a storm during the month of March. That means we are always on guard for anything sneaky, or what could potentially surprise. The system set to move through tomorrow/tomorrow night could be sneaky for a few areas across Eastern Colorado, and is likely to deliver everything from heavy rain, thunder and lightning, hail, graupel, and perhaps a period of heavy snow to the Eastern Plains.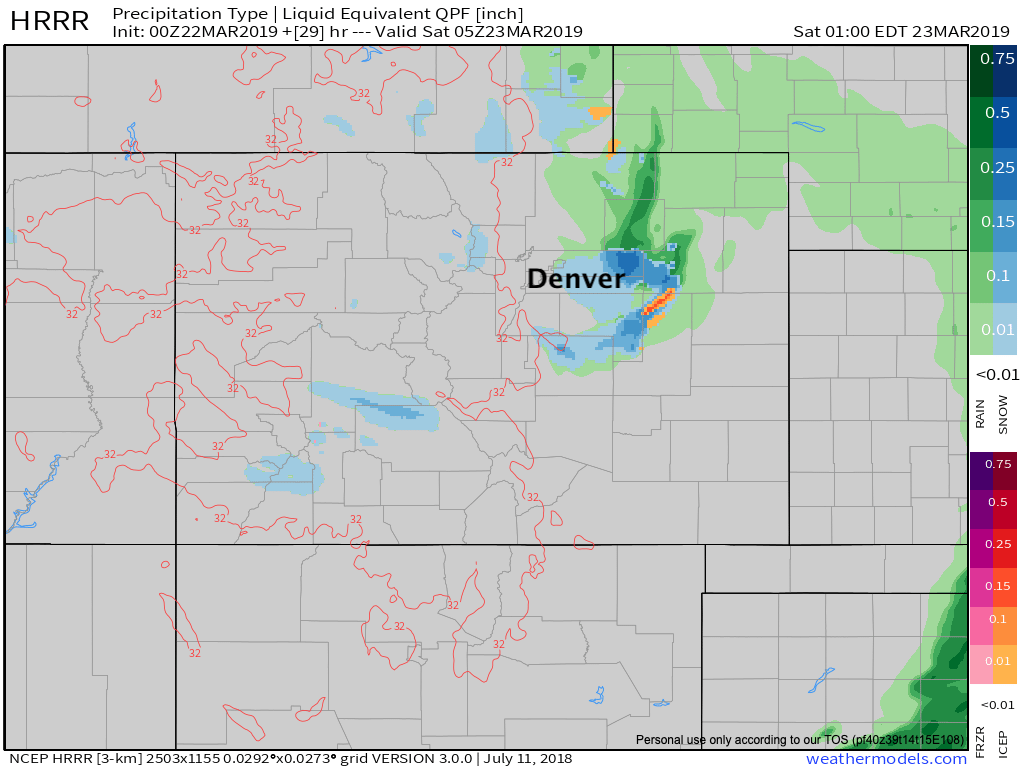 Things we are watching...
Potential for strong thunderstorms
Thunderstorms will be possible on the Eastern Plains on Friday afternoon. While it won't be terribly warm, the storm moving into the state will supply the needed energy and instability to produce thunder. Don't be surprised if you see some hail, heavy rain, lightning, and gusty wind with the stronger storms. Right now it looks like the best shot for those stronger storms will likely end up east of Denver.
Palmer Divide (heavy?) snow Friday night?
On the backside of this storm, there will be some wet snow. Right now it looks like temperatures will be cold enough on the Palmer Divide to the south and east of Denver for that changeover to snow Friday night. We could even see some wet snow in Denver and Colorado Springs, but it likely won't amount to much in the cities. We are thinking Elbert County and Northern El Paso County have the best chances to see the snow –– perhaps some heavy snow at that, with several inches possible by Saturday morning. Gusty wind will also be occurring with the snow, and that could make for slower travel on Friday night.
Who sees what and how much becomes more and more a question as we head into the warm season and start talking about convective storms. Again, most data shows areas east of Denver, the Palmer Divide, and Colorado Springs vicinity are most likely to see the most action Friday, but that doesn't rule out Denver or the northern urban corridor.
Here's one particular model that shows a heavier shower moving through Denver's north side Friday afternoon, with lesser activity for Colorado Springs, but good coverage east across the plains: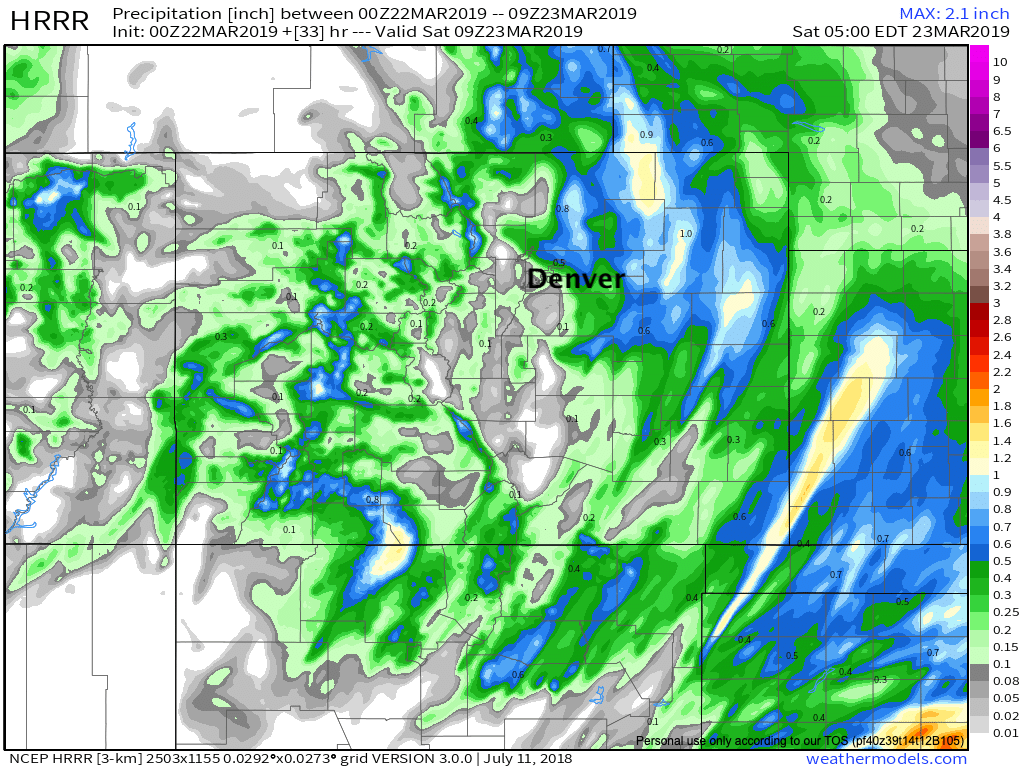 Tonight's 3km NAM shows the follow for its precipitation forecast. Again, heaviest (upwards of 1"!) east of I-25, with less moisture forecast for the urban corridor on the whole. Not hard to imagine what a shift could do, however, with quiet a bit of moisture available tomorrow/tomorrow night if it makes it into the Denver area: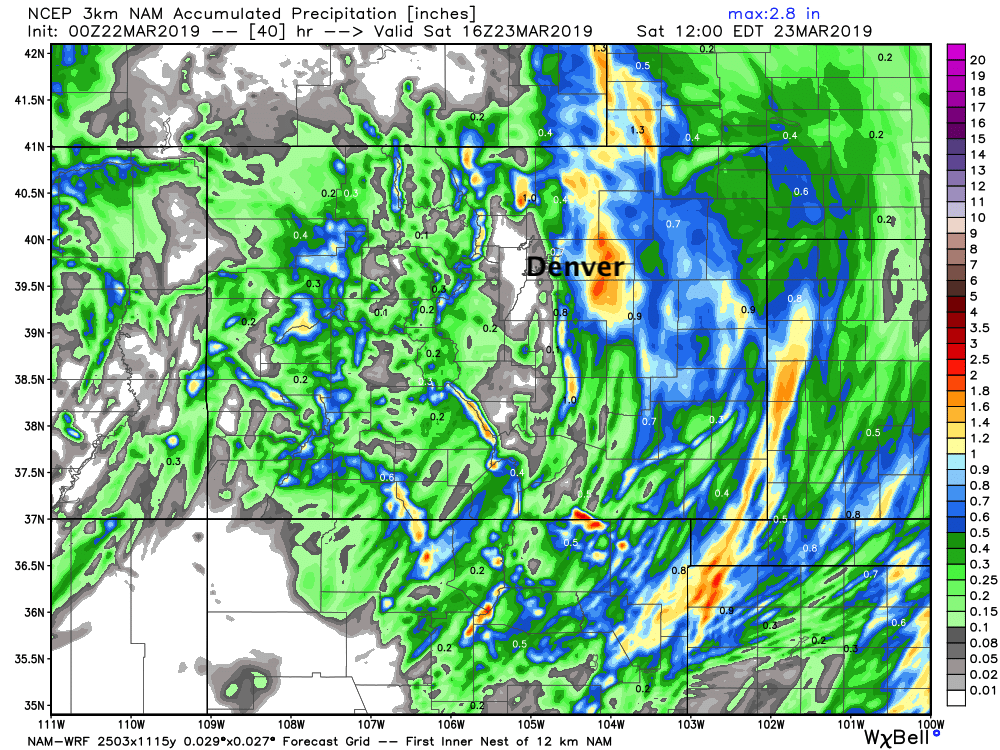 With a nice look at how rain changes to snow for higher elevations where showers persist on the backside Friday night: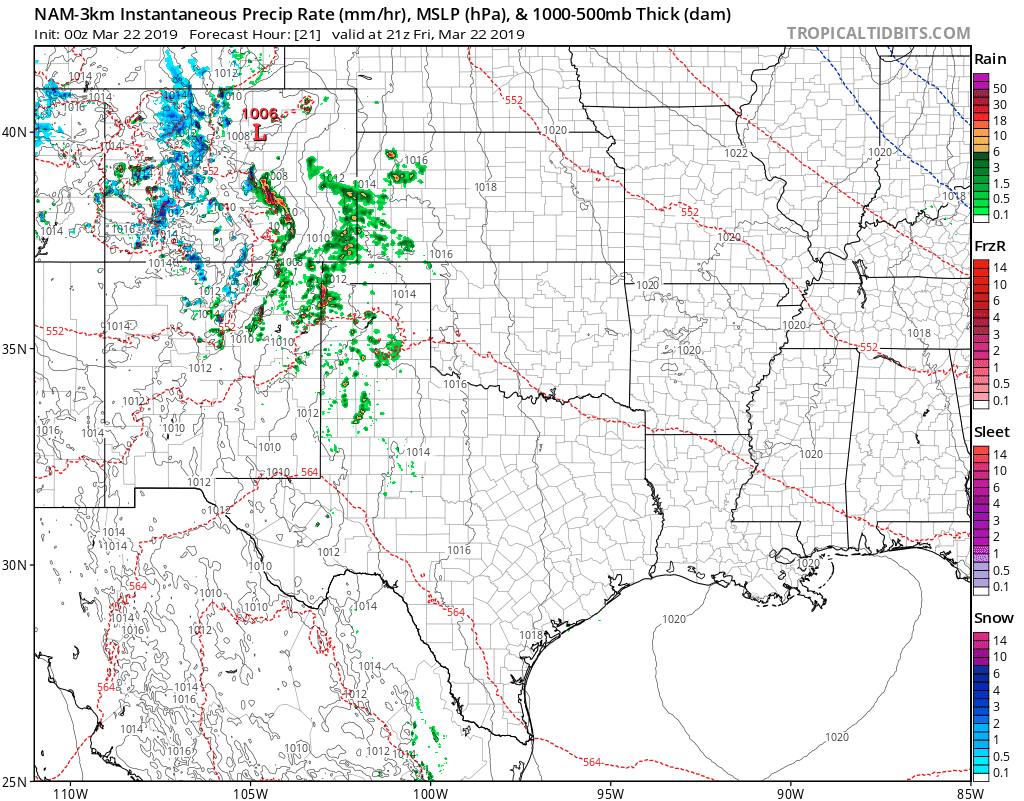 As for how much snow? A truly tough call. The latest 3km NAM shows a pocket of 10" or so between Denver and Limon. Is it right? Perhaps not... BUT, it goes to show that this system swinging through looks sneaky. And, 3" or 10" it looks increasingly like travel along I-70 between Southeast Denver and Limon could be no fun at at all Friday night and Saturday morning with heavy snow possible and strong winds:
The HRRR meanwhile isn't quite as strong at 500mb early Saturday, and thus is less excited about the snow –– but still shows some accumulation across the plains east and southeast of Denver through early Saturday morning: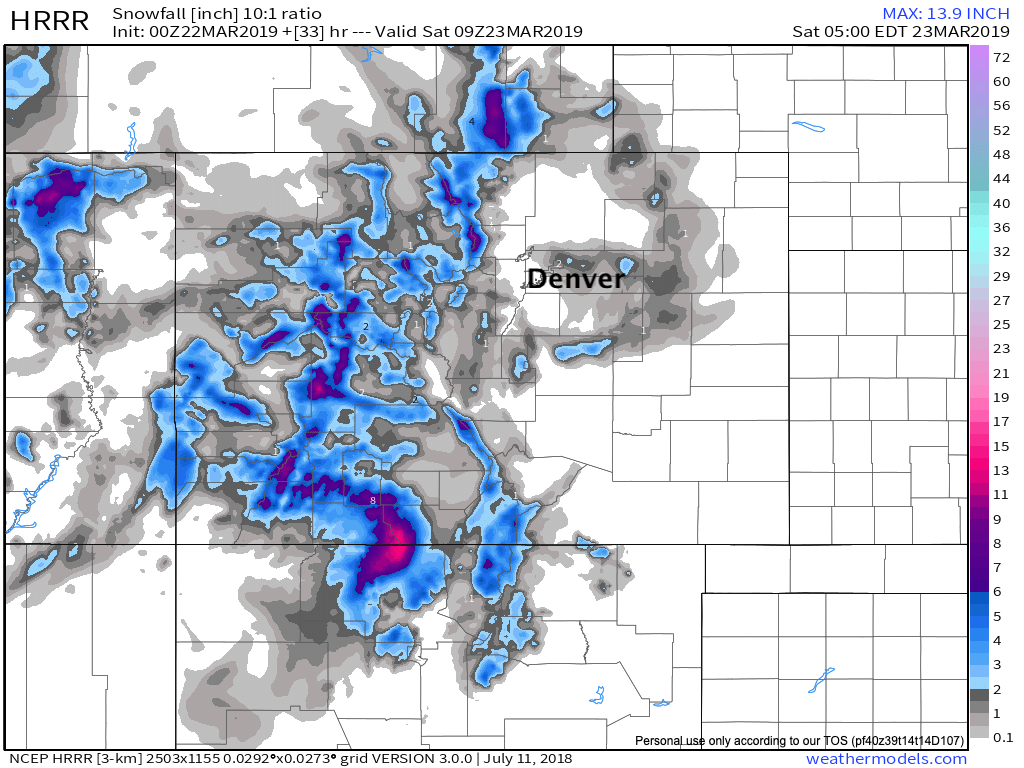 We'll see how data trends with the snow potential tomorrow and update if need be. For now, plan on best chance of snow occurring on the central-eastern Palmer Divide, southeast of Denver and northeast of Colorado Springs. If things look dramatically different tomorrow, we'll offer an update.
As you see above, most models keep much if not all the precipitation along and east of I-25, which is not out of the question. So, not a guarantee you see storms in your backyard tomorrow, but for eastern Colorado as a whole, it looks like an active Friday afternoon and night is on tap.
The storm exits early Saturday, but the wind will remain pretty gusty on the Eastern Plains through at least midday Saturday. Again, we aren't talking about a storm the magnitude of last week, but something that could have an impact. If nothing else, it will keep the wetter than average weather pattern going, which is great to see.