Temperatures will be mild once more today across Northeast Colorado ahead of a cold front, chance of storms, and perhaps even some snow by week's end. Denver should top out in the upper 60s today (DIA managed 73°F on Wednesday!), before dropping into the 40s and 50s for Friday and the weekend.
Most models have minimal precipitation in the forecast through tonight, but some scattered showers and storms are certainly possible –– especially along and north of say I-76 and across the Front Range foothills. Denver will see about a 30% chance of showers by this evening/overnight, while areas in and around Fort Collins will be in the 40% range for those showers.
A broad-brushed look at precipitation totals through Friday morning show this, with certainly the best potential lining up for northern Colorado and the northern foothills, but not zero odds for Denver or points southeast. Colorado Springs may also see some shower activity later today, with about a 20 to 30% chance of showers in the forecast.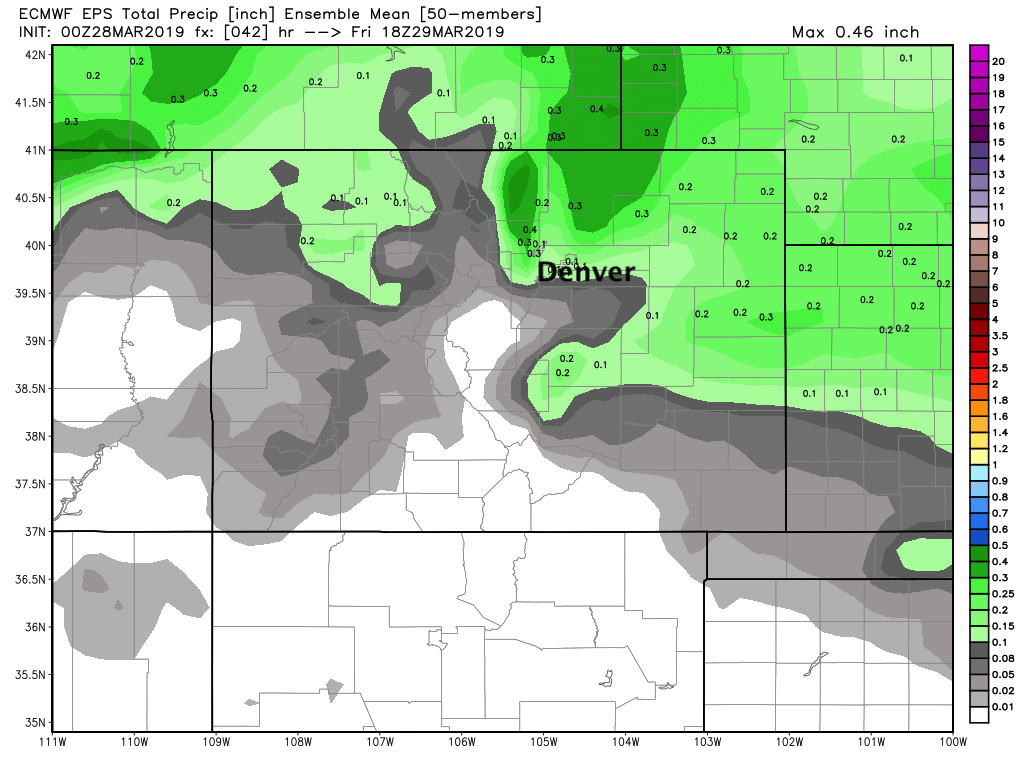 By tomorrow we'll be noticeably cooler across the region, but the worst of the cold air is expected to stay north and northeast of the Front Range. The forecast for today shows those temperatures well above average for the I-25 urban corridor: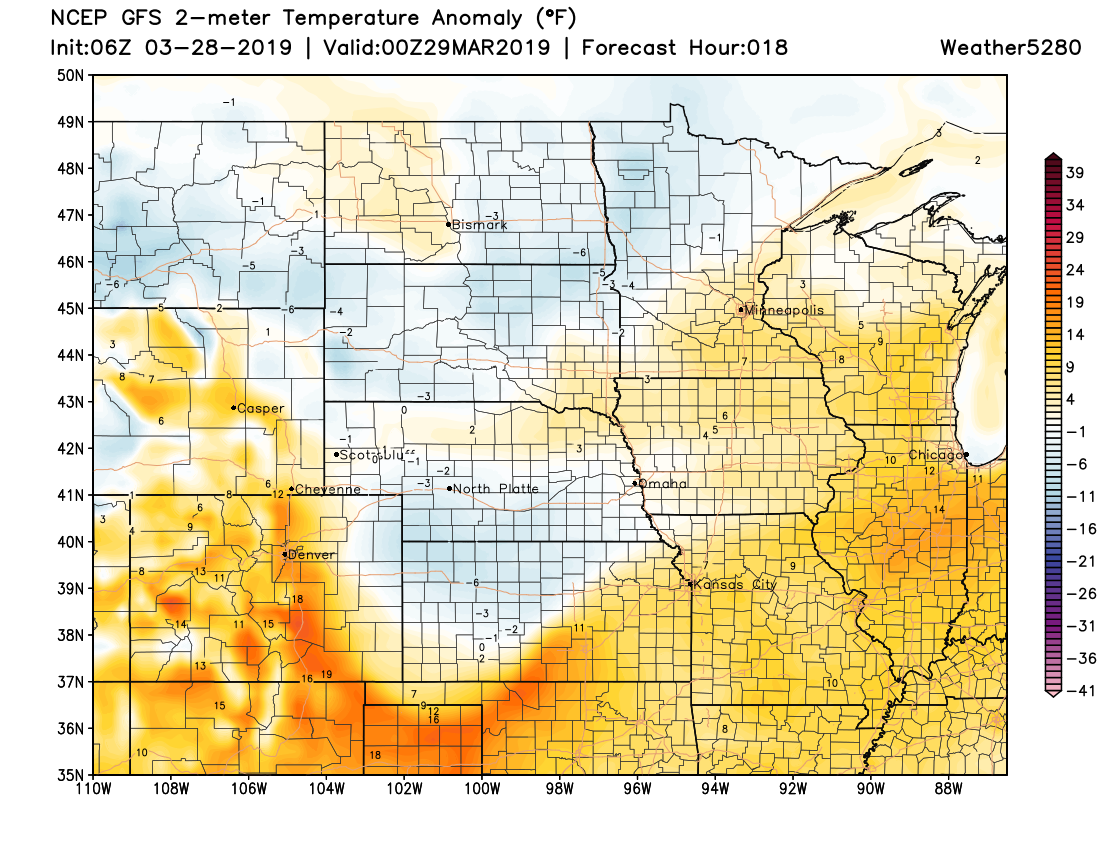 But more blues (below average) and whites (average) showing up by tomorrow afternoon across the state: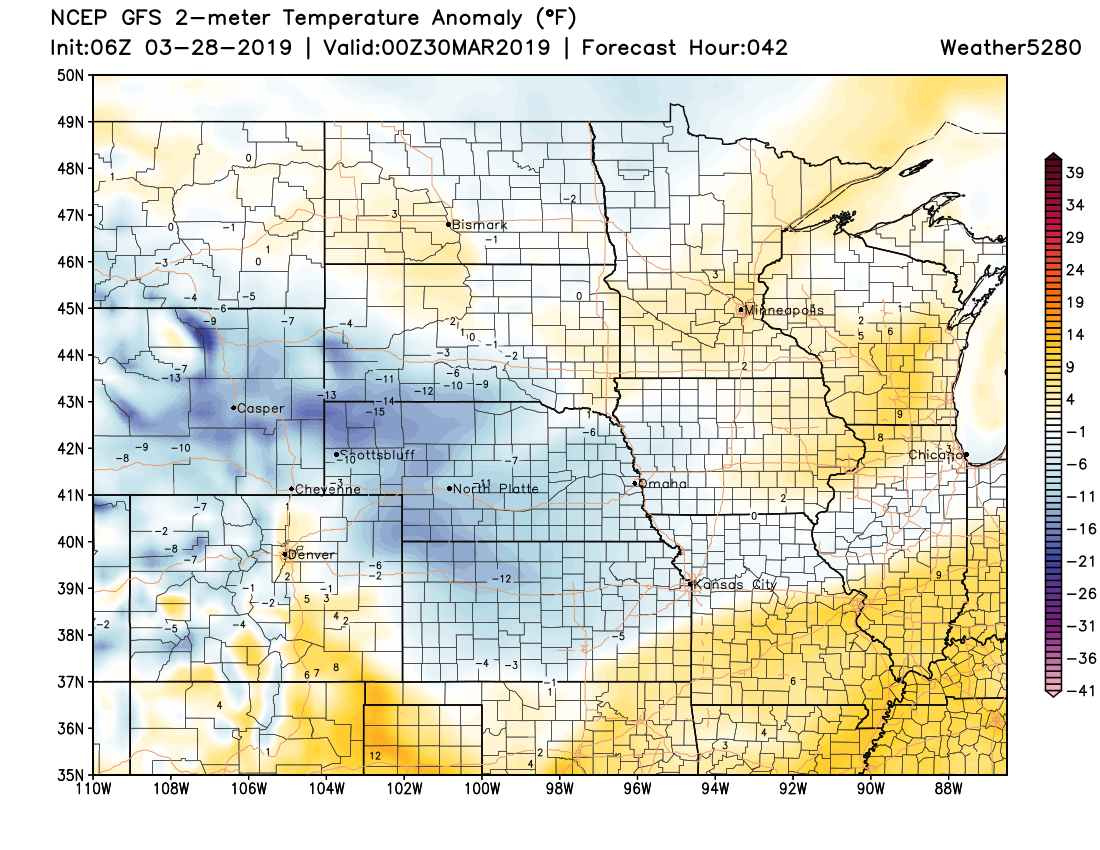 Depending on the timing of the arrival of the cold air, highs in Denver Friday will be in the 50s or 40s. Right now will hedge on the cool side, with our forecast high at 48°F for Denver right now. MOS guidance shows low dipping into the 20s Friday night and Saturday night, with highs in the 40s for Denver on Saturday as well.
Along with the cooler weather Friday we should see increased coverage of precipitation, particularly Friday evening and night. The Euro ensemble mean precipitation forecast has 0.5 to 0.7" of liquid forecast for Denver through Saturday, with roughly 0.1" of that forecast through tomorrow morning, and the rest coming Friday PM into Saturday morning. In fact, it has 0.3" or more QPF for most of Eastern Colorado through Saturday afternoon which would be most welcome: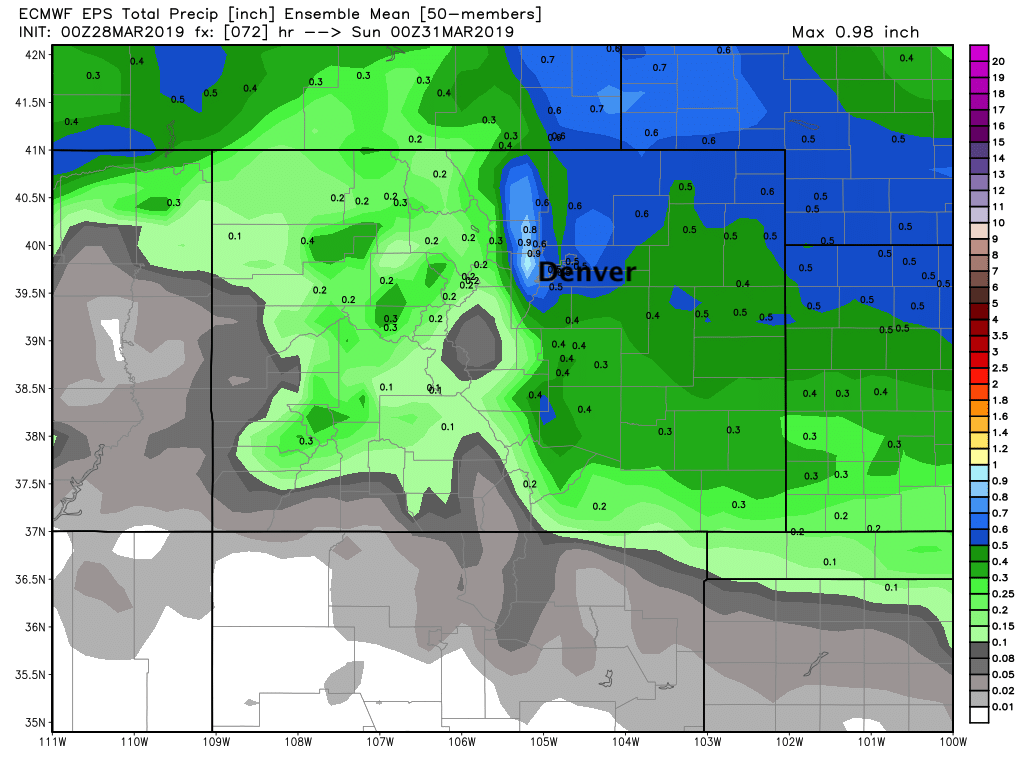 The big question is: how much of this falls as rain vs snow. Whatever showers we do see today and tonight are likely to be all rain (or perhaps mixed depending on your elevation). If we are going to see snow, especially across lower elevations, the best chance for this will come Friday night.
Most models do show snow across Northeast Colorado Friday night, but there is a HUGE amount of difference between the models with both how much falls vs accumulates, and how much liquid we're likely to see. Some data continues to keep the best dynamics north and not much snow (or rain) for the greater Denver area... while others (like the Euro) show some pretty good rain/snow for the urban corridor late Friday.
The 3km NAM doesn't have a lot of snow forecast, but does show a pretty good push of snow moving through Friday evening, with this particular model showing a Trace to 2" for Denver, 1 - 4" for the foothills west of town, and a spotting 1 - 3" across the Northeast Plains as well by Saturday morning: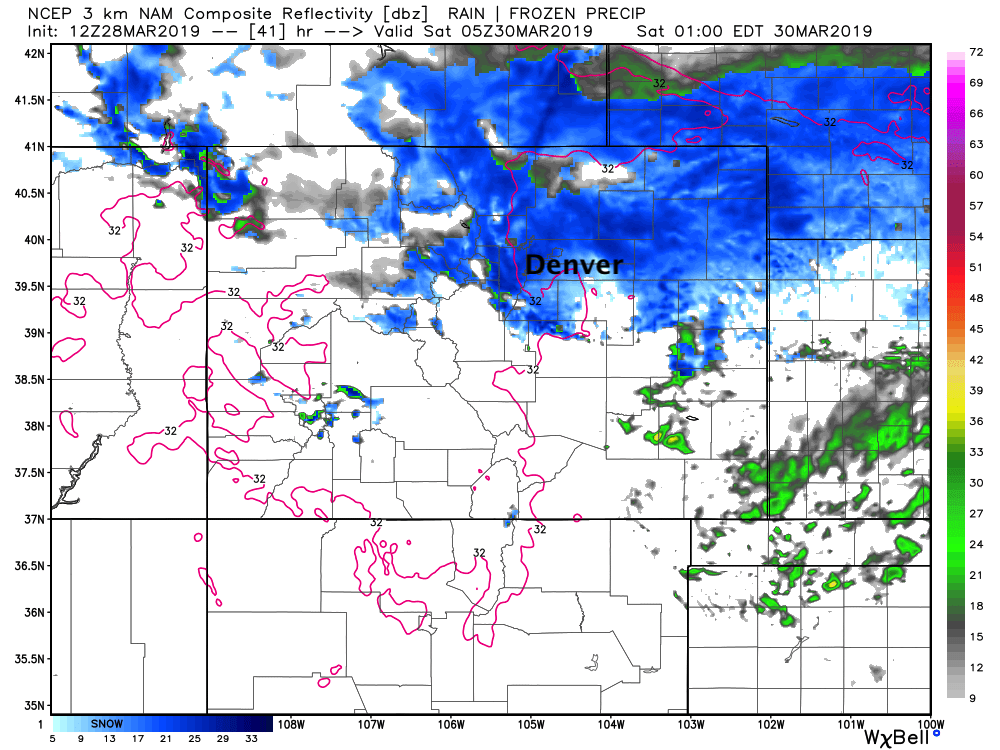 The Euro model on the other hand shows the potential for a pretty good snow, especially for the higher elevations to Denver's west and southwest. Its mean snowfall forecast through Saturday shows totals from 3 - 6" for the west side, with perhaps 1 - 4" for the city: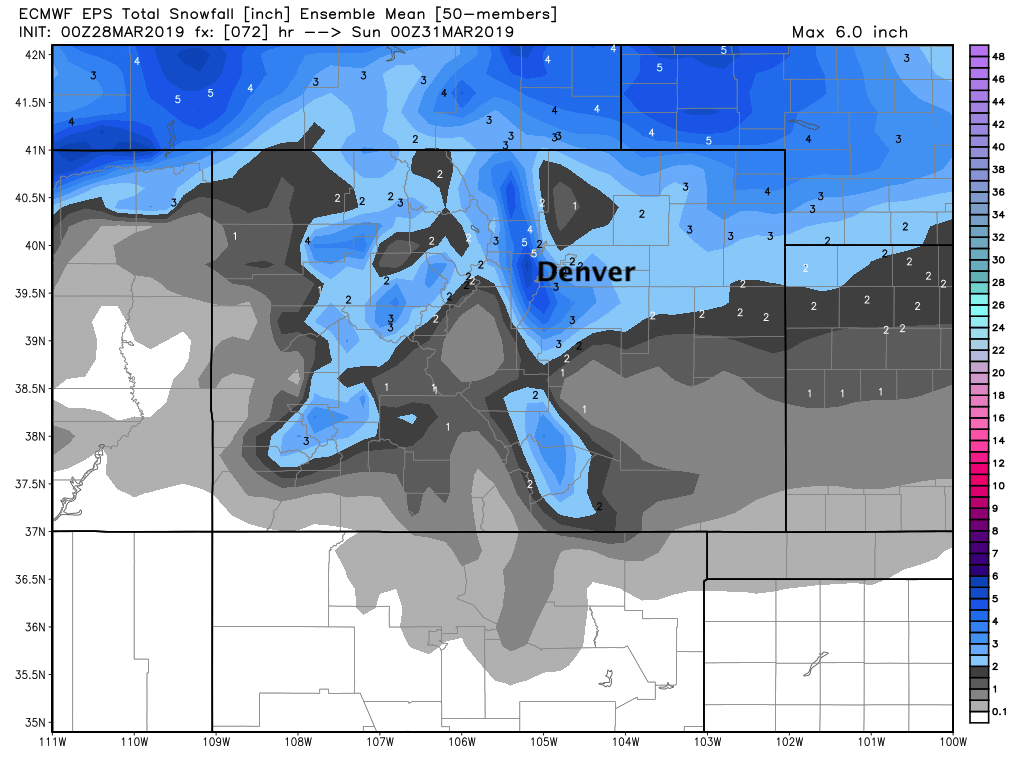 Its probabilities show a bit lower confidence in this forecast, perhaps, with good odds of see 1" of snow for most of the area (west/south especially):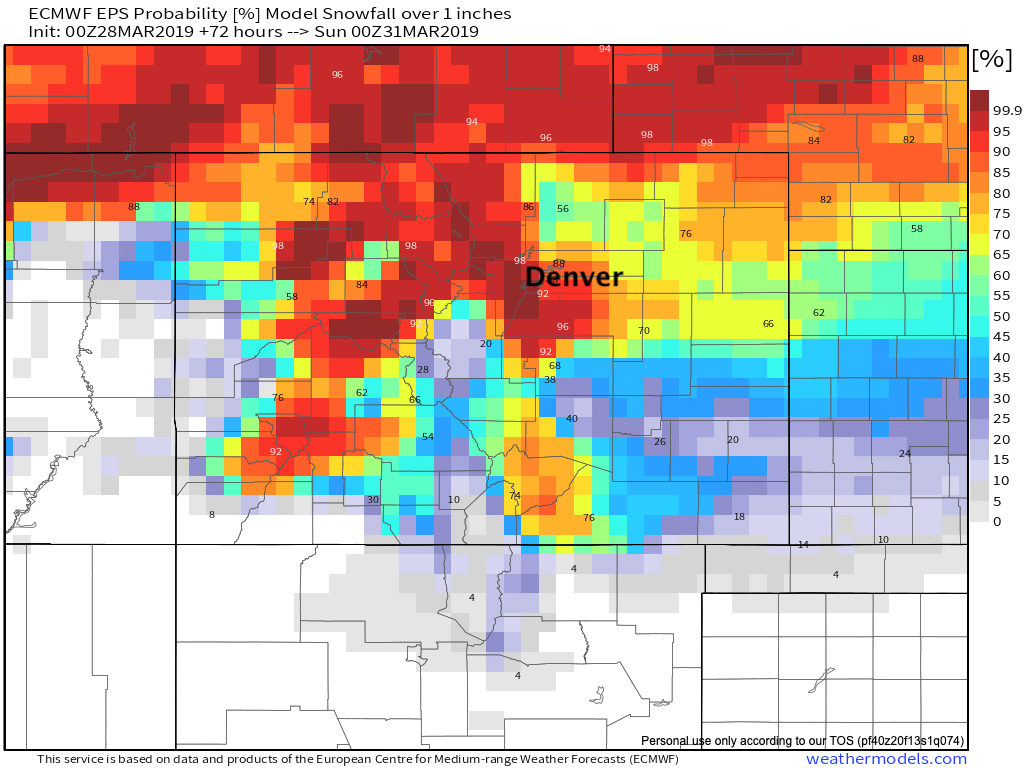 But not great odds unless you live southwest of Denver for seeing 3" or more of snow: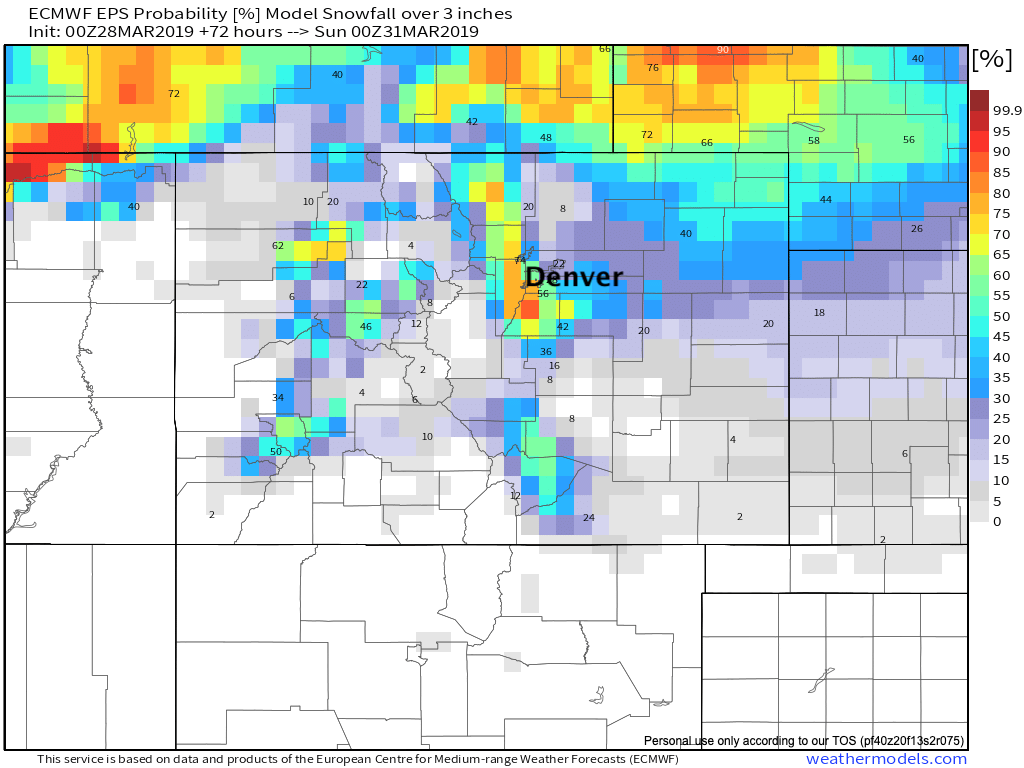 And finally, our 3.5 day gamblers show some potential for several inches of snow in a few locations (Boulder and Castle Rock primarily), but low odds overall for much accumulation, with not even great confidence in seeing an inch: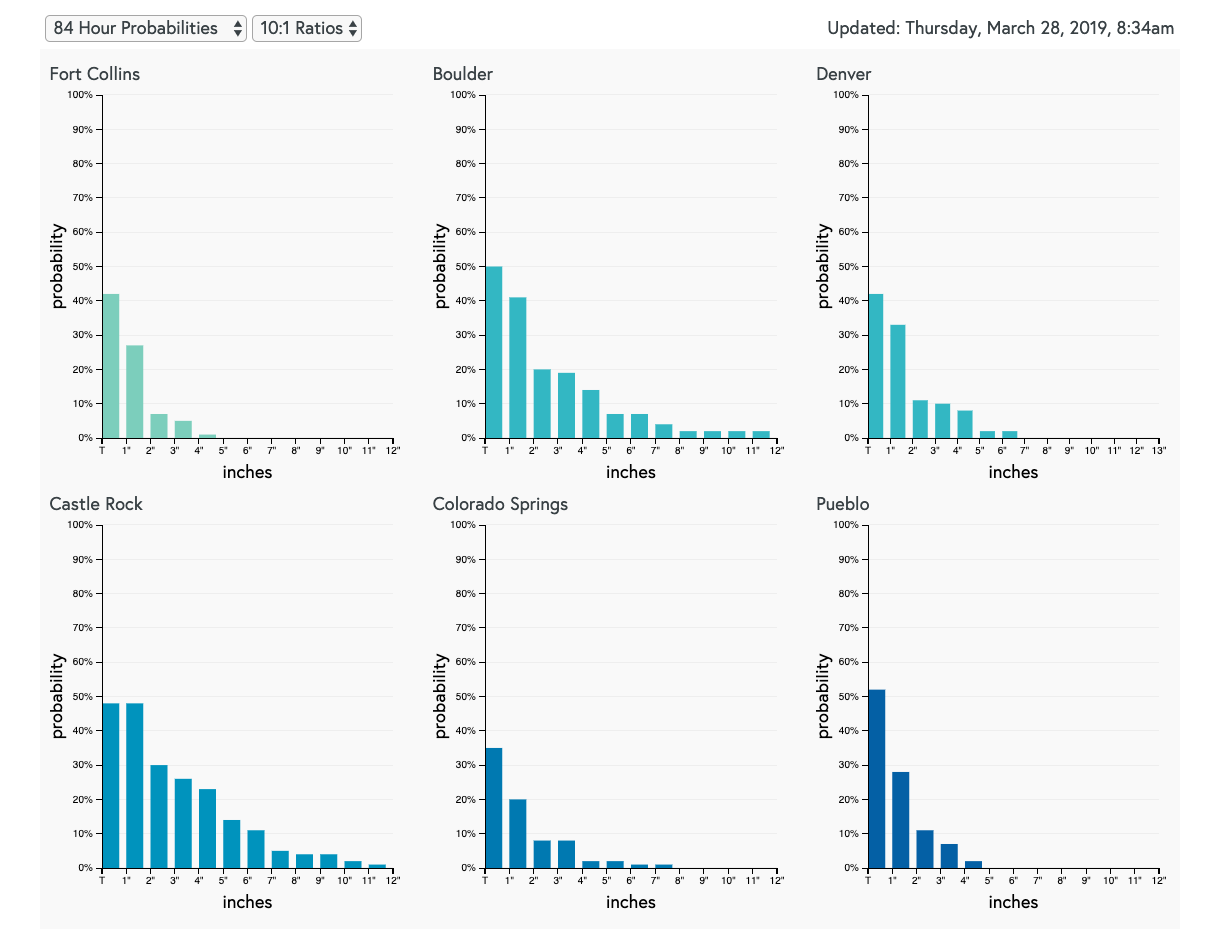 Needless to say, we need to keep an eye on things over the next 24 hours or so. For now plan on cooler temperatures on the way tonight and Friday, a chance of showers and storms this afternoon through Friday, and perhaps a better chance of rain and snow by Friday evening and overnight into Saturday. If the Euro is onto something some neighborhoods may see several inches of snow Friday into Saturday, but confidence in this is low at the moment.
We'll see how things trend and offer and update Friday on the snow potential.