Today is the Rockies home opener and with it comes some great early baseball season weather.
Last year's home opener was a cold, raw day with rain and snow and temperatures below freezing.
This year, a thing of beauty with temperatures in the upper 60s and only a slight chance of a thunderstorm. This will be the case for the entire home-opening series against the Dodgers and the first two of three with the Braves: highs in the 60s and low 70s with hit and miss thunderstorm chances.
What about that last game versus the Braves before the Rockies head west? Well, a storm system will arrive in the Wednesday to Thursday timeframe. The closed, circled area just north of Colorado is the center of the system in the middle atmosphere: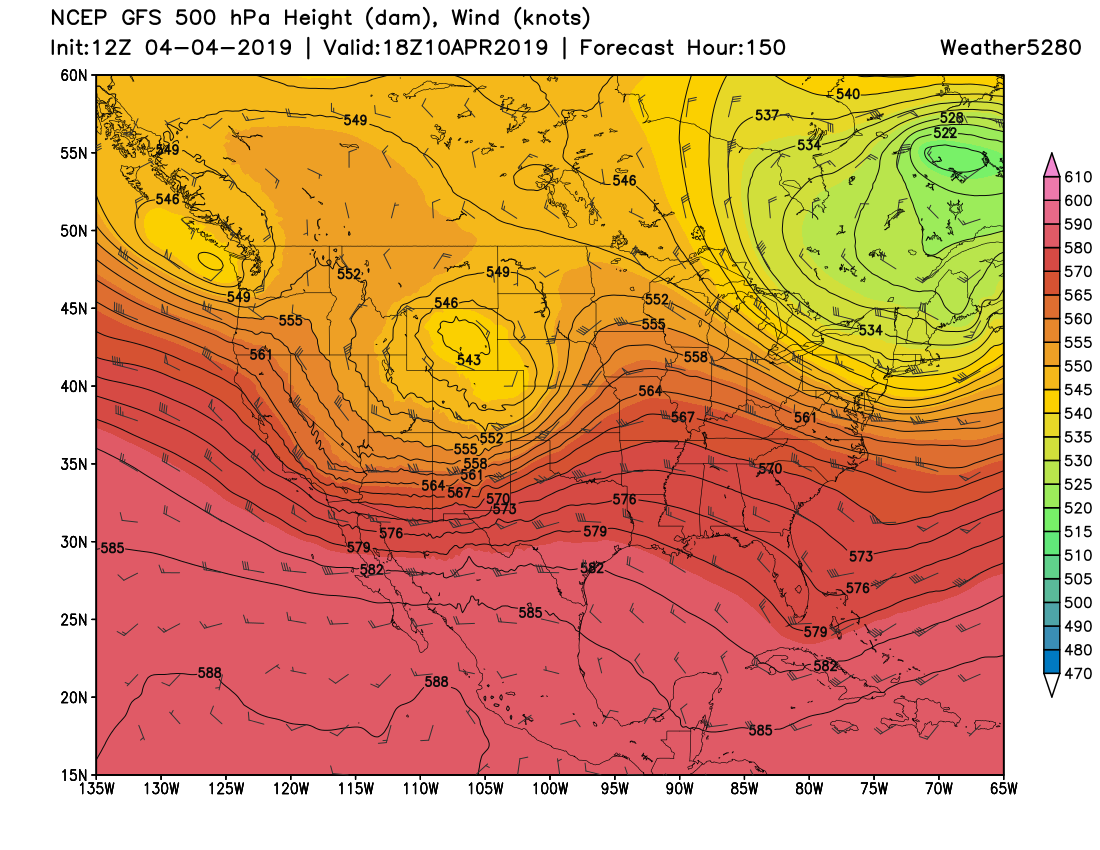 This next system is a strong trough that will impact the entire region with rain, snow, and colder temperatures –– though current guidance (as you see above) tracks the greatest impacts a bit to the north of our area.
Temperatures take a dive as you see here in one model output. We aren't showing you this for an exact temperature forecast, rather show you the notable change that may arrive by Wednesday (or Thursday if the system slows 12 hours or so).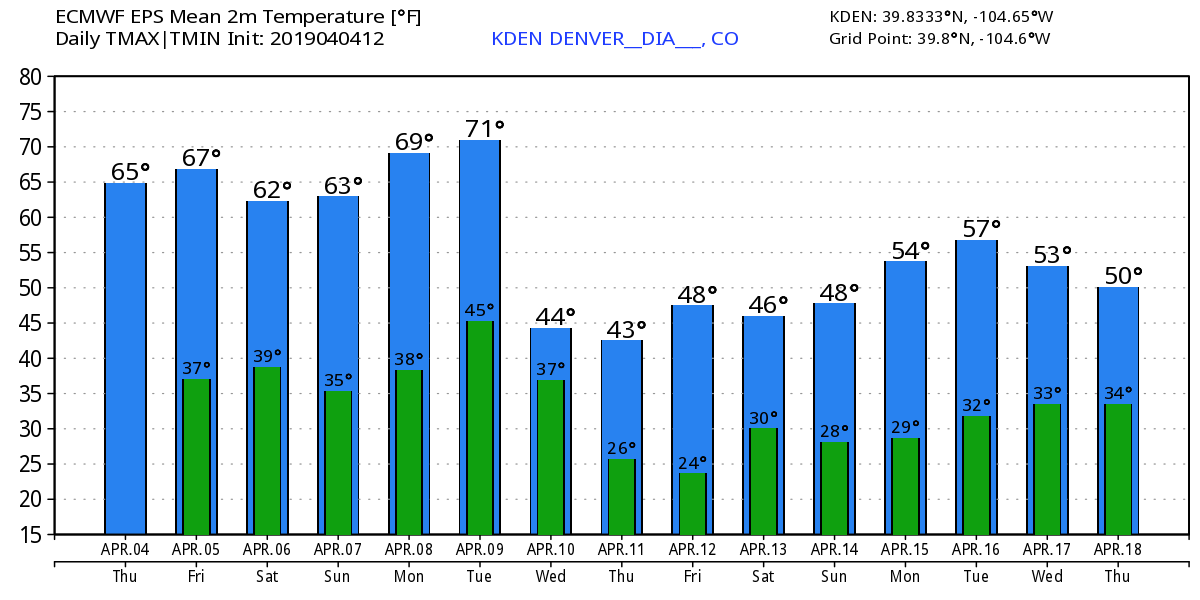 There will be rain and snow chances with this initial system, followed by additional chances of rain and snow for an extended period of time.
From Wednesday through Sunday there is the potential for more than 1" of total water, in the form of both rain and snow.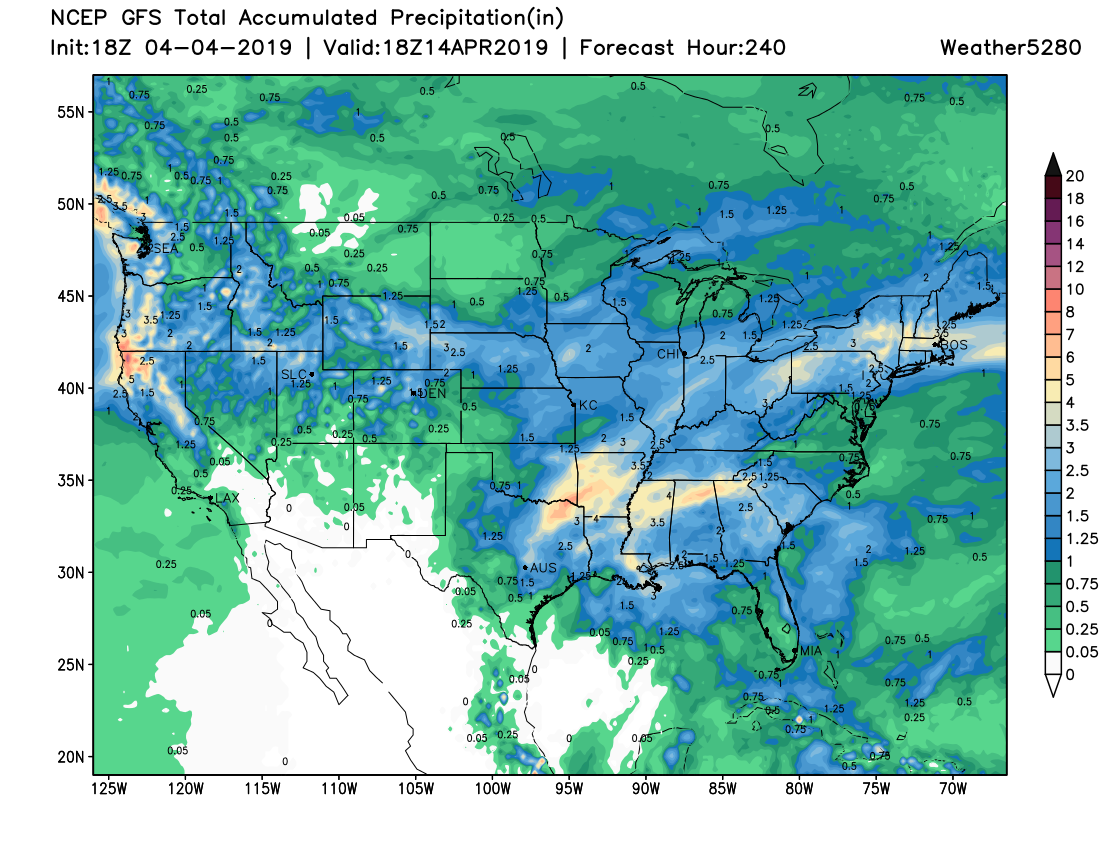 What to watch: The timing –– as pointed out, the position of the system –– which may trend northward thus leaving us drier than 1" of total liquid, the temperature profile forecast 24 to 48 hours prior to the event –– telling us how quickly the lower atmosphere can cool to reach the critical rain/snow cutoff.
This storm track currently favors Wyoming and Nebraska for the largest impact, but we have lots of time to track any changes. April is no stranger to powerful storm systems in the region. Here's a link to discover Denver's largest April snow storms.
For now, enjoy the warm spring weather, and... Go Rockies!!