Big changes are set to arrive by mid-week across the region, but before then the early season warmth is on. MOS guidance has highs in the low to mid-70s in Denver on Monday, with upper 70s to perhaps 80°F forecast to Tuesday. The latest GFS MOS has a high of 81°F on Tuesday for Denver, so quite warm.
Here's a look at temperature anomalies for early Tuesday from the European model. A large area of above-average temperatures under the ridge over the Southwest United States, with all over Colorado feeling the warmth: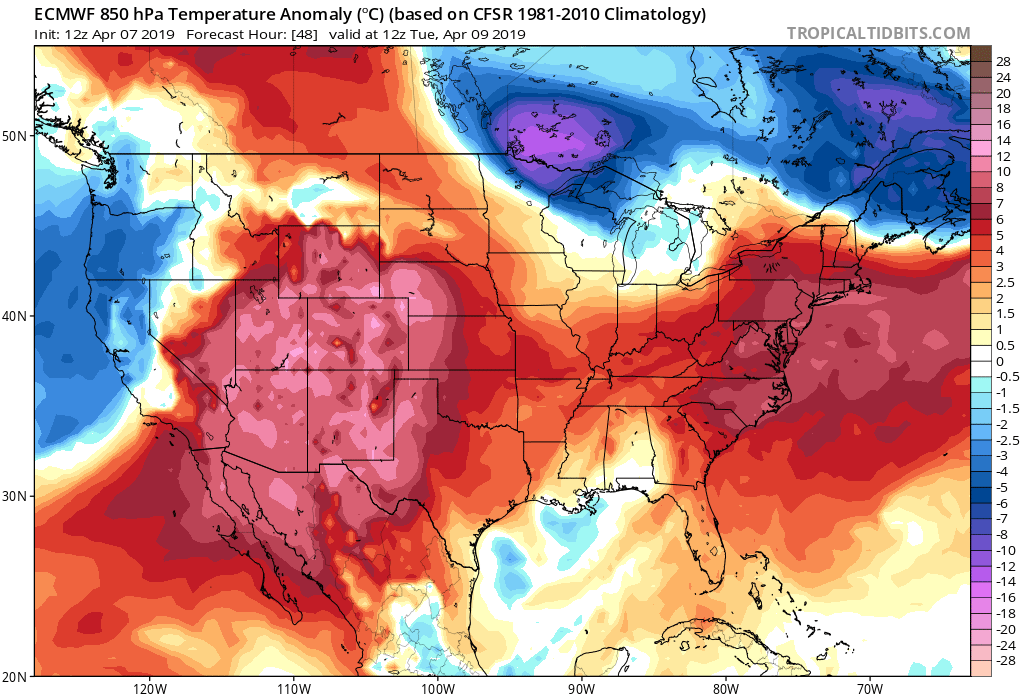 By Wednesday, the cooler air arrives, with a sharp cold front crashing through the plains: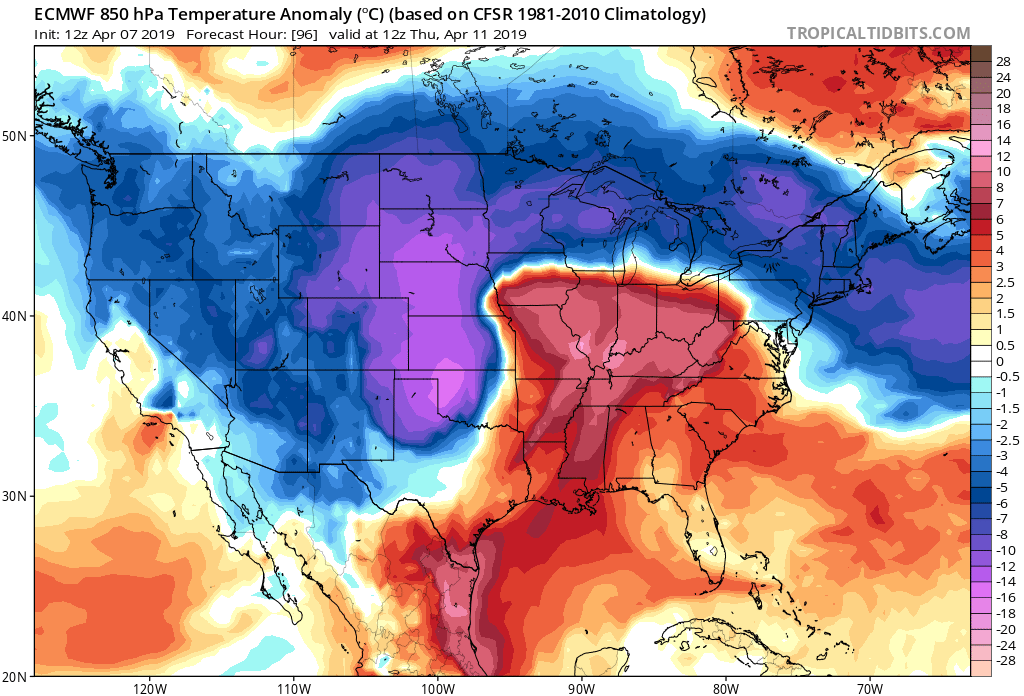 Eventual impacts on our weather, besides the cool-down, are a still bit fuzzy. It looks like we'll see some rain, and for some areas perhaps even some snow by Wednesday and Wednesday night. As we discussed last week, this system's track looks to be a bit too far north for a "classic" April snowstorm for the urban corridor, but could be interesting nonetheless. As we sit today, it looks like a notable cool down, and likely some rain/snow across the area, but perhaps not all that significant for many communities. Still, enough of a potential and a big enough of a change after our recent weather, that it'll be good to keep an eye on the forecast in the coming days.
The trend from the GFS has been to focus the surface low by Wednesday evening across Northwest Kansas/Southeast Nebraska, with rain and snow on the backside across Northeast Colorado. Below are the last 8 model runs for Wednesday evening. You'll note - at times - you see some dark blues across the northeast plains (mainly north and east of Denver), and at times precipitation is lighter. It does seem reasonable that we'll see an area of heavier rain and snow setup somewhere across Northeast Colorado for a few hours Wednesday evening: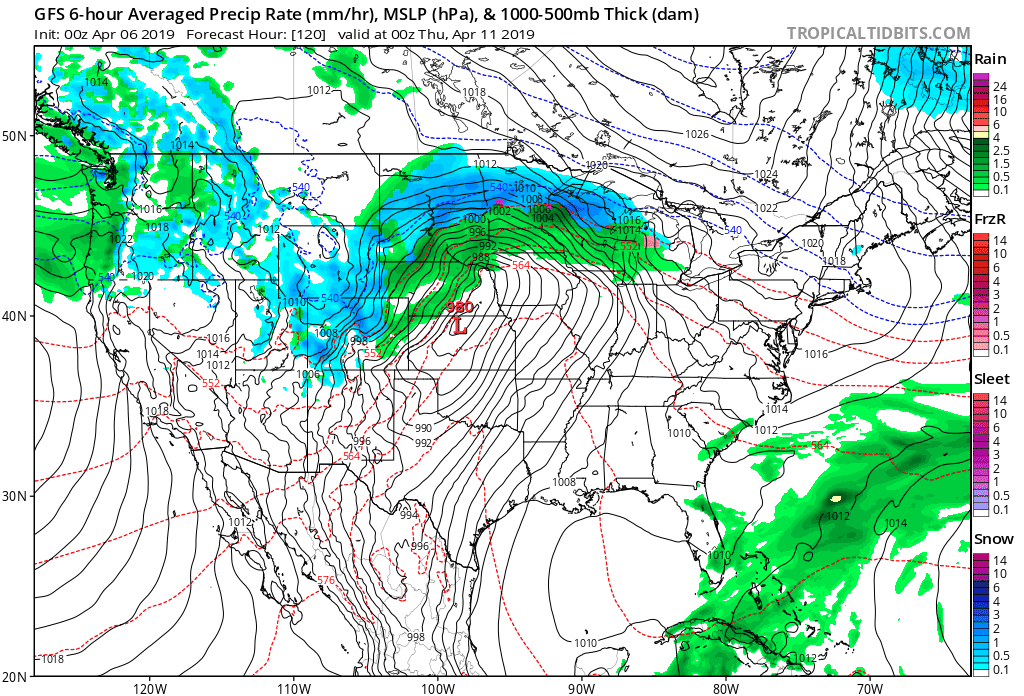 The European model overall a bit looks wetter/colder than some others, with roughly 0.3 - 0.6" QPF across the Denver area (not bad!) Wednesday into Thursday –– and perhaps several inches of snow across the Front Range foothills and Denver suburbs south of Denver: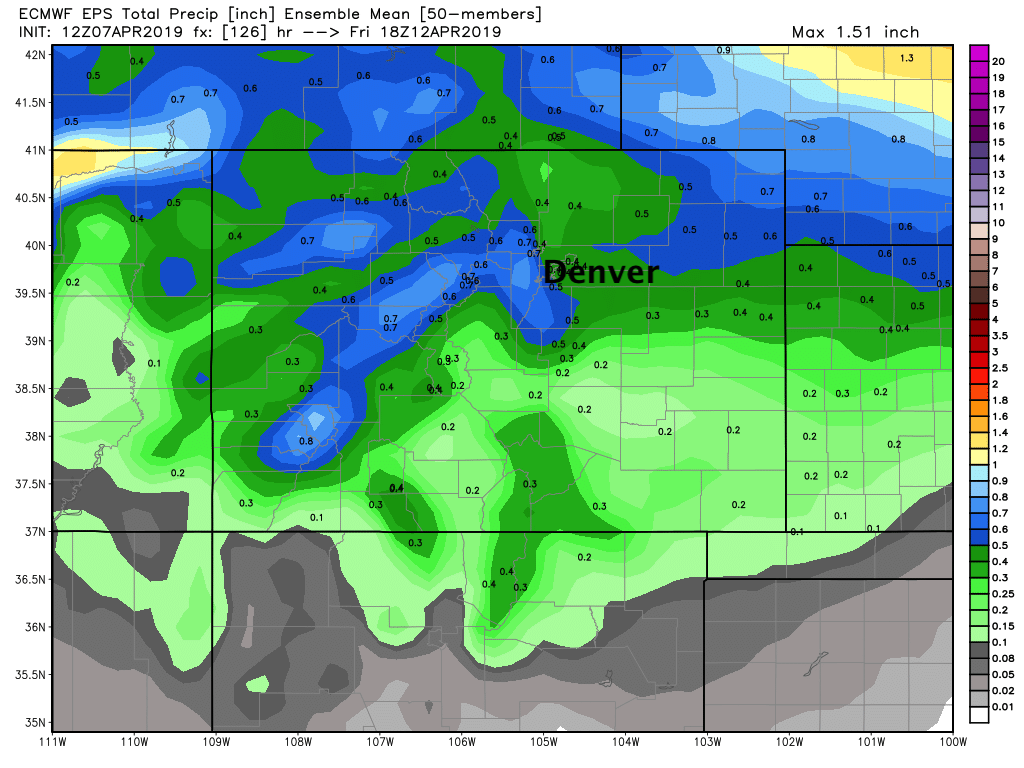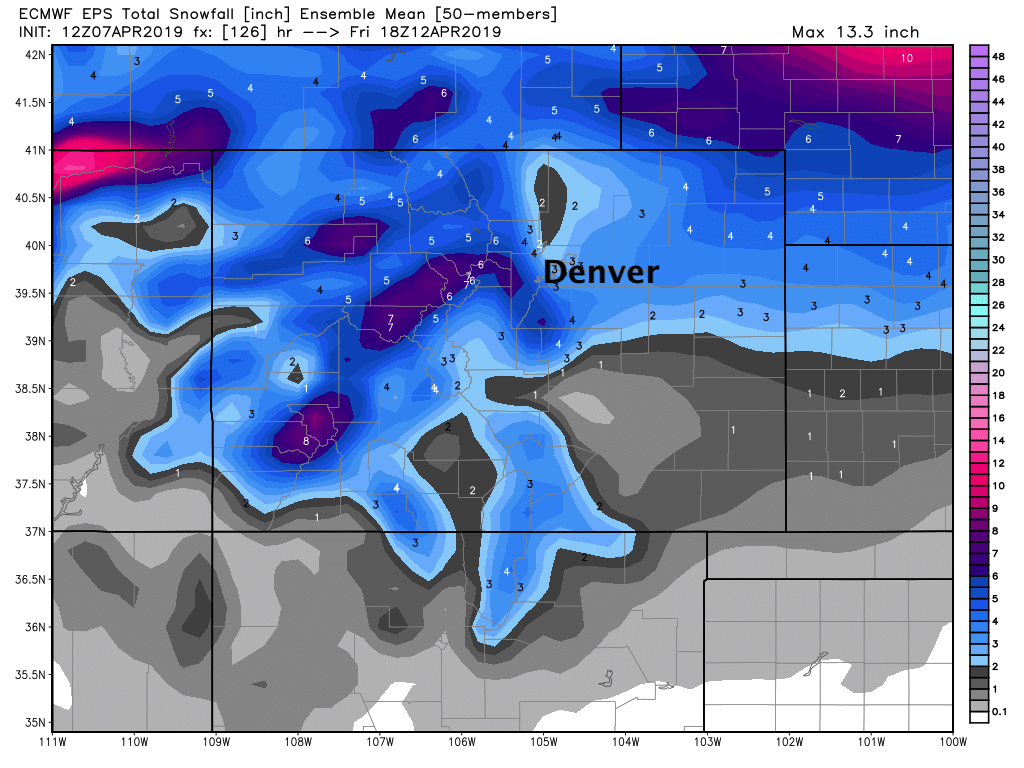 Snowfall probabilities aren't all that remarkable for the Front Range cities. We've seen a steady trend downward in recent days as models continue to come into better agreement about a more northerly and quicker track. This would mean many of these areas will be susceptible to downsloping, which would effectively kill rain and snow production along the urban corridor quickly Wednesday night. Still, the trailing high-end probabilities suggest some potential in the data for a bigger event than how things look as of tonight.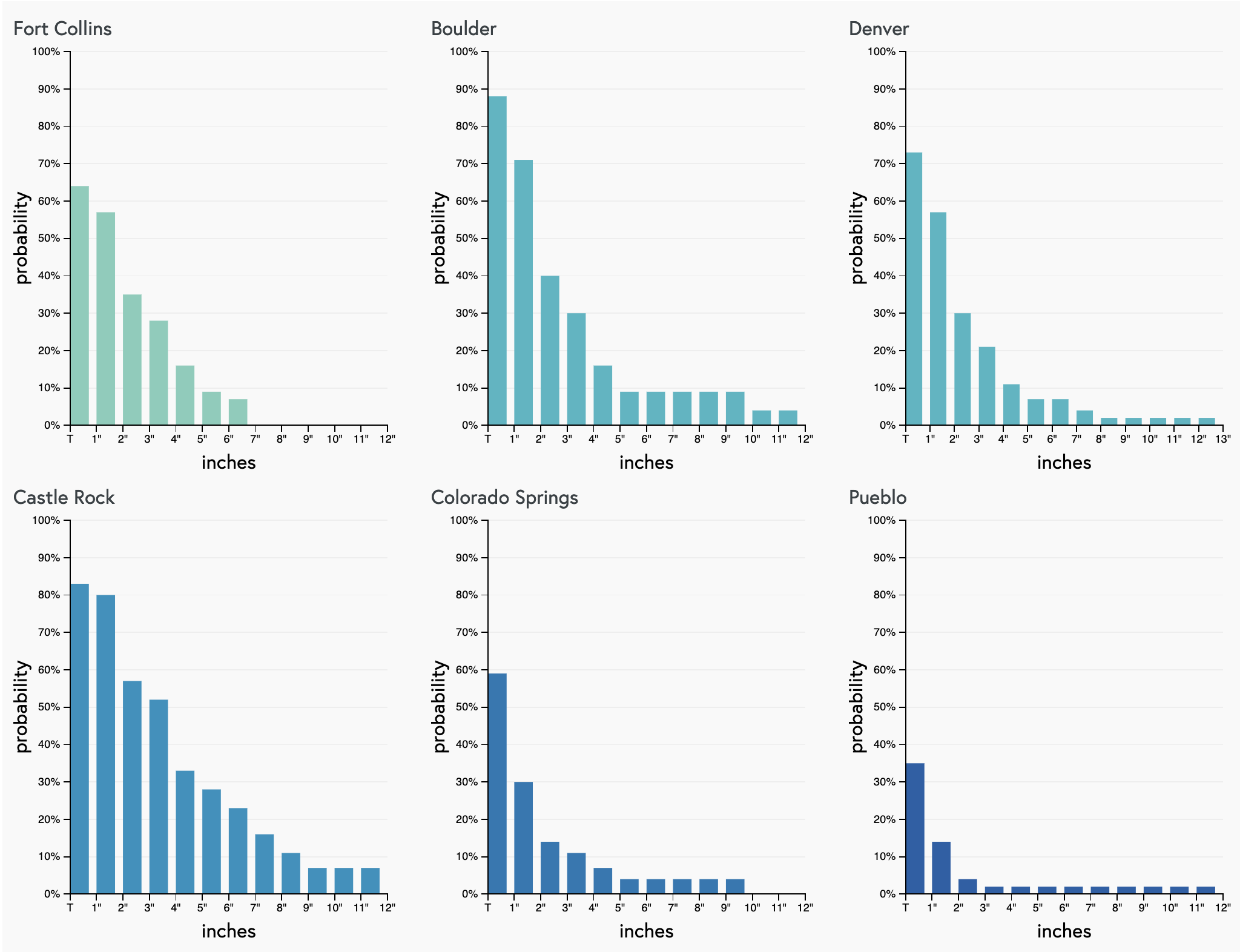 Where we do see snow (mainly late Wednesday afternoon and overnight), we could see some heavy snow at times. Additionally, winds will be quite strong with this system. Latest guidance suggests winds strong enough to cause blizzard conditions (if the strongest wind coincides with snow falling) for portions of the eastern plains as the storm intensifies as it moves east Wednesday night.
At the moment it doesn't look like a great concern for the urban corridor, but across the Palmer, out east along I-70 and points north of Limon could see several hours of strong winds and poor visibility with snow Wednesday PM. Below is the 10m wind forecast for Wednesday evening/overnight, which shows a lot of wind for Eastern Colorado during this period: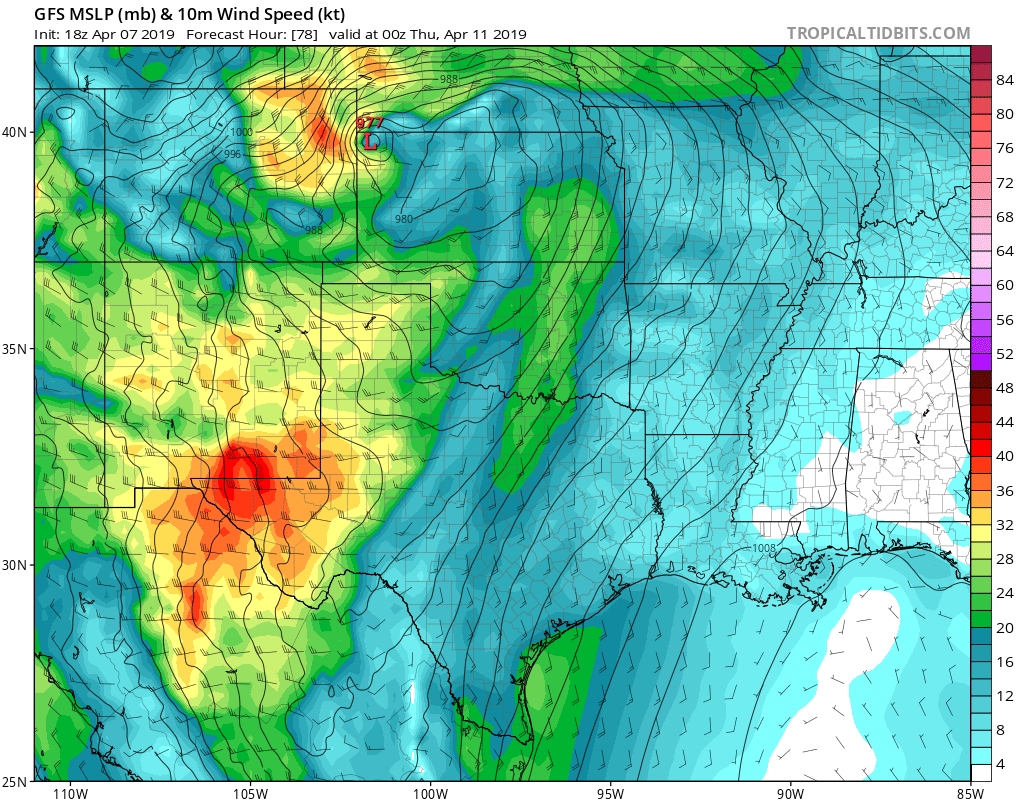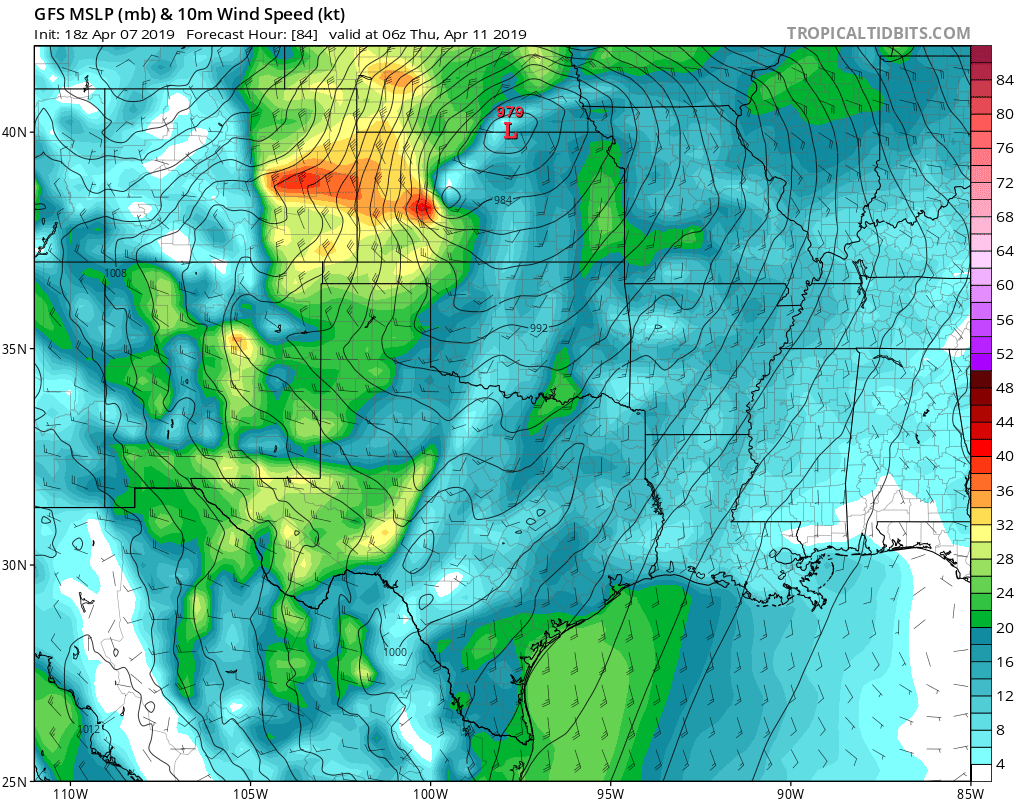 We'll need to monitor subtle changes in the track over the coming days and see if the potential perhaps increases for a more significant rain/snow event for the Denver area increases or decreases as we move into the work week. For now, plan on some wet weather moving our way by Wednesday, with plenty of warm weather until then.
A trailing trough this weekend will keep us cool and perhaps a bit unsettled, but for the moment doesn't look all that wet for us. The Euro (pictured below) moves a pretty strong low through the Southwest Friday into Saturday but weakens it as it ejects northeast into Sunday.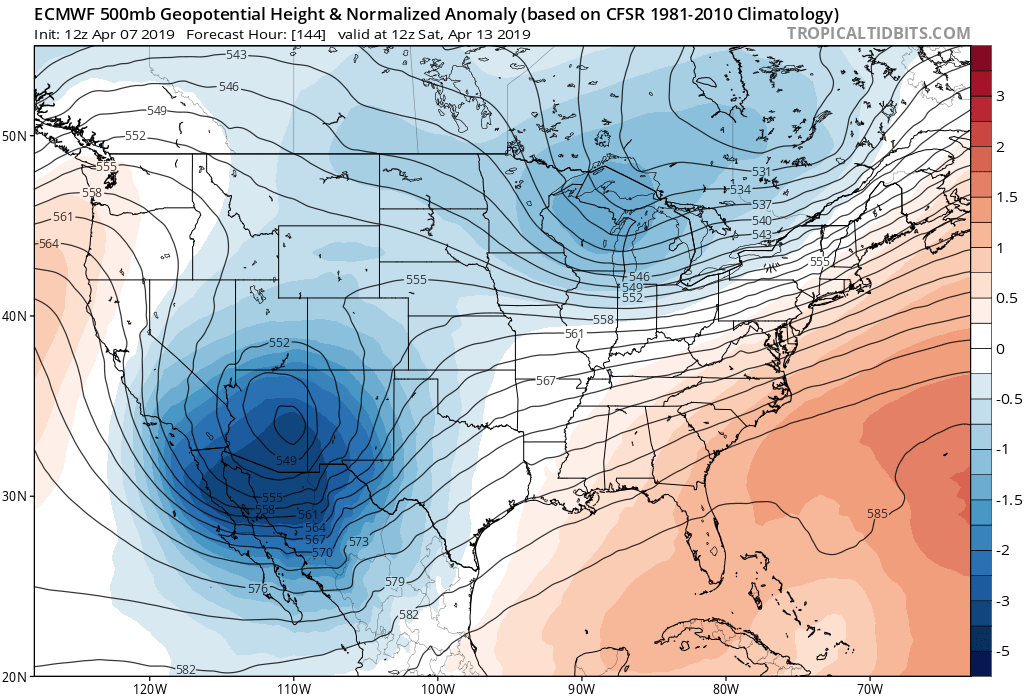 With continued troughing we expect temperatures to stay cool, but likely not cold either. At the moment, highs look to be in the 40s and 50s across during the Friday - Sunday timeframe.