A Winter Storm Watch has been issued for the far Northeast Plains of Colorado, including the cities of Fort Morgan and Sterling. The Watch calls for the potential for several inches of snow from Wednesday afternoon through Wednesday night, with gusts to 65mph. Ahead of Wednesday's cold front we will be dealing with warm temperatures, low humidities, and breezy conditions –– and with that a Red Flag Warning has been issued for much of eastern Colorado: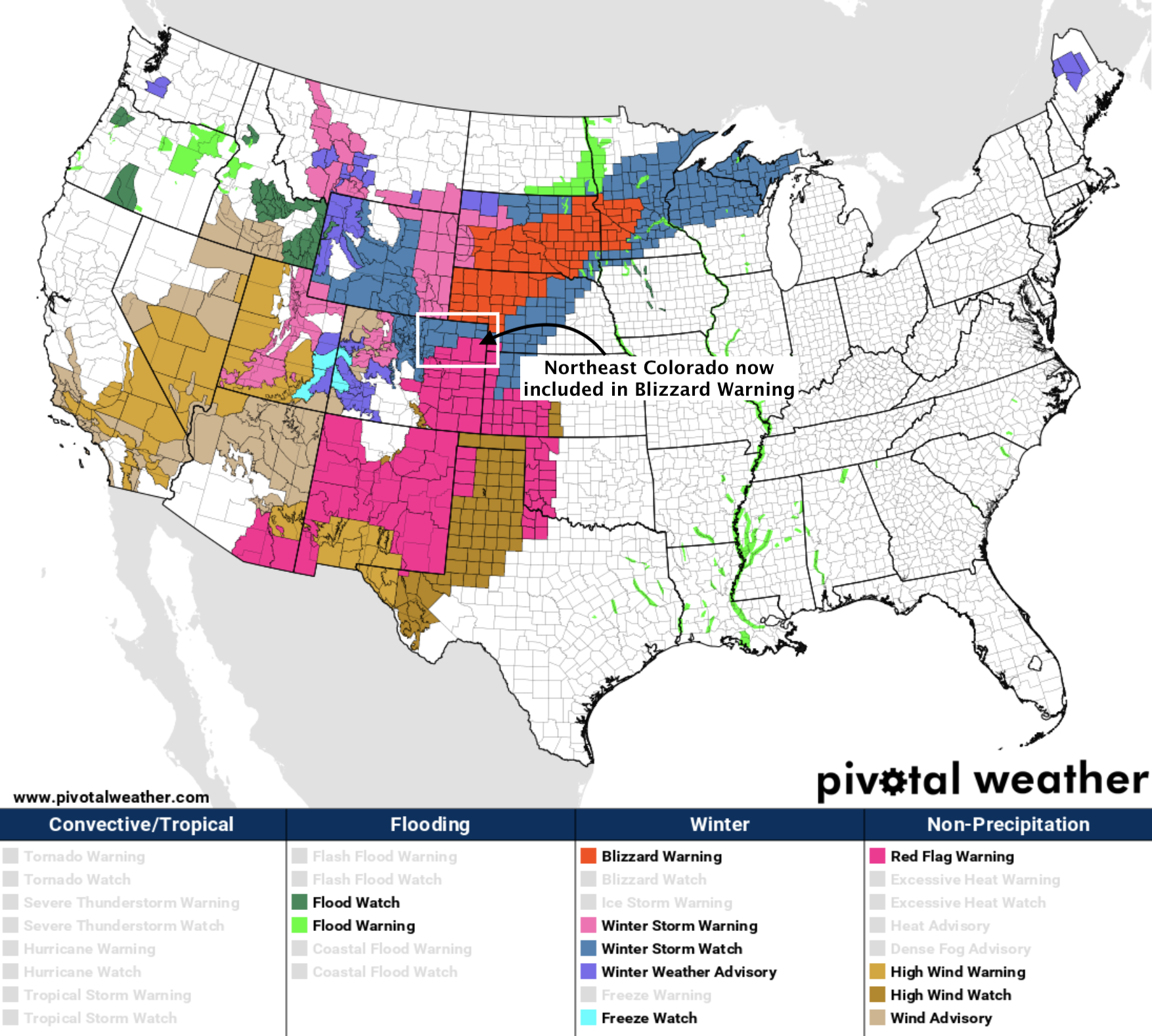 As we've discussed several times now, Wednesday will feature a big change to our weather across Colorado. Eventual impacts in your back yard will vary greatly depending on the exact storm track this system eventually takes.
The trend over the last 24 hours or so has been for a more southerly storm track. If this holds, this will equate to a bigger impact event for a larger area. If trends shift north again as they seemed to over the weekend... the opposite will be true.
The GFS is certainly further south today as it now tracks the surface low into south-central Kansas Wednesday night, with an intensifying mid level low closing off over Colorado Wednesday then pushing east: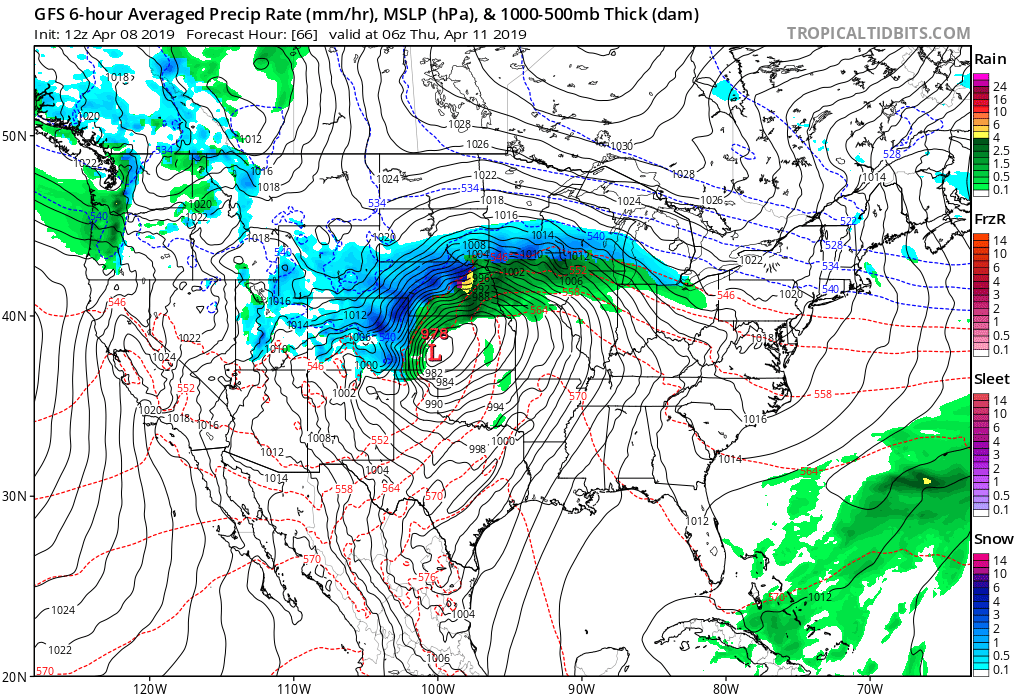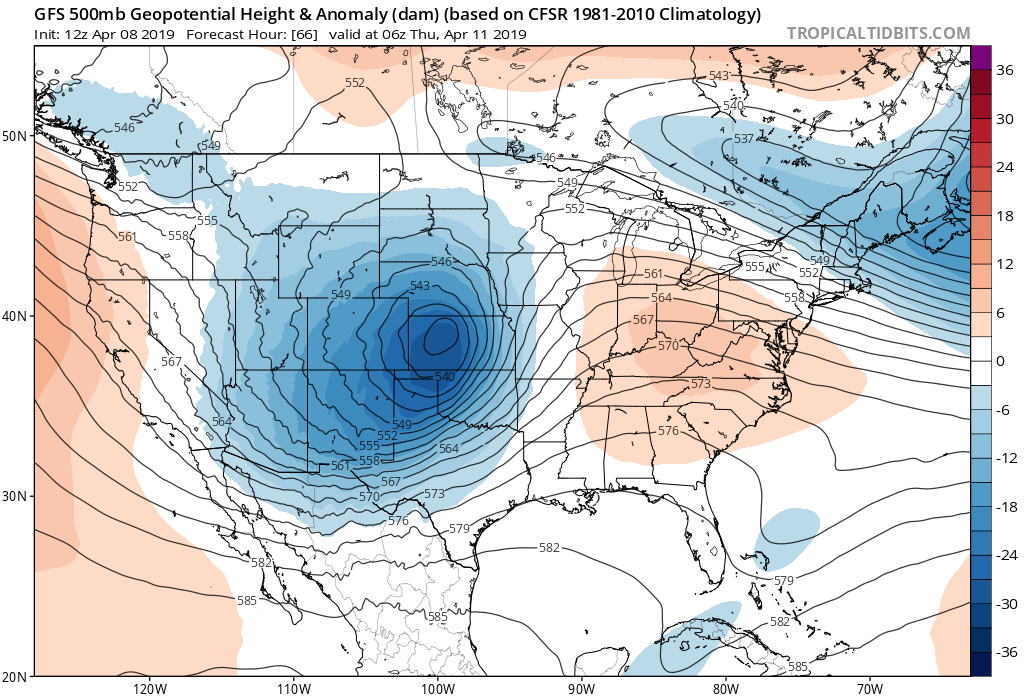 GFS ensemble support is also looking wetter (and colder) today. The top chart on the bottom shows the temperature forecast (red line is the mean of all ensemble members), with the bottom chart showing 6 hour precipitation totals from each of the 20 members. The darker greens/blues indicate heavier precipitation –– most members are now showing a good 6 - 12 hour window of good precip for Denver now: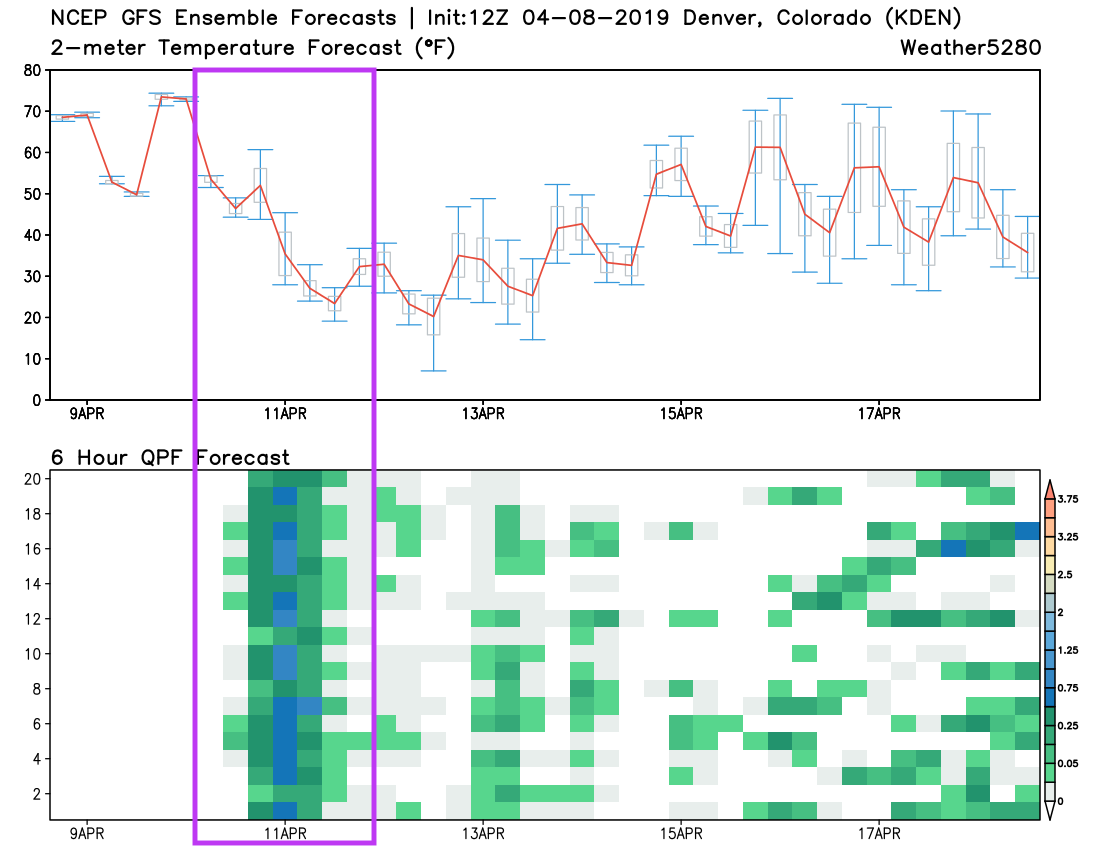 The European model has the 500mb low in a similar spot Thursday night, though both its ensemble mean and control show the low ejecting northeast pretty quickly before intensifying Wednesday night, which pulls the best snow potential east of Denver out across the far Northeast Plains.
Still, it has precipitation totals upwards of 1/5" for the Denver area and Front Range foothills, with totals pushing 1" for the Northeast Plains. At least for high elevations west, south, and southeast of Denver some of that will fall in the form of snow, and some of that may accumulate.
A current look at the (typically) bullish WPC snow probabilistic guidances shows the potential this system continues to have. Some heavy snow likely across portions of the Northeast Plains, an increasing concern we see pockets of heavy snow/blizzard conditions across the Palmer Divide and immediate plains east of Denver. For the urban corridor the potential for some accumulation remains, but confidence here remains high.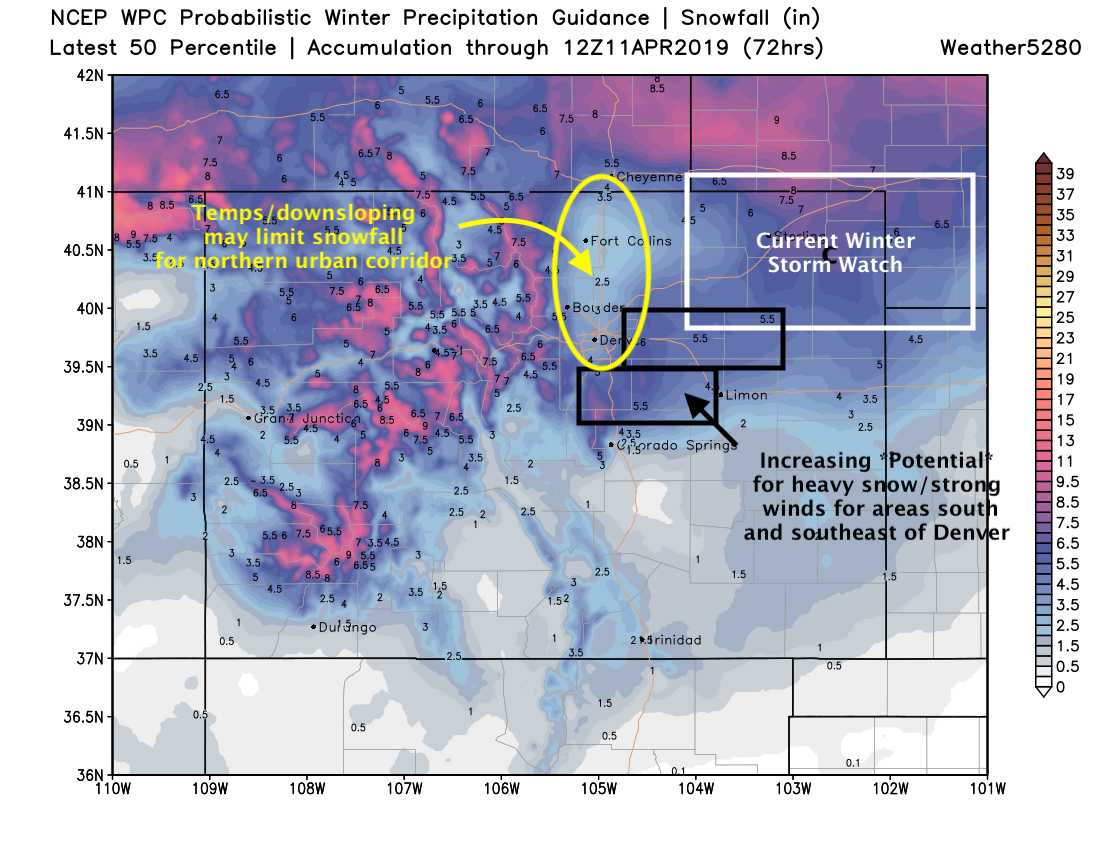 Based on changes we've seen from the GFS and the GEFS today its not surprising we've seen snowfall probabilities increase. For Denver/Boulder/Fort Collins the greatest probabilities are in the 1 - 4" range, but the potential for more exists. For Castle Rock (Palmer Divide) pretty high probabilities for an even more significant snow. South of the Palmer much lower odds.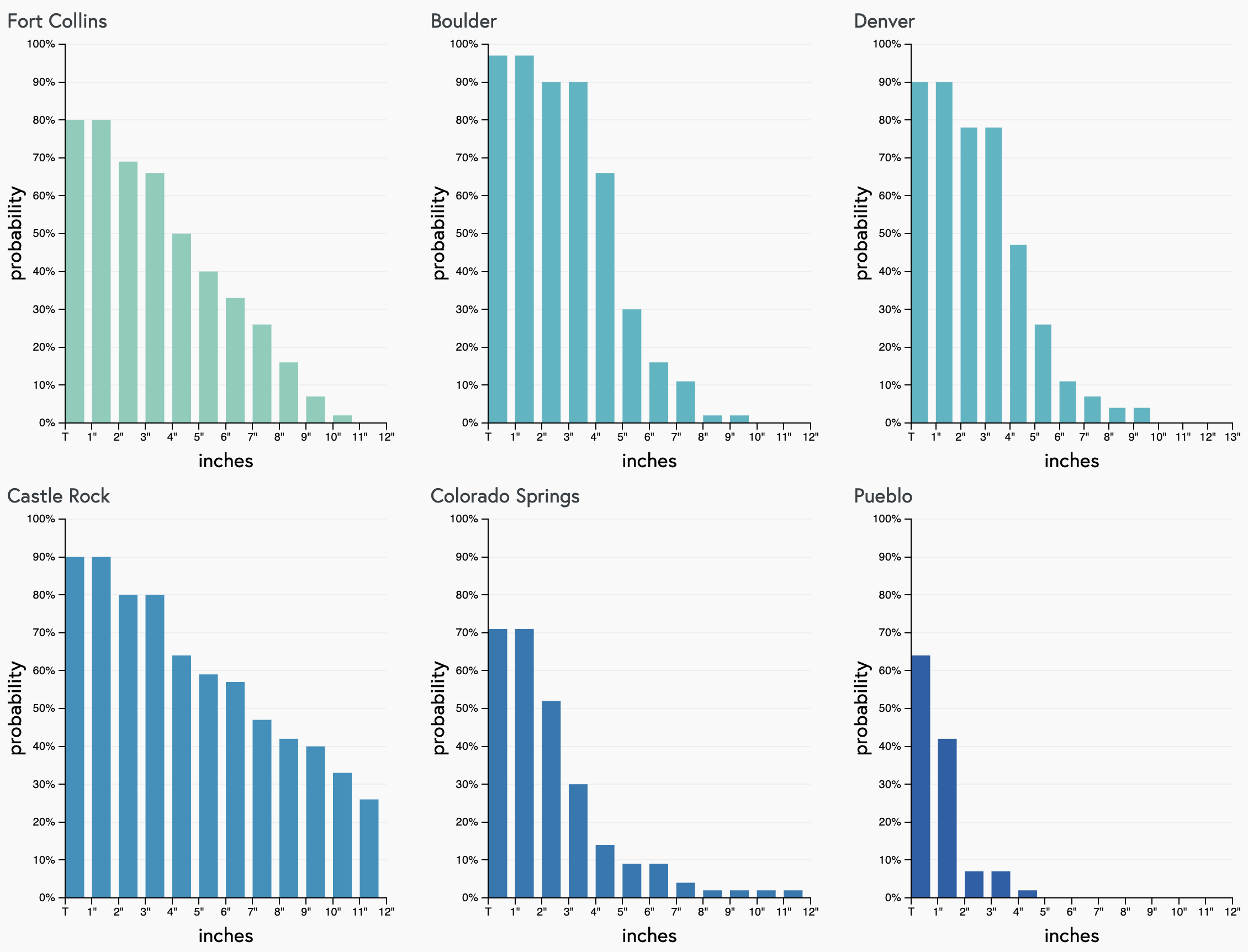 We see a similar look from the Euro as well, with 40 - 60% probabilities for 3" in Denver, greater south and southwest across higher elevations, and of course across the far northeast plains: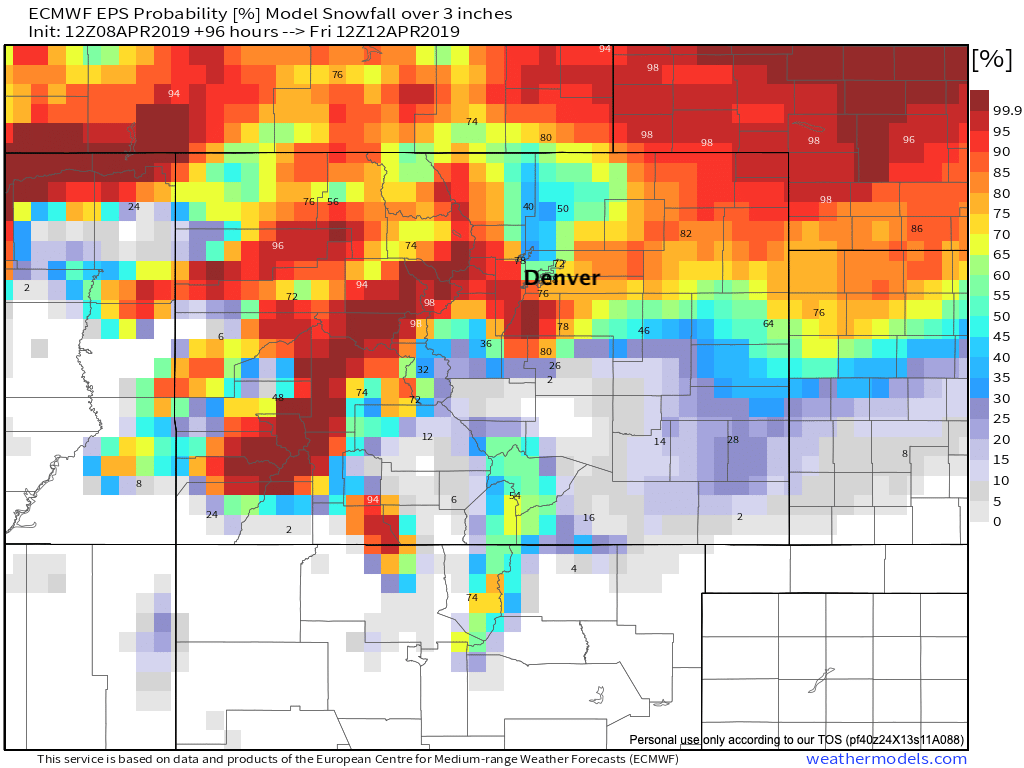 Whew.
It's all about the storm track now. That and temperatures. If a more southerly track remains the trend look for increased odds for heavier rain and snow across a larger area on Wednesday/Wednesday night. If the track trends north, we'll see the probabilities shown above drop a bit again.
The cold front is forecast to move through Wednesday morning. Of course it's always a question when that rain/snow changeover will occur. Right now models pull in some decent cold air by early afternoon Wednesday, which could mean most of the area is seeing snow for the evening commute. A slower changeover, or shift in track (increased downsloping for the urban corridor) would mean less impacts for the city, but of course a quicker changeover and southerly track could mean a slow go for the evening commute at least.
Finally, and we've hit on this a few times, this continues to look like a windy system. Any areas that do see snow, especially later in the day and overnight Wednesday into Thursday are likely to see blizzard conditions. This looks most likely across the Palmer Divide and Northeast Plains where surface winds from 20 to 30mph and gusts upwards of 60mph would make travel quite treacherous for a few hours as the wind combined with snow leads to whiteout conditions.
Needless to say, a LOT of uncertainty remains. It's April in Colorado. A shift of a few miles will mean the difference of a big late season snow for many and a whole lot of not much. Important things for now are to know after a very warm Tuesday snow or no snow in your back yard, the weather will change in a hurry Wednesday. Rain, snow, and wind should make for some dramatic weather across the region Wednesday, but the devil is in the details.
Plenty to watch tonight and tomorrow, stay tuned!