A remarkably busy hazard map from the National Weather Service this morning as a strong storm takes aim at the High Plains Wednesday. Winter Storm Watches, Winter Storm Warnings, and Blizzard Warnings are plastered across Northern Colorado, Wyoming, Western Kansas, Nebraska, and South Dakota this morning in preparation for what will be a potent late-season snowstorm. Ahead of tomorrow's big change will be plenty of wind and warmth, and with that we see Red Flag Warnings in effect for Southeast Colorado, Southwest Kansas, New Mexico, and the Oklahoma/Texas Panhandles: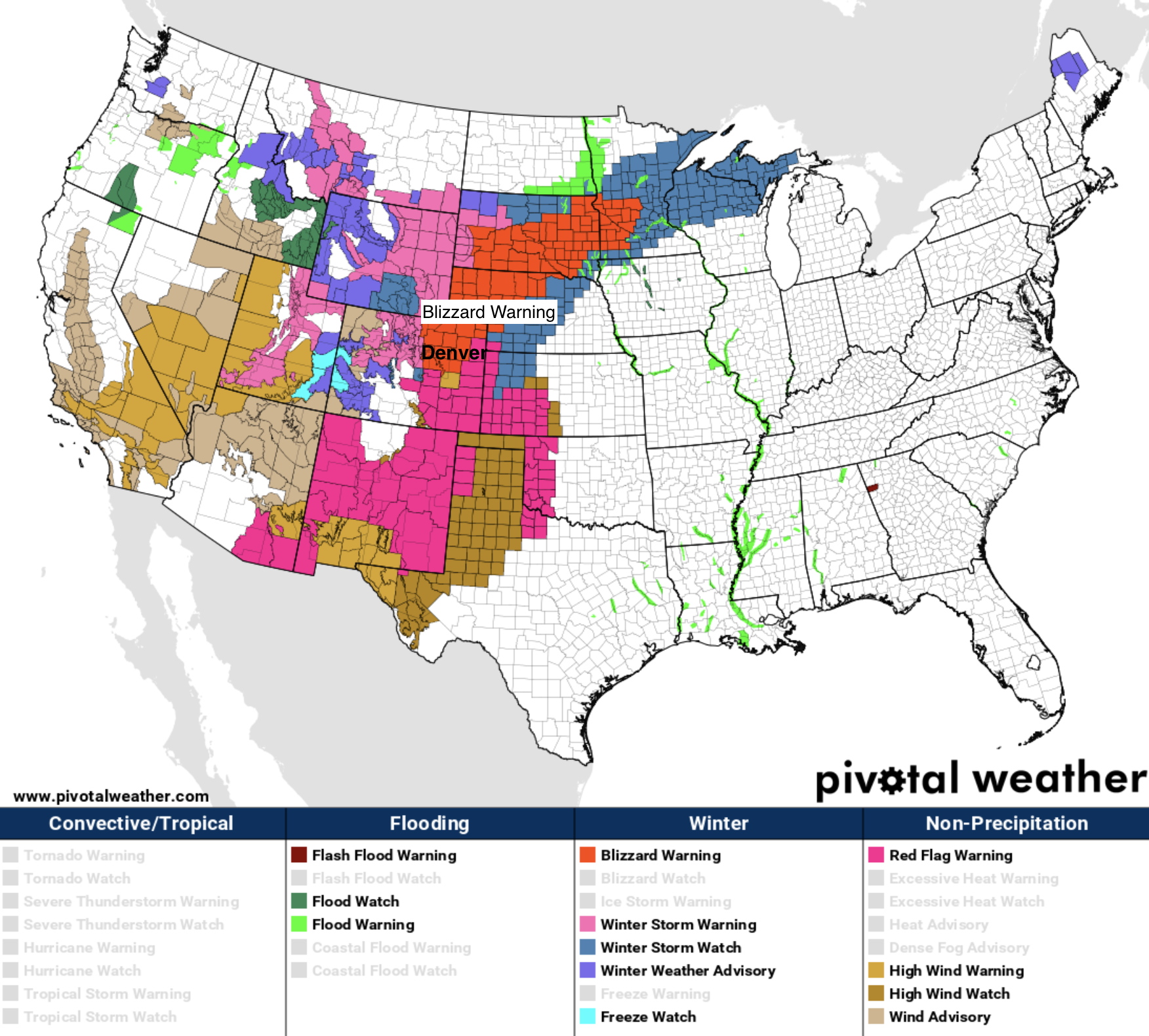 Our storm system is taking shape over the northwest today, with strong ridging over Colorado delivering the anomalous warmth: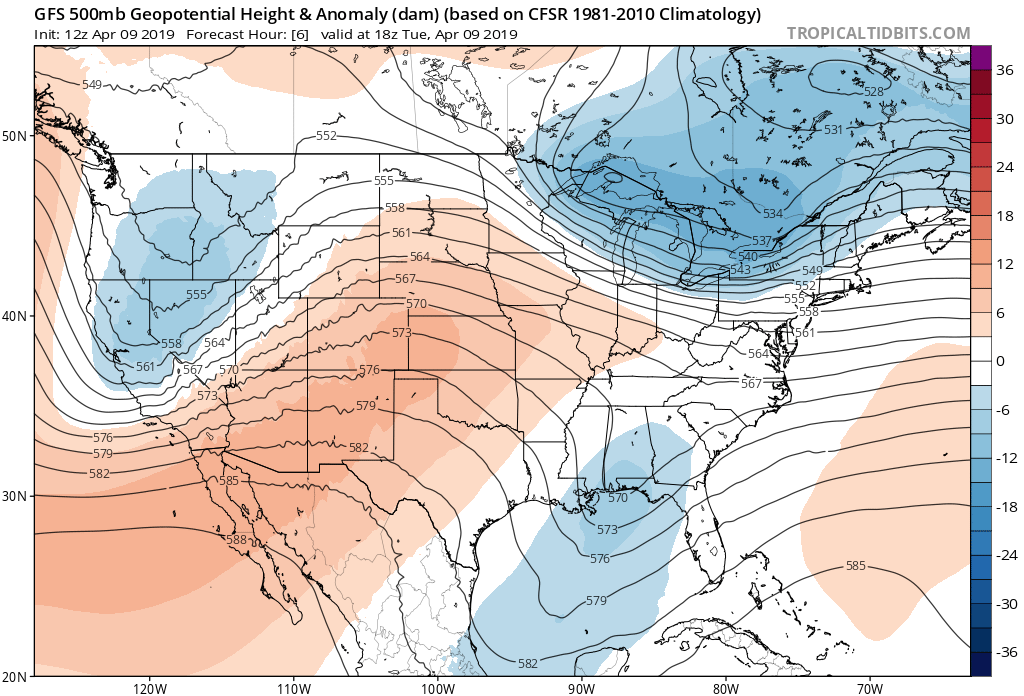 By Wednesday morning we see a broad closed low moving over Colorado as the system begins to strengthen and become better organized: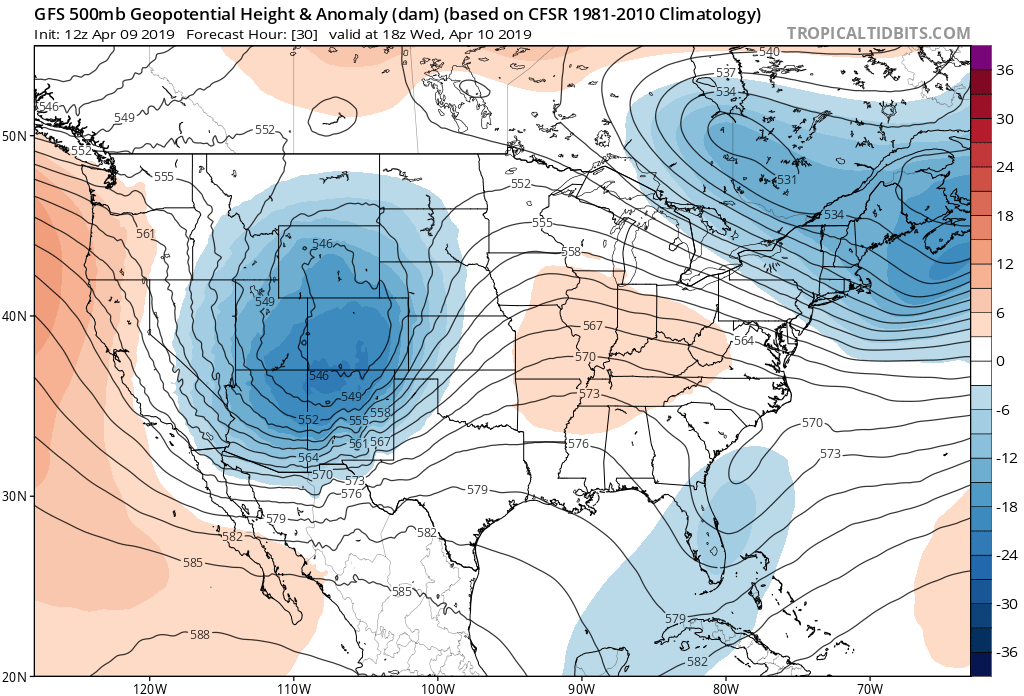 By Thursday night the low has moved into Western Kansas and has strengthened dramatically: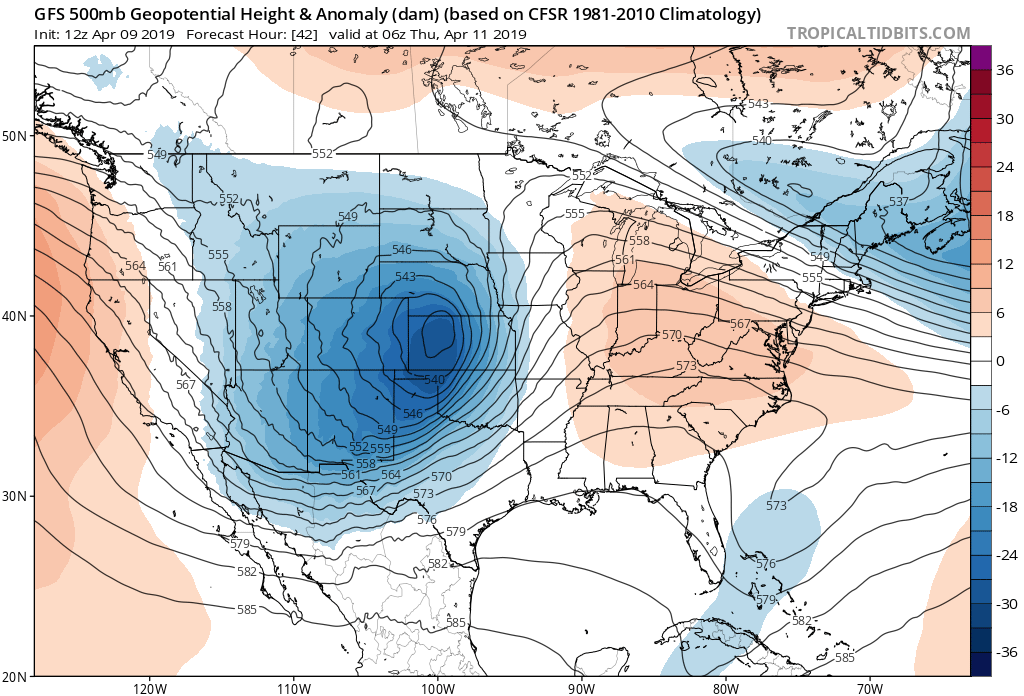 Temperatures in the 70s and 80s across the Plains today will fall dramatically over the next 24 to 48 hours. By Wednesday night temperatures will have dropped into the 20s across all of Northeast Colorado: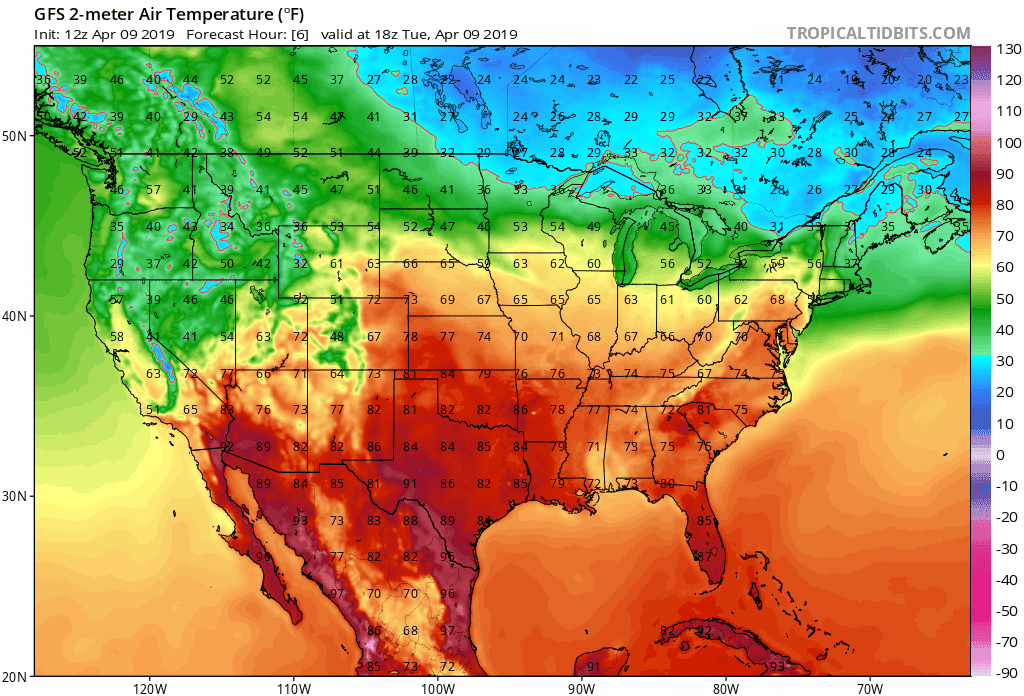 For the Denver area, MOS guidance has highs topping our at 79°F today. The record temperature for the date is 81°F, set in 1977. So, we may not break the record, but if not it'll be close. NAM MOS has a low of 21°F Wednesday night in Denver, with GFS MOS bottoming out at 22°F. These temperatures may be a touch too cold as wind Wednesday night could work to keep us a bit warmer, but cold nonetheless. Record or not today, a HUGE drop in temperature on the way over the next 36 hours.
Snowfall forecast
The timing of the arrival of that cold air will be one of several key features that will determine if and how much snow we see along the urban corridor Wednesday afternoon and night. With a blizzard warning in effect for most of Northeast Colorado, it's also fair to say it'll be hard to measure snowfall as it'll be blown sideways, with drifting.
Right now timing of the cold air is a tough call. Guidance yesterday was a bit quicker with the cold air, today a bit slower. Regardless, it does look like we'll see several hours in the Wednesday afternoon to Wednesday night timeframe of blowing, heavy, wet snow across the greater urban corridor.
Nailing down totals is not fun –– it'll be 80F today for Pete's sake! Melting, compaction, rain, mixing, wind, you-name-it will all make forecasting snowfall totals accurately a bit like throwing darts in the dark. More important than how much snow will be how dramatic the change will be –– and to plan for the potential for a snowy PM drive on Wednesday.
We'll go 2 - 6" for Denver at this time and count on a relatively quick changeover in the city. A slower changeover from rain and we'll have a hard time hitting 2" in the city, a quicker changeover and totals from 4 - 7" in the city will certainly be possible. From Denver north (Thornton, Longmont, Fort Collins) we think we may end up seeing more rain than snow. We have a Trace to 4" of snow here in case the changeover does occur faster than anticipated, but for many of these communities just a coating of slush will be the outcome.
If you live south, southwest, and southeast of the city odds for seeing a more appreciable snowfall look greater. This includes DIA, Aurora, Parker, Highlands Ranch, Golden, Castle Rock, Elizabeth... etc. Elevation here will help the changeover occur quicker, and help to promote some heavy, wet accumulation –– certainly by Wednesday evening.
South of the Palmer this system doesn't seem like as-big-a-deal, at least with regard to rain and snow. Wind will likely be quite strong through the Colorado Springs region Wednesday evening and night, with 0 - 3" forecast (most on the north side) so some impacts certainly expected.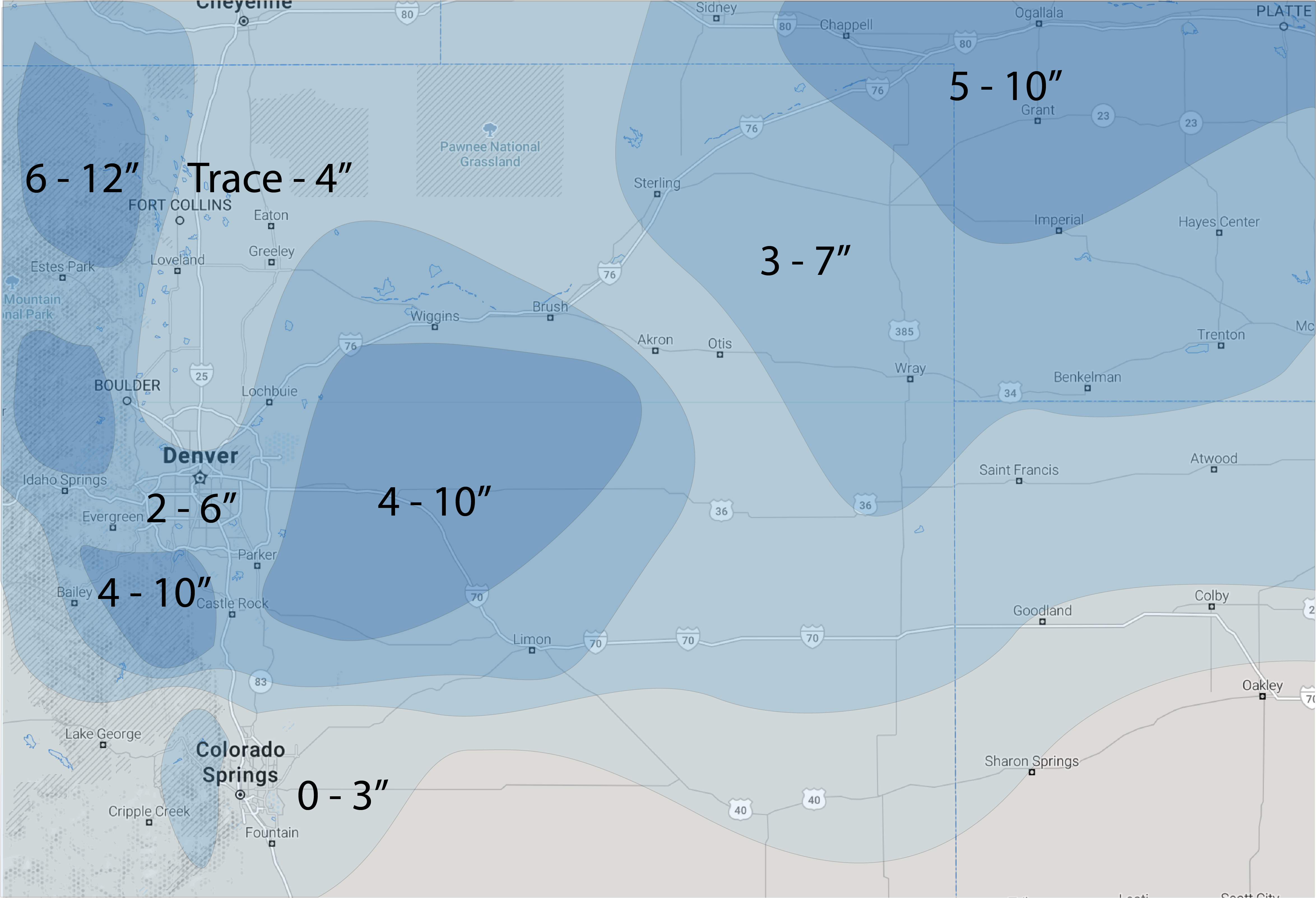 Blizzard Warning
This will be a WINDY system. The European model has sustained winds of 20 - 30mph over the plains Wednesday night, with gusts upwards of 50mph. The GFS is even windier, with some areas forecast to see sustained winds in excess of 40mph for a time.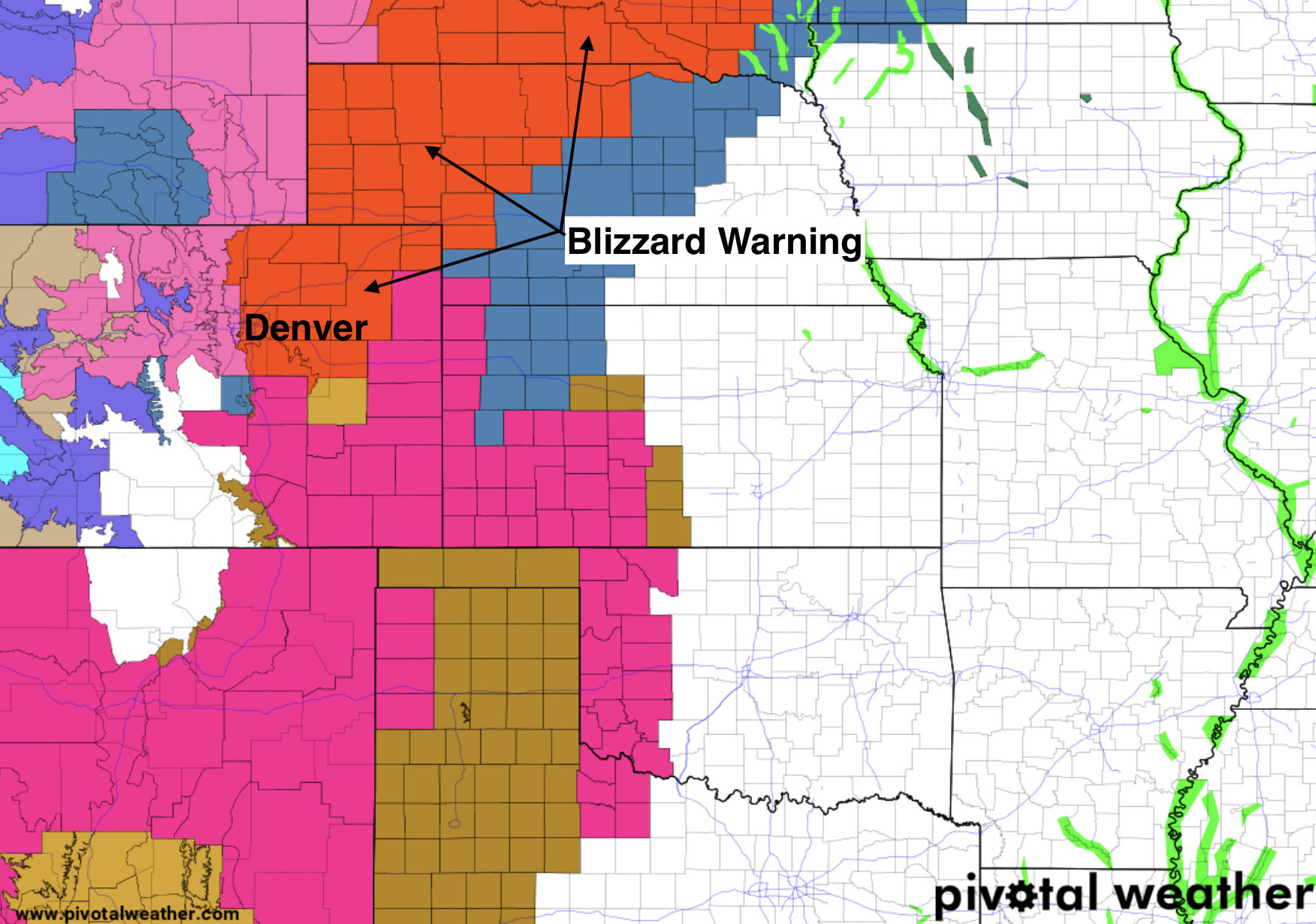 Like our system in March, the worst of the wind will be along and EAST of I-25, but bluster conditions are still expected through the metro areas Wednesday evening. Again, it's not about the AMOUNT of snow with blizzard warnings, but the wind combining with snow to produce those reduced visibilities.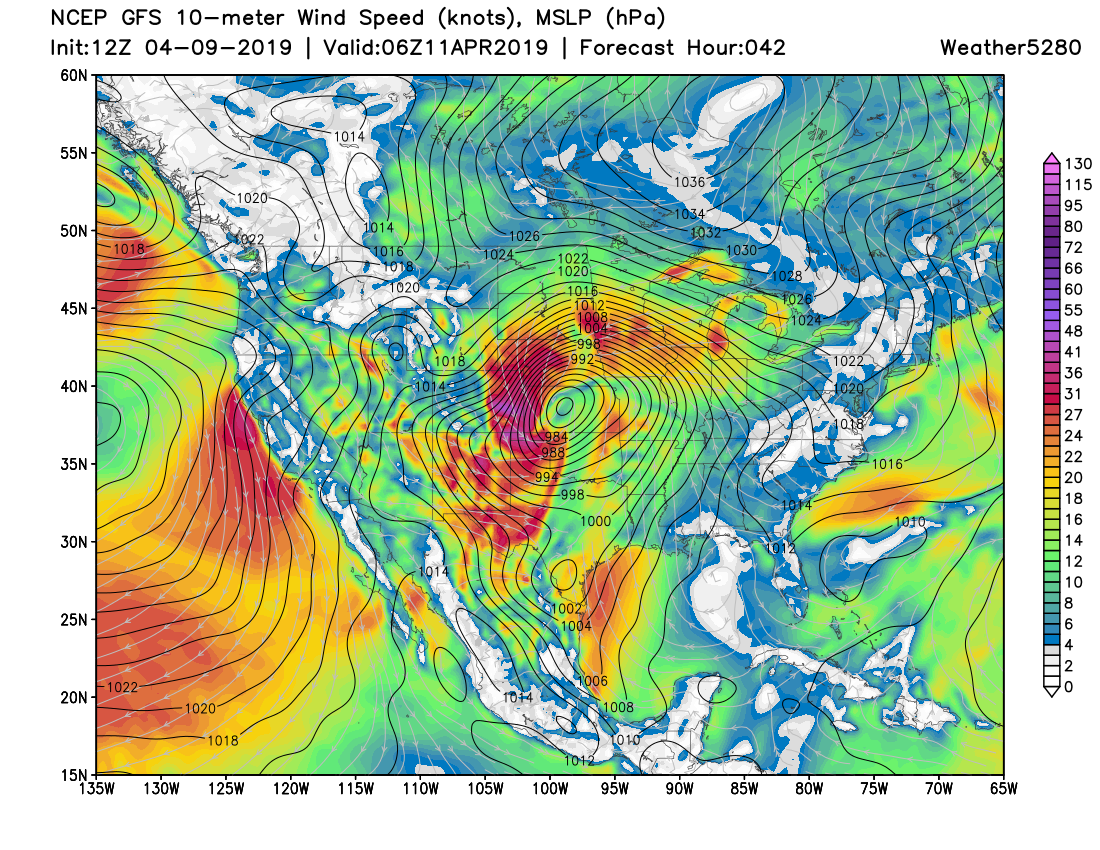 With the anticipated wind, the National Weather Service has issued Blizzard Warnings for most of Northeast Colorado. Even for areas that don't see a lot of snow, the wind could cause reduced visibility for several hours Wednesday.
From the NWS Blizzard Warning text:
A Blizzard Warning means severe winter weather conditions are
expected or occurring. Falling and blowing snow with strong winds
and poor visibilities are likely. This will lead to whiteout
conditions, making travel extremely dangerous. Do not travel. If
you must travel, have a winter survival kit with you. If you get
stranded, stay with your vehicle.
In Denver the Blizzard Warning goes from noon Wednesday to noon Thursday. For what it's worth, this feels a bit long to us as the worst of it should move east Wednesday night. We also think the need to include Denver proper (and many of the northern/northwestern urban corridor communities) is borderline. While the urban corridor is all included in the blizzard warning, we continue to think the greatest likelihood of actually seeing blizzard conditions will be along and east of I-25 as mentioned above, and less so to the west/within the city of Denver proper.
Timing and impacts
Rain will develop across the Front Range urban corridor Wednesday morning with coverage and intensity increasing as we approach midday. As is usually the case with these springs storms, this system will be dynamic, and with that expect to see some thunderstorms at least on the onset of tomorrow's weather across eastern Colorado. Not a huge severe threat it appears, but certainly some hail will be possible with some of the stronger cells that develop.
Colder air is forecast to arrive Wednesday afternoon, with changeover to snow occurring in the noon to 5pm timeframe depending on your elevation. If you're still seeing rain Wednesday evening, you're almost certain to see the low end of our snowfall forecast for your area, if that.
For Denver, it looks like the best window for snow will come between 4pm and 11pm. So IF we're going to hit those forecast totals, this will be the most likely window to do so in. If the cold air arrives earlier than we currently think, it could be we see snow in the city a few hours prior to this.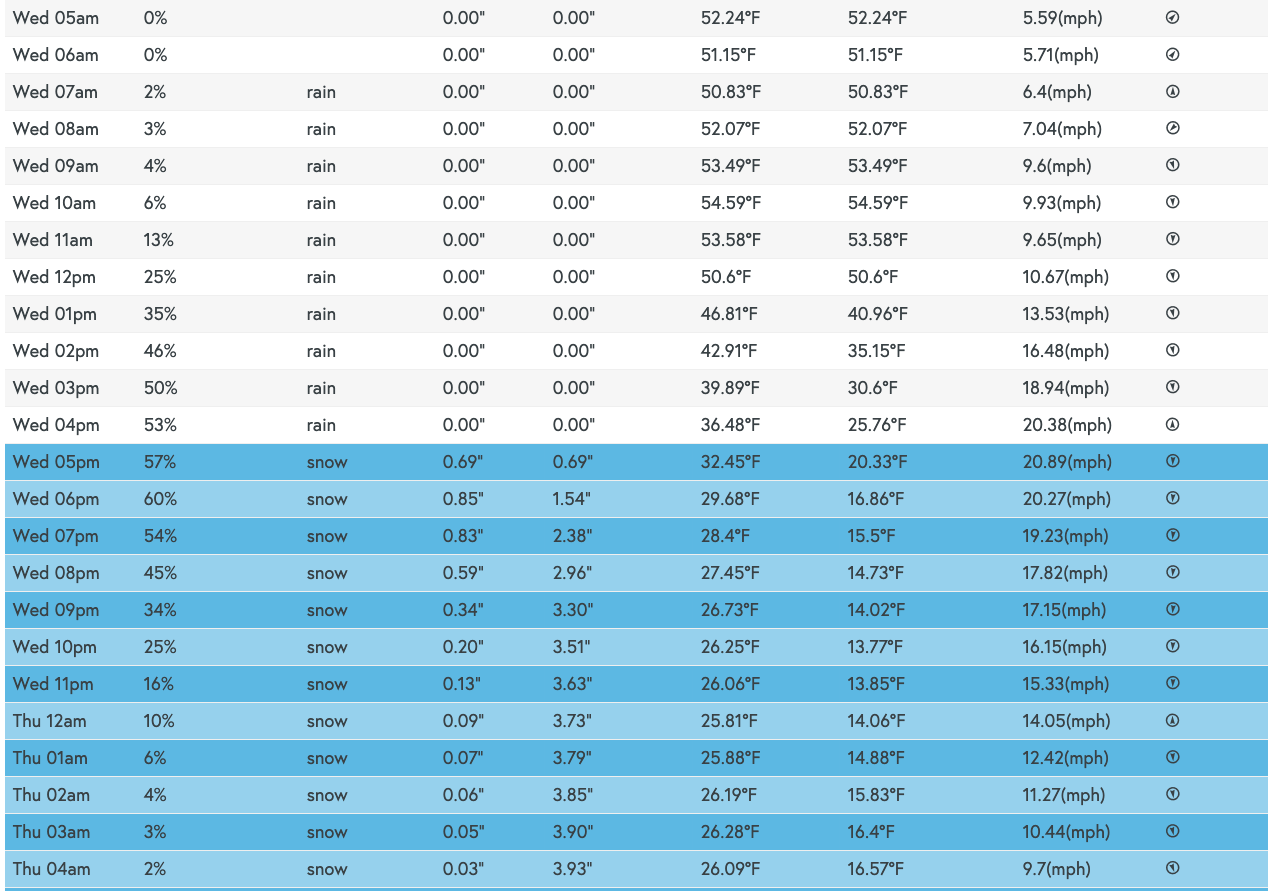 If you live north, say in Fort Collins, you can move those timelines up a few hours, with a likely a narrower window for snow as well: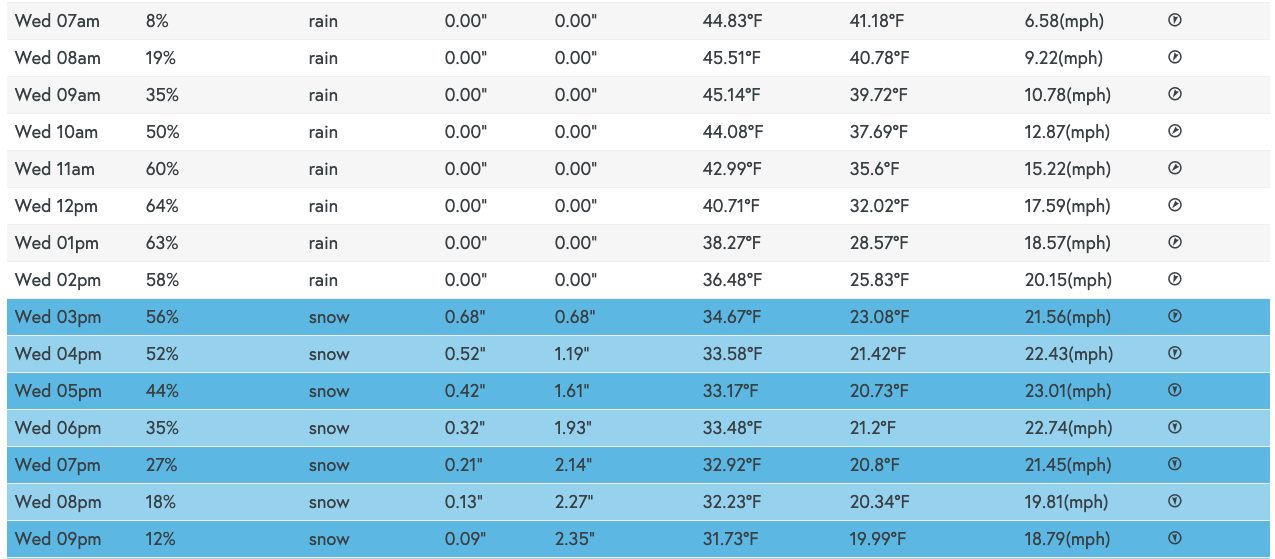 With the cold filtering in behind the rain and snow Wednesday night whatever precipitation does end up falling will likely lead to some ice on the roadways. So Wednesday's PM commute will be impacted by rain and snow, but even into Thursday morning we could see some slick spots on the roads. Wednesday evening's commute looks like the toughest one at the moment. Should we change to snow everywhere by the evening commute, the heavy snow coupled with the expected wind will reduce visibility and make for tough travel across Northeast Colorado.
Thursday remains cool and unsettled, highs in the 40s for Denver, with sunny skies but chilly temperatures wrapping up the week on Friday with highs again in the 40s and 50s for the greater Denver area.
We'll see how data trends today and offer an update if needed. Stay tuned!