Anyone else having a hard time remembering what 80 degrees feels like this morning? Temperatures dropped well below freezing again this morning across Northeast Colorado (we bottomed out at 26°F), and plenty of cloudy cover over Eastern Colorado as shown in the visible satellite image below is providing quite the dreary feeling to end the week!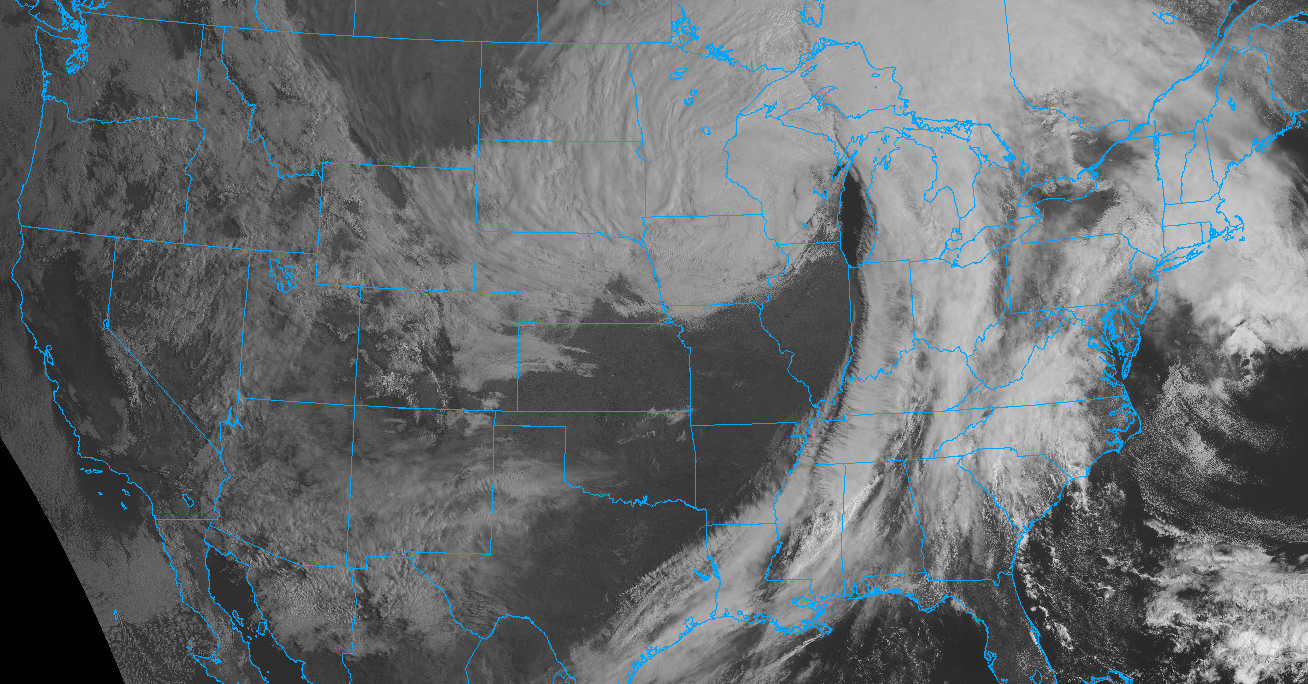 Rain and snow showers return to the forecast for the entire I-25 corridor by late this morning, and will linger well into Saturday for some –– especially across Southern and Southeast Colorado. As we discussed yesterday, the bulk of this system stays far enough south that most of us won't see all that much snow, but... some heavy snow showers (squalls) will certainly be possible later today and tonight, so do not be caught off guard if you end up under one of them!
The latest 3km NAM shows those showers developing along the Front Range later today, with heavy rain and even some snow across Texas as we move into tonight and Saturday: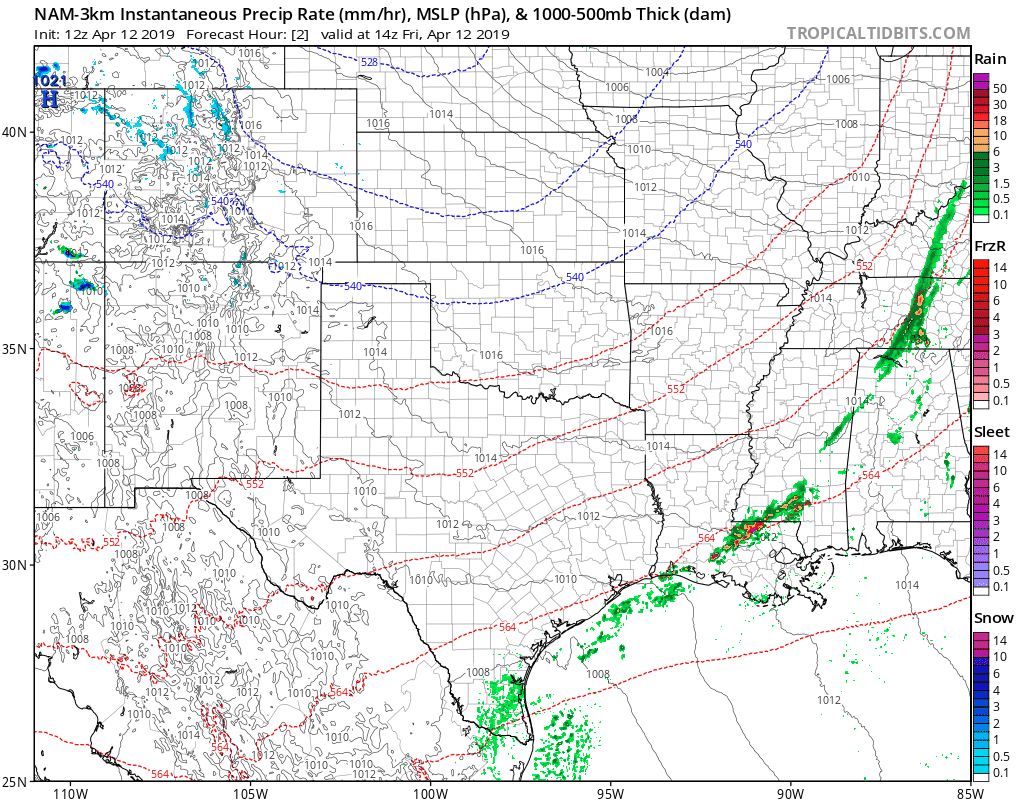 For snowfall totals we still like the numbers we discussed yesterday. A generally 0 - 2" event for the northern urban corridor, 1 - 4" for the Front Range foothills, 1 - 3" for Colorado Springs, and a bit more of a significant snow possible for the far south Raton Basin. As a broad-brushed overview, we like this map below. At a local level some higher totals are possible as these heavier snow showers push through later today and tonight, but by and large, these numbers should work pretty well. It's worth noting that the European model still does not show much snow potential for most of the forecast area in its latest runs.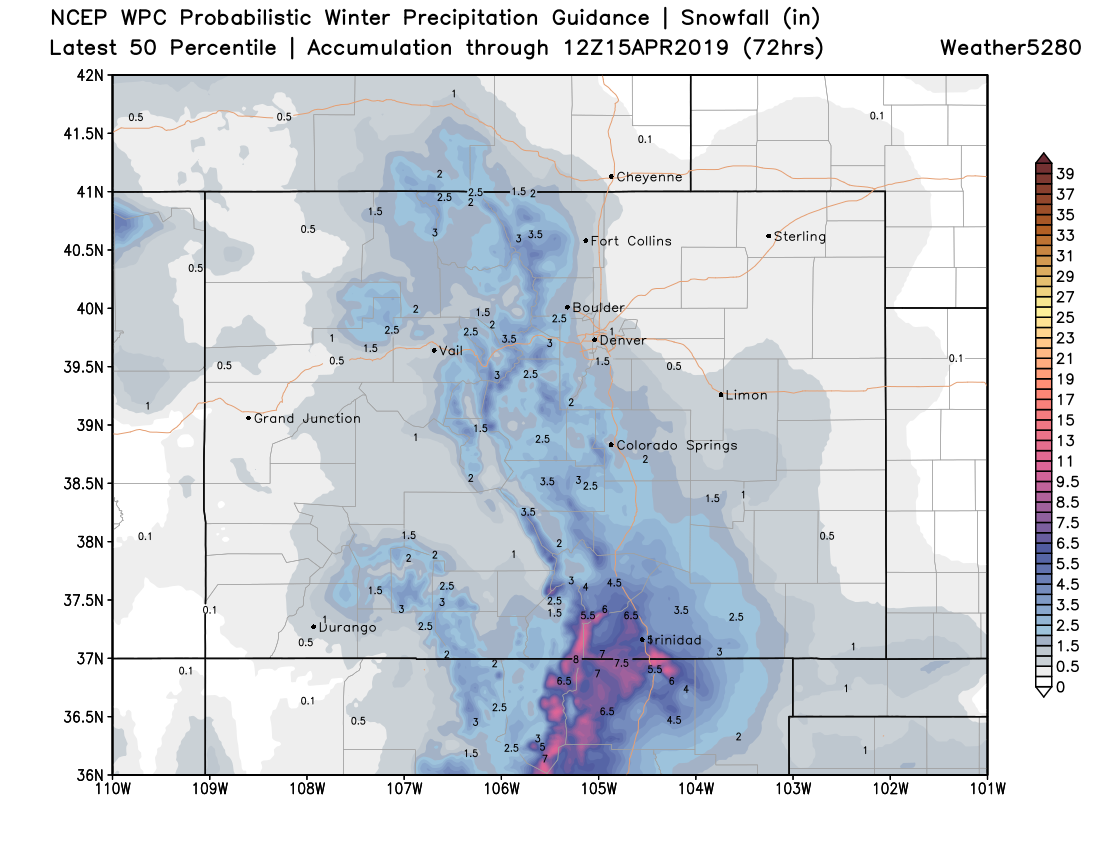 The totals above may not come all at once, but rather in bursts over the next 24 hours or so. Snow showers develop this afternoon and will be intermittent through the night and into Saturday. For Denver it's about a 30% chance this afternoon, and 50% tonight, for Colorado Springs we're looking at 30% and 70% respectively. Given the scattered nature of these showers, it's likely some of us see no snow at all, while others see a quick inch or two.
As an example of this... check out the latest HRRR which runs through 12am. Exact placement of these snow totals will change, but as you can see little pockets of 1 - 3" (Fort Collins area, north side of Denver, north side of Colorado Springs), but pretty quiet elsewhere: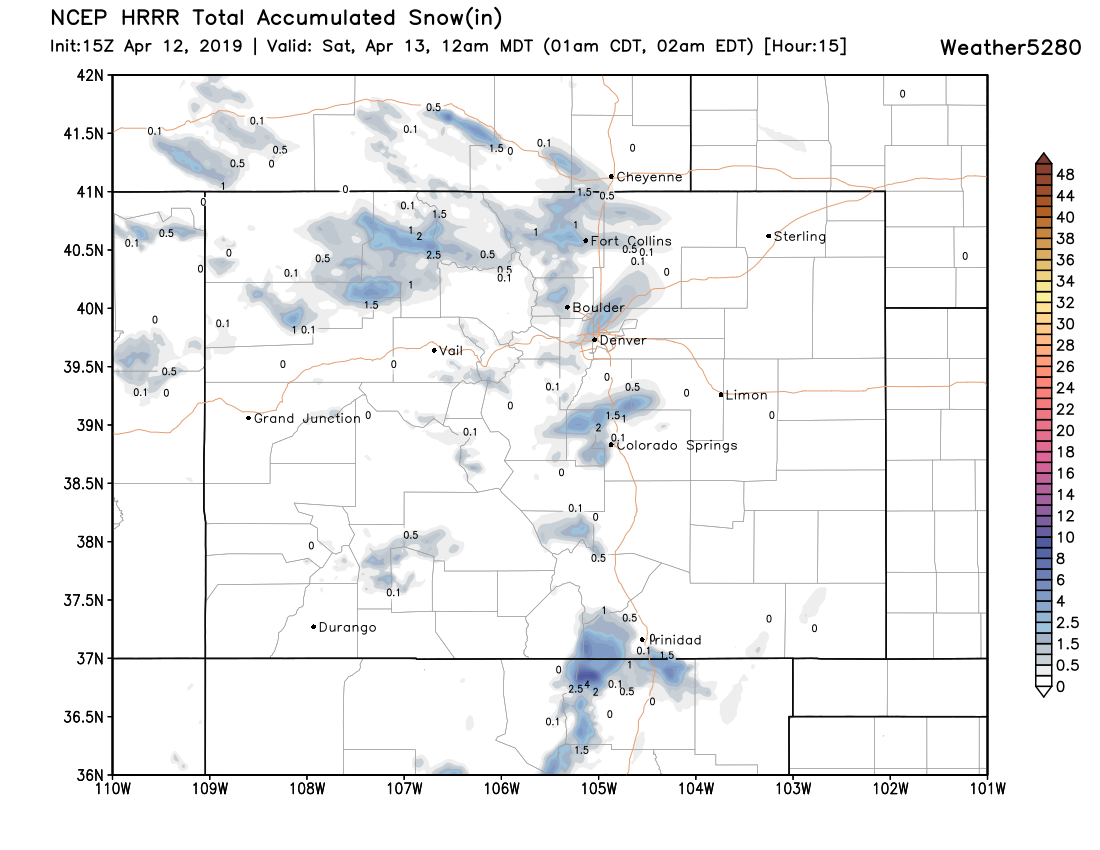 Finally, a check on our gamblers pretty much supports our thinking above. Castle Rock and Colorado Springs with the greatest potential to over-perform, and less so north: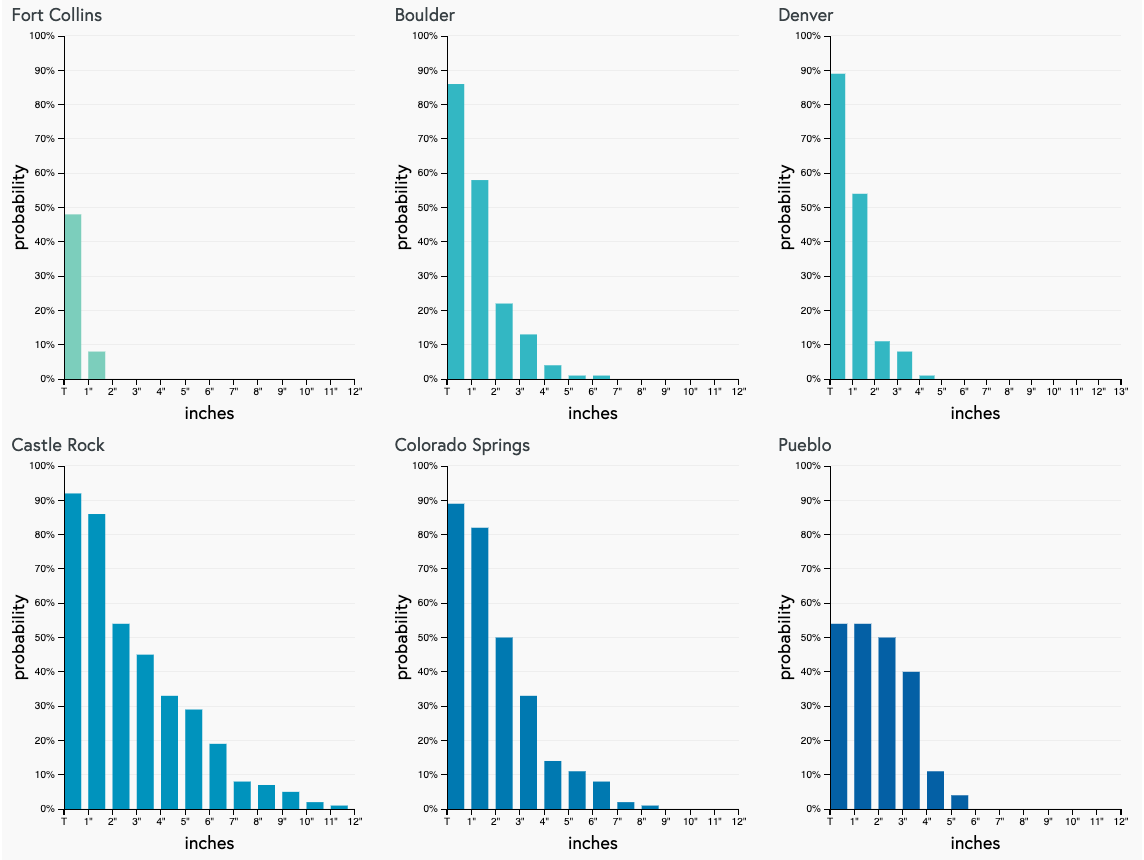 Those snow showers linger into Saturday, with chilly temperatures holding on too. In Denver we're looking at the low to mid 40s for highs on Saturday, before much milder weather returns to end the weekend. MOS guidance shows temperatures rebounding to near 60 (perhaps a touch warmer even) by Sunday, with highs in the low 70s by Monday!
Next system to watch arrives during the middle of next week. All global models show a low swinging through Colorado Wednesday into Thursday, and with it another chance of rain, or perhaps even some snow.