The latest 48 hour snow totals map from across the region shows about what you'd expect, largely little to no accumulation for most, but a few pockets of several inches of snow where heavier snow showers setup Friday evening and Saturday afternoon: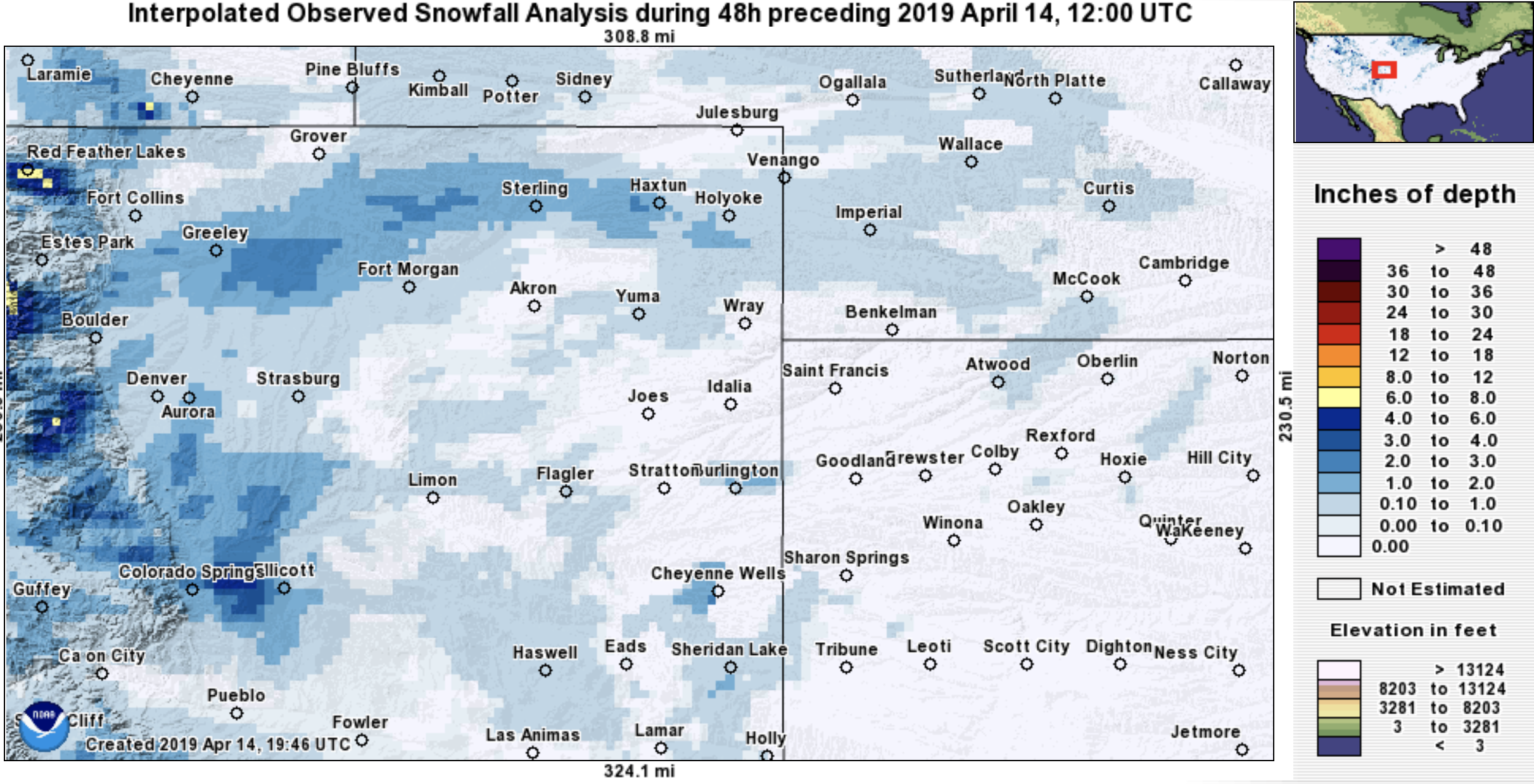 Another superb seven day stretch for precipitation across Northeast Colorado as well, with the urban corridor and Northeast Plains picking up from 0.5 to over 1" of liquid over the last week: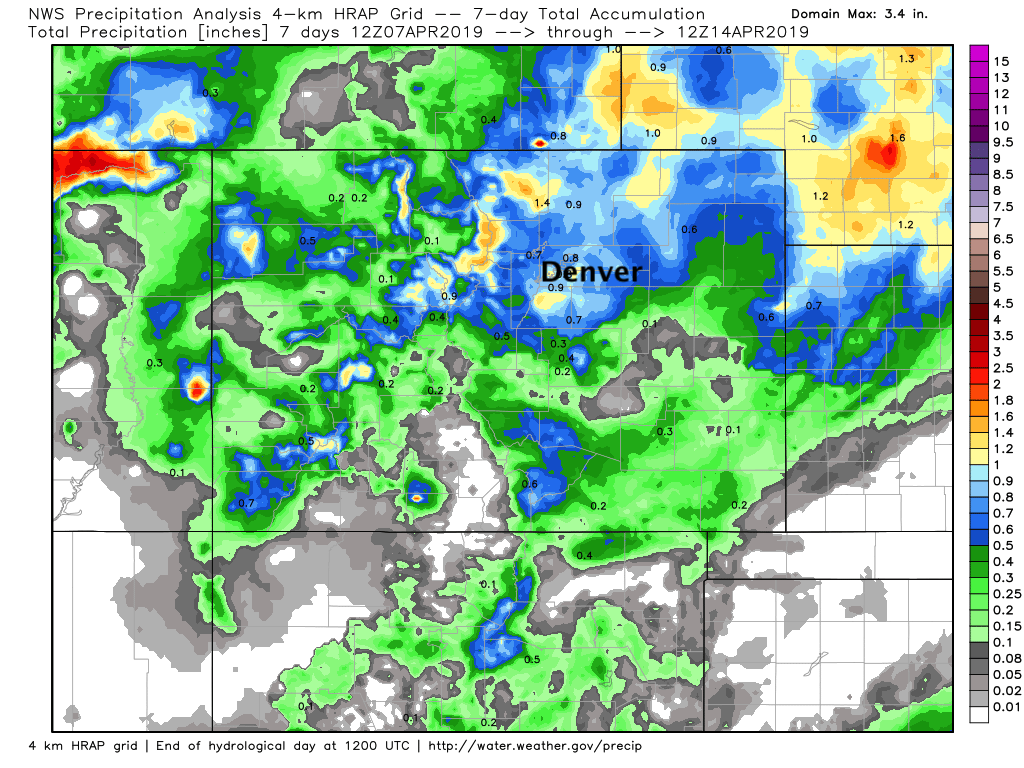 The pattern for the coming week in some respects looks a bit like the last. Early week ridging bringing warmth back to Eastern Colorado: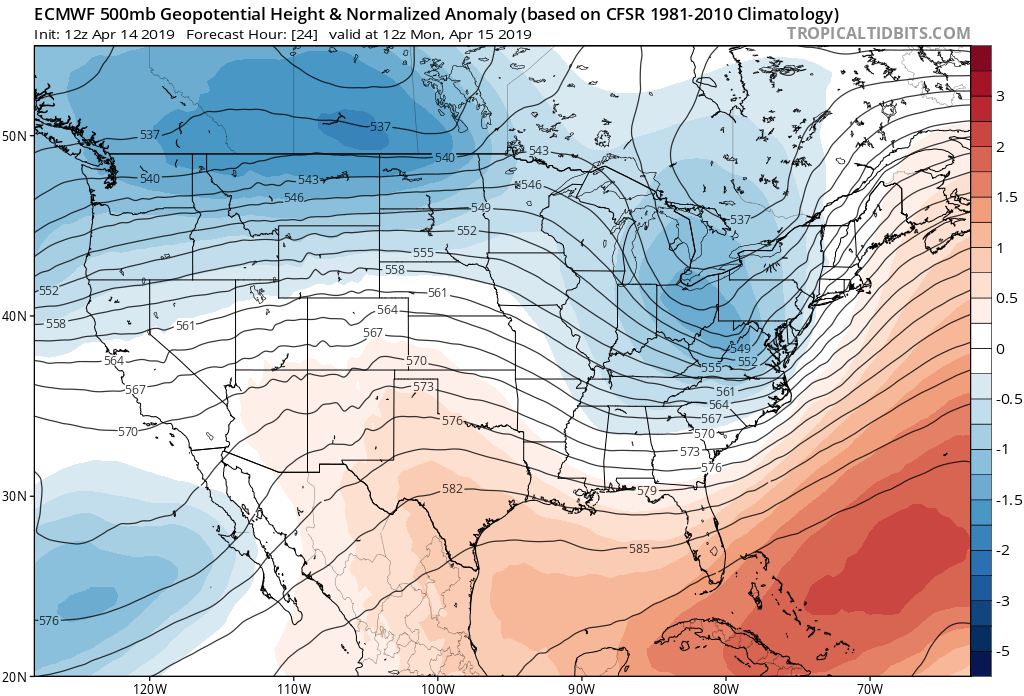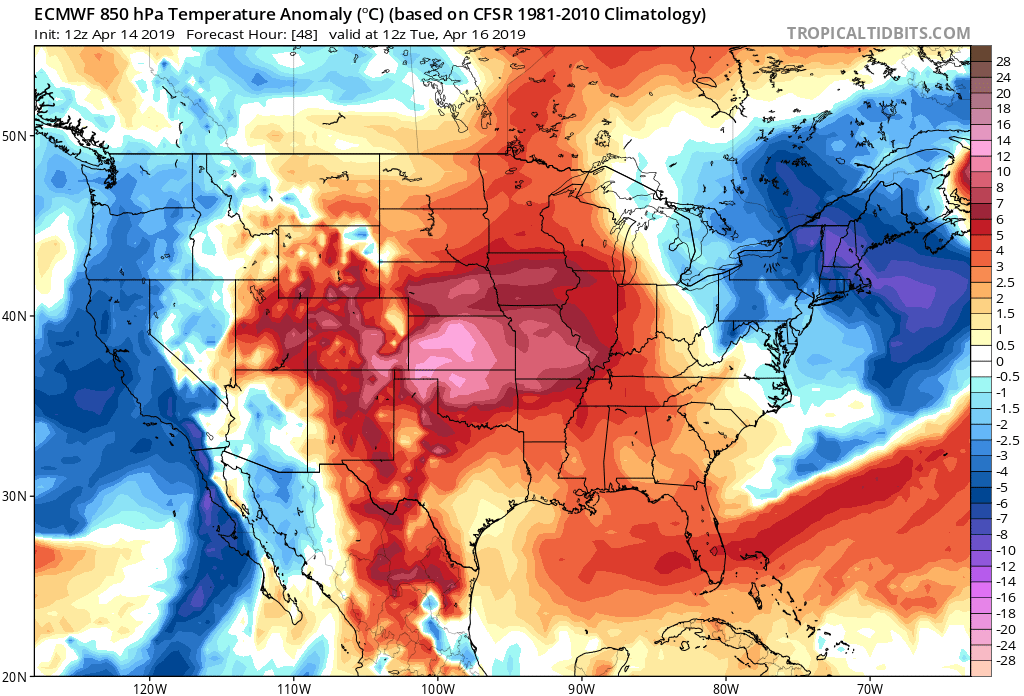 Followed by a mid-week trough and cool down: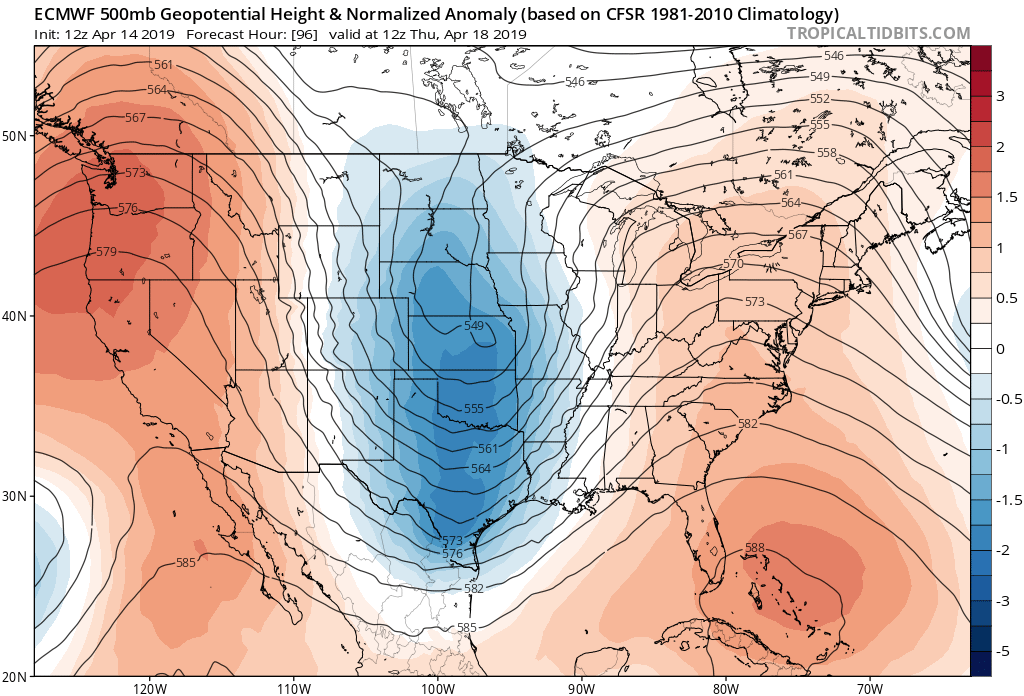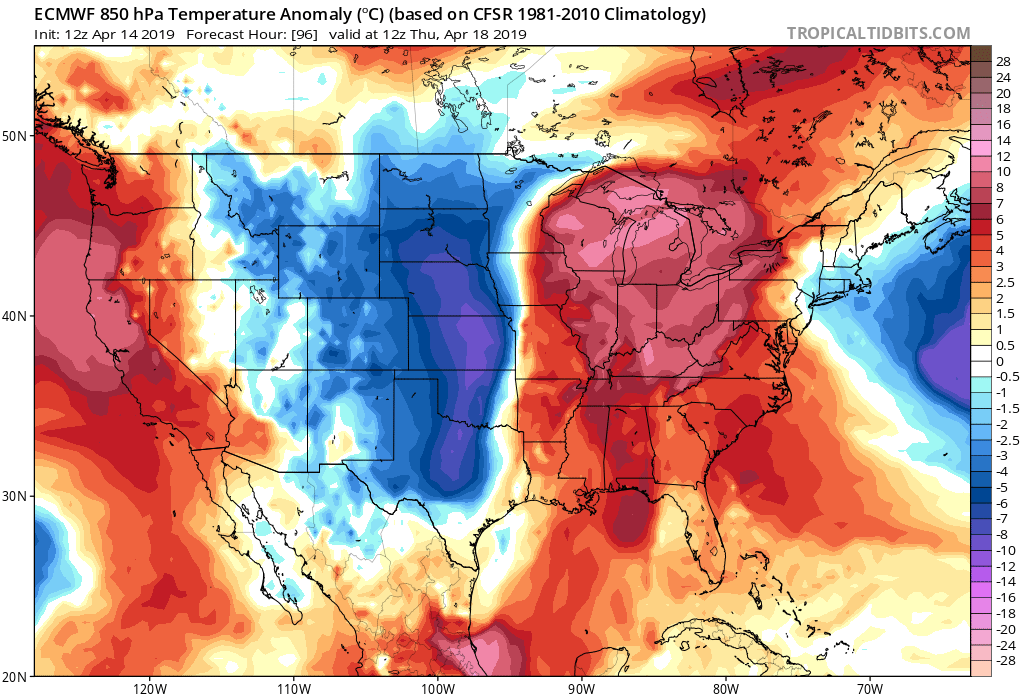 At the moment the system due in Wednesday doesn't look as potent as lasts week's. A notable change, however, with highs forecast in the low 70s Monday and Tuesday, then down into the 50s for Wednesday.
While at times this system has looked a bit more meaningful, right now it looks like it'll move through as an open wave, and not nearly as organized as the last one. Not only that, but it also doesn't appear to have as much cold air available. So this go around rain should be a more common result than snow across Northeast Colorado, except for communities in the immediate Front Range foothills, and across the Western Palmer Divide, where another accumulating snow certainly looks possibly this week.
Our seven day snowfall gambler charts reflect this as well. Boulder with a decent signal for a bit of snow this week, Denver too to an extent, but Castle Rock with the greatest potential as cold air does look to be lacking at this time for lower elevations: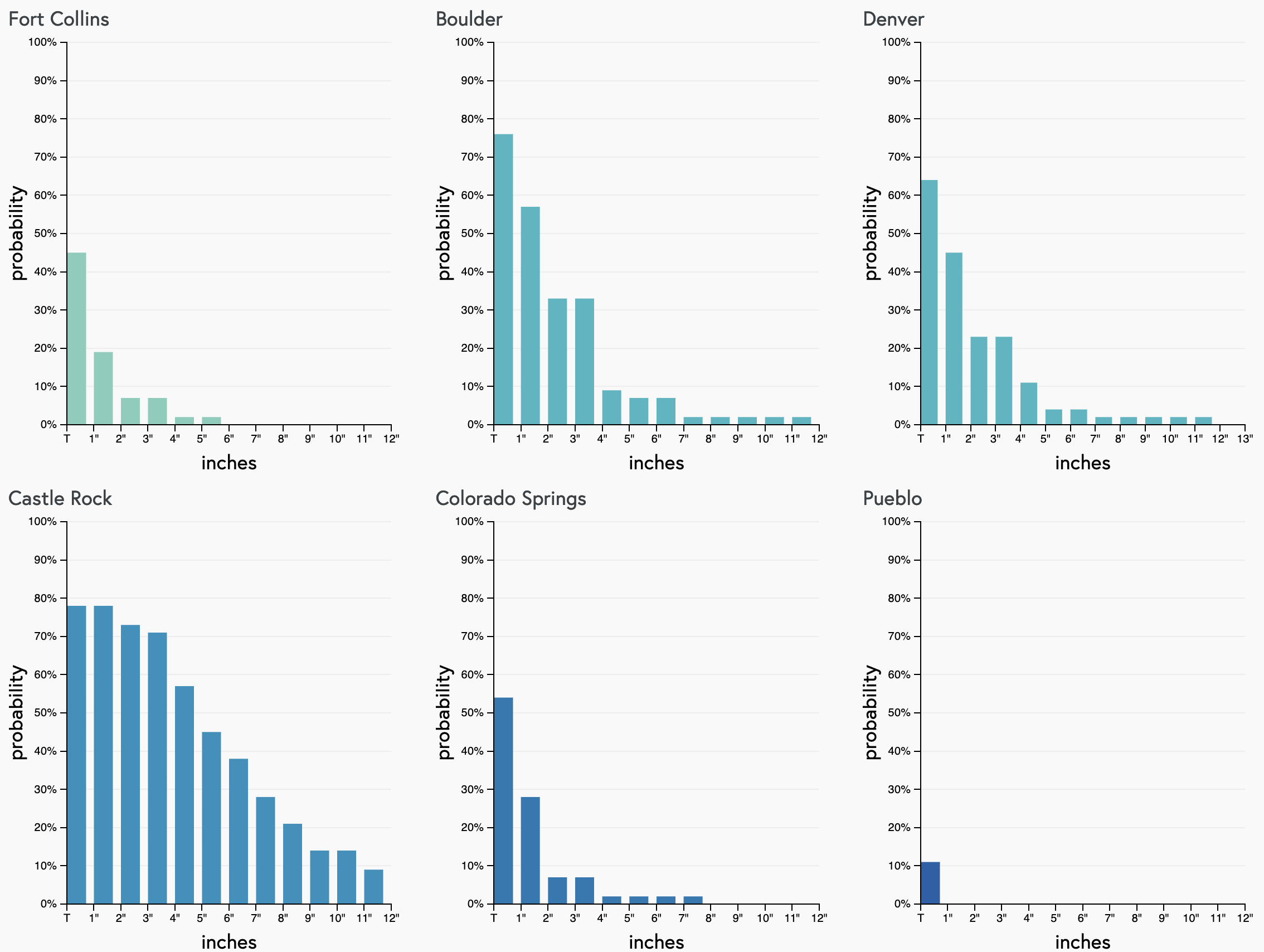 This system moves through late Tuesday and should be east of us early Thursday. Another trailing system may keep us cool and a bit unsettled for Thursday, but overall the mid-week chill won't linger as long as the last.
If you're hoping for snow, or dreading thought of more snow, right now it looks like Denver's best shot at it will be Wednesday night as this is when we'll see the coldest air of the week filter in. Rain showers, and eventually snow showers will be in the forecast off and on from Tuesday night into Thursday morning, with some nice precipitation totals possible, though we'll need to get a bit closer to the Wednesday to see how much moisture we're actually likely to see.
The European forecast show below show's our midweek system, the cool cool down, and precipitation chances for the Denver area. Note the quick rebound in temperatures (red and black lines) currently forecast as we currently have 75 degrees in the book for next Saturday! You'll also note this model (and others) are also sniffing out more unsettled weather as we head deeper into the day 10 outlook: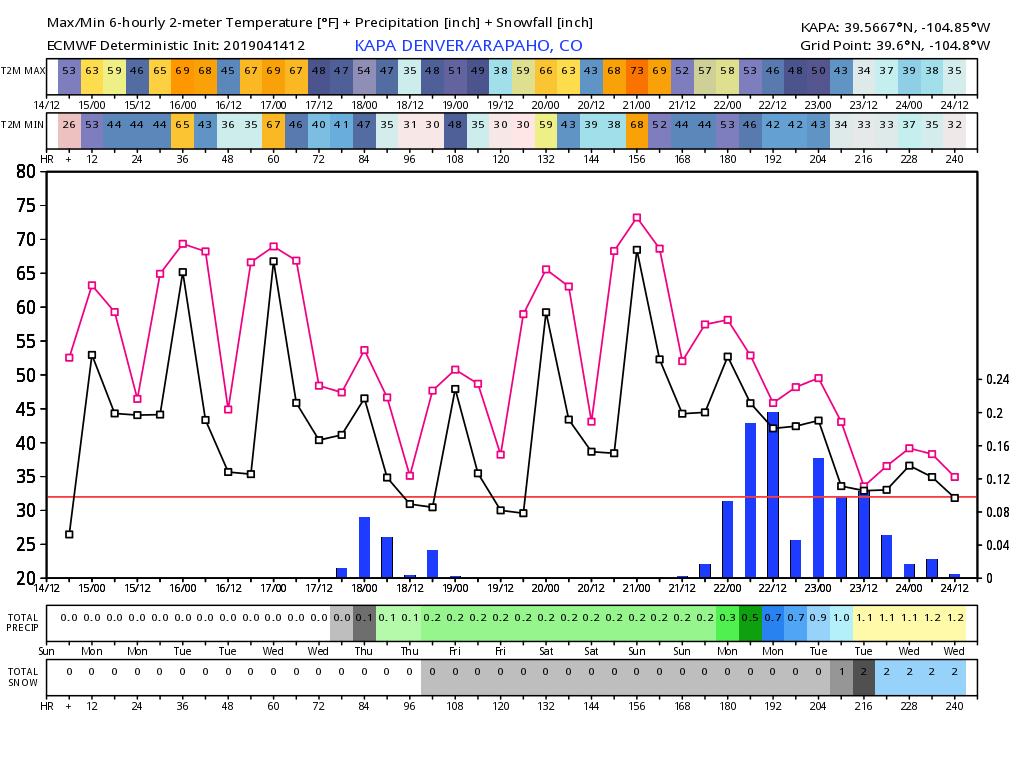 So, enjoy the warm weather to start the week. We'll keep a close eye on the Tue night - Wednesday system and see if it trends snowier or otherwise for the area and offer updates as needed.