Temperatures have soared into the upper 70s and low 80s across Northeast Colorado this afternoon, with our station reporting a temperature of 82°F as of early afternoon. We could see a few showers move through later this afternoon to cool us down, but overall a very nice Saturday across the region: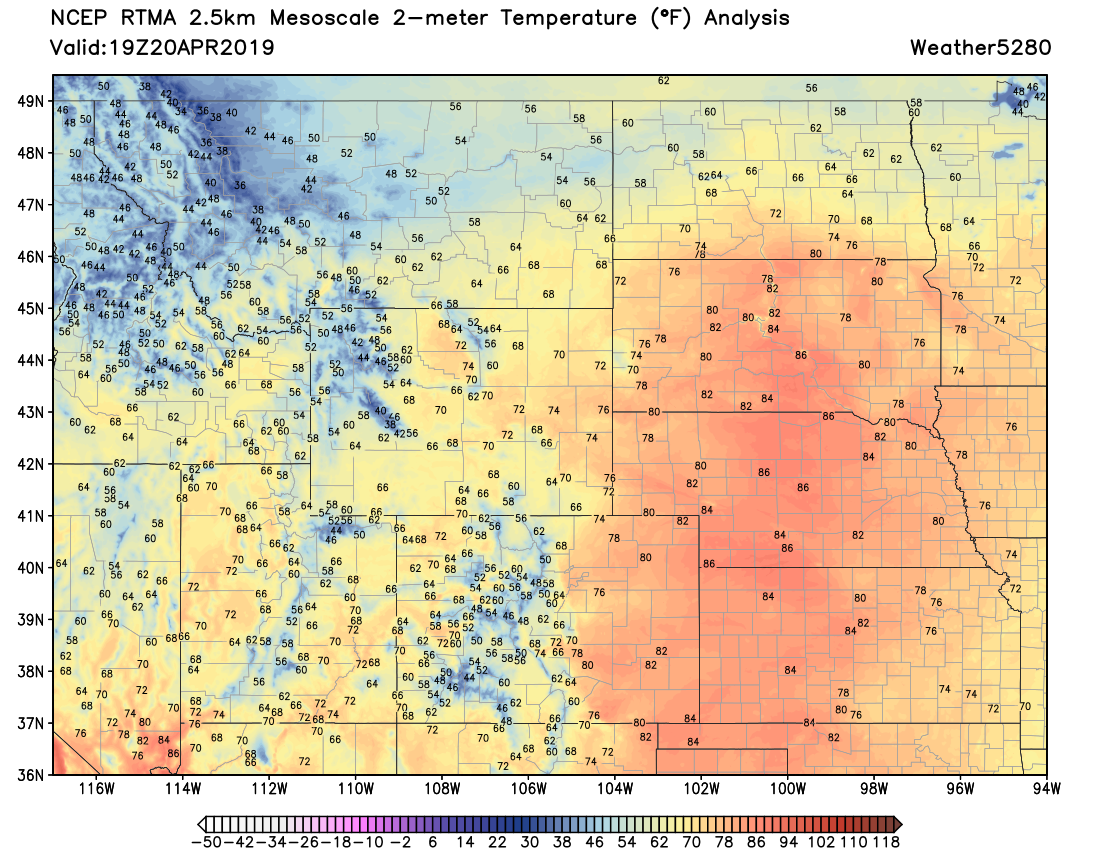 Sunday will be a transitional day, with highs in the 60s for Denver, before we cool into the 50s for highs on Monday. Note the temperature anomaly forecast for Monday has eastern Colorado seeing some of the chilliest (as compared to average) temperatures in the country: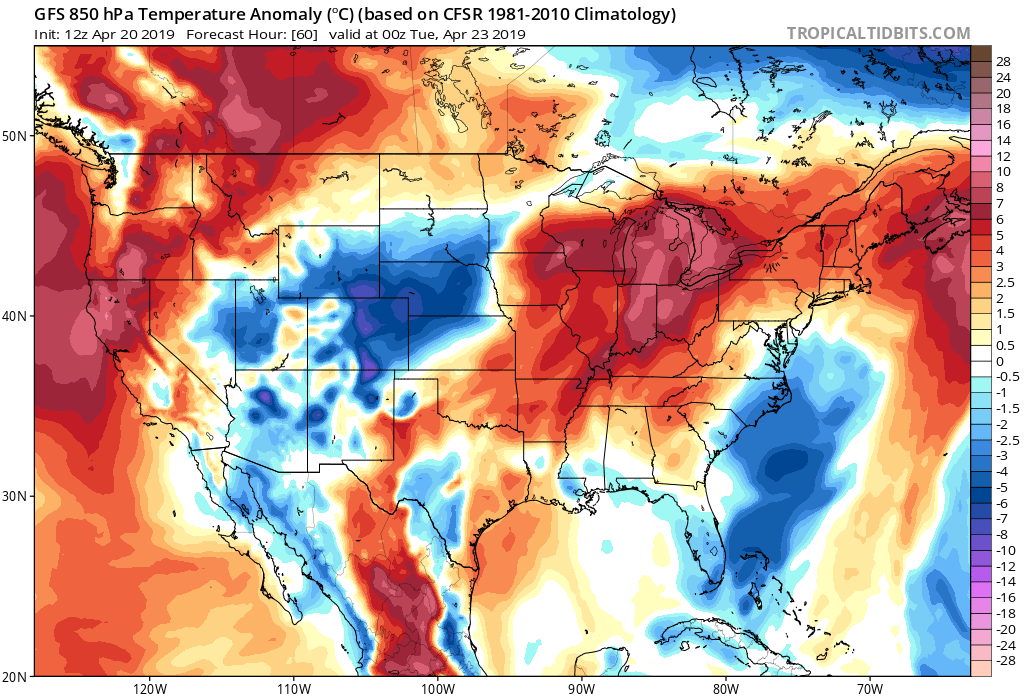 With this cool down we'll see an increased chance of showers and storms. The main chance of rain looks like it'll come Sunday afternoon and night to the northern Front Range and adjacent plains, with a chance of showers continuing off and on through the day Monday.
This system doesn't like it'll deliver much of a severe storm threat. Most of the shower activity will be just that –– showers. A few stronger storms will certainly be possible though, especially Sunday afternoon, with some lightning, thunder, and even some small hail possible with these stronger storms.
As for how much rain? That's a bit of a tough call. We think some of these heavier showers will be able to produce some pretty good rain at times, but we've some models (such as the trusty European) drop QPF from what we were tracking a few days ago. Still, you can see it has some decent precipitation in its ensemble mean forecast, with 0.2 - 0.5" across the greater Denver area, and perhaps some heavier totals near the Fort Collins area and northwest: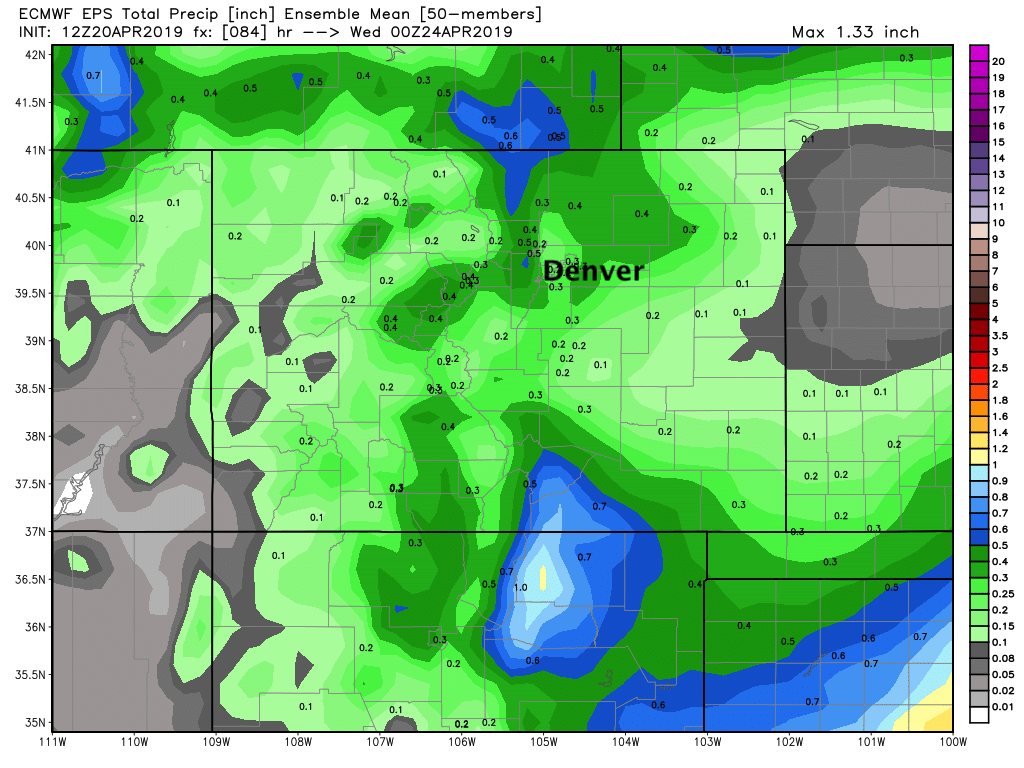 The GEFS ensemble forecast is a bit wetter for more of the Denver area: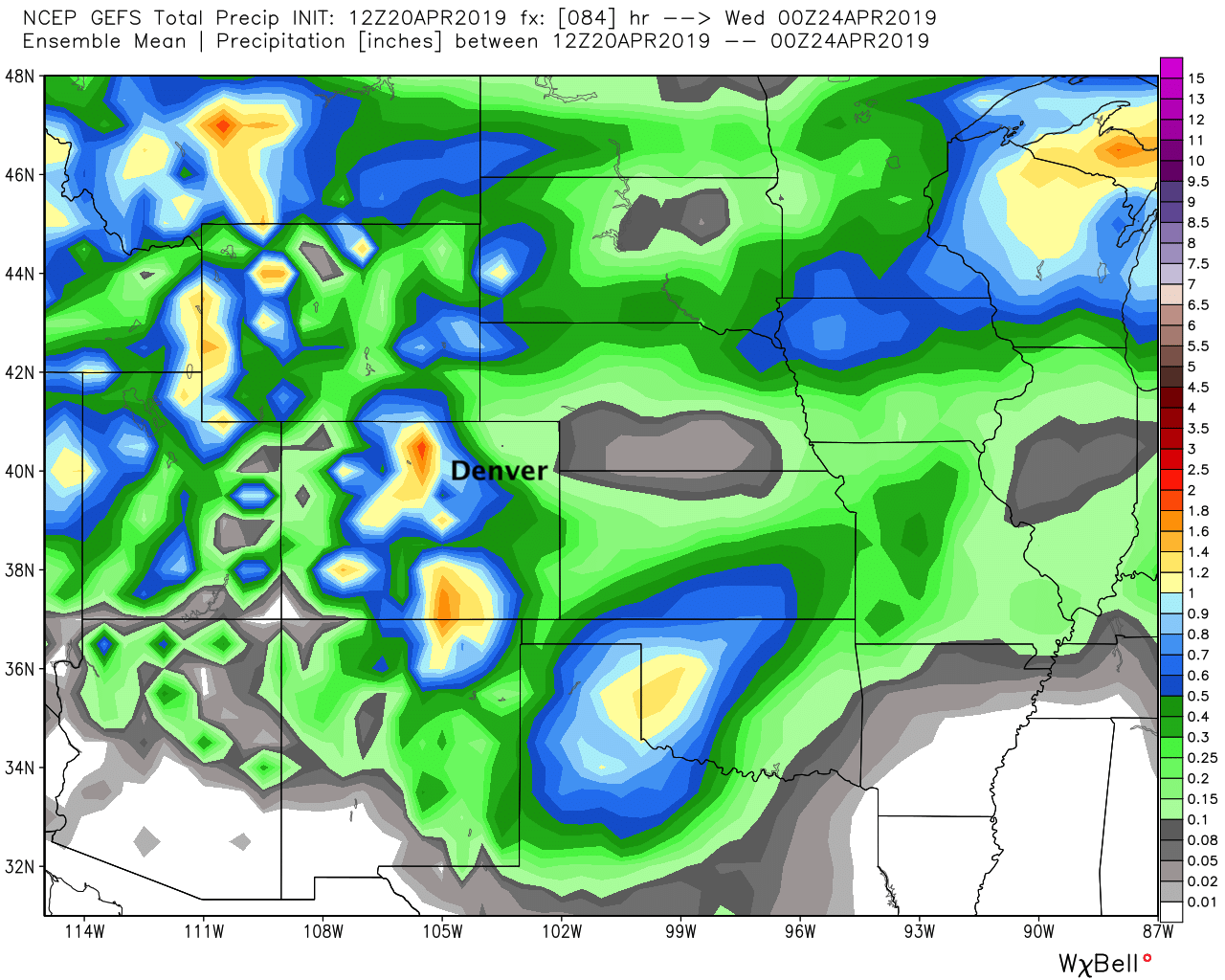 It all comes down to how winds shake out tomorrow. A bit more of an upslope component as we've seen in the GFS and a bit better (heavier) rainfall coverage for the I-25 urban corridor. Winds don't cooperate, and we see generally lower amounts. A look at the latest high-res/short term models shows pockets of heavier precipitation, with some areas seeing perhaps upwards of 1" and others seeing very little: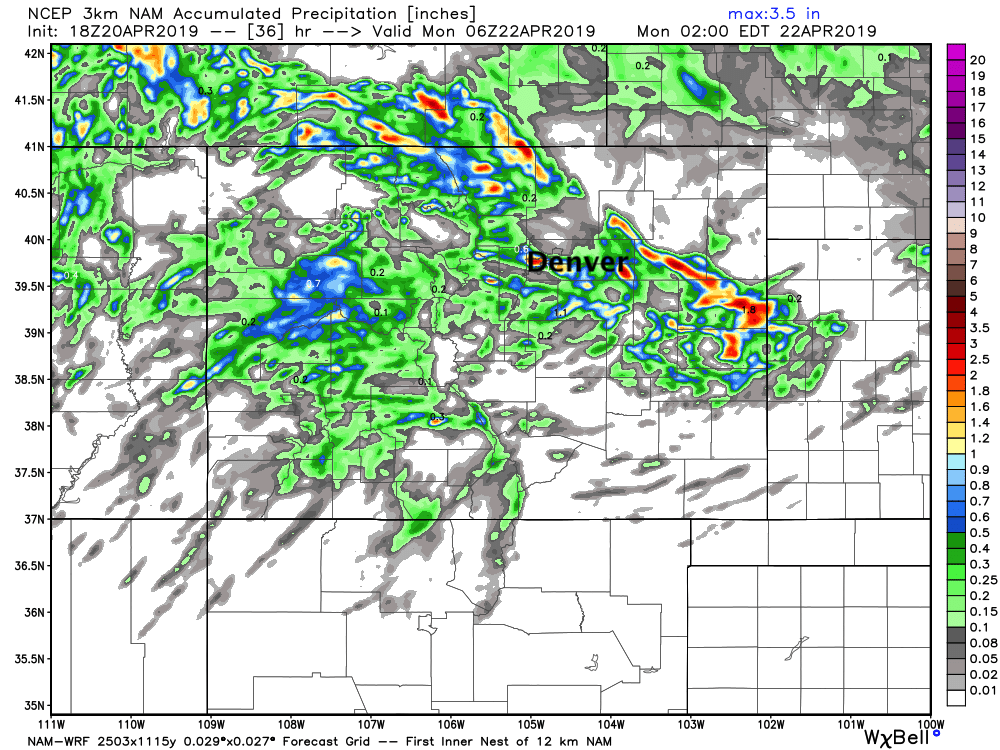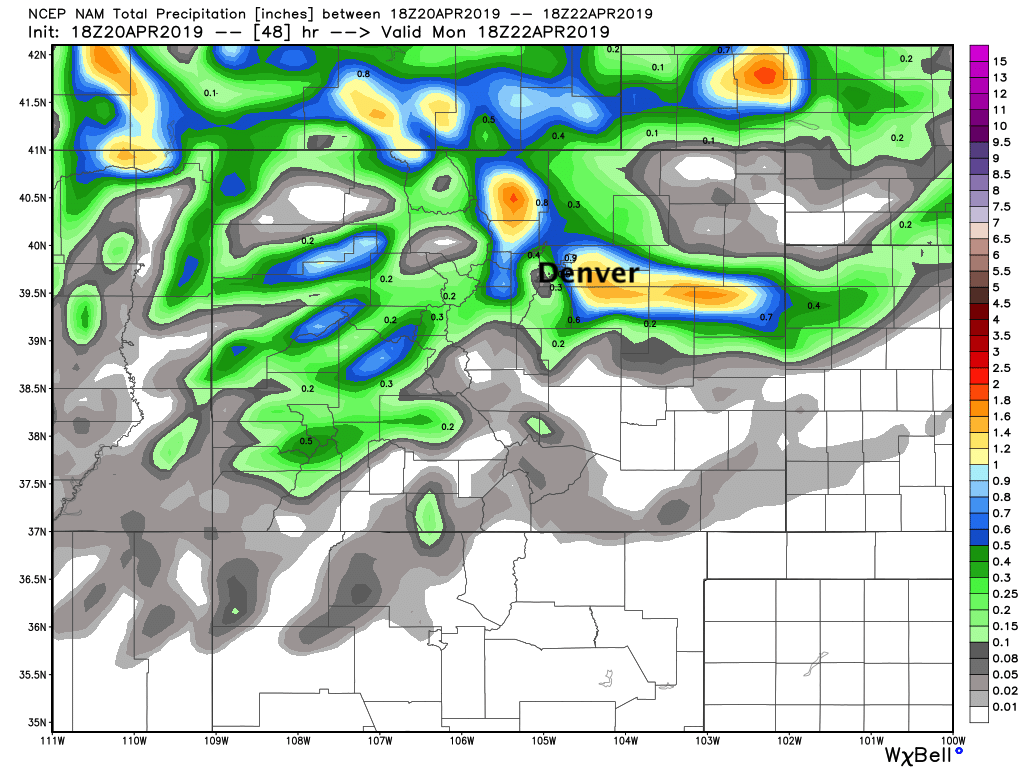 In short, the heavier showers will be hit and miss. If you end up under one (or several) you can expect a pretty soggy end to the weekend, but otherwise it'll be more of a "what rain?" kind of reaction when you wake up to cooler temperatures only on Monday. We do think most areas across Northeast Colorado see some rain to end the weekend, but totals will vary greatly –– from just a few tenths of an inch, to perhaps some areas seeing an inch or even upwards of an inch.
For snow, look for snow levels likely to stay above 6,200 to 6,600 feet or so. Where rain changes to snow Sunday night in the Front Range foothills/mountains we could see 3 - 7" or so, but the snow threat looks to stay at elevations higher than the urban corridor with this system. Lows in Denver look to be around 40 Sunday night, or perhaps into the upper 30s. So, even if we see some precipitation mix, it's not likely to amount to much. Gamblers show this too, not much of a chance of snow for the cities, and even this might be overdone: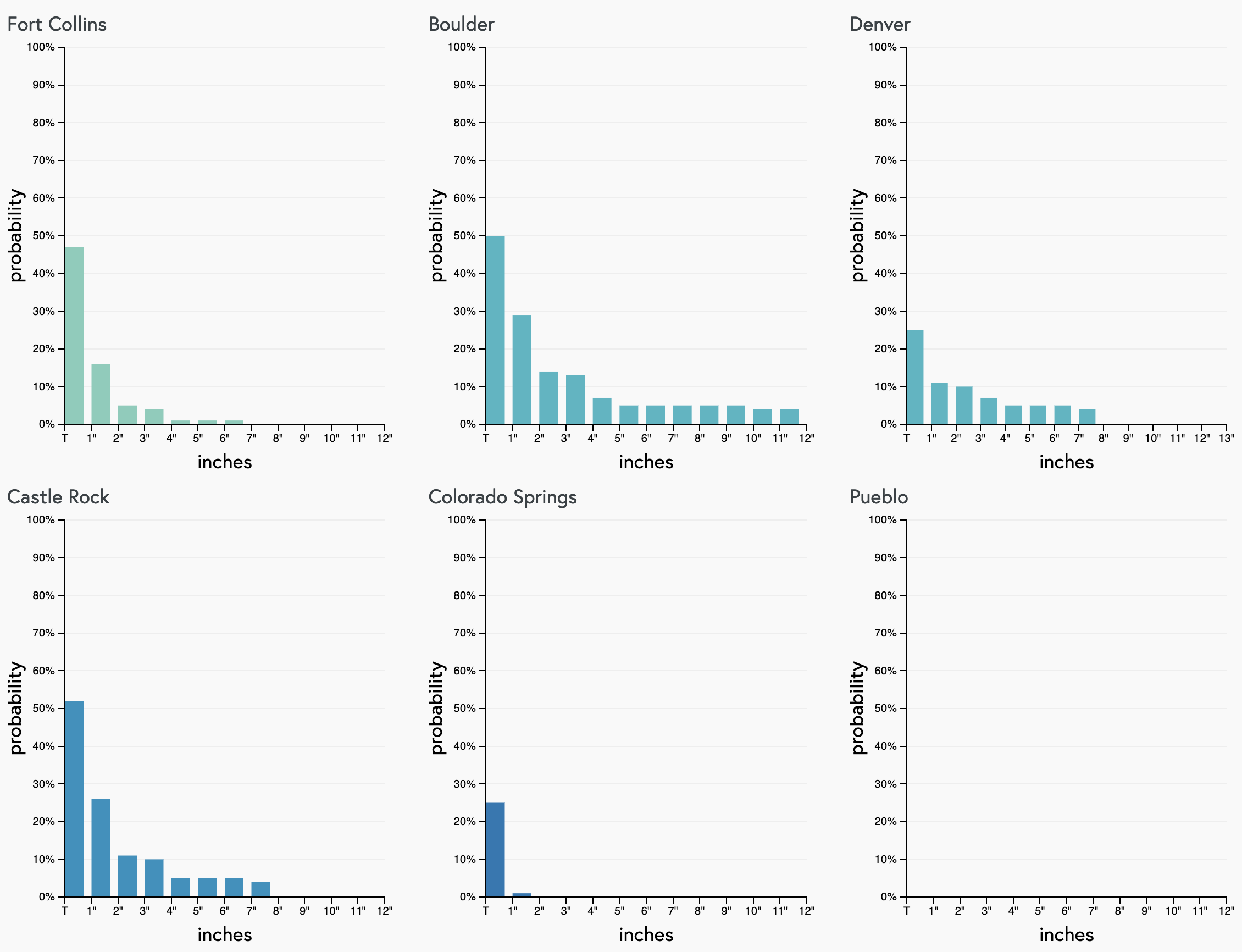 The cool down will be short-lived. Look for highs back in the 60s by Tuesday, with highs in the low 70s again by Wednesday. No SOTA tomorrow unless something changes dramatically with this system! Enjoy your weekend everyone.