Well, say it ain't snow. Denver's weather will end the week and start the weekend feeling quite summer-like, with highs in the upper 70s today, and low 70s in the forecast for both Saturday and Sunday. But later in the day Sunday our attention turns to a chilly and wet change to our weather pattern.
But first, to our storm chances today. Not great odds overall east of the mountains, but a few storms will make their way off the mountains later this afternoon and evening, and could produce locally heavy rain –– if briefly. The main threat for storms will be across the high country today, with some mountain communities standing to do quite well. For Denver, a chance of rain later (or at least gusty winds from any high-based storms that blow through), but overall another mild, pleasant day on tap.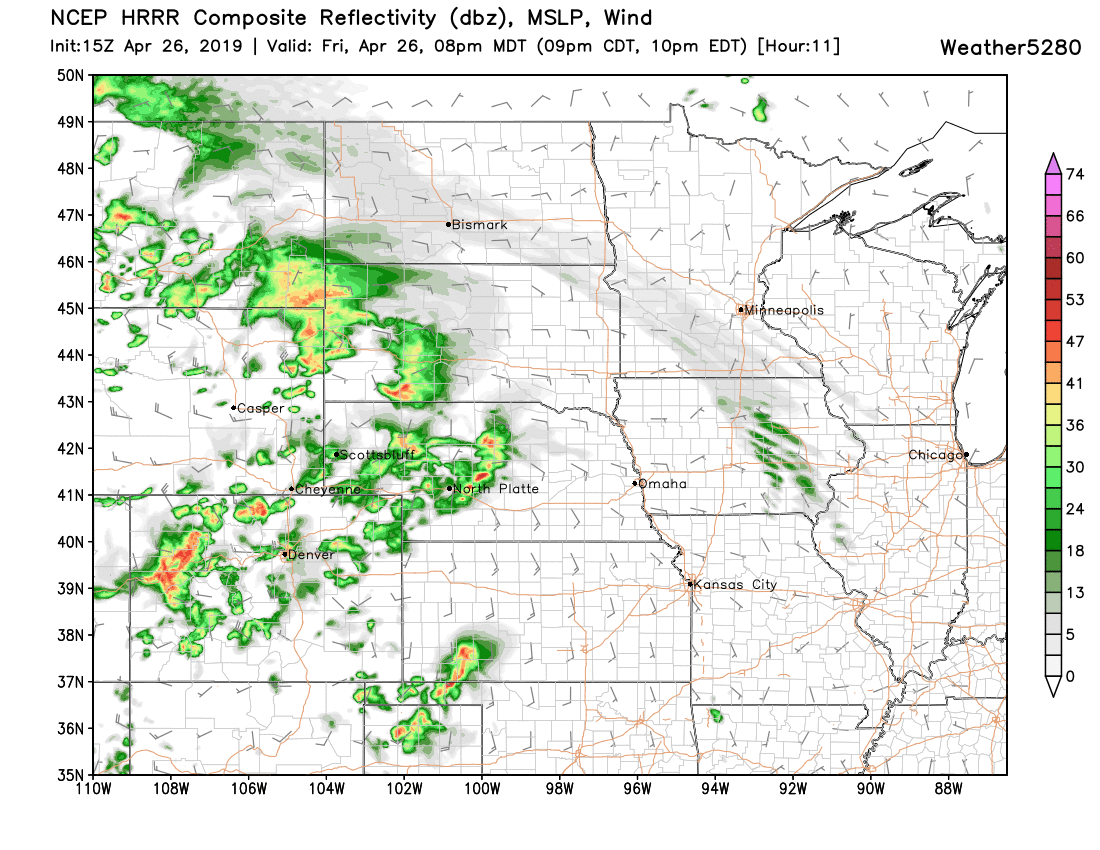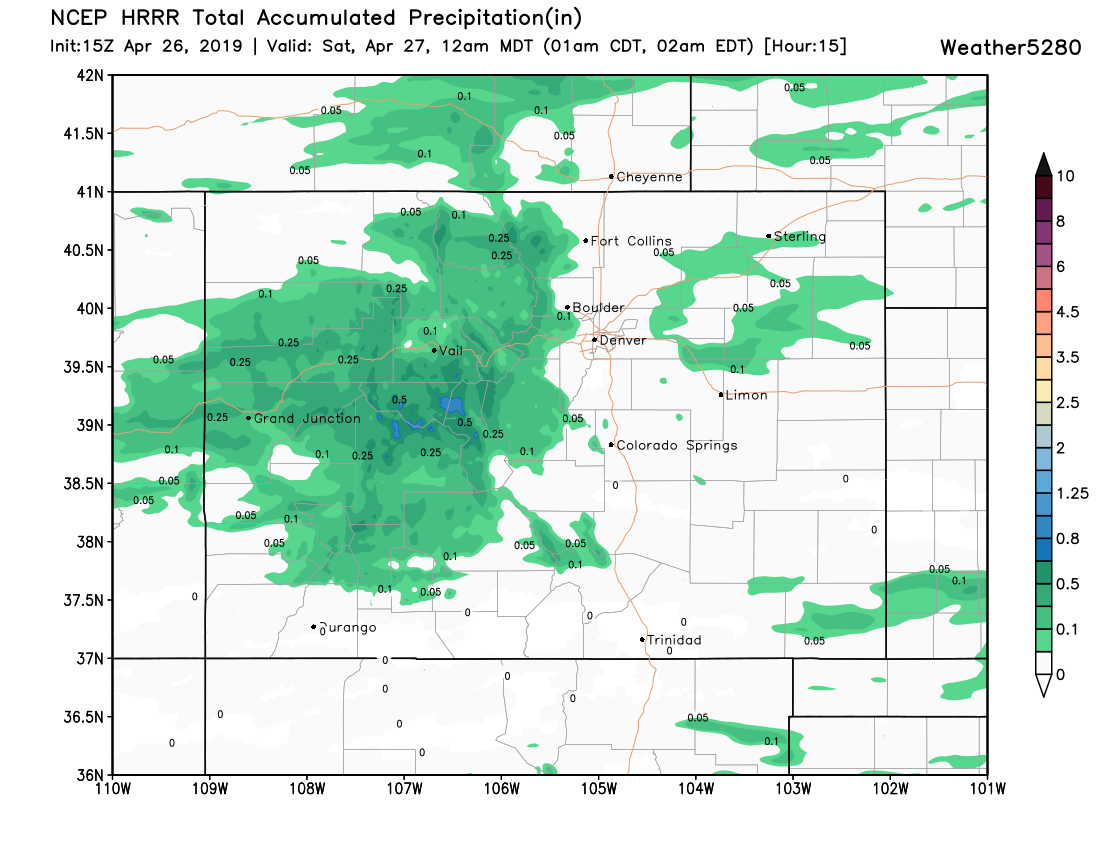 As we discussed in our latest Insider update earlier this week, the real changes to our weather arrive late in the weekend and will stick with use through early/mid next week.
If we look at the latest GEFS ensemble forecast week see pretty good agreement between each of the ensemble members that we'll see a sharp drop in temperatures to end the weekend/start next week, as well as a good chance of rain/snow. The top chart below shows the model temperature forecast, the red line is the ensemble mean. The bottom chart shows each member's 6 hour precipitation forecast. As you can see, good agreement between the members on both temperature and precipitation. Our current forecast has highs around 70F Sunday, dipping to near freezing Sunday night, and only climbing into the 40s Monday.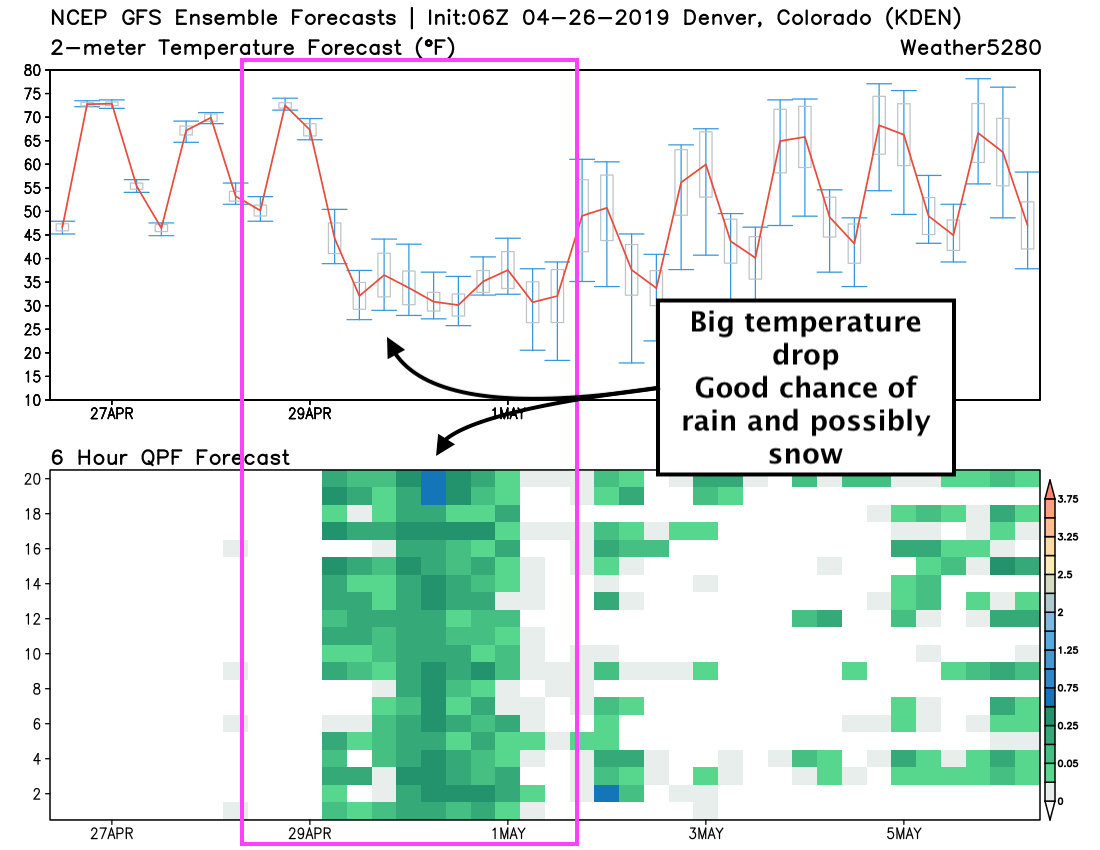 While confidence in wet weather continues to increase, how much of that falls as snow (let alone accumulating snow) is very much in question. As it stands, it looks like it'll be cold enough for some snow in Denver at times in, mainly in the Sunday night - Tuesday PM timeframe. Temperatures won't be all that cold, but cold enough for at least some mixing –– and perhaps some accumulation should things set up just right. Our gambler charts are rather bullish at the moment (below), but of course this assumes a lot of things –– like the snow actually accumulates and doesn't mostly melt/compact on contact.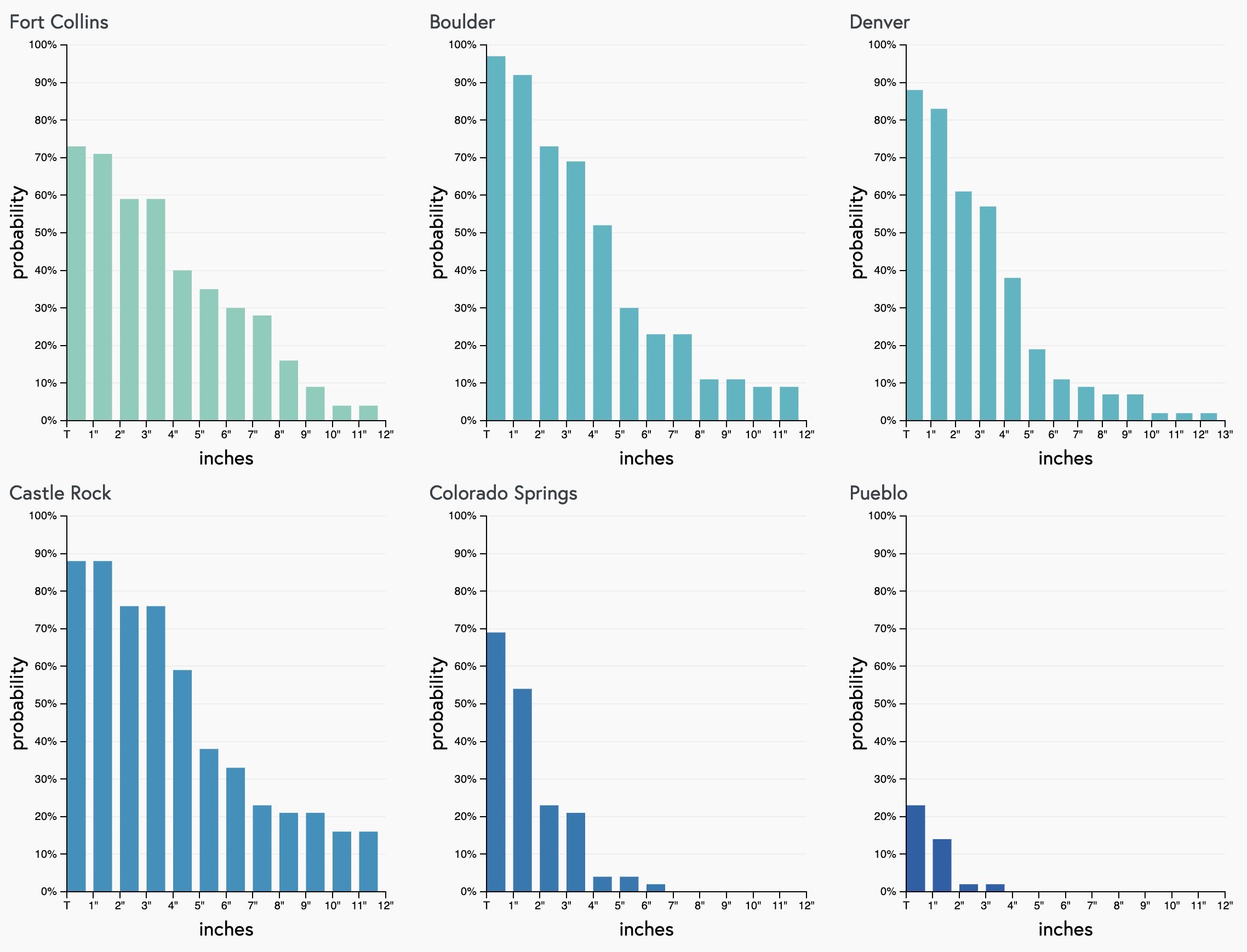 If we get a bit more granular with temperatures/precipitation probabilities actually being conducive for snow, we see a definite signal that Denver could see some snow by early week, but low probabilities overall: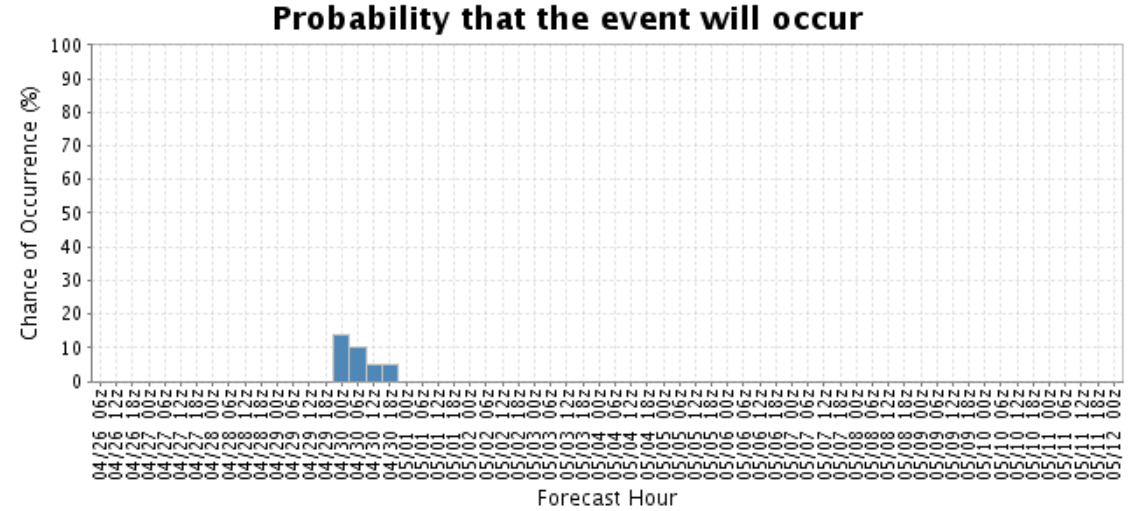 A look at the European ensemble forecasts show good moisture for much of the state through the middle of next week. It has 0.5" to 1.0" in the means along and west of I-25, with 0.3" to - 0.5" across the Eastern Plains: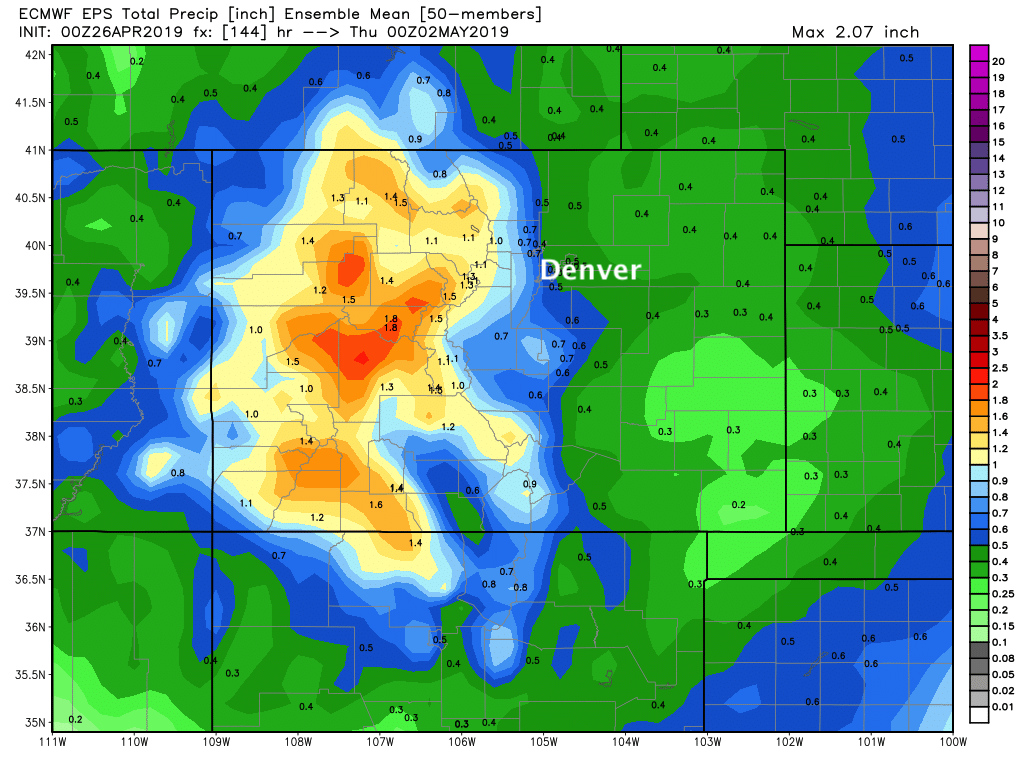 For snow, it too shows the potential. Best means are across the Western Palmer Divide south/southwest of Denver, across the Colorado high country, and perhaps a swath of heavier snow extending from points southeast of Denver into the Northeast Plains: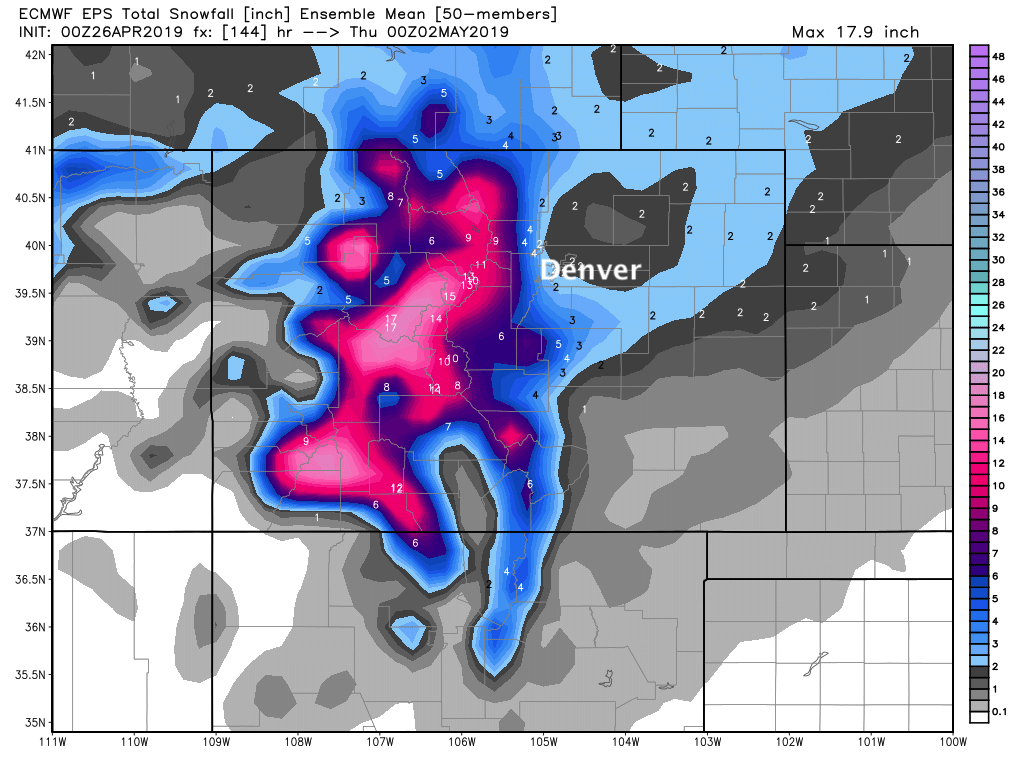 Probabilistically, the Euro shows the following (through middle next week):
Probability of precipitation 0.5" or greater:

Probability of snow accumulation 1.0" or greater:

Probability of snow accumulation 3.0" or greater: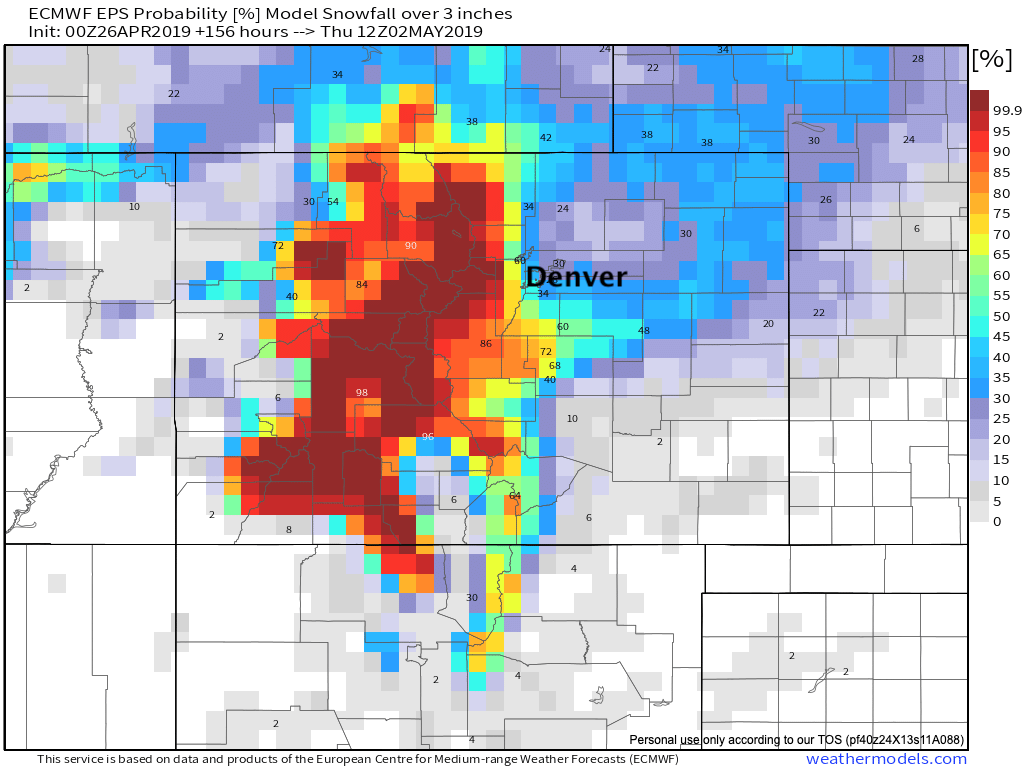 A snowier solution could mean several inches for the Denver suburbs, mainly west and south of the city. In Denver I'd put the odds on the low side right now for much accumulation, but it's not an impossibility. Elevation will likely be key here, and with that we expect more gross/chilly/wet weather for the urban corridor than significant snow.
However, our thinking might change here as we get closer to the event... so stay tuned. For now, plan on a nice start to the weekend, but plan on those changes arriving late in the weekend and early next week. Accumulating snow or not, a chilly and wet change to our weather to end April looking increasingly likely. Stay in touch this weekend.