A top 10 latest snowfall event is wrapping up as the storm system clears the state after leaving nearly two feet of snow on parts of the Palmer Divide.
For Denver, 3.4 inches puts the late season snow on the top 10 list for biggest this late in the season. The largest late-season event was in 1950 when a two-day total on the 26th and 27th came in at over 10 inches.
Compare this to the over 19 inch total from Black Forest and over 13 inch total from Monument (most in 24 hours since 2006 and 2016 respectively).
The Palmer Divide stacked up the most out of the Front Range: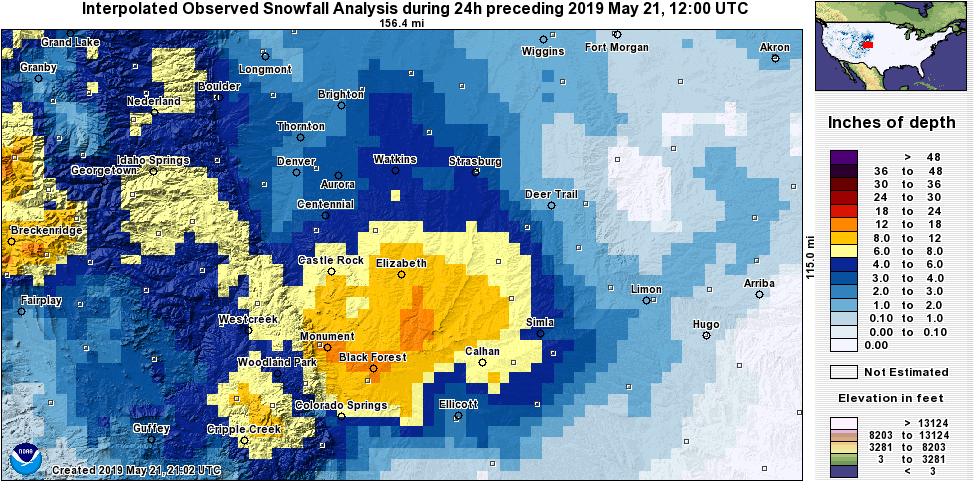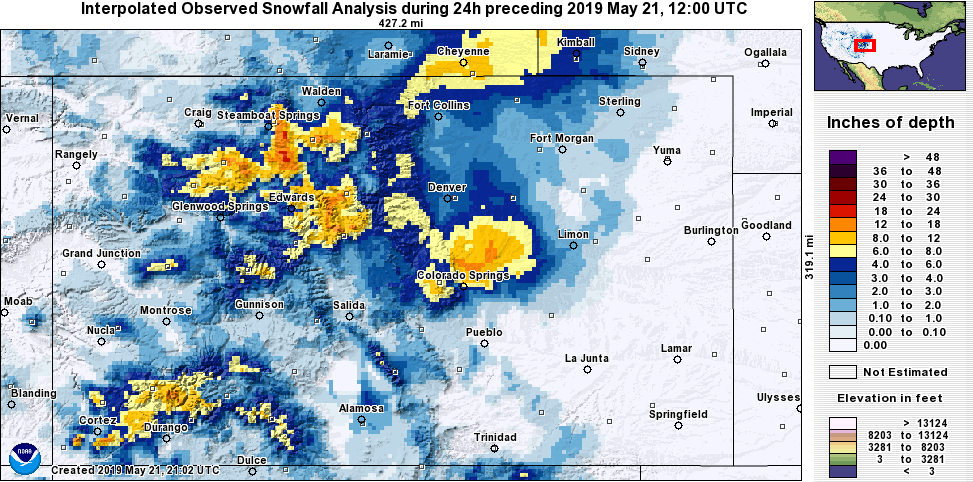 So, what created this event? We discussed the current storm cycle last week with our insiders when this storm was over the Pacific Ocean. It took a precise track to bring upslope conditions to the southern and southwestern sloping Front Range locations.
What was rather rare about this storm system wasn't necessarily the track, but the strength. Modeled as a near 980 mb low - actual surface stations on the plains measuring closer to the low 990s - the power of this system was rare for the time of year.
Ahead of the storm system was a severe weather outbreak that produced a couple of dozen tornado and hail reports Monday.
Now, flooding is a significant issue in the same locations that had the line of damaging thunderstorms. Some areas are nearing their 100-year flood probability (north central Oklahoma)
Widespread severe weather will continue over the plains and midwest as the system advances east overnight. Here are the alerts:

You may see those cold-type alerts for Colorado, well...
Back at home, a cold night expected. Tuesday started with a record low (31 tied 2001/1931) and finished with a record lowest high temperature (38 today versus 40 degrees in 1891).
Freeze warnings are in place tonight as we are likely to set additional records (Denver's existing record is 32 from 1930).
Zooming that national map down to NE and SE Colorado for you.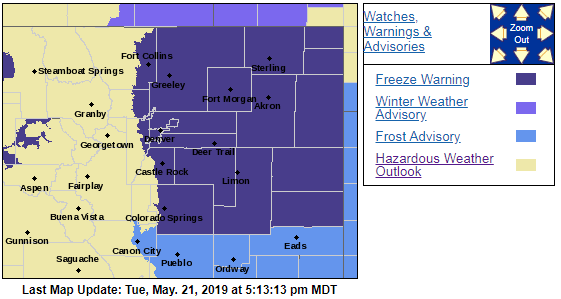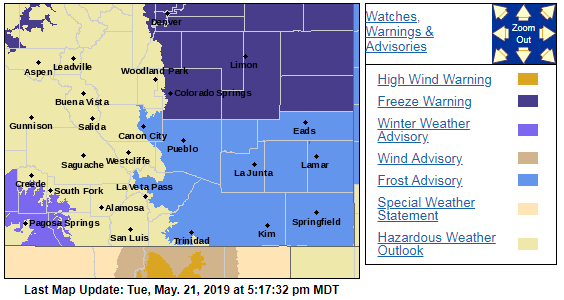 After tonight, two unsettled days remain for Wednesday and Thursday; Off and on showers with temperatures in the 40s to 50s for highs in the metro areas.
Sunshine and 70s? Sounds good, we'll send that your way for Friday and the weekend. We'll have more of a Memorial Day outlook coming later this week.