Matt Makens is a member of the Pinpoint Weather Team. He presents forecasts nightly on Channel 2.
---
"I remember it used to snow all the time in September!" Perhaps you have thought the same? Let's check that hypothesis and give some context to September's snowfall history for the Front Range.
At the surface, this memory isn't all that wrong.
Let's dig deeper.
I'll begin by showing you the September snowfall totals going back in Denver's history. I'll be using the 'Denver Area' climate group for this which covers four locations: Downtown Denver (in two locations), Denver-Stapleton, and Denver-DIA. I'll put similar charts for Colorado Springs, Boulder, and Fort Collins in a figures section below.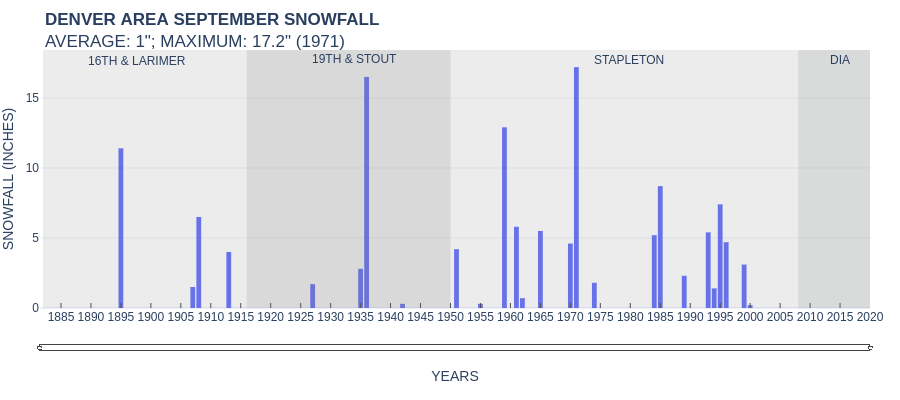 Based on that data, Denver hasn't seen more than a trace of snow in September since 2000 when 0.2" of snow fell on the city. You have to go back to 1999 to find the last snowfall total of more than 1" for the month in the city.
Is this recent snow-less trend unusual? As you look at this chart you'll see a number of consecutive years with no measurable snowfall. There are a couple of instances of snowless Septembers of longer than a decade (13 and 14 years), however, our recent 19-year lack of measurable September snowfall is the longest on record. In all, 26 out of 138 Septembers have had measurable snow –– that's not often.
There are some pretty impressive snowfall totals on record for the city. While most early-season snowfalls don't amount to much (1" is the month's longterm average), the month has seen as much as 17.2" of snow.
The greatest 24-hour snowfall event coming in 1936, when 16.5" fell on the city.
Back to that opening memory: Like most topics involving weather, our perceptions are skewed by our age; Namely, Generation X may remember September as much snowier when we were young as I certainly do.
I should note, there is no discernible trend of statistical significance in September average snowfall amount or in the number of days of snowfall.
Before you ask, no we don't see snowfall on the horizon for the metro areas just yet, however, there is likely to be snow in the mountains on/near the 15th of September.
Figures, like above, for Colorado Springs, Boulder, and Fort Collins: