Well... well... wellllll..........
This week is looking to be one of the more interesting weather weeks we've had around here in a long, long time. As we discussed on Weather5820 Insider last week, much of Eastern Colorado stands to see its first hard freeze of the season by the latter half of the week, as well as the first flakes of the season for many as well.
The biggest story of this event looks to be the rather dramatic shot of cold air we're expecting to push into the state Wednesday night into Thursday and Friday. Right now, modeling is colder than we currently are in our forecast, but should data remain consistent, look for our overnight lows to continue to drop as we head into the week for Thursday and Friday mornings.
This will be the coldest air of the season for not only the urban corridor, but surrounding Plains states as well. Preparation for the cold should be well underway now.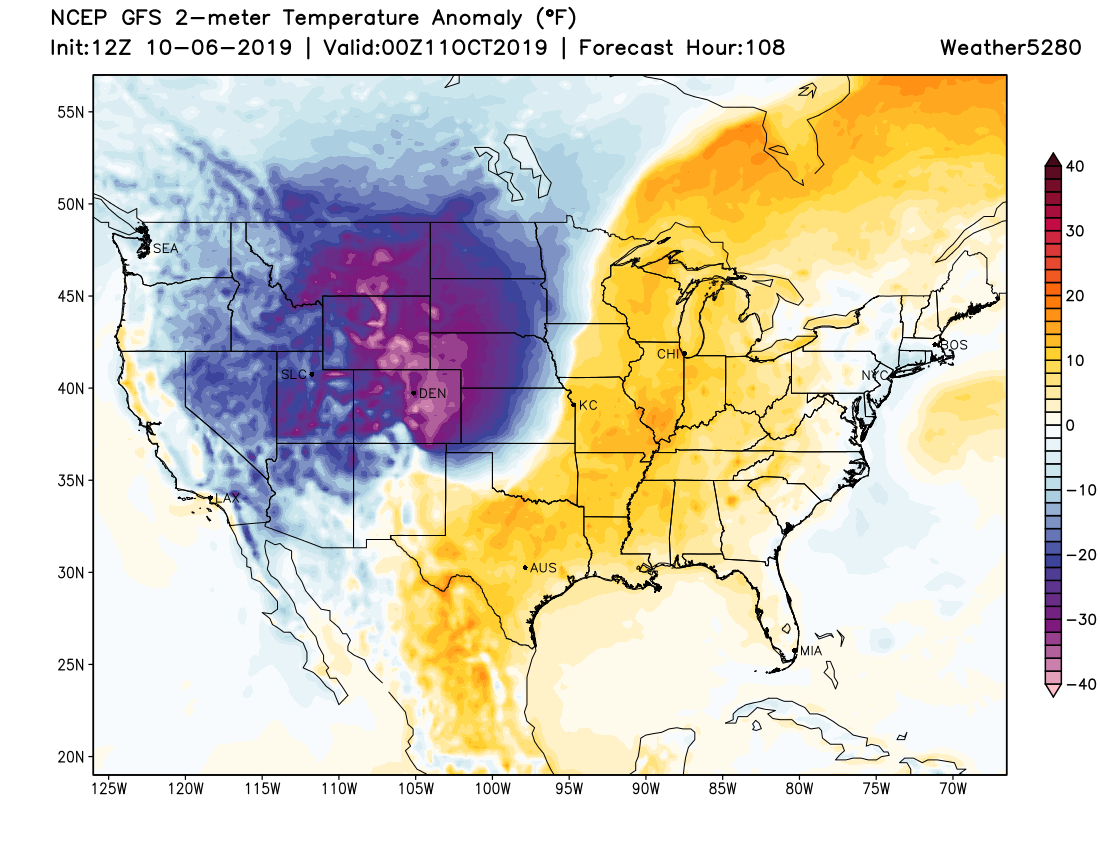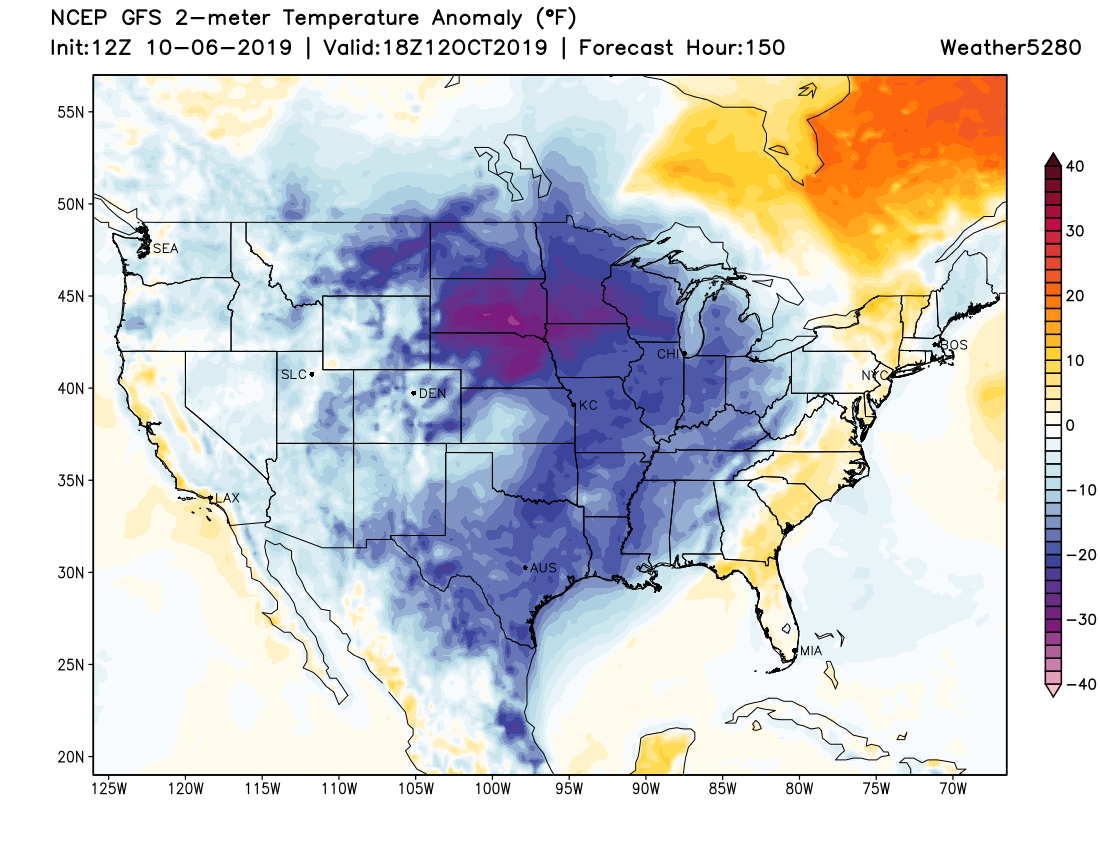 Latest GFS MOS guidance shows a high of 81°F on Wednesday and a low of just 17°F by Friday morning in Denver. Pretty remarkable –– and, well supported by other modeling for the end of the week, plus or minus a few degrees in each direction: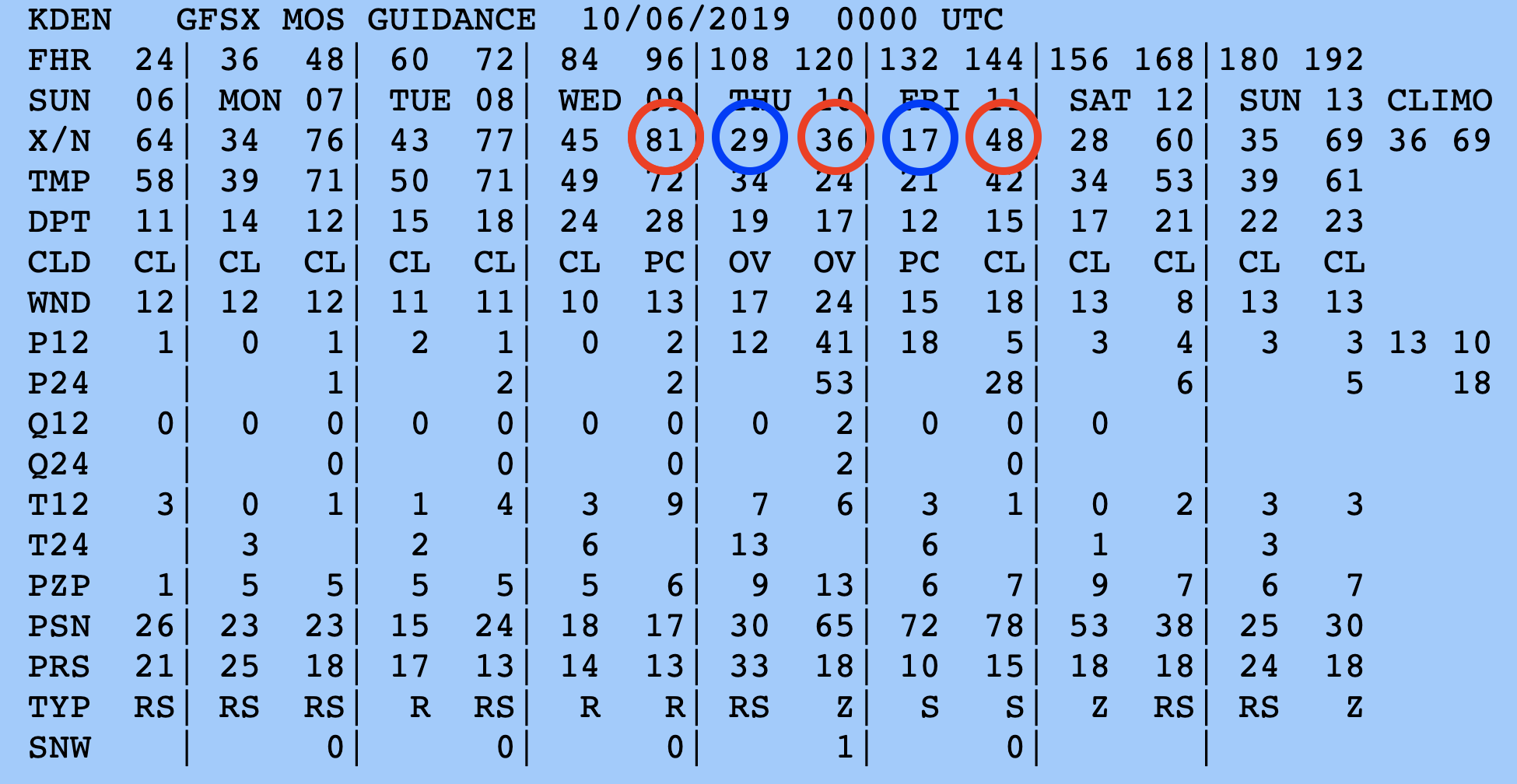 Needless to say, the modeling could be off by many degrees with that low on Friday and we'd still be looking at our first hard freeze of the season, so now is the time to do some winterizing with a few mild days still ahead of us.
I for one am hoping the cold is overdone, as fronts like this before really any cold air has made an appearance in the fall can be absolutely awful for our urban forest, just recall the front a few years ago. That said, rooting for a tamer front at this moment isn't looking like it's doing much good. The European ensemble mean temperature forecast has a low of 19°F on Friday morning in Denver. So, from Wednesday after to Thursday its forecasting a 44°F drop in temperature, and between Wednesday afternoon and Friday morning a 60°F drop in temperature!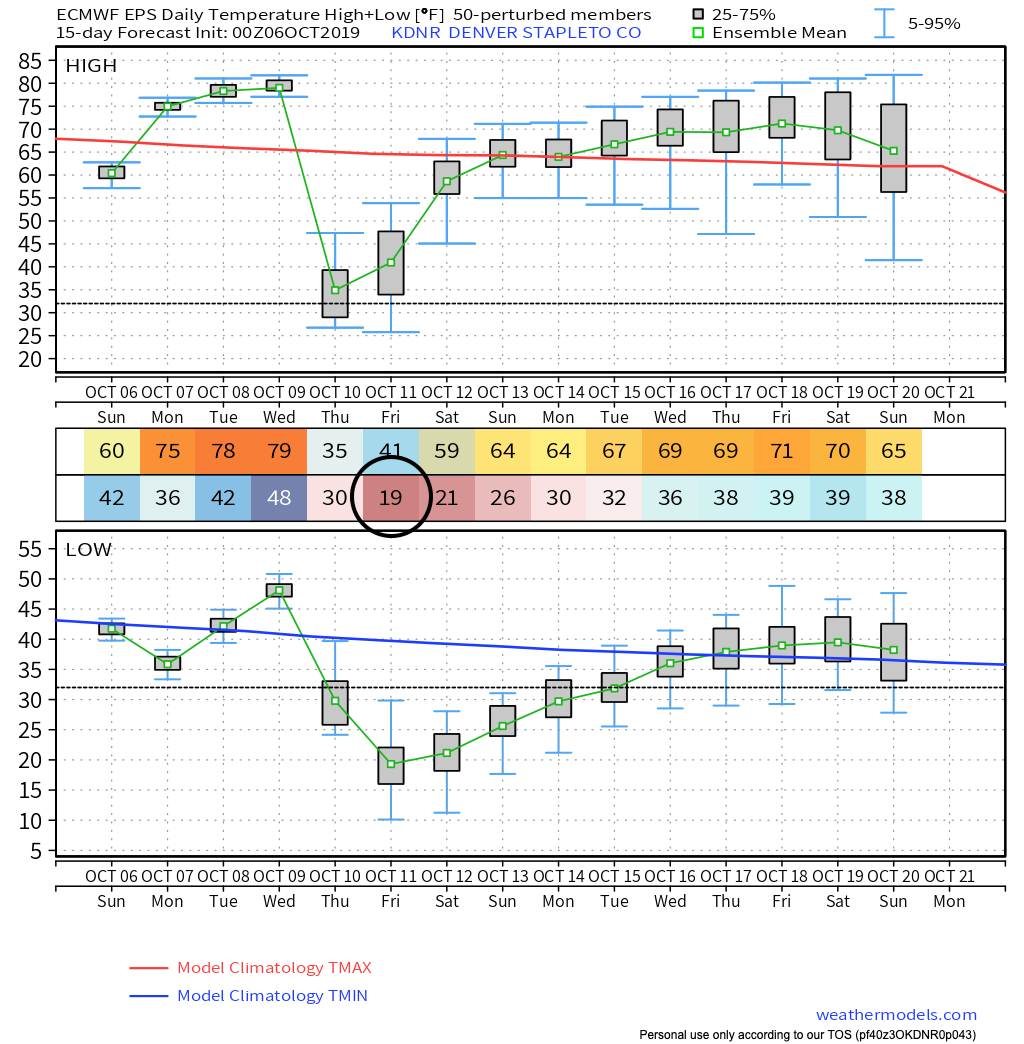 A look at the GEFS shows a similar dramatic end to the week. Again, highs near 80 on Wednesday before the bottom falls out. A few members showing low teens by Friday, the mean somewhere around 20°F, like the Euro.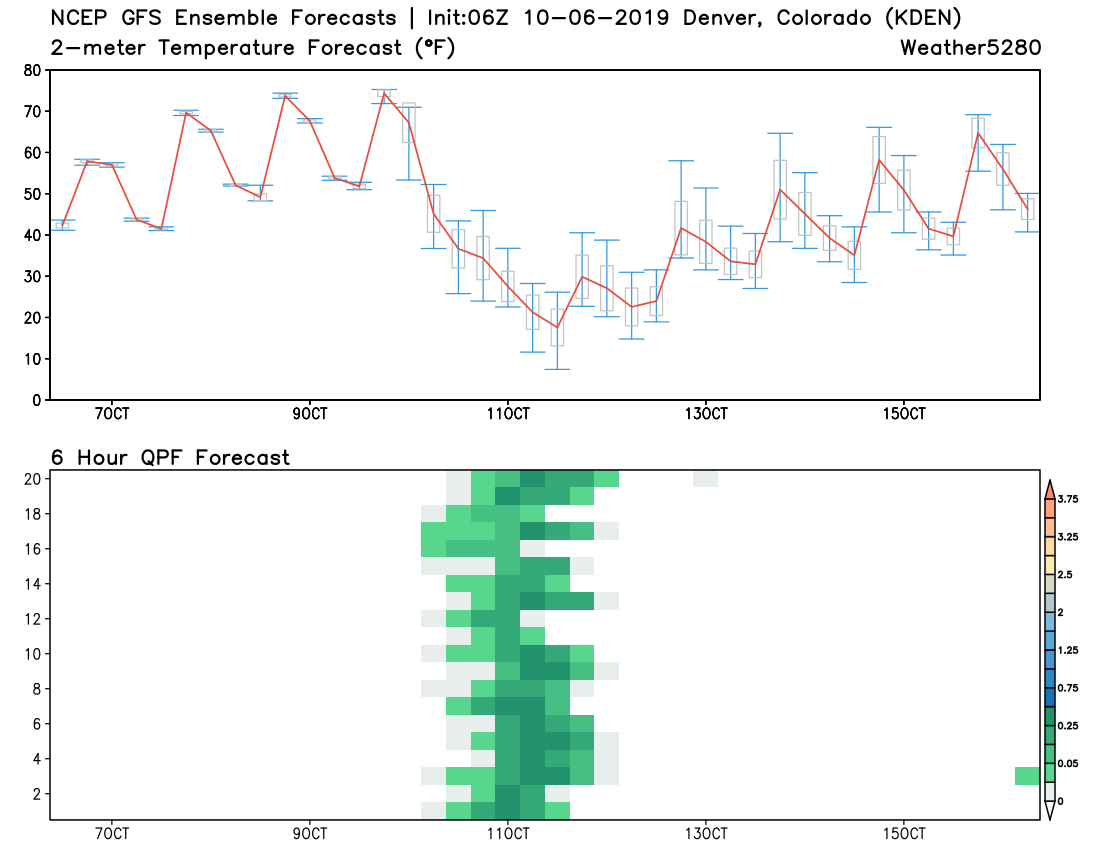 For Colorado Springs, a similar story: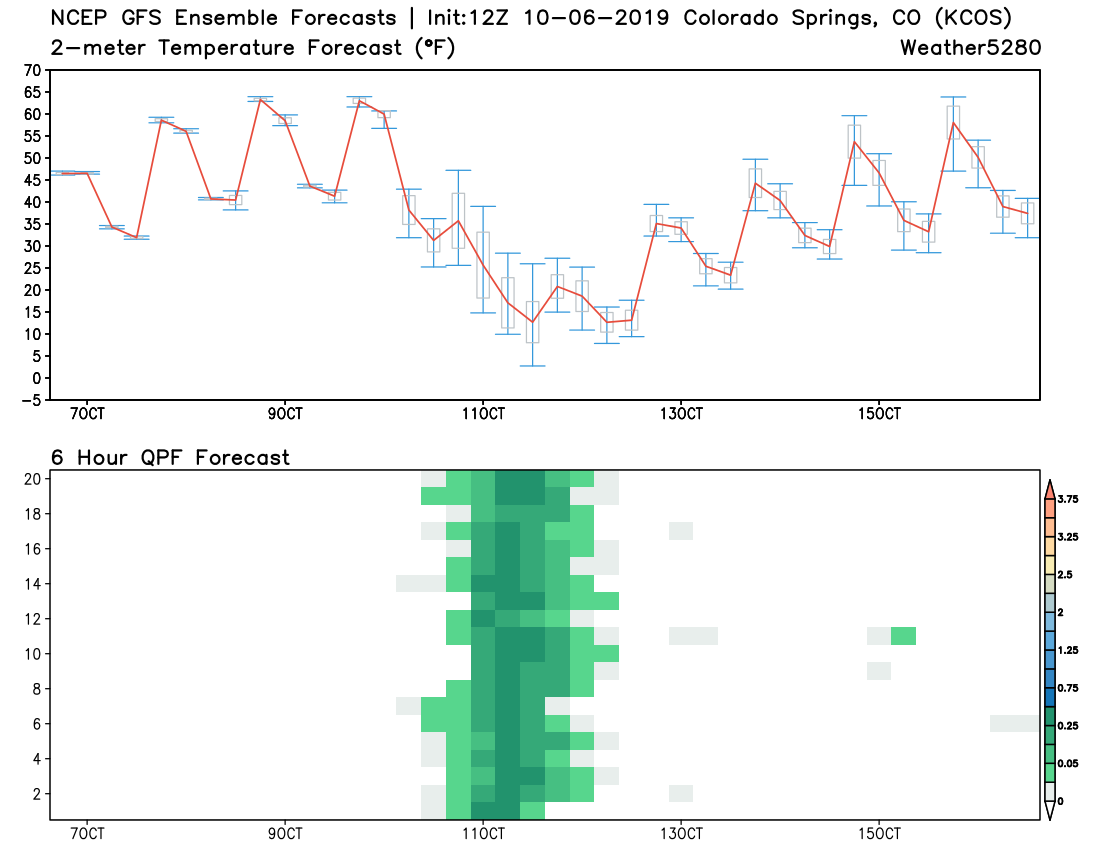 The long and the short of it is... Virtually all data as of today supports a bitter cold end to the week. If guidance holds steady, it may even be record-cold. The current record low for October 11th is 22°F, set back in 1946. Will we manage to break that record? Sort of feels like an impossibility, but we shall see.
Snow?
The bottom chart in the graphic above shows precipitation forecasts for each of the GEFS ensemble members. Each square represents a 6 hour period. The darker the green the more precipitation forecast for that period by that particular member.
As you can see, good agreement between all the members that Denver will see some precipitation later this week. If you match it up with the chart above, it's easy to see that if correct, some of that would certainly be in the form of snow.
First Snowfall Prediction Contest: Enter here!
Operational models haven't been all that bullish on snow up until yesterday or so. But now we see some accumulation along the urban corridor from both the GFS and European models. We know cold air won't be the issue, but instead how much moisture and eventual track and strength of the low.
At 500mb, the GFS is now digging the trough further south and west as it swings through the state on Thursday. This would be more supportive for snow along the Front Range: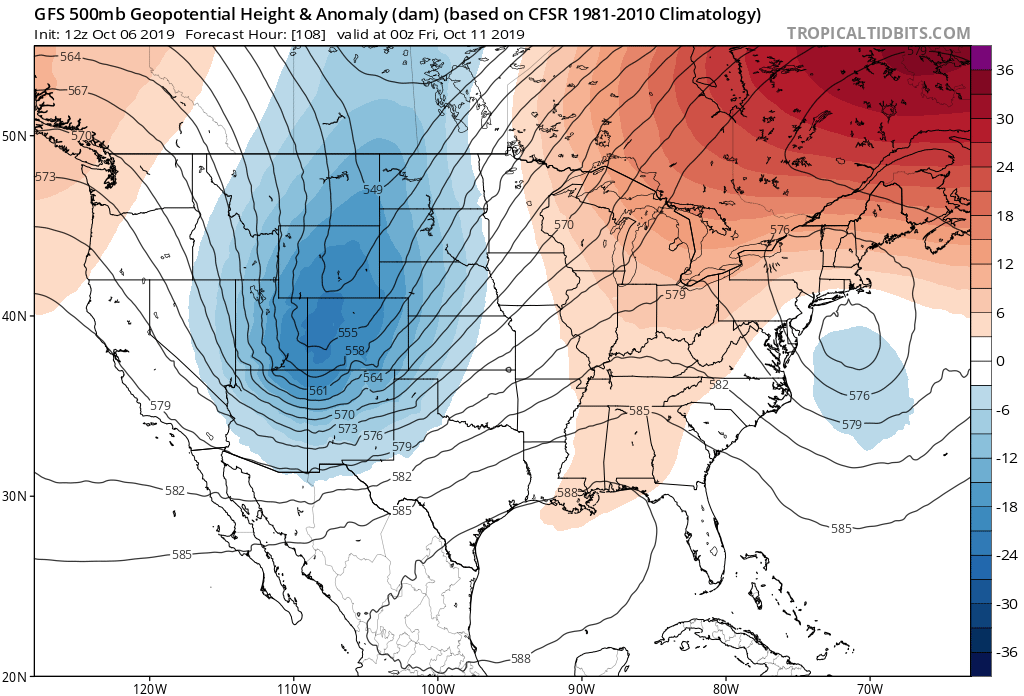 Which we see reflected at the surface: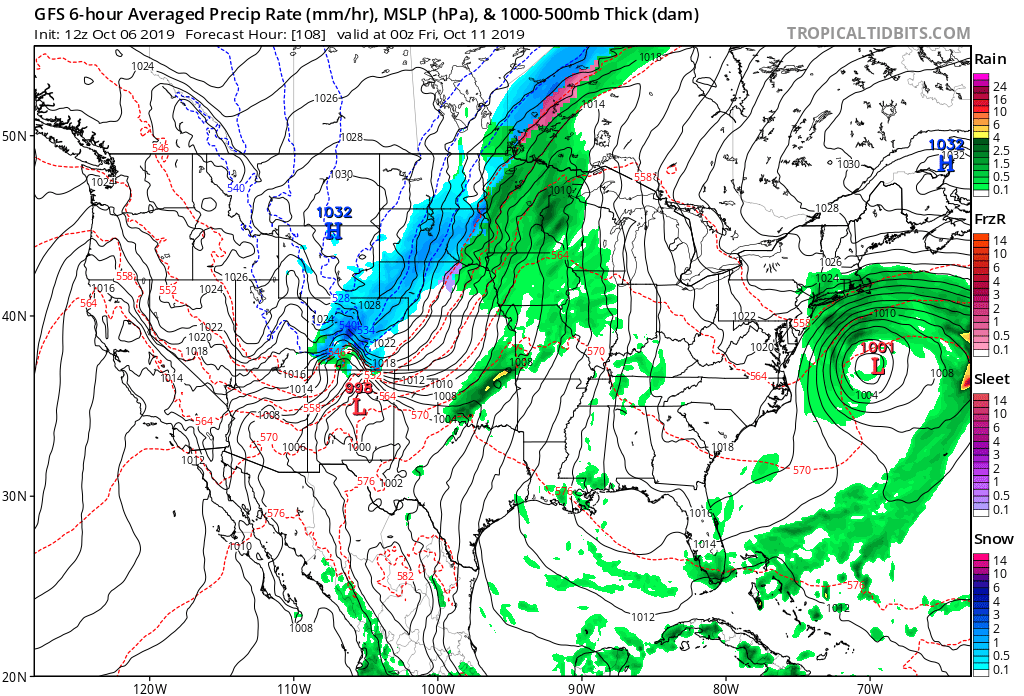 We see a similar trend from the European. If we look at the least for runs for its 500mb forecast for Thursday evening, we see the trough (blues) trending south and west from its forecast issued back on Thursday vs last night –– a deeper, slower trough, with a better track for snow across Eastern Colorado...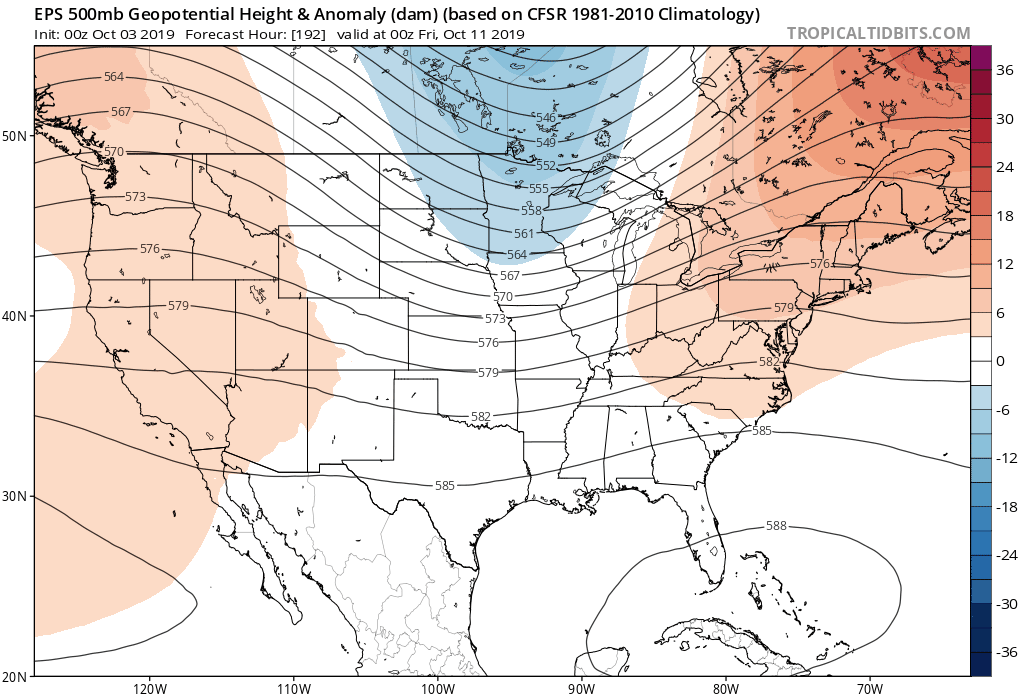 It's too soon to get into details on how much snow is possible as plenty will change between now and Thursday. Just know the chance for an accumulating snow is there, and at the moment anyway is trending more likely. For our Insiders, we've fired up the snowfall gambler charts, so you can track probabilities for various Front Range cities over the coming days there.
For now, here's a high-level look from the European model. Look for good odds at seeing accumulating snow across the Northern High plains late this week. Across Northeast Colorado it's showing good odds of 1" of snow or more: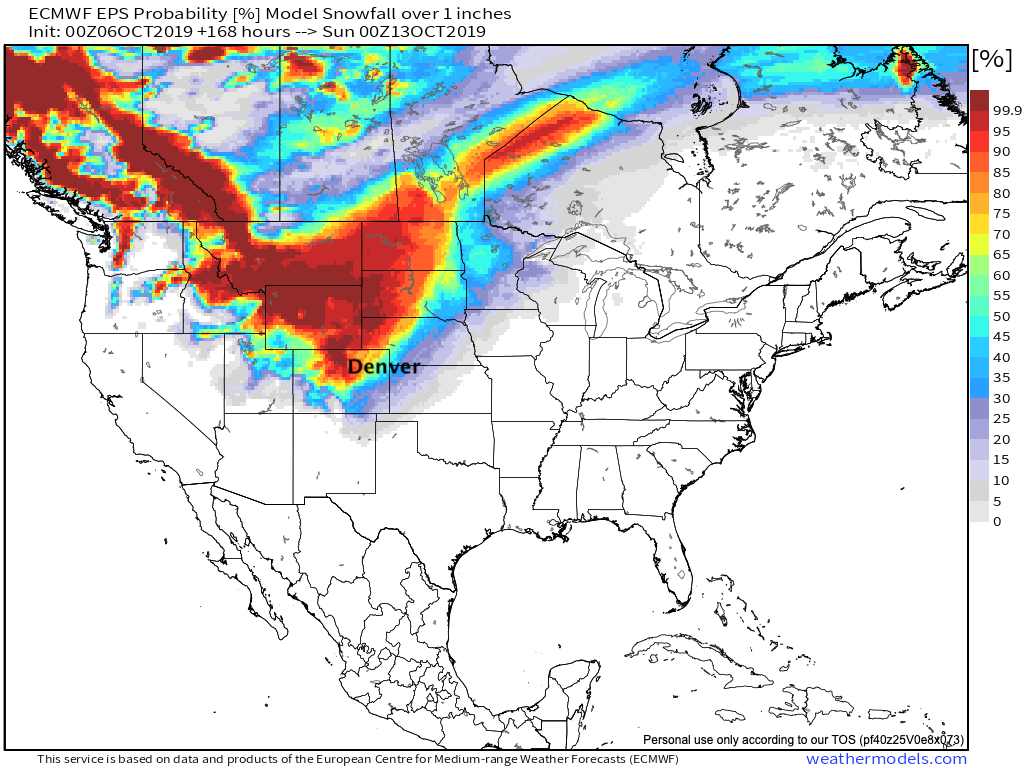 With lesser odds for 3" of snow or more: