Big changes remain on track for the second half of the week, with a blast of winter weather headed for Colorado Wednesday into Thursday.
Latest GFS MOS guidance has a high of 80°F on Wednesday afternoon and a low of 14°F by Friday morning in Denver. That's a 66°F drop in temperature to end your work week!
Our current forecast is a degree or two cooler for Wednesday's high, and a degree or two warmer for Friday's low, but the impact remains the same. This will be a big shock to the system, and please, do some winterizing before the cold arrives Wednesday night. While irrigation underground should be ok with this system, any exposed pipes will freeze, and of course with any snow that does fall we'll likely see some tree damage as most trees remain fully leafed along the Front Range this week.
While we aren't expecting a huge snow, we are expecting some snow. This will lead to slick conditions on the roadways for the first time this season, which usually equates to an extra slow go as folks dust off their winter driving technique. Right now the best chance of snow looks to come during the day Thursday, but some rain and snow showers across Eastern Colorado cannot be ruled out as early as Wednesday evening –– especially to the north. The Thursday PM commute at this time looks to be in the most jeopardy of being impacted by weather, with the Friday morning commute also being at risk for slick spots depending on how much snow ultimately falls. If things move just a little quicker, that list could grow to include the Thursday morning commute as well, especially across the northern portions of the state.
The current hourly outlook shows Denver's high coming just after midnight on Thursday, with temperature falling to near freezing for most of the day. By Thursday evening temperatures will fall into the low 20s, before bottoming out in the teens Friday morning: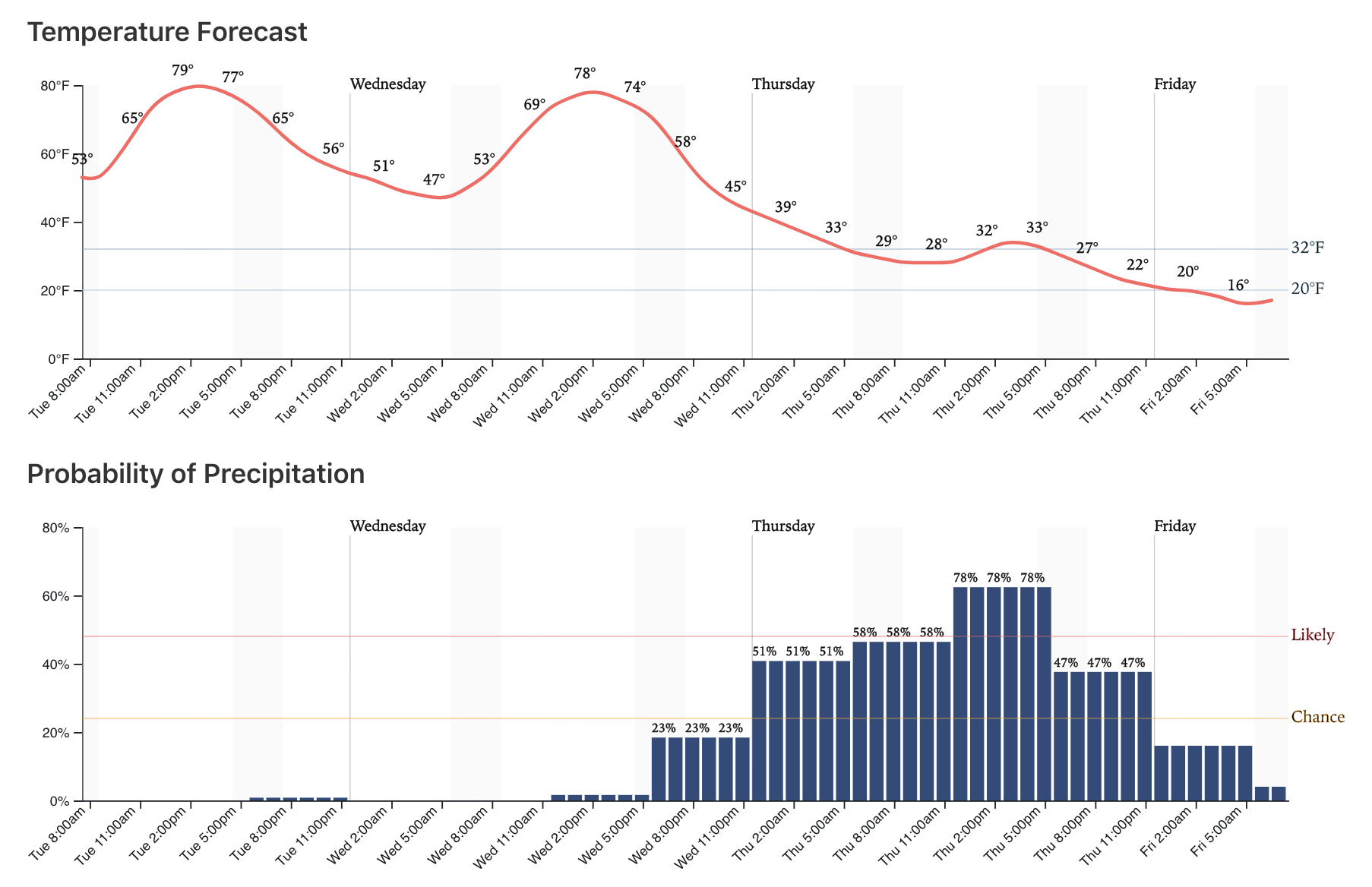 For Fort Collins we see the cold air arrive a bit earlier, with your high Wednesday coming early in the afternoon before really feeling the front Wednesday evening. Precipitation chances for the Fort are higher Wednesday evening, so certainly some rain and snow showers possible overnight Wednesday: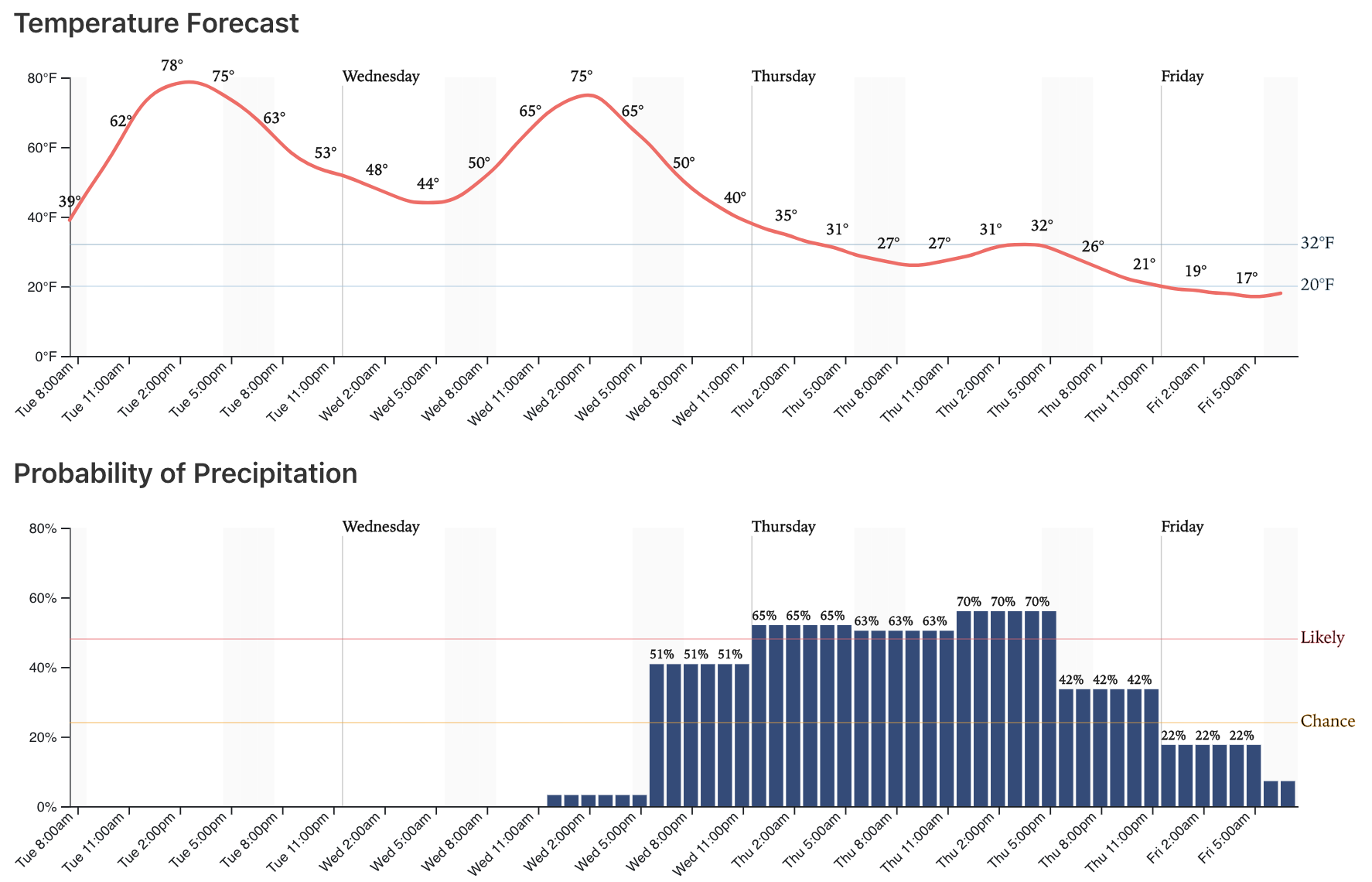 And finally, for Colorado Springs a similar outlook, though perhaps a touch warmer during the day Thursday compared to locations north of the Palmer, but again bottoming out in the teens Friday morning: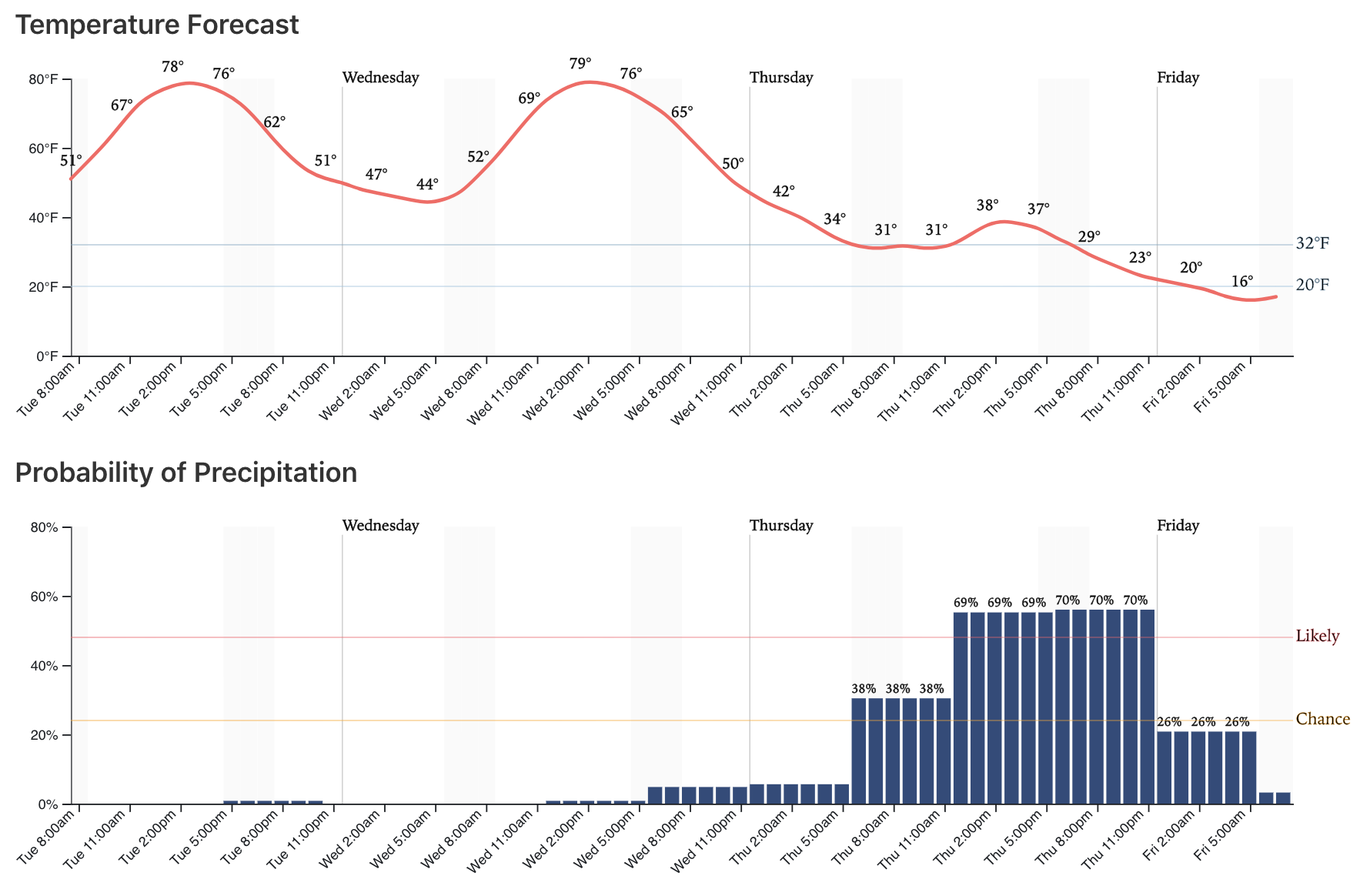 As for how much snow we're likely to see across Eastern Colorado? Well, for many locations not a whole lot. We're certainly sold on the COLD with this system, but moisture availability will likely be an issue.
We're thinking most locations along the urban corridor end up in the Trace to 3" range, perhaps 1 - 4" range. I don't hate the idea of a few places, like Boulder/Estes Park ultimately ending up in the 3 - 6" range... but we'll keep an eye on things and see how everything trends today and tomorrow. For many, the big story will be the cold, but given it's the first snow of the season –– even a few inches will be impactful. Also, importantly, given how warm the ground is and that much of the snow may fall during daylight hours on Thursday what falls vs what sticks/accumulates may be different. Granted we're working with some impressive cold air for this time of year, but depending on timing of snow with the coldest of the air, we'll likely see a fair amount of melting –– which of course would hurt higher end totals.
For our gamblers, we see greatest probabilities in the Trace - 4" range for northern Colorado. South of the Palmer those odds go down, with COS likely ending up in the 0 - 2" range, and even less so for Pueblo.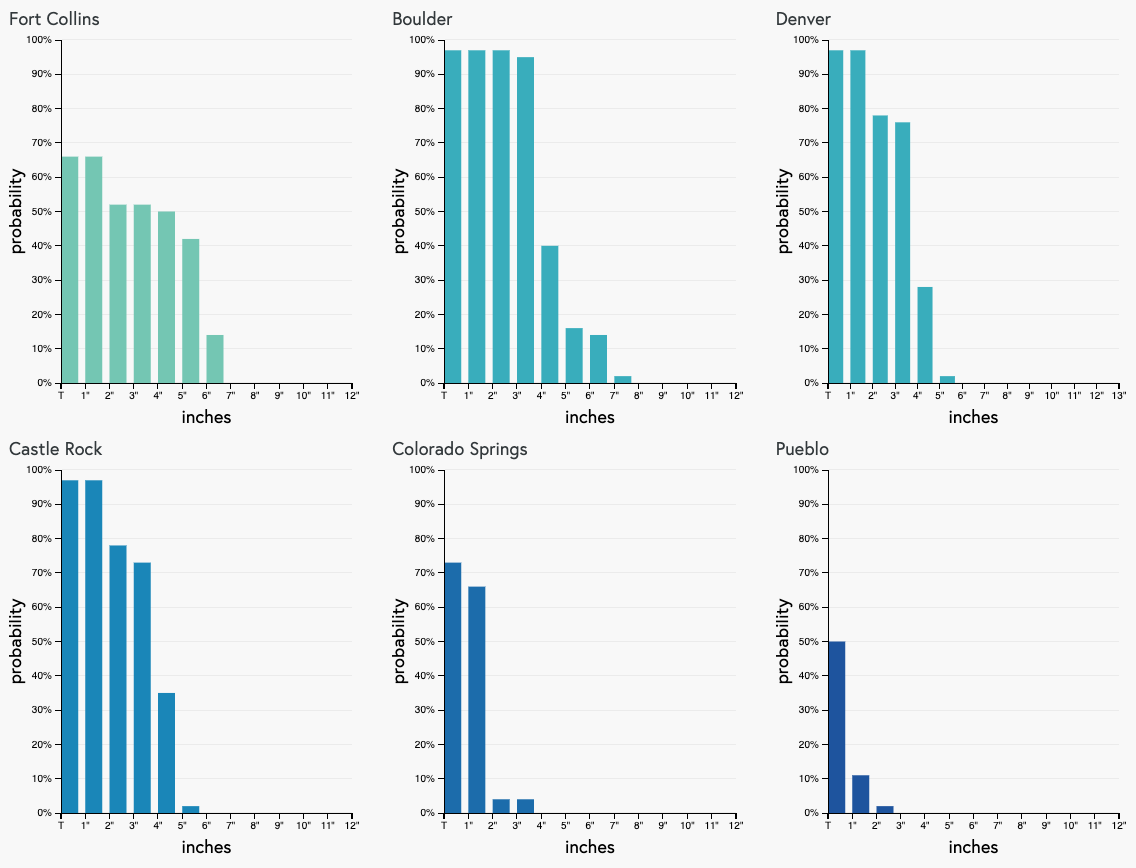 We expect totals to end up somewhere between the two maps below. Low end totals from a Trace - 3" for the urban corridor (top map), with high end potential in the 2 - 5" range (bottom map). In both cases, a good early season snow for the Front Range mountains, and likely many of the Foothill communities as well: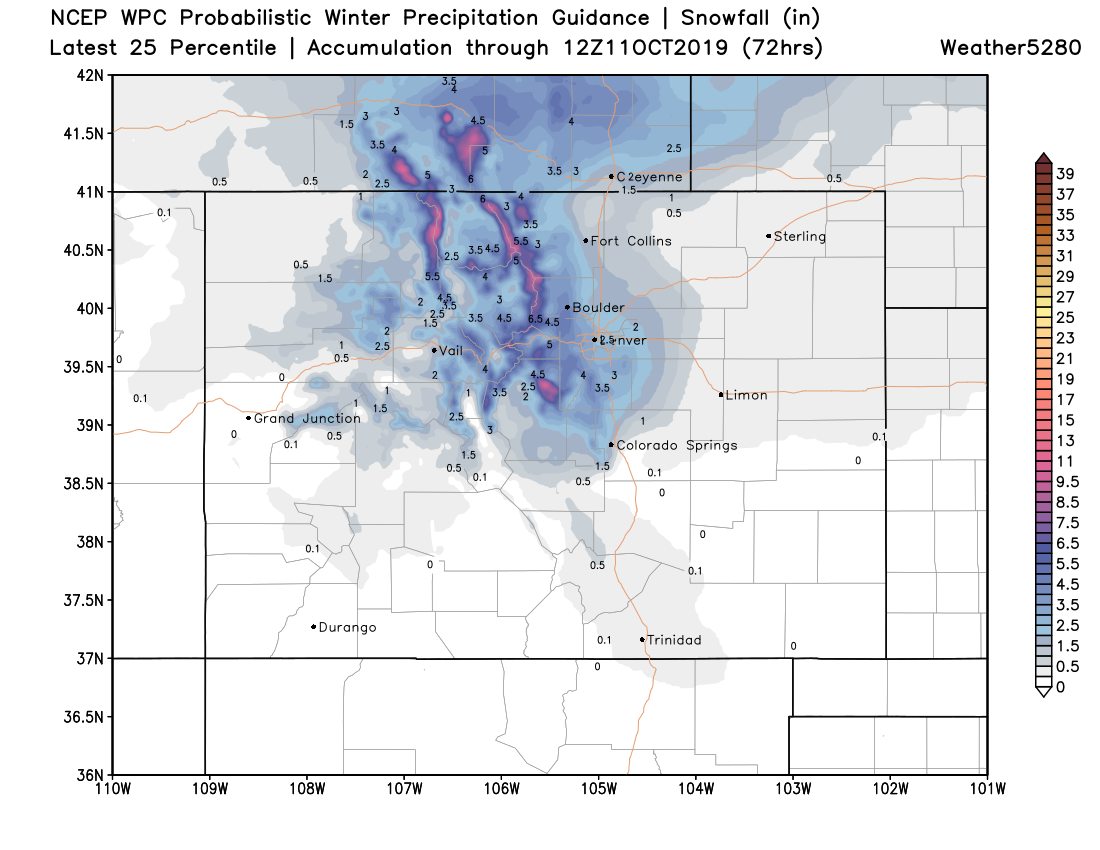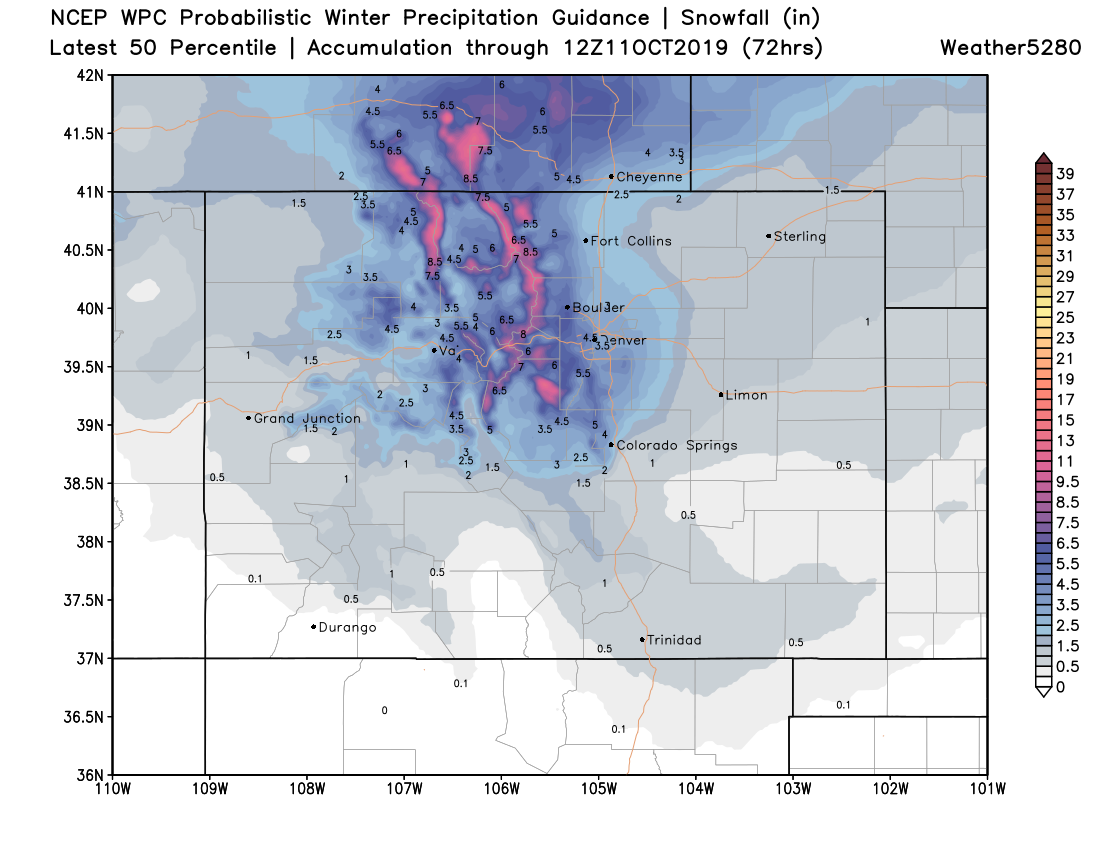 While we'll see plenty of the cold, the big snow will end up north and east of Colorado –– with heavy snow, cold, and strong winds likely for portions of Nebraska, the Dakotas, and Minnesota to end the week: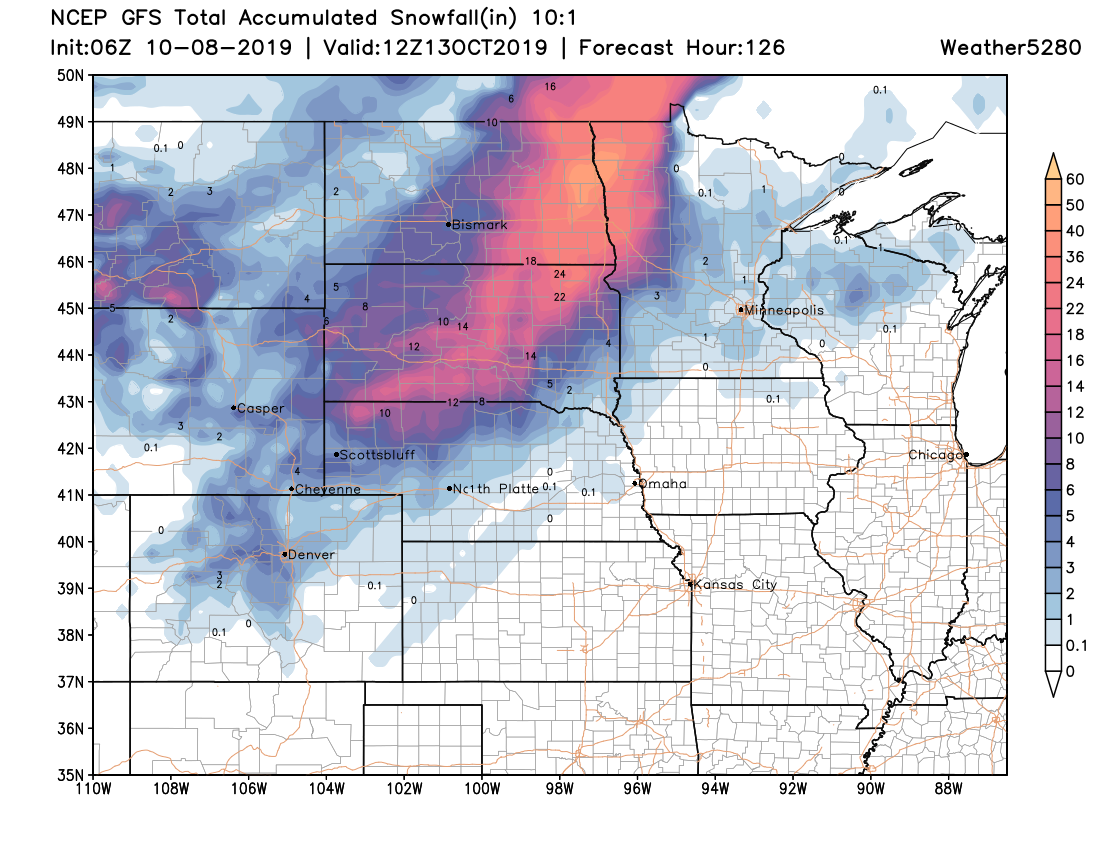 After a bitter cold morning Friday temperatures will moderate as we head into the weekend. We've got highs in the 50s and 60s across Eastern Colorado for the weekend, with overnight lows in the 30s.
Friday morning lows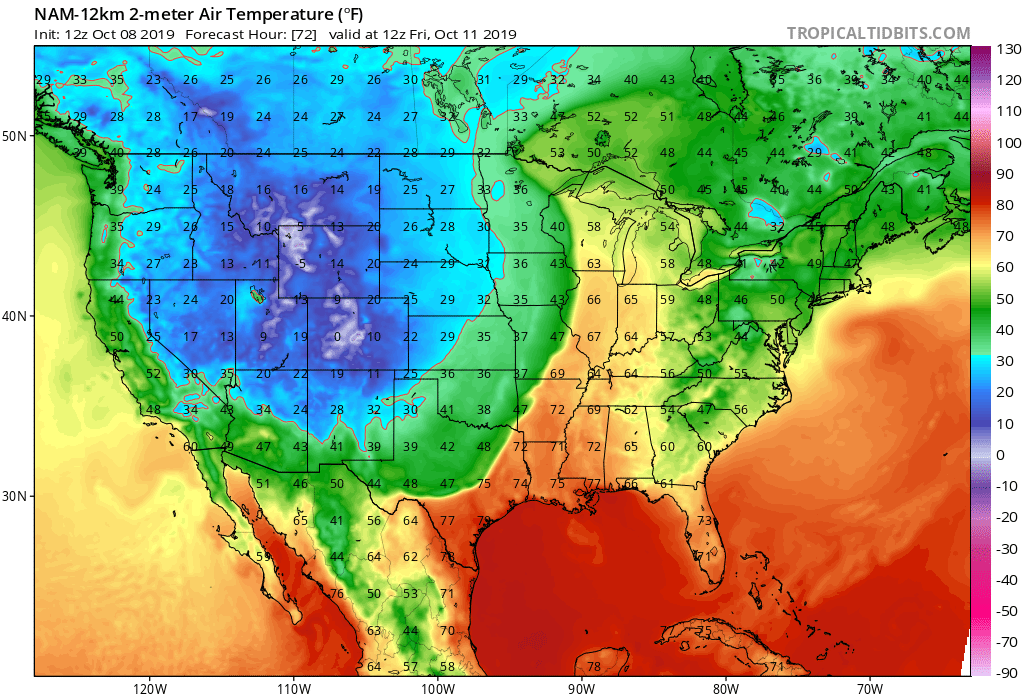 Saturday afternoon highs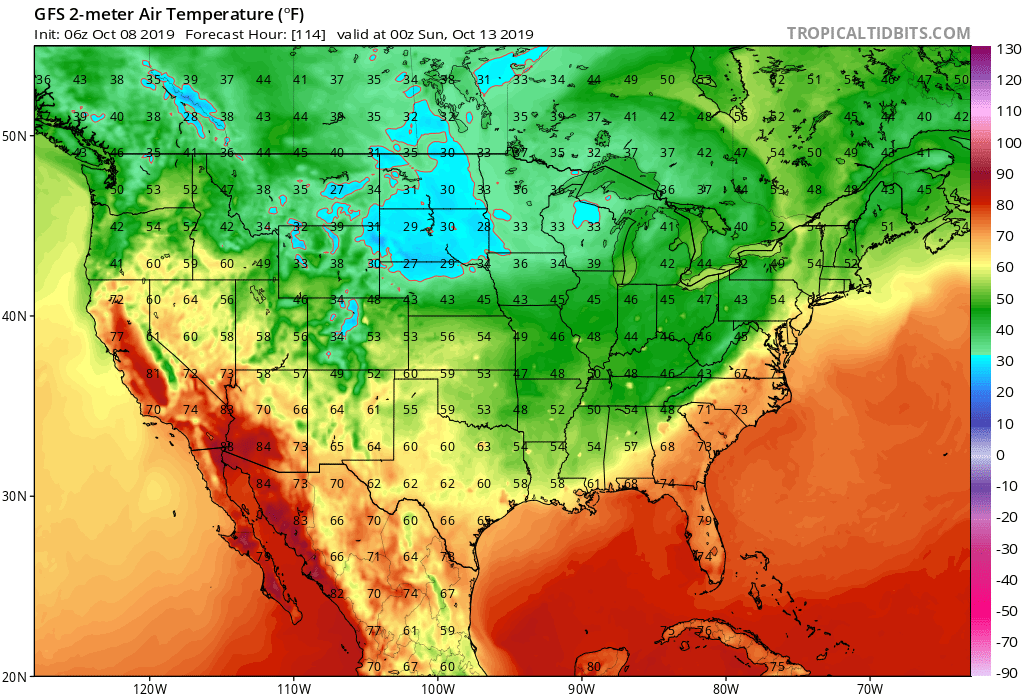 Buckle up!