We've recorded tumbling temperatures since about 4pm across northern Colorado. The change has been quick and dramatic; enough so that we are likely making history with this cold front's temperature change.
Fort Collins had dropped 30 degrees in just 3 hours from 3pm to 6pm!
Related: Largest temperature drops on record for the Front Range
Other locations had rapid drops as well:
So, there's already a chill in the air and we'll only get colder from here through Friday morning: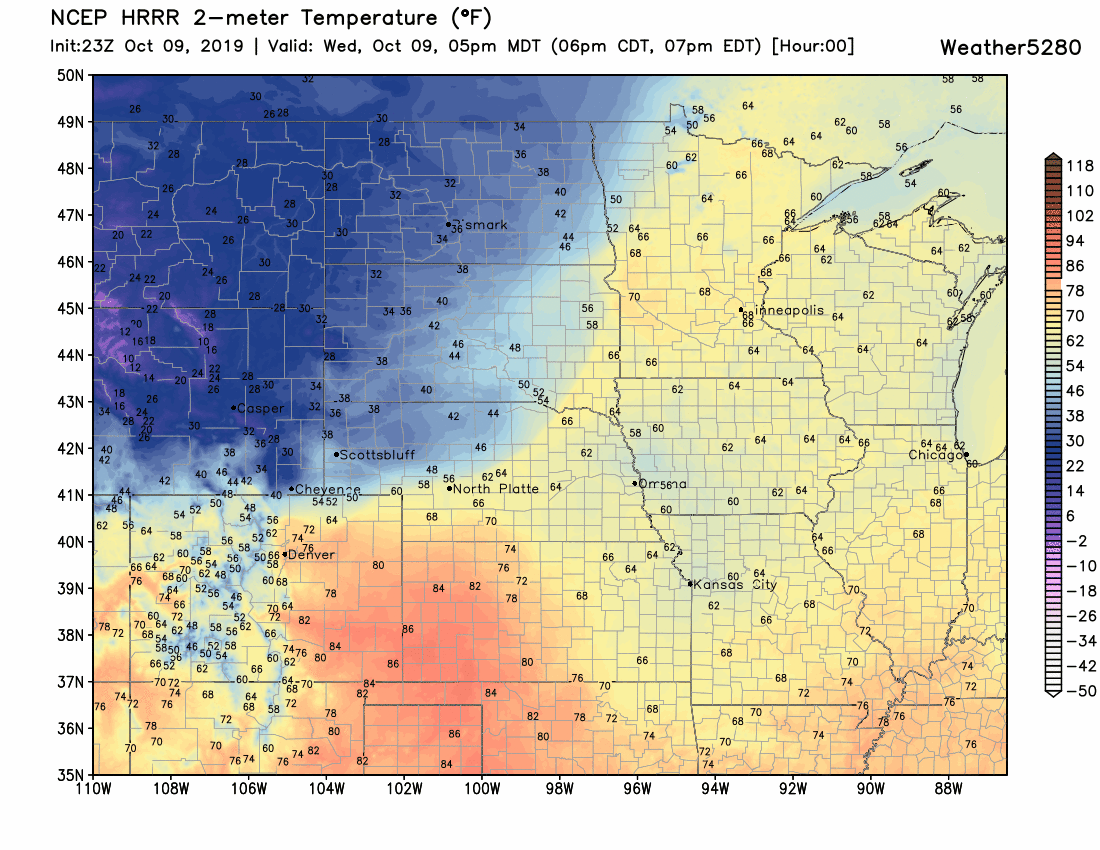 Tonight will be Denver's first freeze of the season. Latest MOS guidances has lows dropping into the low 20s for Denver early Thursday, which would be one of the coldest morning on record for the date. By Friday morning those lows drop into the teens, and will likely break the previous record of 22°F for October 11th.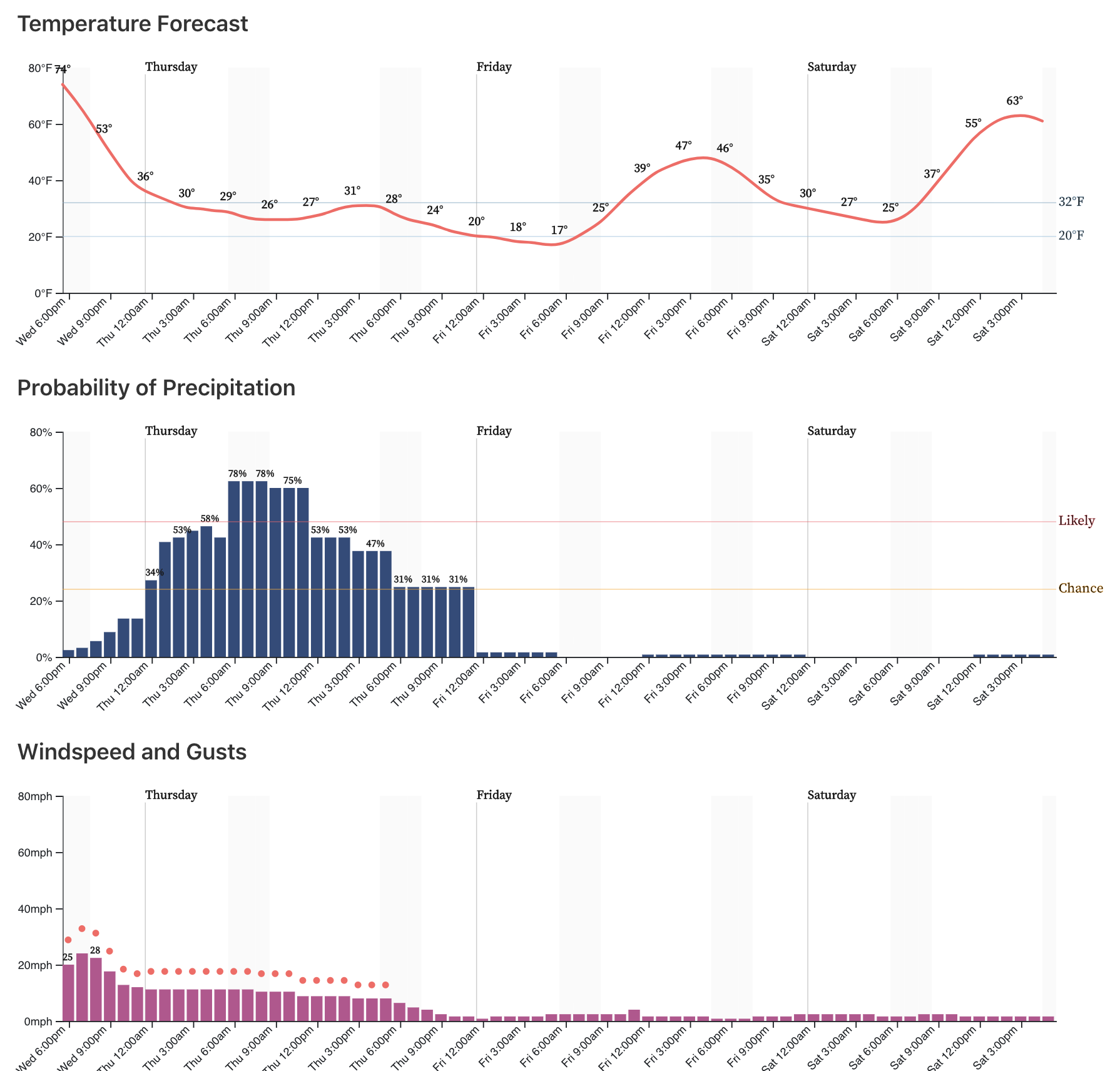 Obviously with the cold comes the chance for ice on the roads overnight (mainly from drizzle) and snow to fall Thursday. Please give yourself extra time on the roads tomorrow morning. In addition to a Freeze Warning, the National Weather Service has issued a Winter Weather Advisory for the Front Range and urban corridor. Here is an excerpt from that Advisory, with the full advisory posted above:
...SEASON'S FIRST SHOT OF WINTER COMING IN FAST WITH COLD AND SNOW... .A powerful storm system moving across Wyoming has pushed a very strong cold front across the plains early this evening. Temperatures are dropping sharply, and will result in winter precipitation and possible hazardous travel conditions. Snow will first start in the northern mountains and northern border area this evening, and then spread southward to the I-70 Corridor and rest of the plains overnight. Precipitation may begin as light drizzle and freezing drizzle on the plains, before switching over to all snow by Thursday morning. The Thursday morning commute looks snowy in most areas. Snow may accumulate on road surfaces even in lower elevations, with bridges and overpasses most susceptible to icing.
As for our forecast, our thinking has changed little regarding the amount of snow. The best chance for snow across the Denver metro area looks to come Thursday morning –– perhaps not until after the morning rush in Denver proper, but, that band could very well move through just in time to cause issues on the road for the commute. The HRRR model, for example, shows that snow band across the northern and western metro at 8am (below), and it's likely that most communities from Denver north will be dealing with snow for the drive into work on Thursday.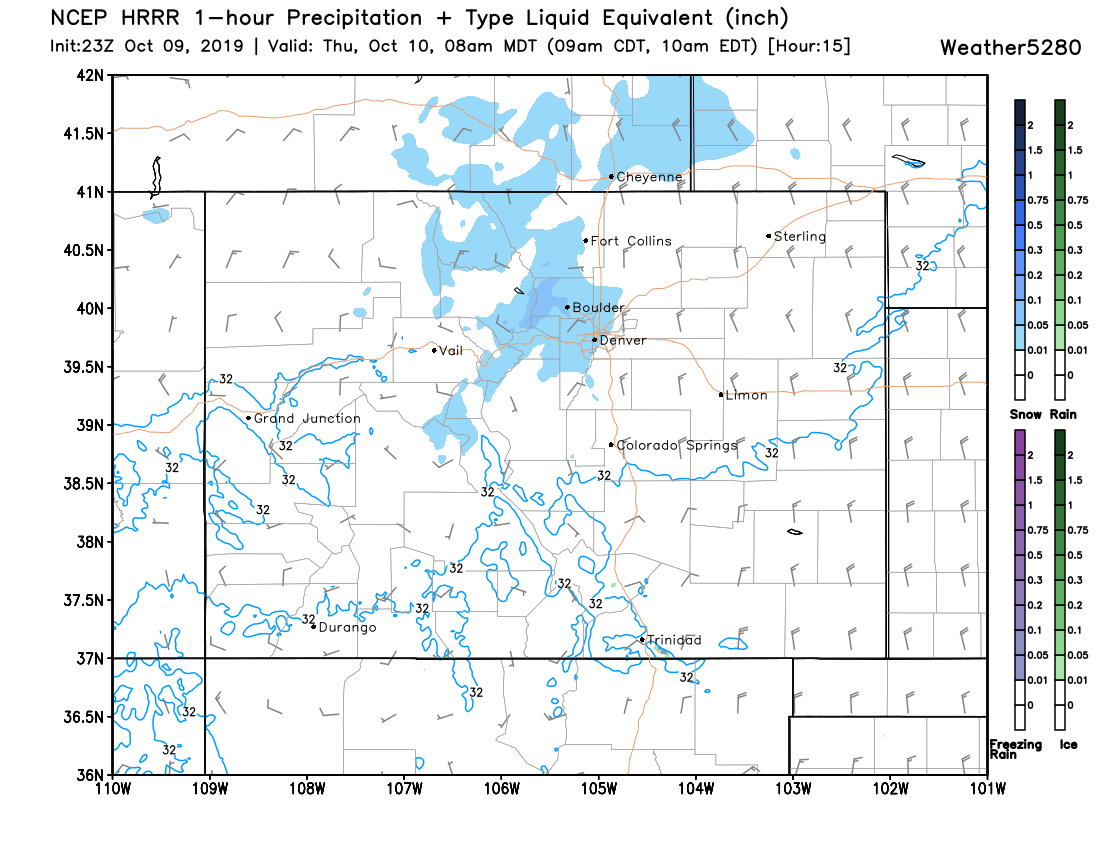 The NAM continues to show snow developing between 4am and 6am along the northern Front Range, with snow in Denver for the morning commute as well:
It has the heaviest stuff moving through Denver between 7am and 9am: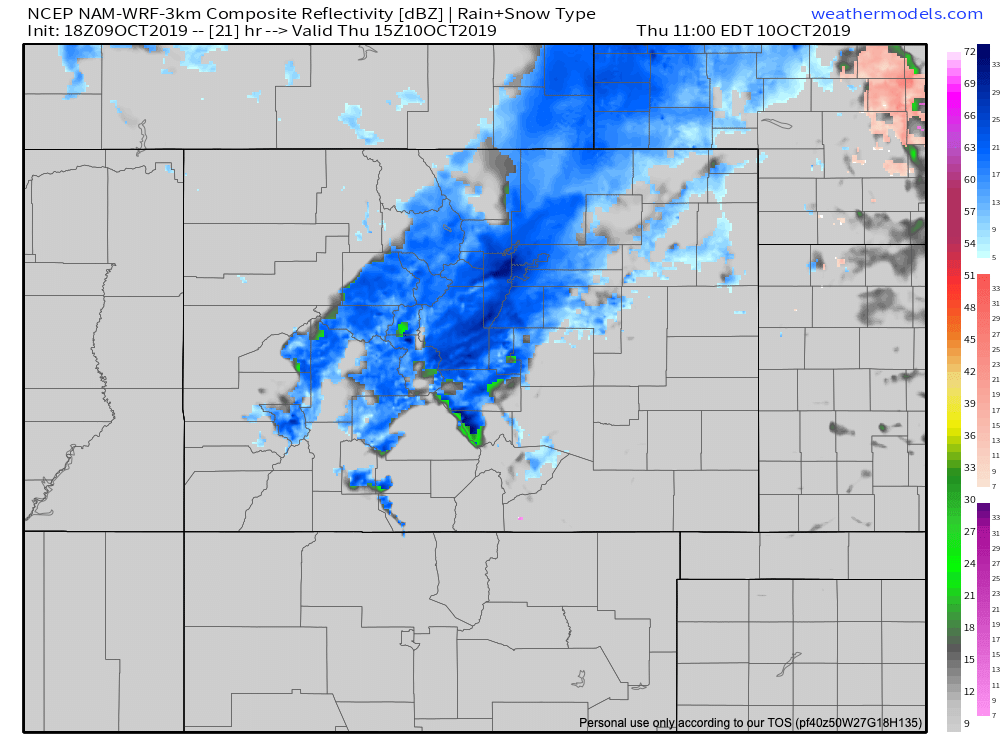 And then pushing south and east by early afternoon:
Just as the front was a bit ahead of schedule this evening, we would say if anything these snow timelines would end up being moved up a bit... but overall not a lot to disagree with here. Best snow chances between 5am and noon for Denver north, and 10am and mid afternoon for areas south and east.
For totals, still expecting most areas to end up in the Trace to 3" range along the urban corridor, with perhaps a few spotty 3 - 5" totals where the heaviest banding sets up. Where we do see some of the heavier totals, tree damage will certainly be possible as most trees remain fully leafed along the urban corridor today.
Please stay warm, drive safe, and keep us updated as to conditions at your place over the next 36 hours or so in the comments below!