We know that you did not miss the cold and snow that blew through yesterday evening and today... you'd have to be living under a rock if you did.
The temperature drop was historic for Denver and elsewhere, and will only become more so as temperatures drop tonight.
The temperature dropped a whopping 64°F from Wednesday afternoon to Thursday morning, from a high of 83°F down to 19°F.
Edit: as of 11:53 pm Thursday, hourly data from DIA showed a temperature down to 13 making the two-day drop 70 degrees! That's 2nd biggest swing on record, and, a new record low for Thursday. This edit corrects the previous lowest temperature of Thursday as 19 degrees.
This is the biggest drop in temperature over a two-day span of any October on record for Denver. Here's the list of all-time two-day temperature drops: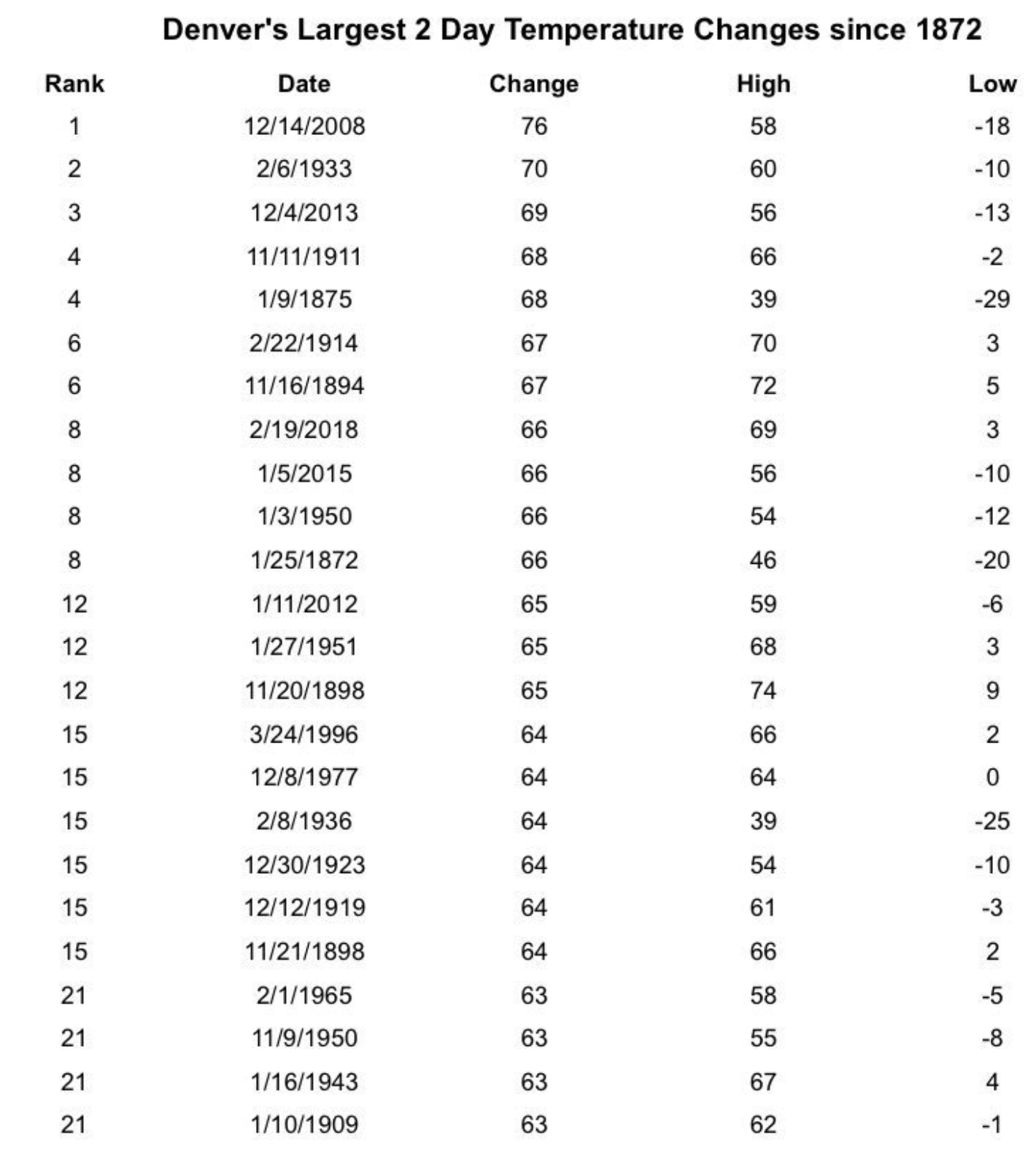 The quickness of the cool-down was substantial. In just a 3-hour duration, Denver had it's 4th largest temperature drop, Greeley had its 5th, Colorado Springs had its 6th, and Fort Collins had its 9th.
The temperature drop continues overnight as many areas will break record lows. Here is the overnight low forecast via the HRRR model for the state: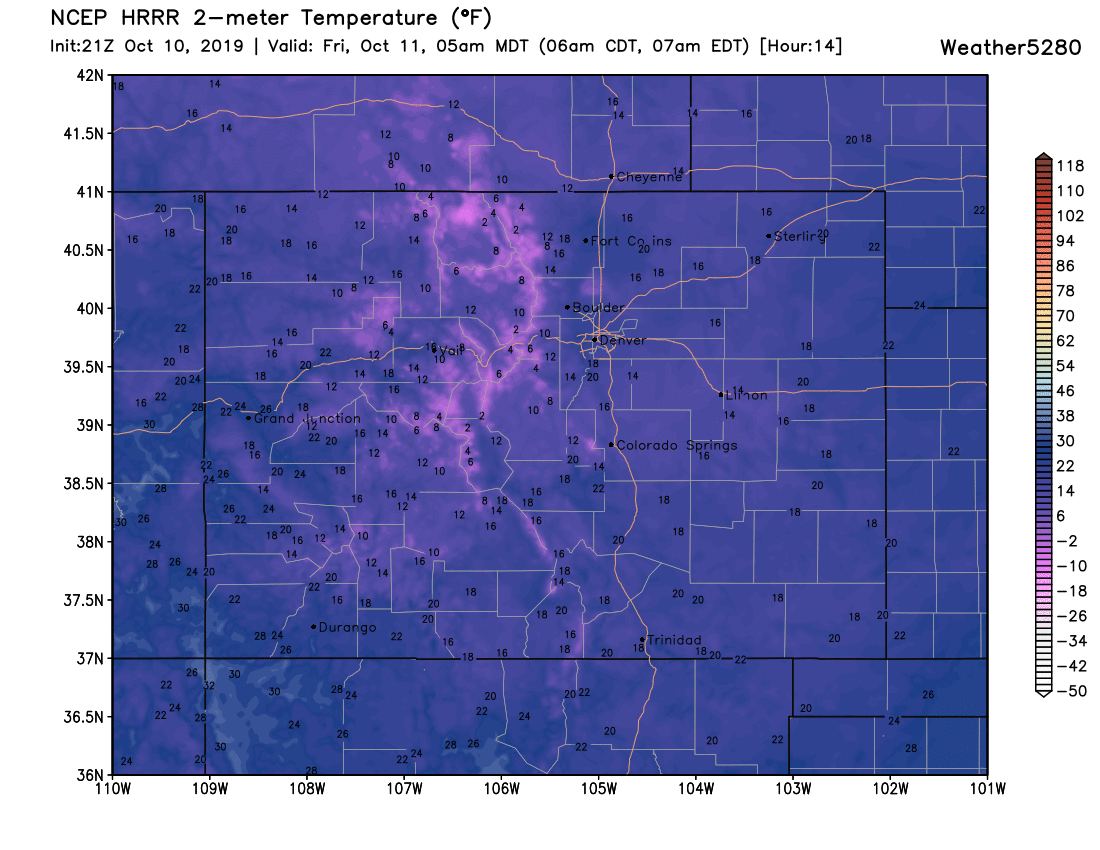 There will be single-digit lows above and below zero in the mountains. The plains and metro area are to have lows in the teens and single digits.
For the Front Range, most existing record lows will be broken by Friday morning (Thursday's record lows broke in some instances with temperatures just before midnight Friday morning).
Some record lows in the books for October 11th as of now are:
Denver, 22°F degrees from 1946.
Fort Collins, 29°F from 2017.
Greeley, 26°F from 2017.
Colorado Springs, 19°F from 2009.
Again, it'll be easy for much colder record lows to replace these by Friday morning.
The good news? Temperatures will warm as we head into the weekend. Friday's highs will still be cool after a frigid morning but will be noticeably warmer than today with highs near 50°F. For your Saturday and Sunday look for highs in the mid to upper 60s across the metro area.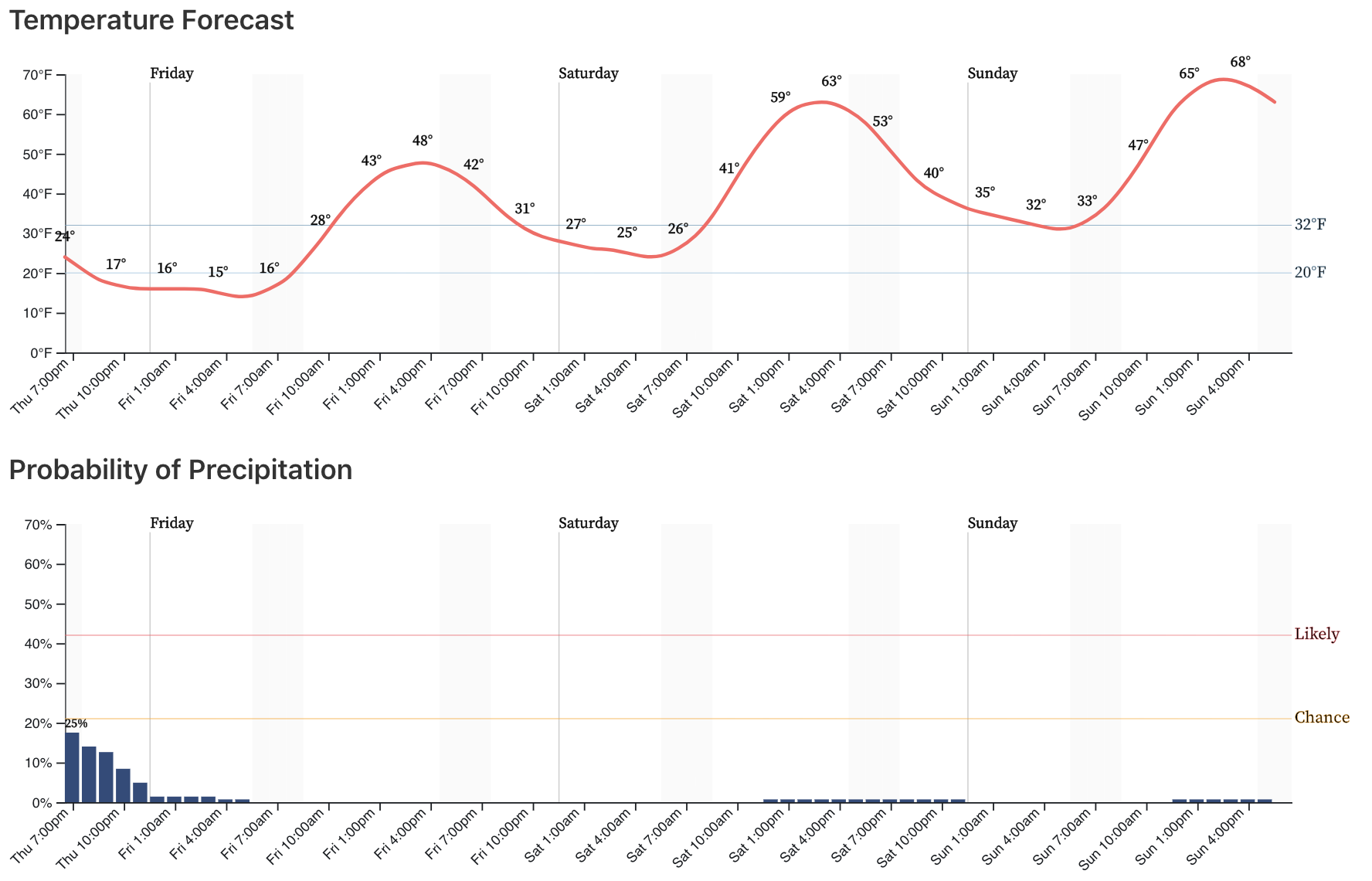 First Snowfall
Although some areas of the mountains have already had snow, the metro areas measured the first snow of the season on Thursday. DIA had 1" for the official Denver measurement out of this storm. We'll be announcing the winner of this year's First Measurable Snowfall Forecast Contest soon.
Across the city we saw totals in the 1 - 4" range for the most part. All things considered we're happy with how the forecast panned out. A few "boom" areas with an inch or so more than forecast, but most areas fit in just fine to our Trace - 3" and and 2 - 5" forecasts. We know this morning's band had the making of some heavy snowfall, and it sure did –– if only for a short while.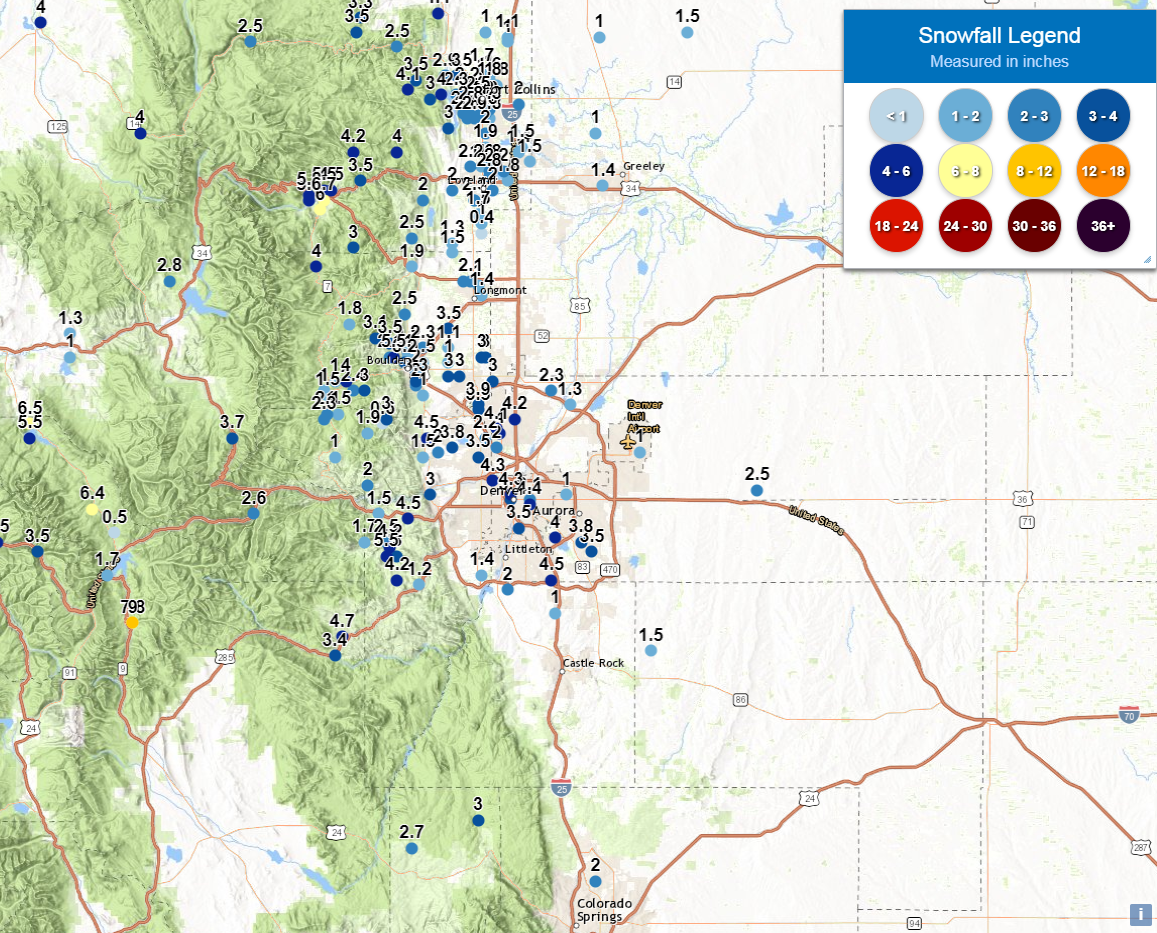 This year's snowfall came a little bit ahead of the median date (October 18th), but clearly not by much. Remarkably, this is the third year in the row that Denver has seen its first measurable snow before the median first date. The last time the first snow came after the 18th was back in 2016 when the first snow didn't come until November 17th.
For some historical perspective, check out the storm from several years ago on the same dates: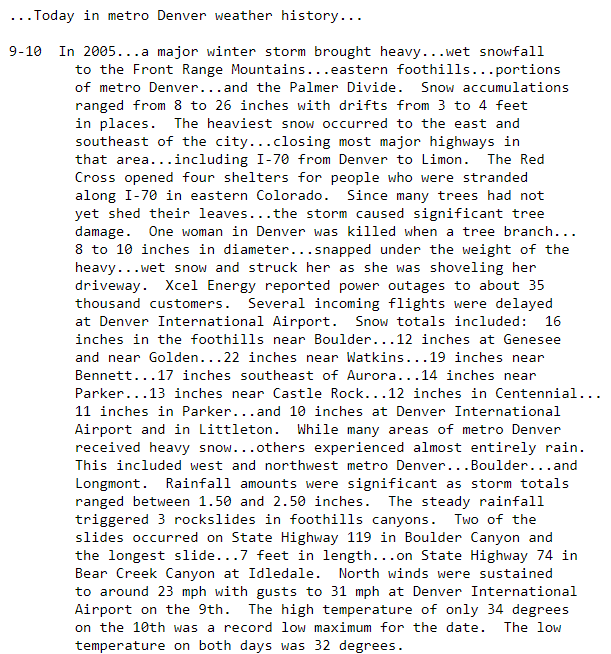 We'll share what record lows are broken tomorrow in our next update, and have a look ahead this weekend as well. Stay warm tonight!