We continue to track the next chance of rain and snow across the Front Range and urban corridor. Timing continues to be in some question as various models are quicker or slower with the front and onset of precipitation... but generally speaking most areas see the chance for rain then changing to snow by the evening commute Wednesday, continuing into the overnight hours and coming to an end for most of us early Thursday morning from north to south.
The chart below is for Denver, showing those precipitation chances jump around the 5 o'clock hour on Wednesday. A similar timeline can be expected for the surrounding cities, and even south across the Palmer Divide and Colorado Springs region:
One thing you'll notice in the chart above is that temperatures won't actually be all that cold with this system. With that, it's very likely we'll see some rain (perhaps even some thunder activity!) –– especially at lower elevations –– Wednesday afternoon/early evening before transitioning to all snow. In some respects, this might be the biggest issue for Denver seeing higher-end snowfall totals (meaning available moisture going to rain and rain/snow), but a slightly delayed arrival and/or heavy convective snow bands could help overcome temperature issue and result in higher snowfall totals.
Timing
If we look at the 3km NAM we see it kicking off rain and snow showers by mid to late afternoon across the area: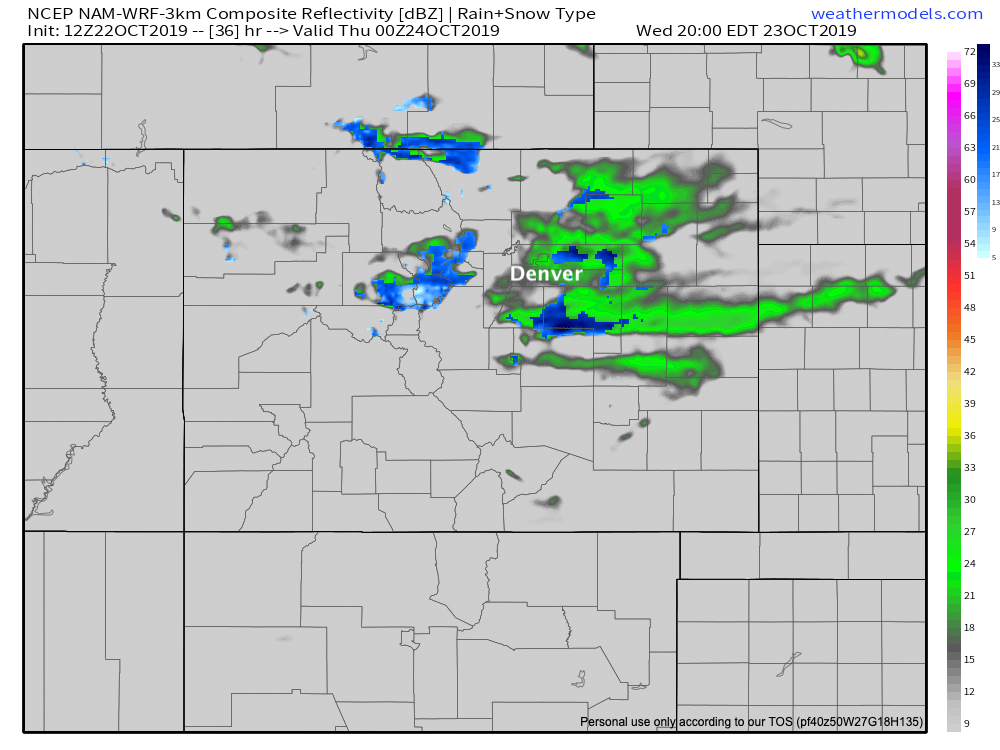 By early evening we see heavy snow across the greater metro area (this particular model doesn't show much activity north of say I-76), with HEAVY snow pushing out across the Palmer Divide and into Colorado Springs: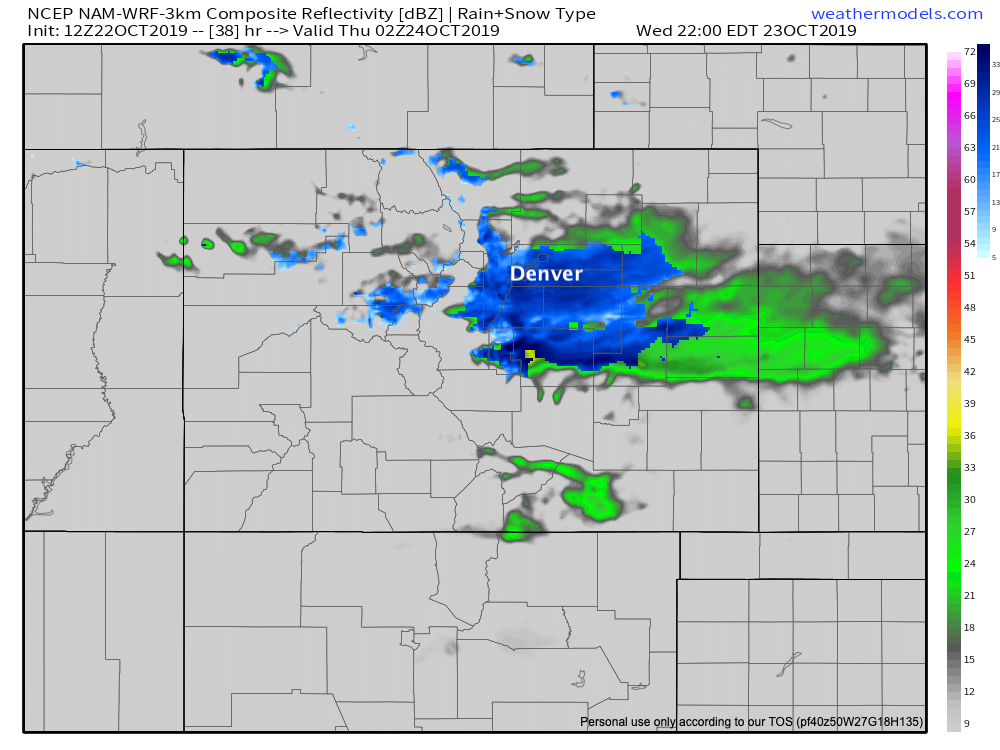 Overnight the snow is likely to come to an end for most of the Denver area, with best chances moving into Southeast Colorado, before coming to an end Thursday morning: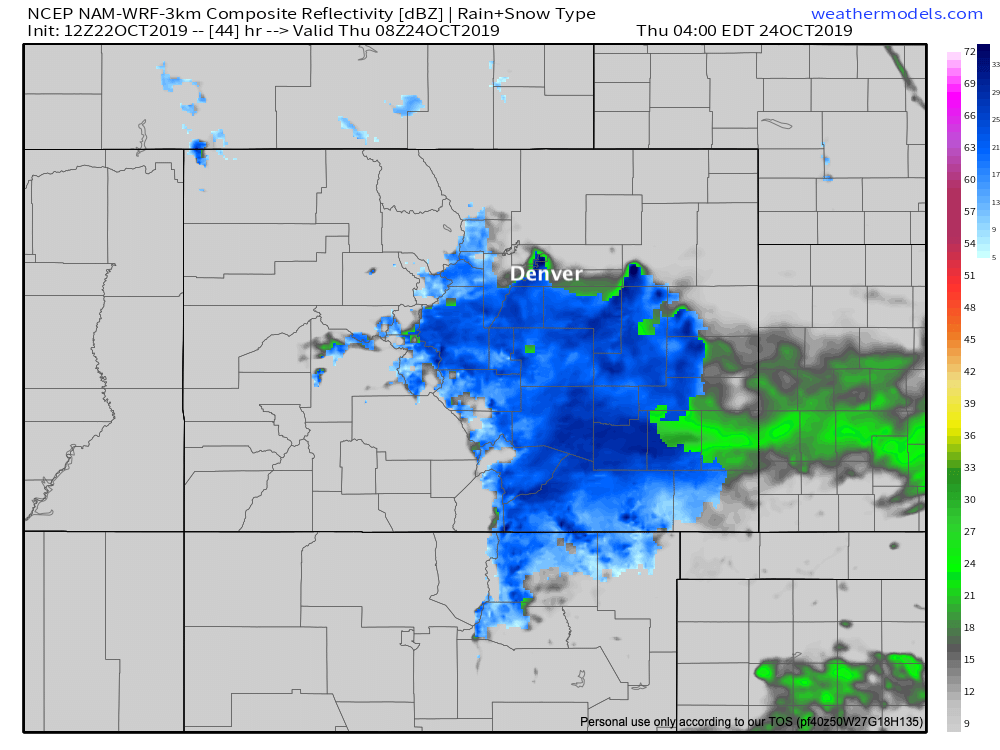 The northern cutoff of snow is very evident in the NAM. The GFS shows a bit more potential for northern Denver suburbs, but as we said yesterday most data supports best snow chances for the foothills west of Denver, across the Palmer Divide, and into the northern sections of Colorado Springs. And so, not surprisingly, this is where we see a Winter Storm Watch in effect. Right now it does not include Denver or Colorado Springs, but depending on how things evolve Wednesday, we could certainly see the need for some winter weather highlights in either city by the time the snow flies: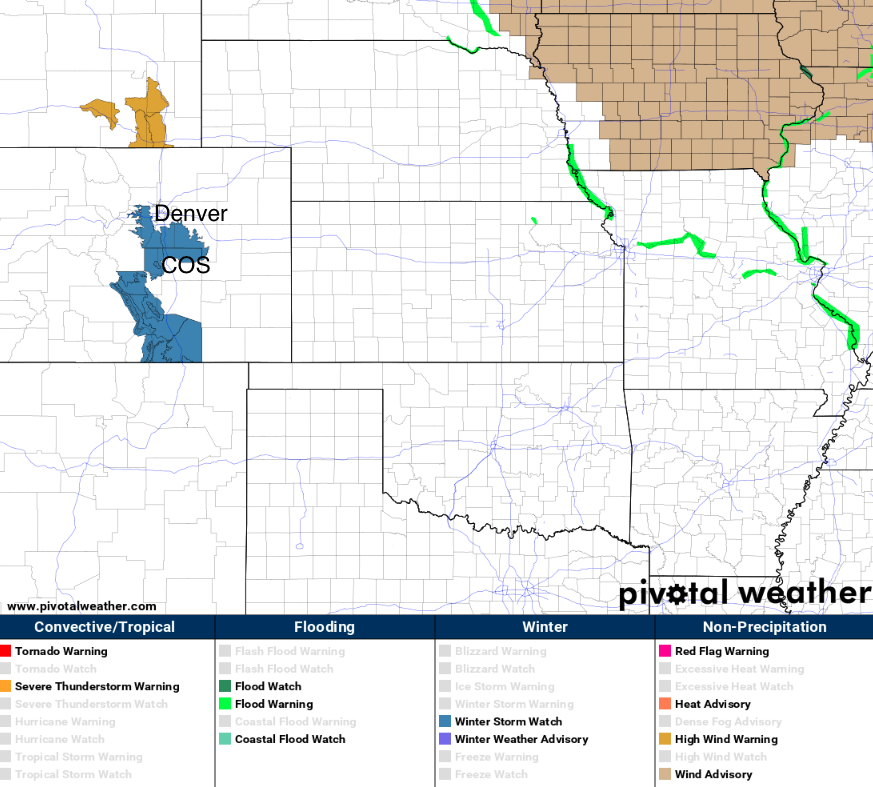 Snowfall totals
Snowfall totals will likely vary greatly with this system. Heavy banded snowfall will deliver several inches where they set up, but outside of those bands only low-end potential. Right now it looks like the greatest likelihood for where we'll see those heavy snow bands set up is across the Palmer and Colorado Springs region. Now, could we see a rogue band move through Denver and its immediate northern suburbs? Absolutely, and the window for that would probably be in the 4 pm to 10 pm timeframe.
If we look at the latest gamblers, we see those trailing high-end probabilities we discussed yesterday for Castle Rock and Colorado Springs. Those indicate the banded nature of this system, and that the spread for totals will vary greatly, and likely over short distances. Again, easy to see which cities are favored for the heavier snow potential, with Boulder perhaps losing some of that high-end potential in today's data. At face value these probabilities don't look all that impressive for Denver and Boulder. You'll see in our forecast below that's why the low-end totals for both cities are in the Trace - 1" range. However, the potential for greater totals exists with this event, if a snow band sets up over the metro area, and especially for areas south and west of the city proper.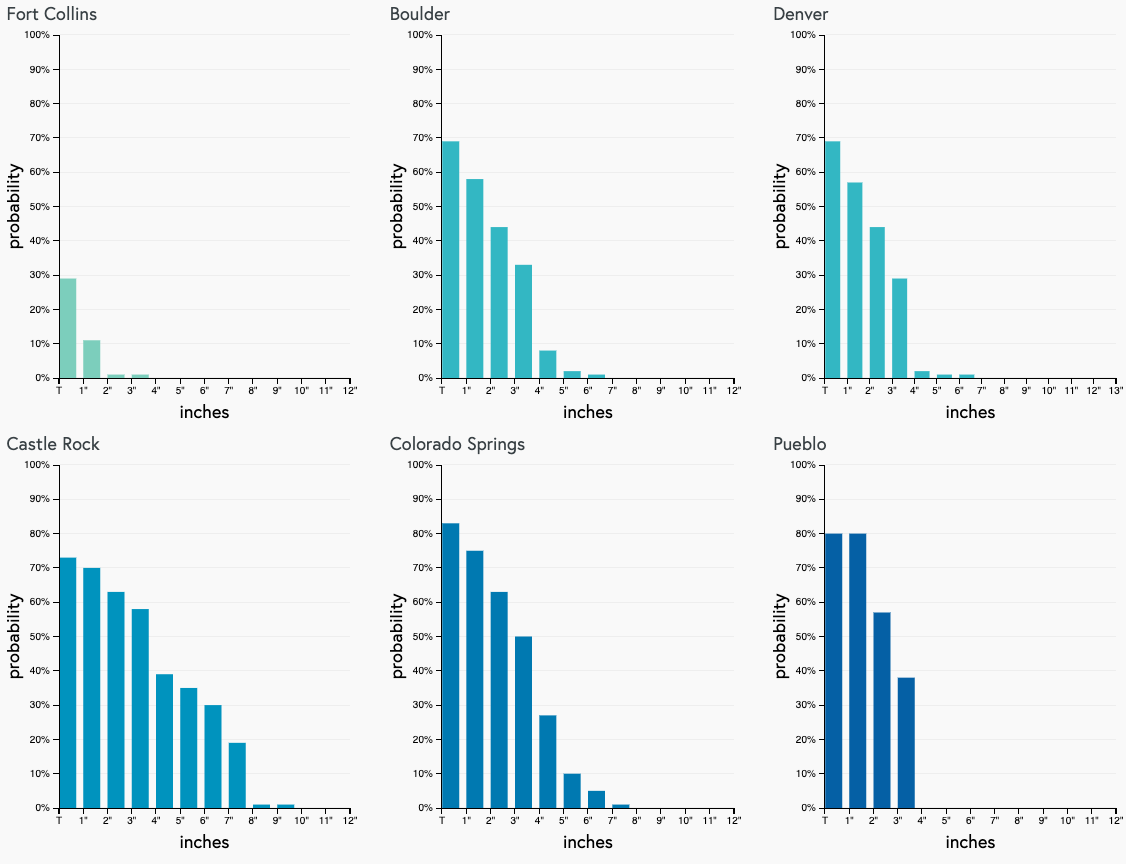 For snowfall totals we're going with the following:
0 - 1" across Northern Colorado (Fort Collins, Greeley, Sterling)
Trace to 3" for DIA, Northeast Denver, Lyons
1 - 4" for downtown Denver, Boulder, and southeast of COS
3 - 8" Western Denver suburbs, Evergreen, Castle Rock, and central Colorado Springs
5 - 10" with locally more than 1 foot for Western Palmer Divide between COS and Castle Rock
Greatest boom potential may go to Castle Rock, as we toyed with including in the 5 - 10"+. Denver and Boulder could do better than forecast if temperature issues are overcome and things end up a bit further north than we are currently expecting. Without a band setting up over Denver/Boulder Wednesday evening both cities probably end up in the low-end Trace - 1" totals... with a band, perhaps more like 3 - 5", pretty tough to say, frankly. Finally, greatest bust potential probably goes to Colorado Springs. Data is painting good snowfall across the city, but we remain concerned that downsloping will kill snow production faster than indicated. Key will be if a couple of the heavier snow bands work their way through the city or not. Areas north and northwest of downtown COS will have greatest boom potential for that area.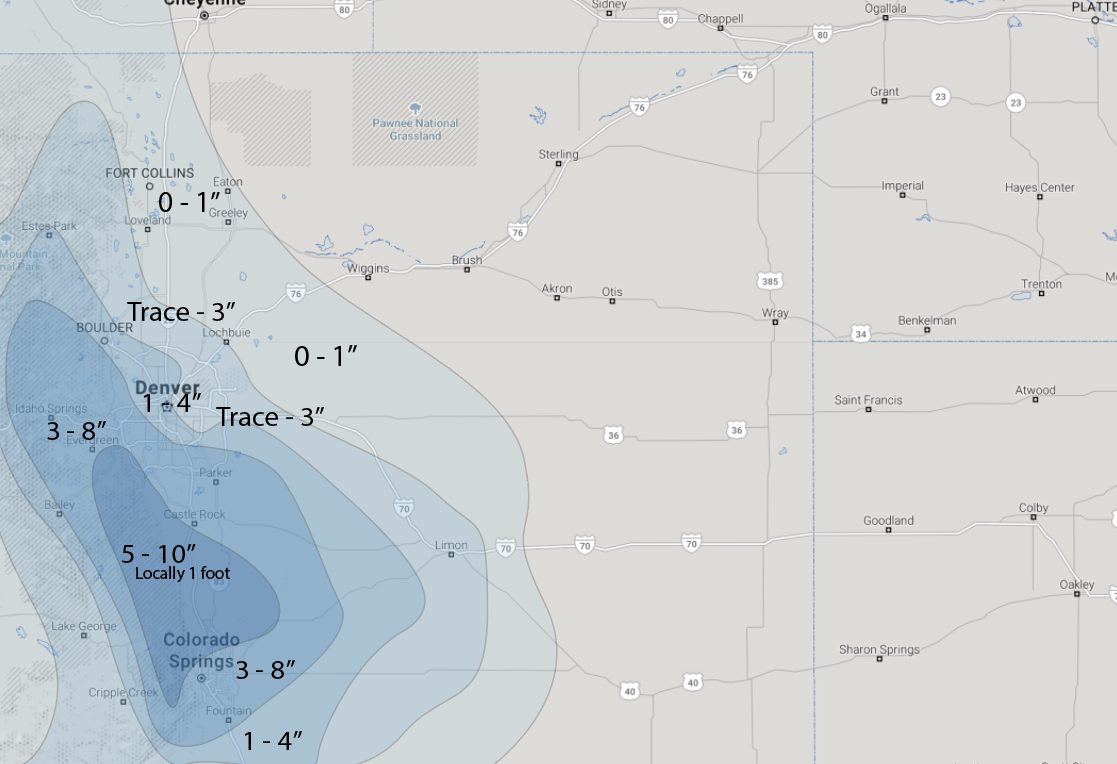 Impacts
This will be an impactful event, especially between Denver and Colorado Springs Wednesday evening and overnight through Thursday morning commute. Timing will be huge if we are to have issues for the Wednesday evening commute. Most data would suggest the heaviest rain and snow holds off until just after the commute... BUT, models are usually too slow in getting things going. Let's hope things hold off until after the commute Wednesday, but plan for the potential just in case.
Overnight Wednesday into Thursday travel will not be advised across the area, particularly west of Denver, and south between Denver and Colorado Springs. Heavy bands of snow will cause visibility issues, and roads will quickly become snow-packed and icy under the heavier snow.
By Thursday morning most of the snow should be done for the Denver area, but slick spots will be an issue especially if we see a forecast boom! South of town, we expect a very slow commute, including for the greater Colorado Springs area.
Temperatures remain chilly on Thursday with highs in the 40s behind the snow. We warm into the low 60s Friday, to perhaps near 70 on Saturday.
Keep us posted as to conditions at your place, drive safe, and stay tuned! We'll see how things look after more data rolls in tonight, and update Wednesday as needed.