The official snowfall total for Denver this October is 12.5". Measurements are taken at Denver International Airport, some 20 miles away from downtown Denver.
At Stapleton, the tally for the month is 15.7", with 20.2" recorded at our station on Denver's west side. All in all, an impressive snowy month across the area for the first time in years, and the first time in a decade, the city has recorded 10" or more of snow in the month.
On average, the city sees 4.2" of snow during October. The last time the city finished the month with above-average snowfall was back in 2012 when 5.5" fell at DIA during the month. The 2012-13 season ended 21.3" above the longterm average, with February, March, and April all posting double-digit totals for the city.
So what about other snowfall seasons that start in a hurry?
Since 1882, 48 years have featured Octobers with more than 4.2" of snow in Denver (though the station of record has changed location over the years). Of those years, 66% of them went on to produce seasons with above-average snowfall.
For seasons with 10" or more in October (15 in total), it jumps up to 73%. The last October with 10" or more was 2009, before that 1997 –- the year of the big end of month blizzard. The 1997-98 season ended just a few inches above average, with 62.3" for the season, similarly with 2009-10, which finished 3.5" above average with 60.6" on the season.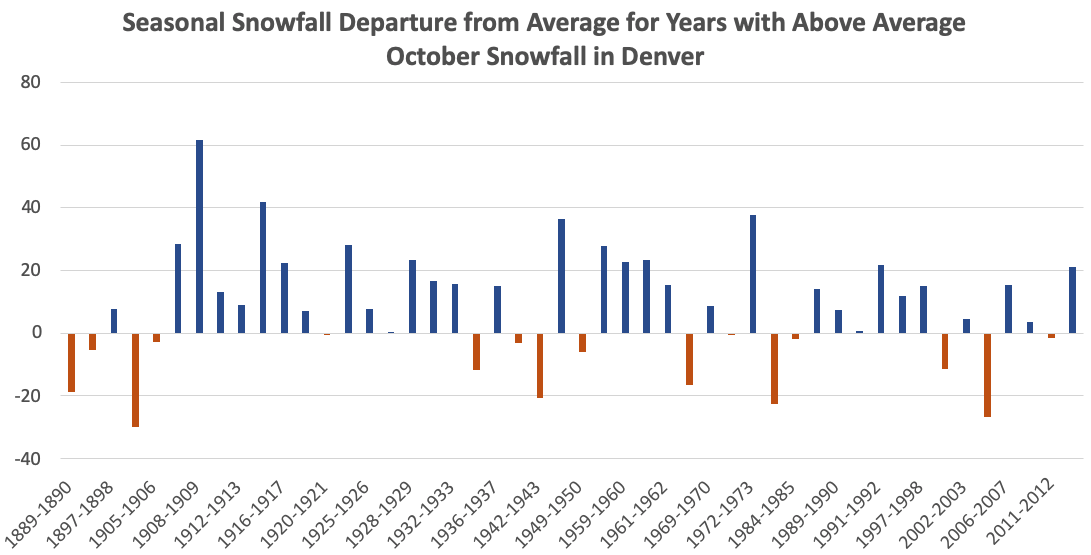 The highest seasonal deficit to follow an above-average October came in 1903-04. The city saw 4.4" of snow in October but ended the season with just 27.2", an impressive -29.9" below the longterm average.
On the flip side, the 1908-09 season ended 61.6" ABOVE the longterm average after boasting 13.6" inches in October, and recording 118" on the season. Anyone else curious about what that would be like?
Does the wild October we've had this year indicate anything about the 2019-20 snowfall season for Colorado? It almost certainly does, but it's hard to say with any degree of certainty it'll equate to more snow for Denver or not. History tells us the odds are up for an above-average snowfall season... but this, of course, is not always the case.
We'll be issuing our winter 2019-20 outlook next week for Weather5280 Insiders. If you're not an Insider yet, we hope you consider joining us as we gear up for the cold season ahead.