We continue to track our next chance of snow across Northeast Colorado in a setup that will prove very difficult to pinpoint where the heaviest totals will ultimately end up. That chance of snow will begin as early as this evening's commute along the Front Range and carry well into the day Friday.
The National Weather Service has issued a Winter Weather Advisory for the urban corridor and adjacent plains. It goes into effect at 6 pm this evening and will remain in effect through Friday. Areas include Castle Rock, Denver, Boulder, Loveland, Fort Collins, Greeley, and Fort Morgan. The areas in pink to our west are under a Winter Storm Warning, where several FEET of snow will be possible across the Northern and Central mountains as we head into the weekend: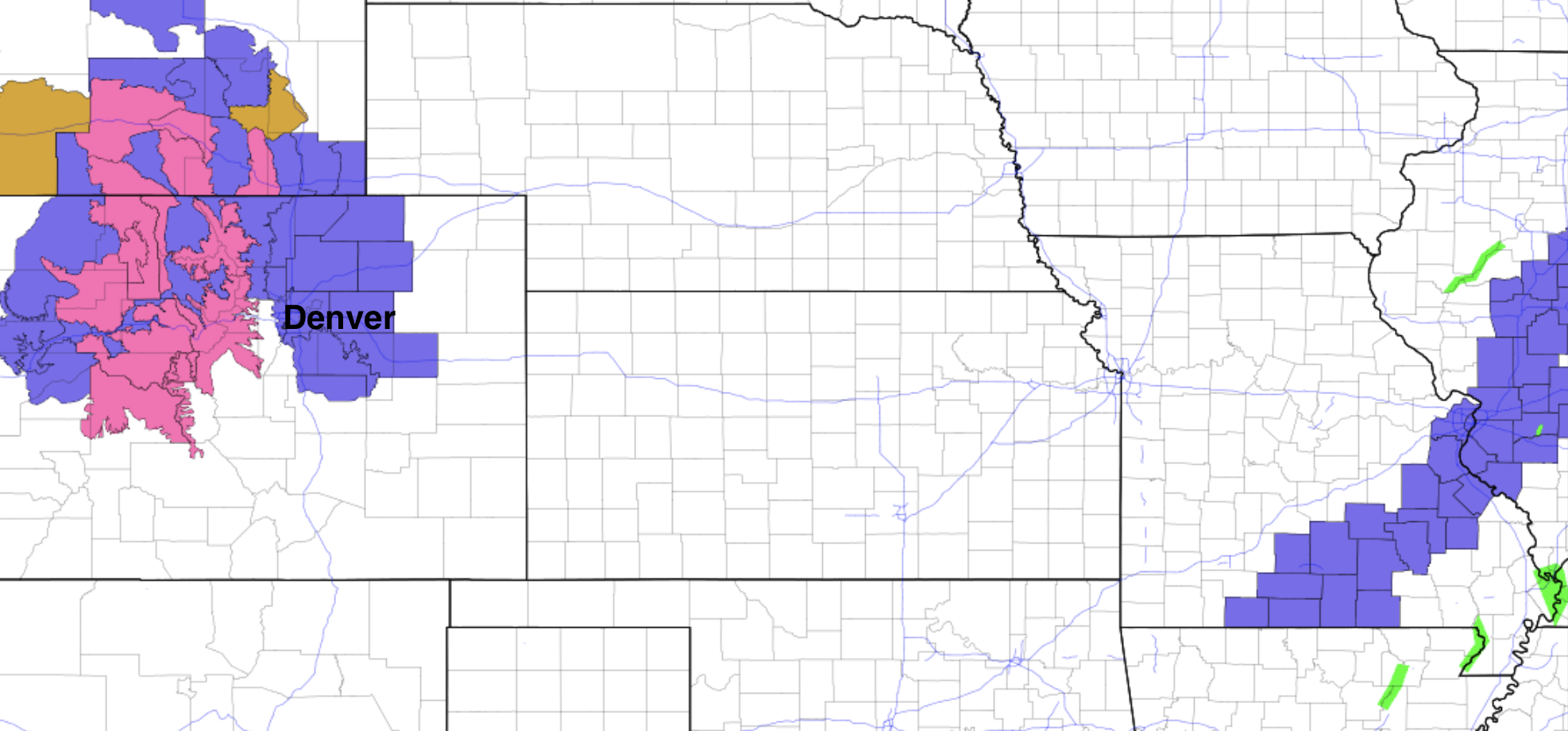 For the Denver area, the latest timeline is as follows. Highs in the low 40s today, low 30s tomorrow, with a chance of snow beginning during the evening commute today and continuing through much of the day Friday: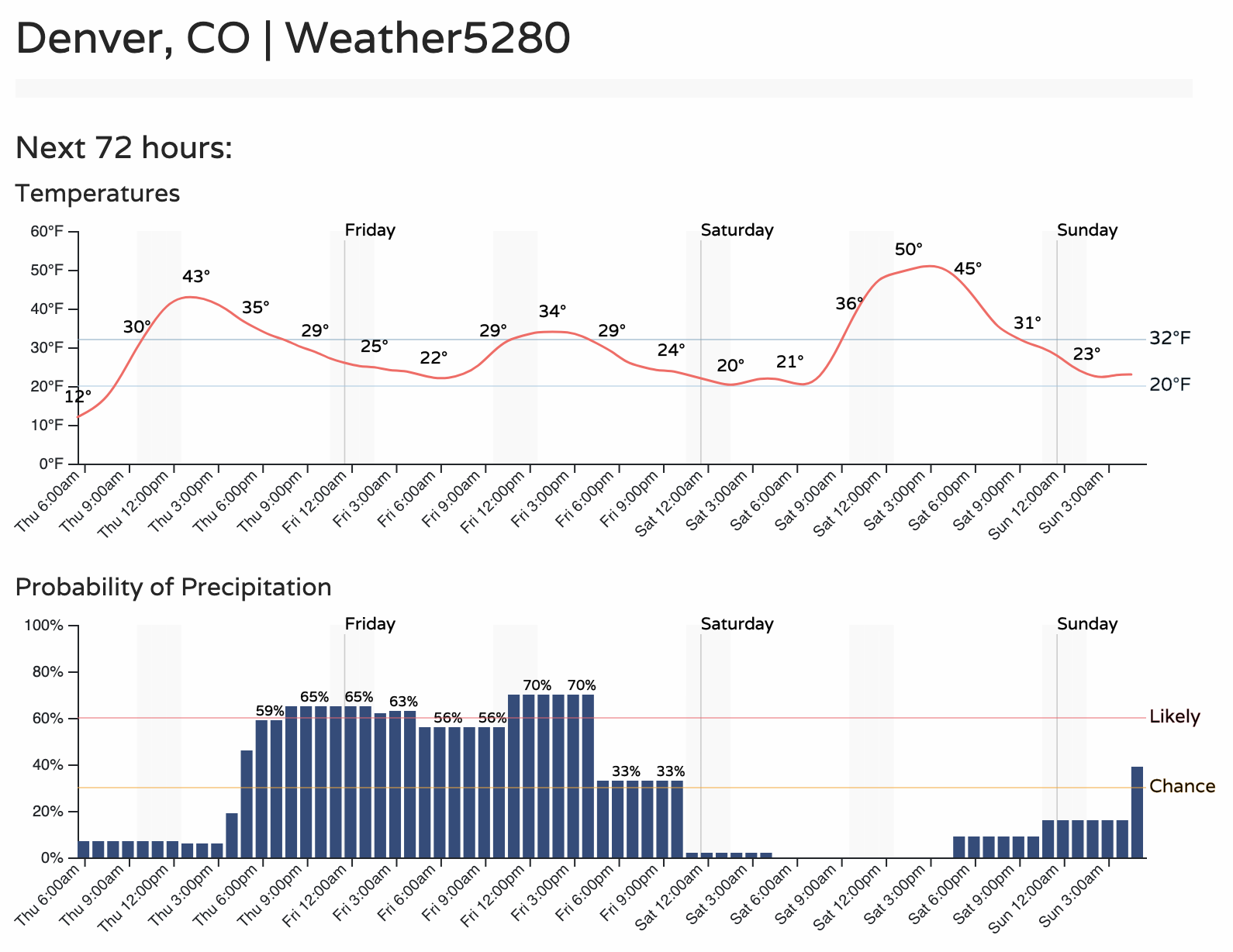 Just how much snow? That remains somewhat difficult to say with much confidence. We'll go ahead and broad-brush the entire area with 2 - 6" of snow, but know that there will likely be locally more substantial amounts. It all depends on where those more intense, narrow bands of snowfall end up ultimately setting up. What is certain, is that IF you end up under one of those bands the impacts will be very tough travel, poor visibility, and likely a period of heavy, accumulating snowfall. Please plan accordingly, as if you have travel plans across the region tonight and Friday, it may not seem too bad in one area, but up the road, it could be dumping.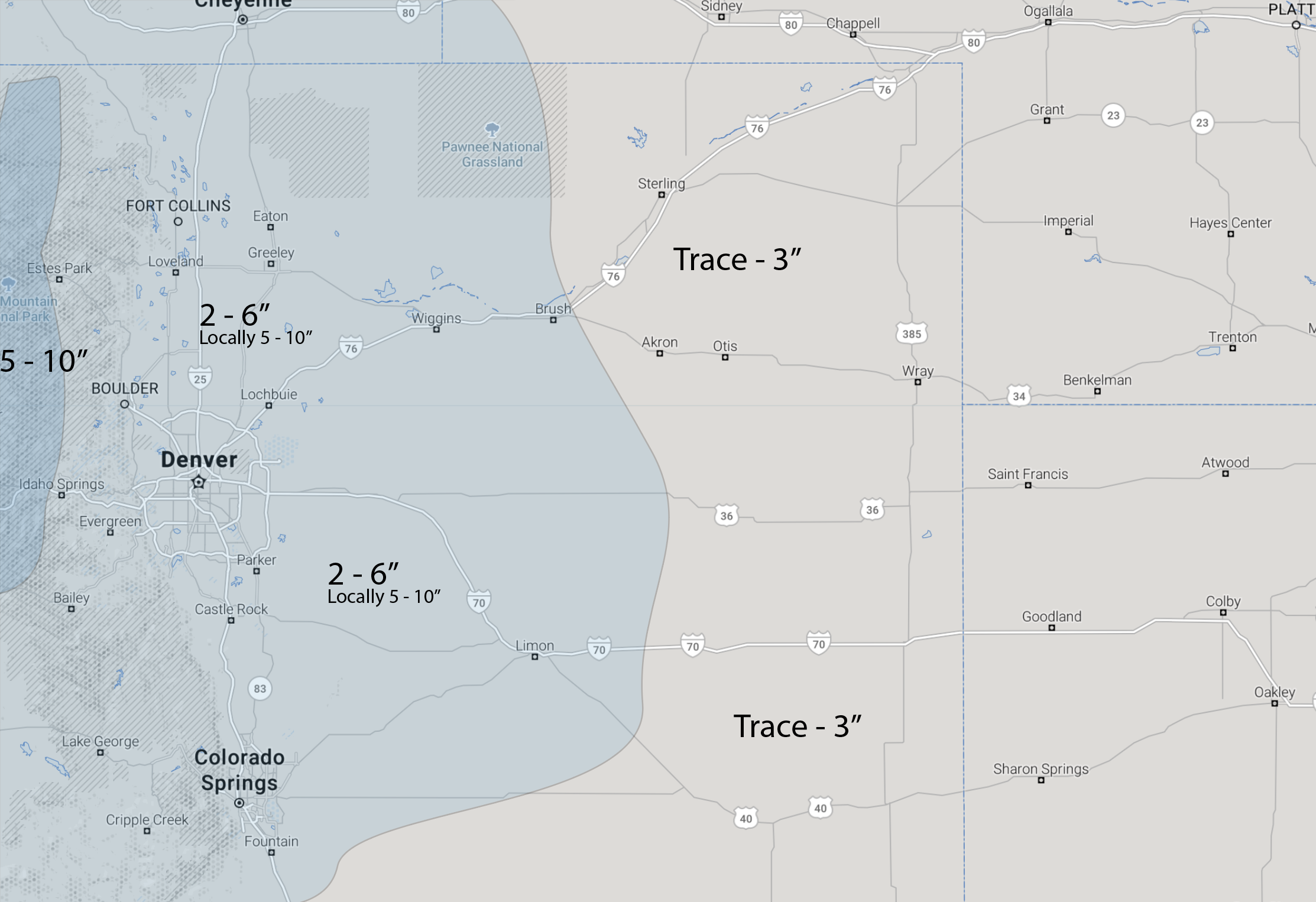 While I fully expect many of you to write in tomorrow about the bust, there's enough potential here to see heavier banded snowfall, that a broad-brushed, low-confidence forecast makes the most sense. The bands will be capable of producing up to 10" of snow, but for areas outside the heaviest snow 2 - 6" (or likely less in some cases) should cover.
A quick look at a few models again shows the varying ideas.
The latest European forecast lines up with our generalized forecast above. It's got a few pockets of 6"+ up near Fort Collins and again north of Boulder, but otherwise 2 - 6" or so across the board: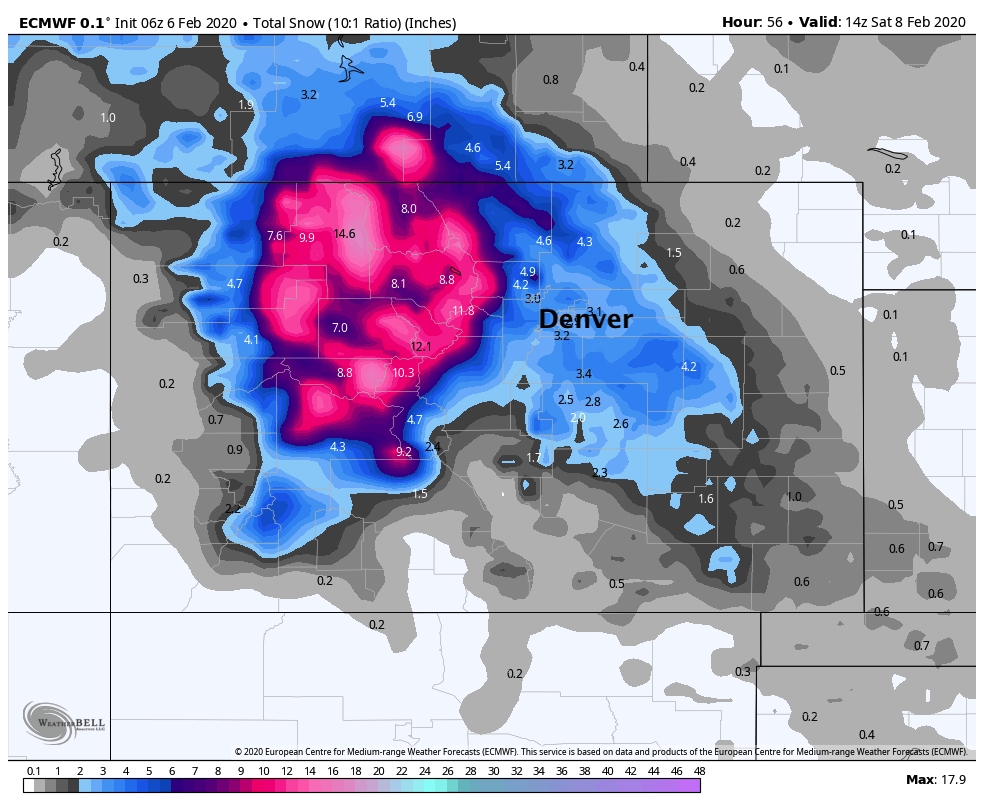 The 3km high-resolution NAM illustrates the boom/bust potential. Its heaviest snowfall is near/north of Fort Collins, then again southeast of Denver. For the city, it's painting just a coating to 1", with streaky banded snowfall of 3 - 4" across the metro areas. Needless to say, if you're hoping for the GFS and you get the 3km NAM, you're going to be greatly disappointed and will be screaming bust. This configuration (spotty high/low totals) is the most likely with this setup: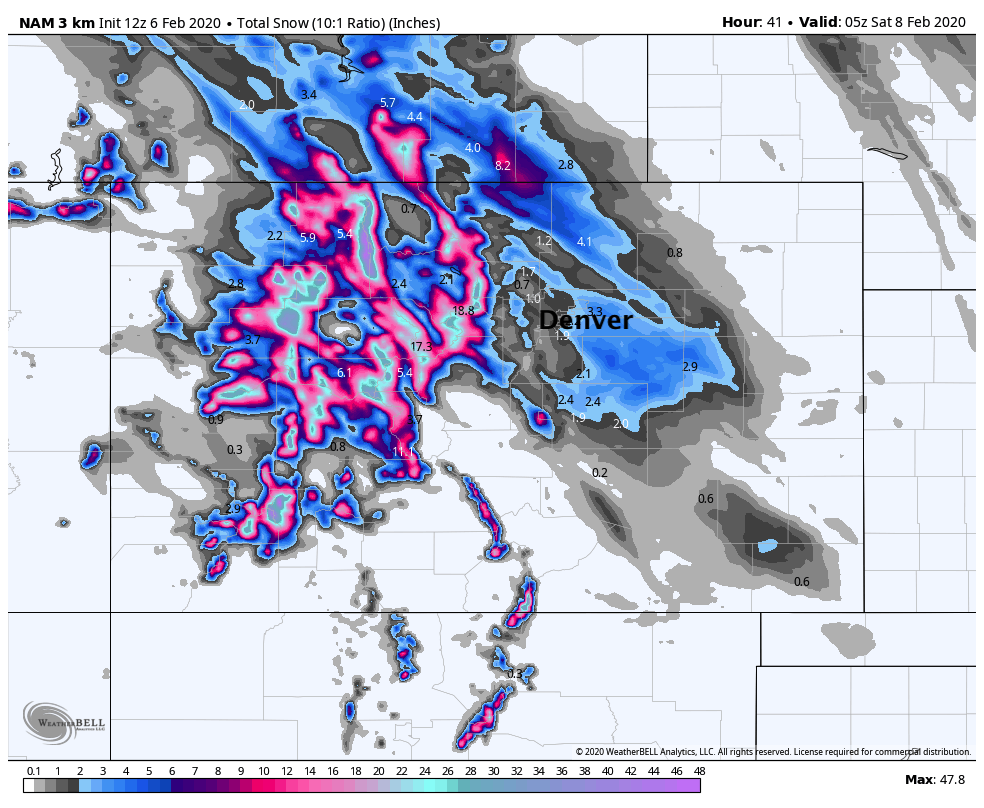 Checking on the latest high-resolution model the HRRR we see heavy snow in the mountains today: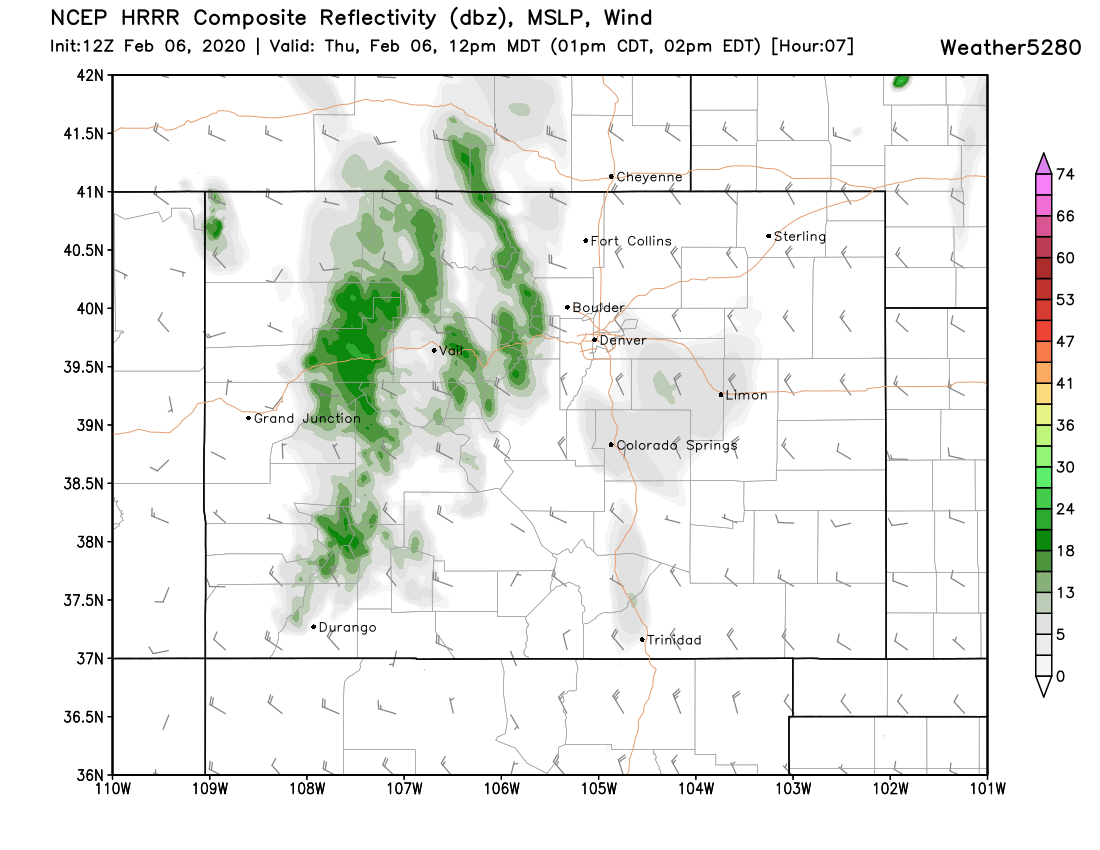 With a few bands of snow trying to peel off the mountains by the middle to the latter half of the evening rush: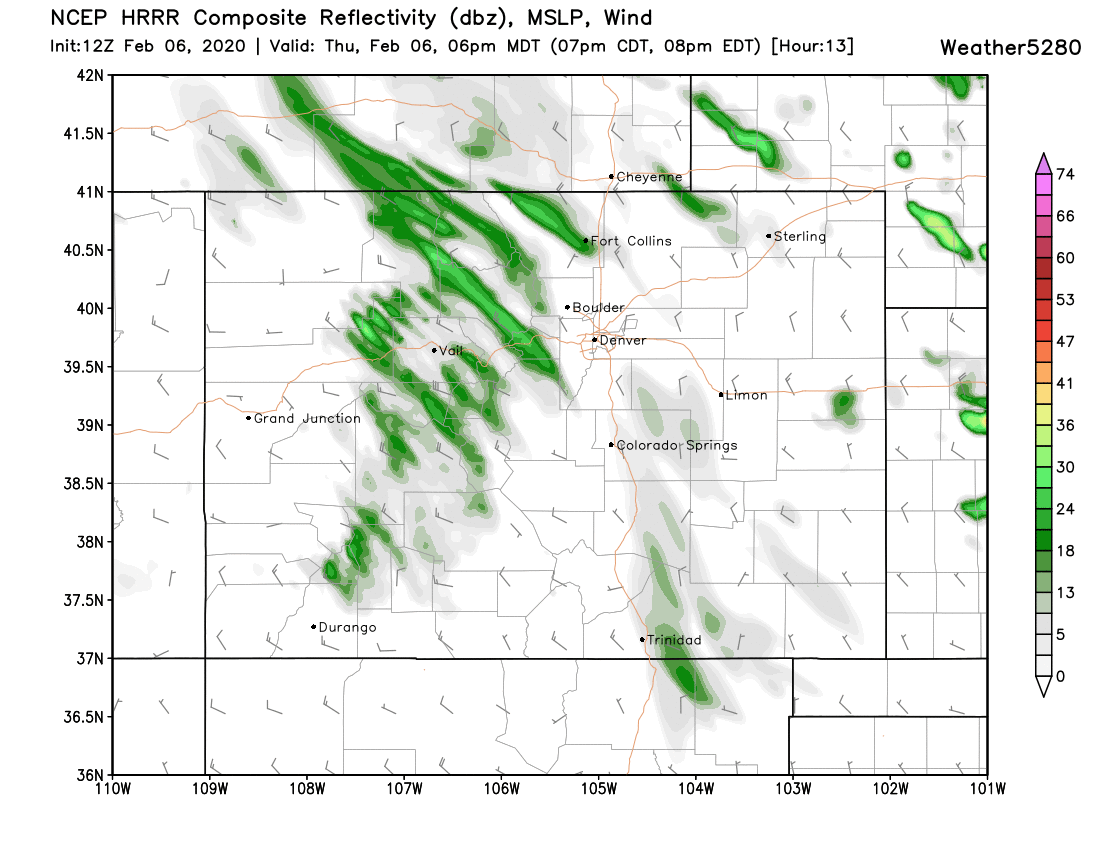 And this particular run of this particular model showing a narrow band of heavy snow across the western and southern reaches of the Denver metro area, extending clear through Colorado Springs. This is a great visual example of how narrow these bands of the heaviest snow may end up being. Pretty clear that the weather will be significantly different over a span of just a few miles with this setup: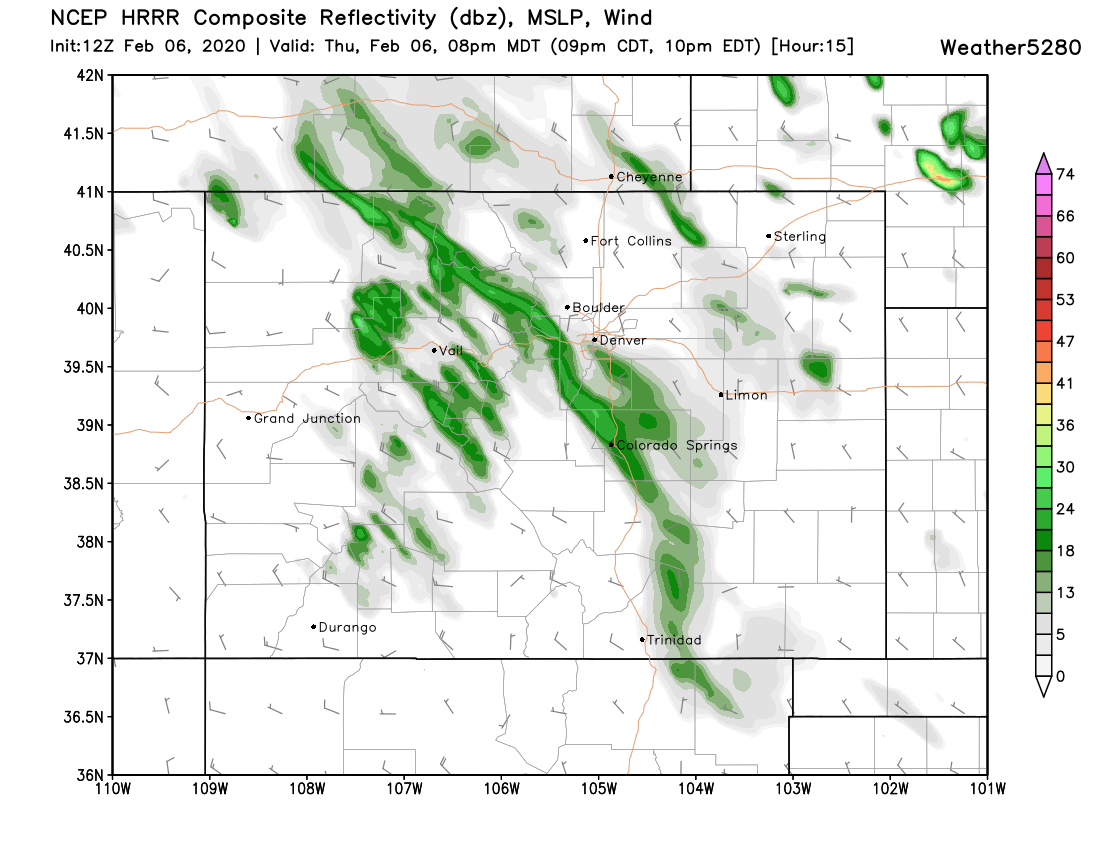 Again, we don't know the placement of these bands. This same model is likely to move that band by 20 miles again in its next run. The best strategy here in preparing for the next 24 hours or so is to wait and see, and if you do have to venture out, be ready for a wide range of weather and impacts across the region.
We'll see how the data today shakes out and offer an update this evening if needed. Keep us posted as to conditions at your place below!