Well, someone must have gotten the word that readers of 5280 weren't happy about the lack of snow in December and January. The start of February has been a completely different story, and there's more in the forecast for this coming week.
Today's snow will gradually come to an end through the evening hours, if it hasn't already stopped at your place. We managed another 2.75" today, bringing our month-to-date total to 19.75" here in Denver West.
Denver International Airport has picked up 8.8" of snow this month (not including any accumulation the airport may have seen this morning), bringing the season-to-date total to 38.7" –– three inches above the average to end February (still a few weeks to go!).
A chance of snow Monday
Tomorrow we see another round of snow moving through. The setup will similar to today, with areas favored to see snow being along and west of I-25.
The hourly planner shows probabilities for snow climbing midday on Monday, with that chance of snow extending into Monday night across the greater Denver metro area: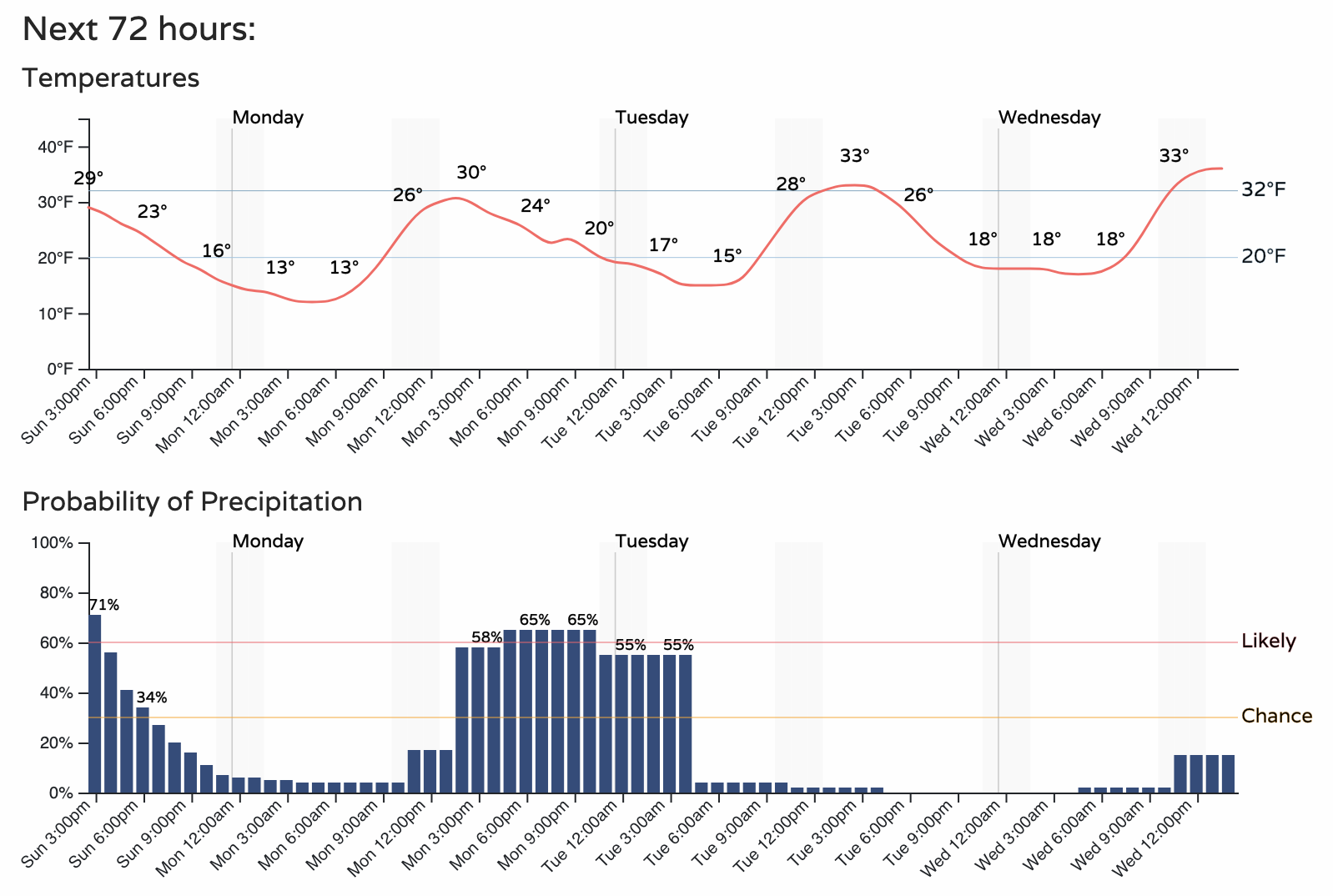 The 3km NAM, which did pretty well with today's snow, shows a similar potential for tomorrow. West of I-25 totals from 1 - 4", along and east of I-25 totals from 0 - 3". Greatest potential looks to be between Loveland and Colorado Springs: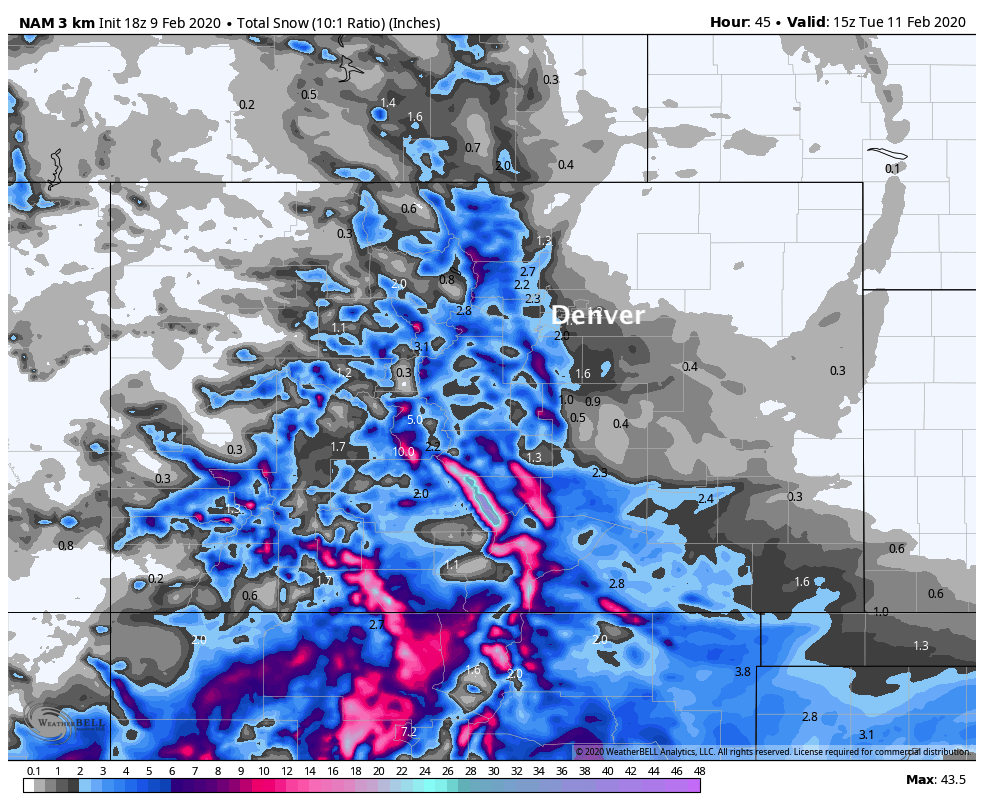 The GFS shows 0 - 2" up north of Denver, with 2 - 5" for the western and southern Denver suburbs: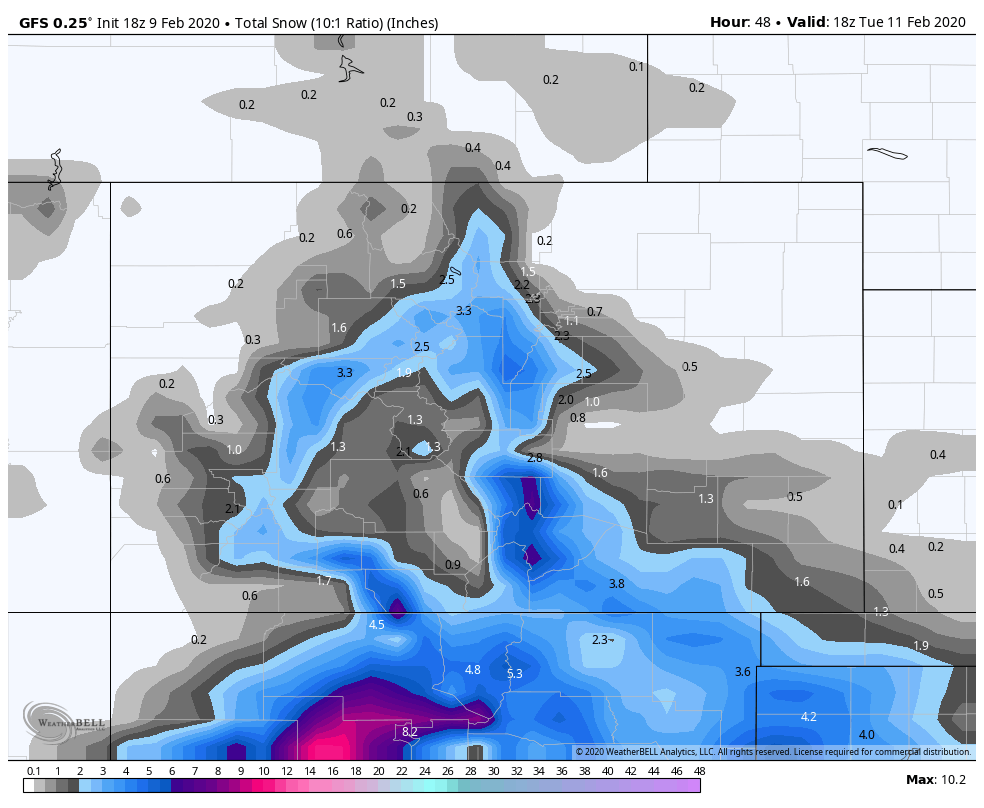 Timing will be everything tomorrow. Even if totals come in on the low side, snow moving through for the evening commute may cause some issues. With any luck at all totals will be low AND we'll get it done before the evening rush –– but currently the greatest probabilities look to potentially line up with that evening commute.
Remainder of the week
Beyond Monday, the week will be much quieter overall. We see a little disturbance come through on Wednesday that we'll need to watch, but as of right now it doesn't look too impactful.
Temperatures don't look all that cold, but not warm either. Most days will run a few degrees below average, with Monday looking like the coldest of the workweek –– highs in the low 30s before the afternoon snow arrives.
Tuesday and Wednesday highs will be in the upper 30s to near 40, with highs approaching 50 by the end of the week, should nothing change between now and then.
After Wednesday's "chance" for showers, the next system to keep one eye on comes late Friday into Saturday. Not great agreement on how this one progresses, so will just keep in the back of our minds for now.