Yesterday's storm has departed, leaving in its wake a blanket of snow across the Front Range and eastern plains. While we continue to see those chilly temperatures and pockets of snow/flurries this afternoon, the appreciable snowfall is over. Another coating to 1" will be possible for those that see these showers, but otherwise just a cold start to spring across Northeast Colorado.
At our place, we picked up 5.75" of snow, right within our low-end 5 - 10" range forecast issued for west Denver. At the airport, where official records are kept, we saw 6.0" of snow on Thursday, which fell nicely within out 3 - 8" range for the city.
The real "boom" snowfall totals came from the usual suspects, with upwards of 20" reported in the Pinecliffe and Nederland areas. You can find additional totals here, and see the map of interpolated snowfall totals below.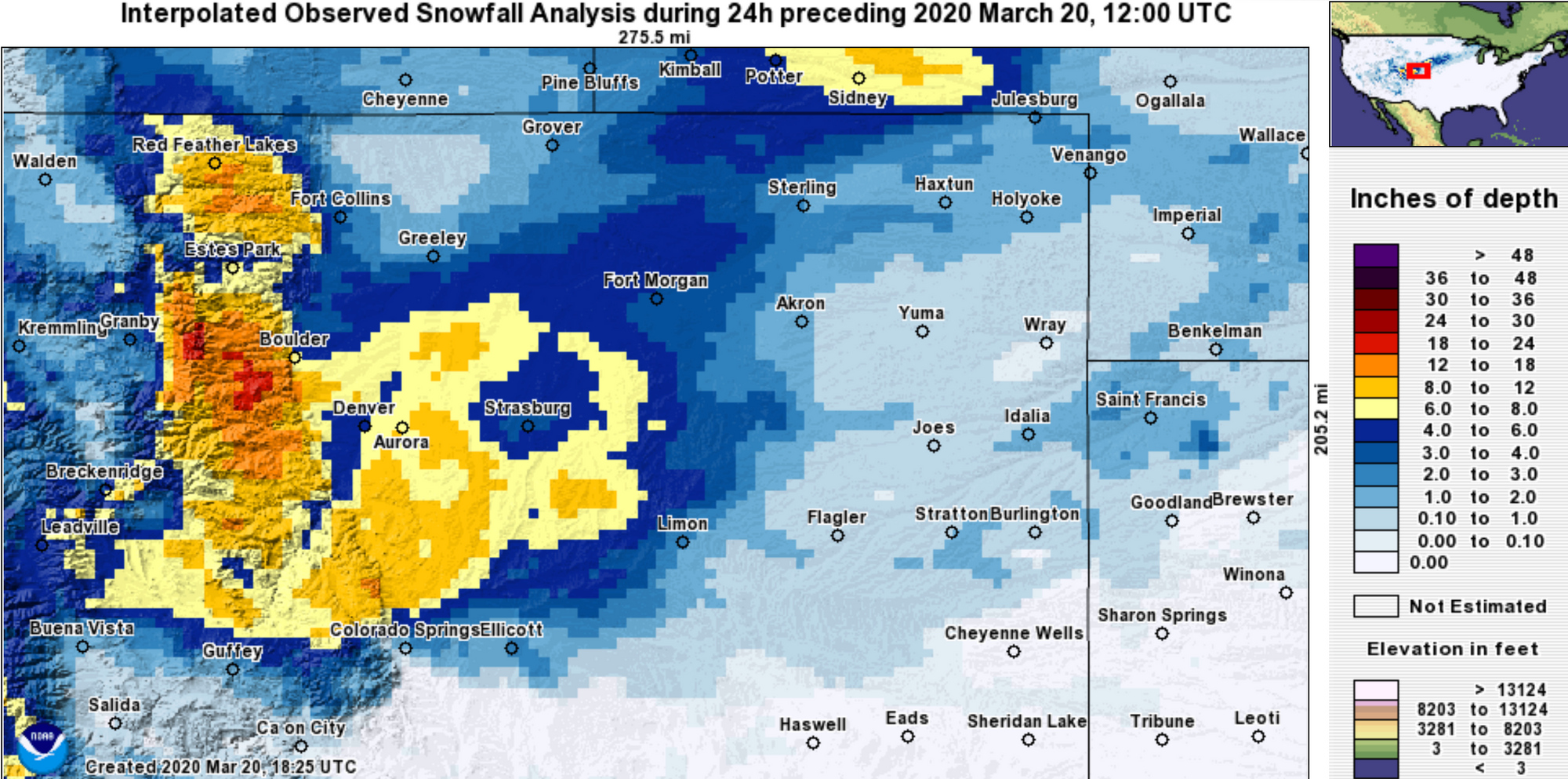 This system was GREAT for moisture as well. For the northern Front Range, we see precipitation totals pushing 2" in spots, with 0.5" to 1.5" across the greater Denver area over the last two days. As we noted in each forecast, the lone exception to this was across Southeast Colorado where we saw virtually no rain or snow: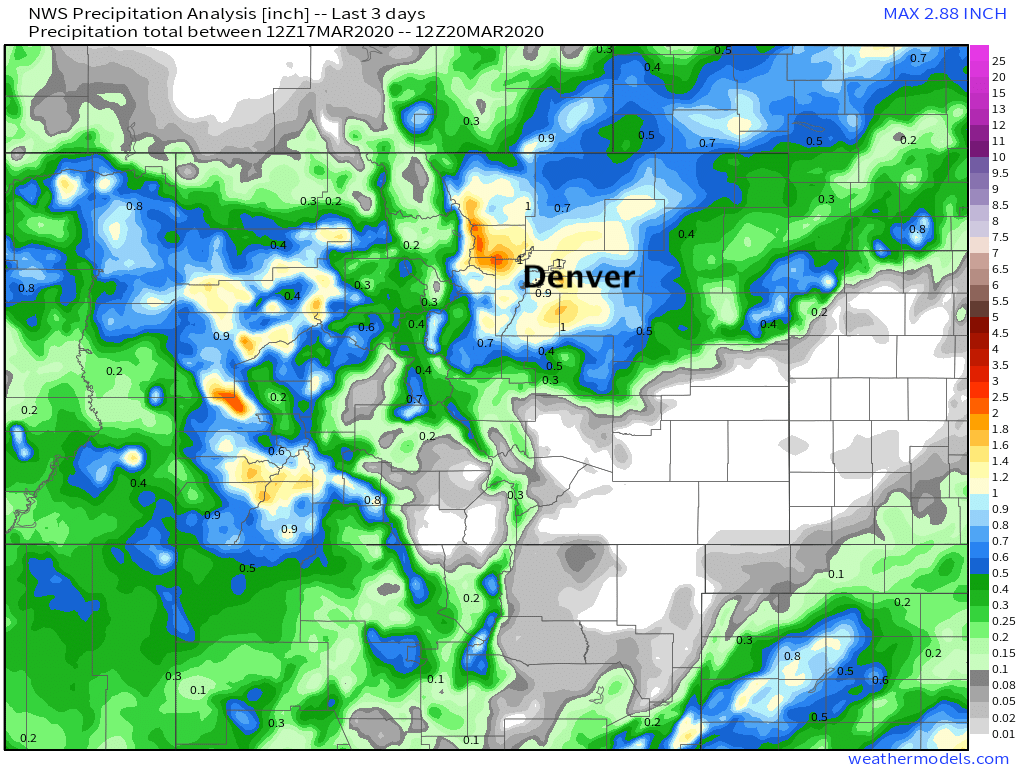 This afternoon, temperatures remain cold... and, we continue to see snow showers passing through across Northeast Colorado. This will be the theme into the evening hours, before gradually coming to an end tonight. We don't expect much additional accumulation, but a few areas could manage a coating to 1" under the heavier showers. Here's the radar as of early afternoon:
Tomorrow we see another disturbance move through. Temperatures will be much warmer than today, with highs near 50 degrees in Denver. There will be a 20 to 30% chance of showers in the afternoon and evening, both in the form of rain and snow.
Here's the hourly planner for Denver: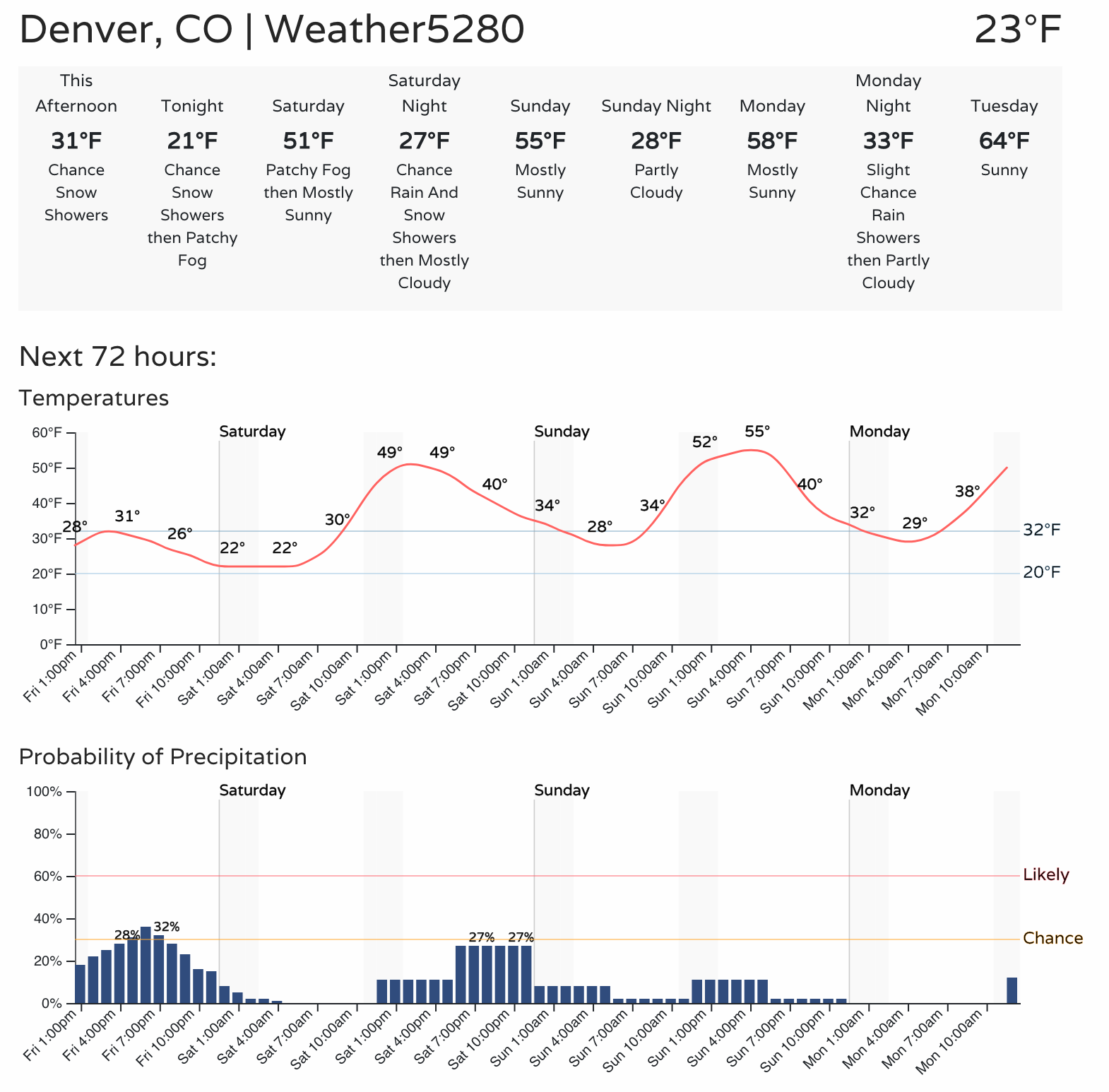 As for how much snow is possible? Likely not much. A few spots could see a 1/2" to 2" of snow IF heavier showers do develop... but the best chance for that will likely be across the foothills and Palmer Divide.
We'll see if anything changes tonight, and if this looks like more of an "event", we'll pass along an update Saturday. Otherwise, plan for those showers, but enjoy a warming trend for the weekend.