This morning we talked about all the nice weather we have to look forward to in the coming weeks. Tonight we talk about changes to that nice weather, as a cold front and some rain and snow will quickly erase what was a very mild start to April today.
While perhaps not a huge storm by April's standards, the changes on the way will be notable –– especially after highs near 70°F along the Front Range today.
Denver looks to top out in the upper 30s on Thursday, and perhaps won't do much better than that on Friday. The chance of rain and snow will be on the increase through midday Thursday, with the best opportunities for precipitation coming Thursday afternoon and evening for most Front Range cities.
Here's the hourly planner for Denver: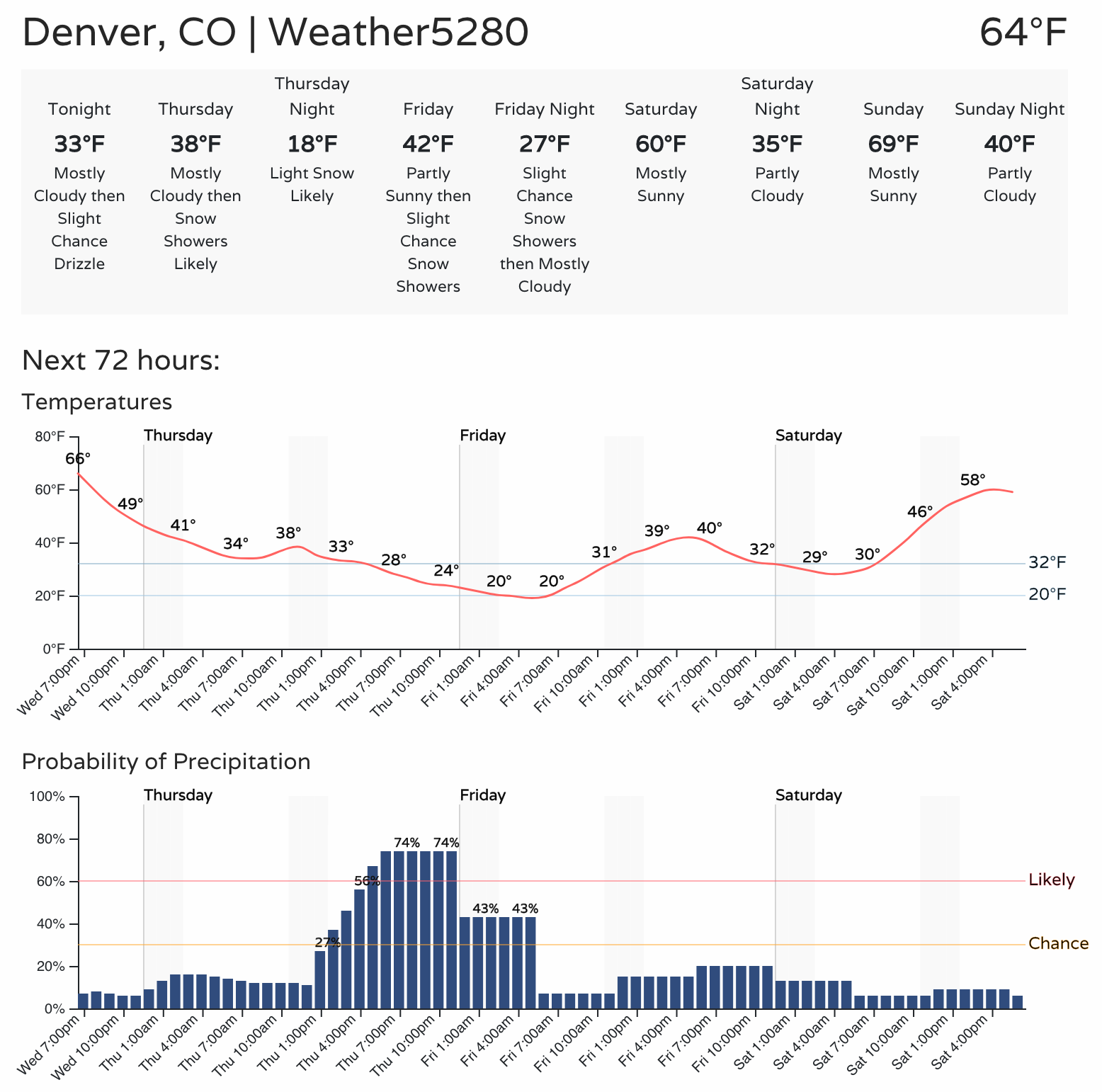 As you can see, we could see some drizzle tonight, with snow showers Thursday, and spotty (mostly) light snow up and down the urban corridor Thursday night. Whether we see rain or not Thursday may just depend on your location, but a decent chance we at least see some mixed precipitation at times.
As for how much snow? Probably not much. We'll throw everyone in the 0 - 3" range along the Front Range and Eastern Plains. Perhaps a coating to 2" where any bands set up... but outside of those, little or no accumulation is expected. The exception to this may be on the south side of the Palmer, with a few models trying to paint a heavier band of snow for northern El Paso and Elbert counties. Something we'll have to monitor headed into Thursday evening.
Here's a good idea of how much snow we'll see through Friday. Not a bad look for the Northern and Central Mountains, with lighter totals across Northeast Colorado:
And a look at our gamblers, show highest odds in the 0 - 1" range, with a few sneaky higher-end probabilities for select cities. We'll see.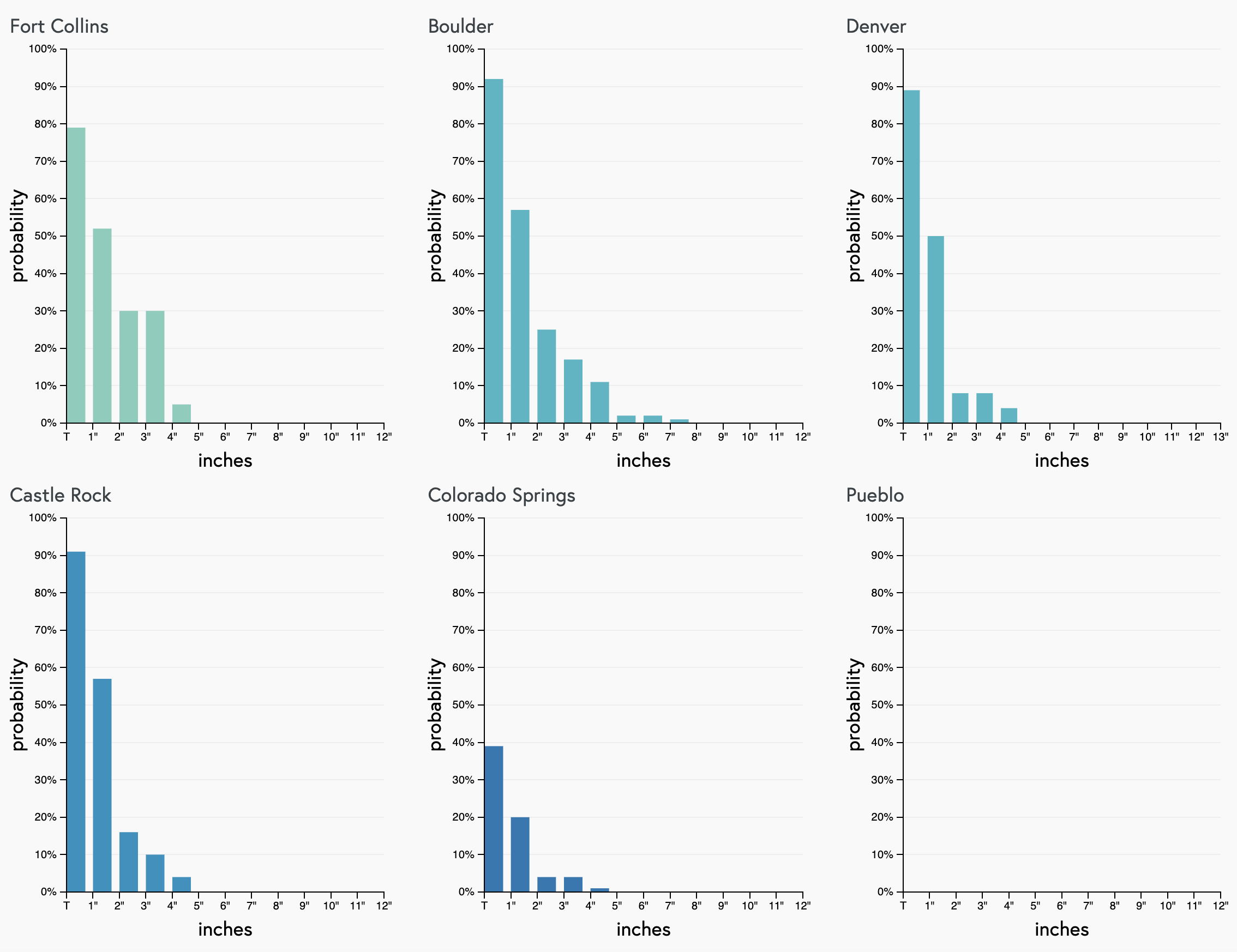 After a couple of chilly days, and a few cold nights, we quickly return to a warmer pattern this weekend. Highs will be near 60°F on Saturday, with the upper 60s for Sunday and into next week.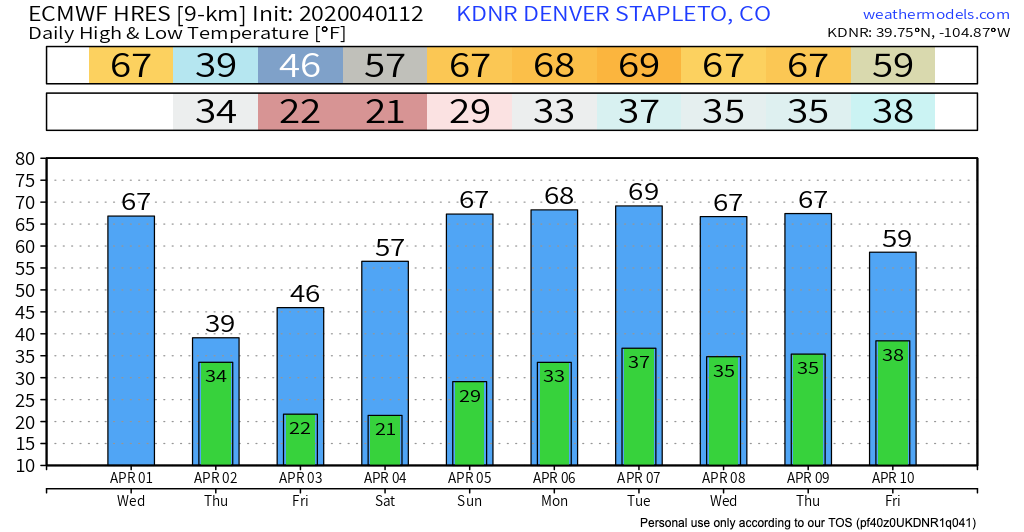 This is the third week in a row we've had a system move through to end the workweek. Looking ahead it looks like we could be tracking another system to end next week.