We hope everyone is enjoying this stretch of beautiful spring weather. We have one more pleasant afternoon to go before sharp changes arrive for the latter half of the weekend. If you have plans for a back yard Easter egg hunt, you may want to consider moving it to Saturday, as Sunday will be quite chilly with areas of snow across much of Northeast and East-Central Colorado.
The outlook shows just how big a crash in temperatures we're anticipating over the coming days. From the low 70s today, to near 70°F on Saturday, to the low teens by Monday morning.
IF this forecast holds, we're likely going to see many record cold temperatures across the region Monday morning. For Denver, the record low for April 13th is 17°F, set back in 1933. GFS MOS guidance has the airport bottoming out at 15°F in its latest package, with our forecast sitting at a chilly 12°F for Monday morning. Brr!
Needless to say, if you've turned on water, or have any delicate vegetation, you'll want to protect pipes and plants Sunday - Tuesday or so.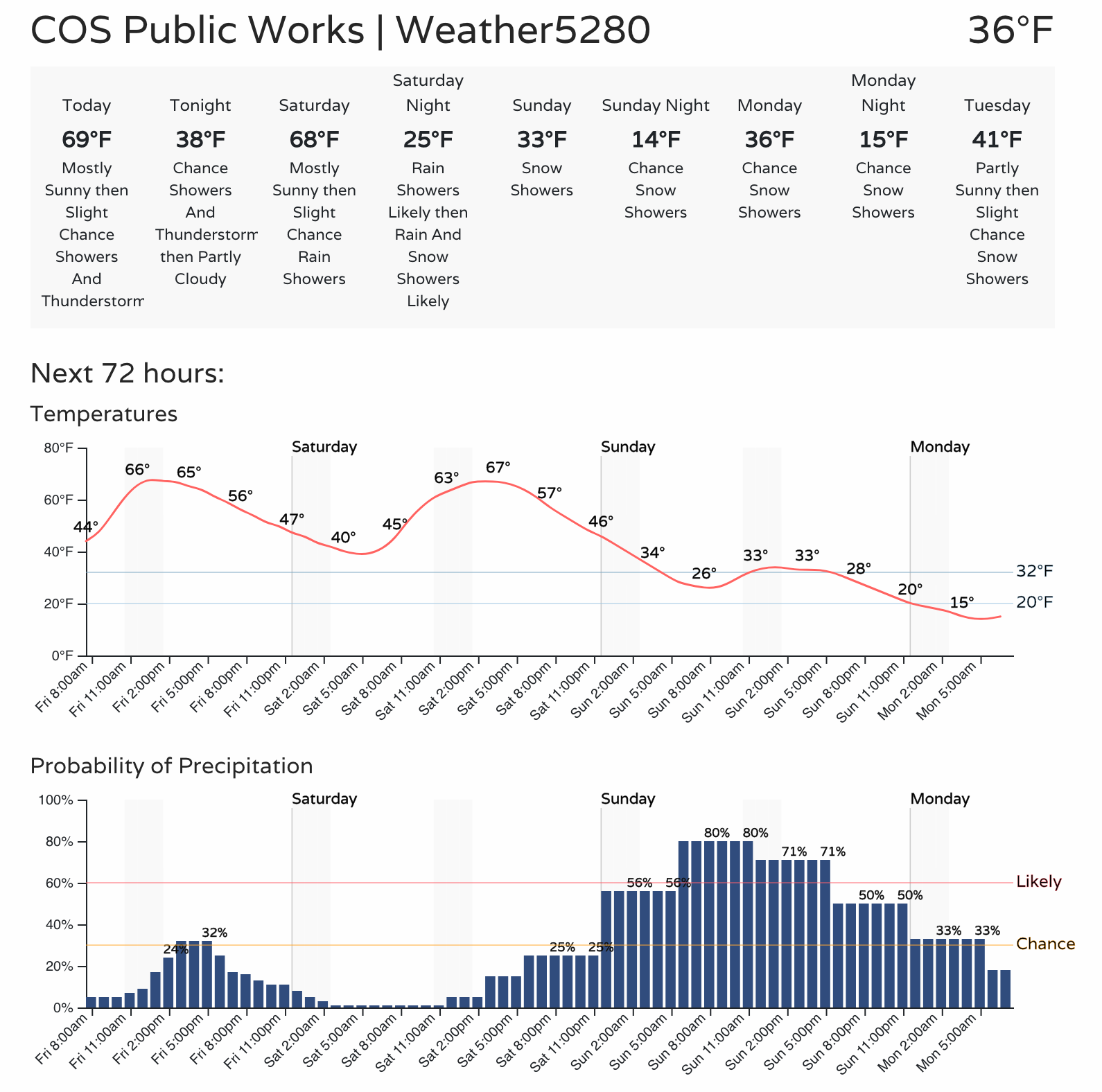 We'll see the cold front cruise through northern Colorado Saturday night, or perhaps Sunday morning if it slows down a bit. By Sunday evening you can see the COLD is fully entrenched across Eastern Colorado and the high plains: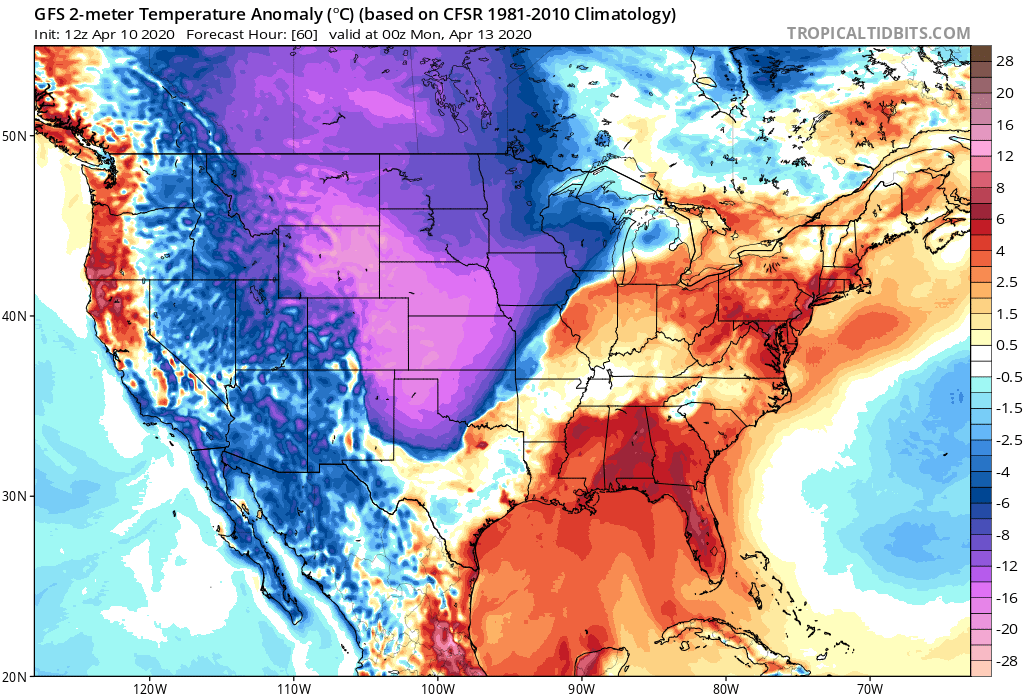 By Tuesday the cold has overtaken much of the country, though the anomalies are not as extreme: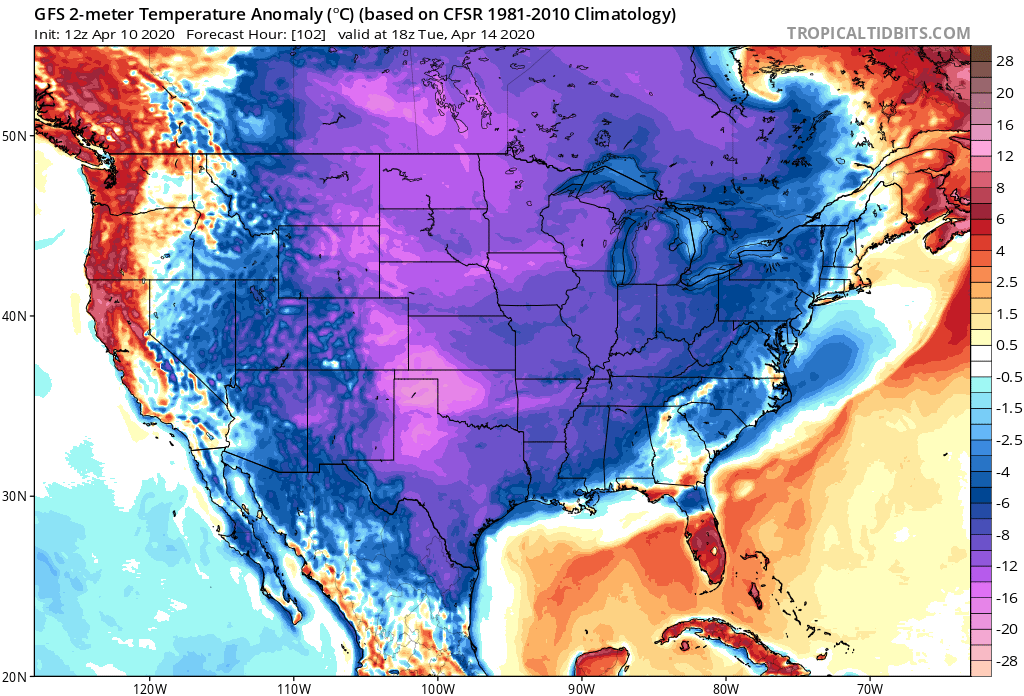 Snow
Along with the cold, we'll see some snow. First, a chance of showers and thunderstorms on Saturday evening, then off and on snow Sunday through Tuesday. The best chance for accumulating snow across Northeast Colorado and the Front Range looks to come late Saturday night into Monday morning.
While perhaps not a huge storm by April standards, the dramatic change from our weather today, the bitter cold, and the possibility of several inches of snow across the region will make it impactful.
The foothills stand the best chance to see the heavier snowfall totals. But, even the I-25 urban corridor could end up with several inches in spots by Monday night. There will be a fair amount of energy with this system, some locally heavy bands of snow, and plenty of cold air –– so while most models have backed ahead from heavier totals at this point, you'll see trailing high-end probabilities indicating some potential for "boom" totals in some areas.
A look at our gamblers, likely focusing on the 7day probabilities below, you'll see Boulder leading the back with the greatest potential to see several inches from this system. Still, pretty good odds for Denver, Fort Collins, and Castle Rock to fall into the 2 - 5" range as things sit today: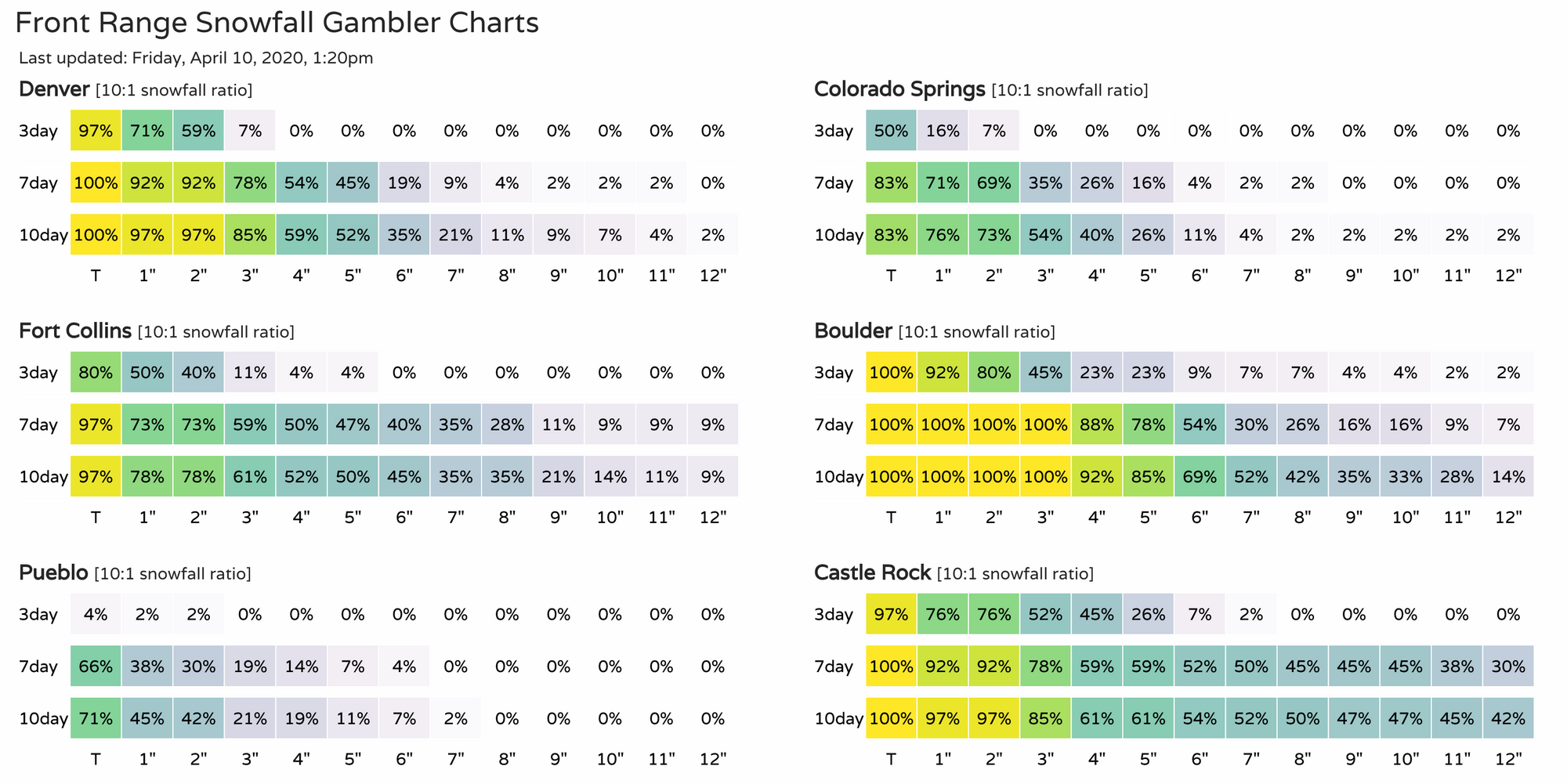 Unfortunately, there will be a severe side to this system as well. For those with loved ones across the Southeast, please make sure they are making preparations for severe weather on Sunday as the threat of strong storms on Sunday. From the SPC:
An outbreak of severe thunderstorms appears likely Sunday into
Sunday night, with the greatest threat expected from Louisiana
east-northeastward through much of the Southeast and Tennessee
Valley. Strong, long-tracked tornadoes and potentially widespread
damaging wind are possible.
Here is the latest hazard map for Sunday: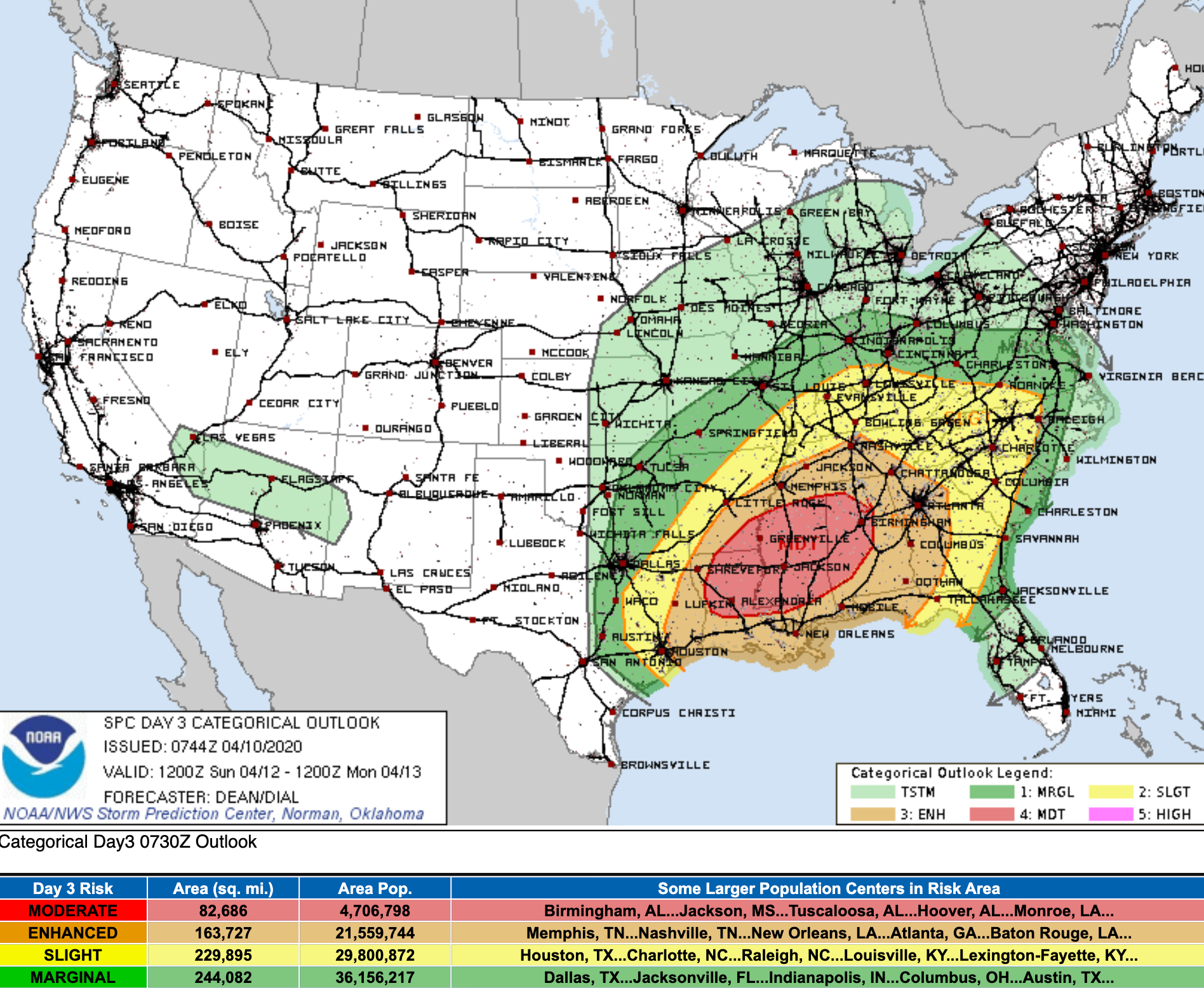 We'll plan to get another update out tomorrow. The cold looks like a done deal for us, but there will be shifts in how much snow we may ultimately see. For now, plan on the cold and snow to end the weekend, and get outside today and tomorrow and enjoy this beautiful weather if at all possible!