More snow is in the forecast even as some areas have already seen more than their fair share.
As we opined on Saturday, "the Boulder area the most likely to "feel" like a good storm from this one" and I'd say this morning that this was an understatement –– some parts of Boulder county are approaching 20" of snow as of midday Monday.
While others haven't seen much accumulate, even parts of the Denver area have done quite well. Our station, located in Denver West has picked up nearly 7" of snow since mid night, and managed about 1" on Sunday (though most of that melted).
Snowfall totals map: Latest totals from NWS Boulder
We've seen both why daytime light snow/weak upslope can't be trusted in mid April (yesterday), and why you can't sleep on cold temperatures and overnight snow this time of year either. While totals are impressive, what's most impressive is how light and fluffy this snow is –– really allowing it to pile up, but nowhere near the water content you may expect this time of year from a snow storm.
I went back and ran yesterday morning's snowfall gamblers again, and you can easily see the upside potential for Boulder from this event. Denver's and Castle Rock's were quite high too, but for Denver that was mostly sniffing out the late week storm, and Castle Rock a combo of this afternoon and late week: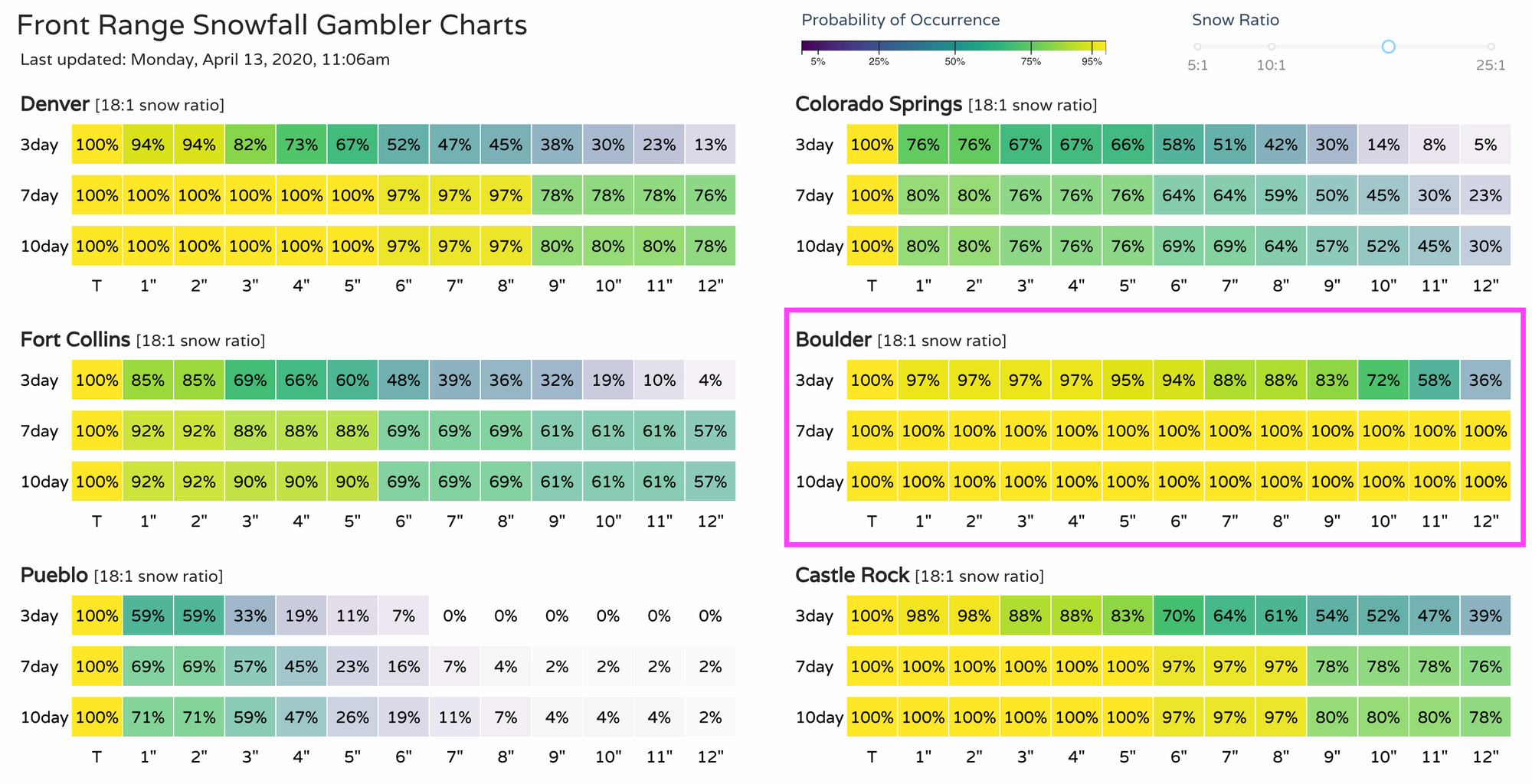 Today, even as the snow continues, plenty of melting is underway with high sun angle really helping to clear the roads this morning. We'll likely stay in pretty good shape on the roadways today (they will be wet, however), with the potential for snow to cover the roads again this evening and overnight where we do see those snow showers persist.
Today and tonight
Denver broke its record low for the date this morning bottoming out at 15°F this morning at Denver International Airport, breaking the old record of 17°F set back in 1933. It's possible we'll do it again tonight, with a low of 15°F again forecast, and a record low of 15°F for April 14th, again set back in 1933.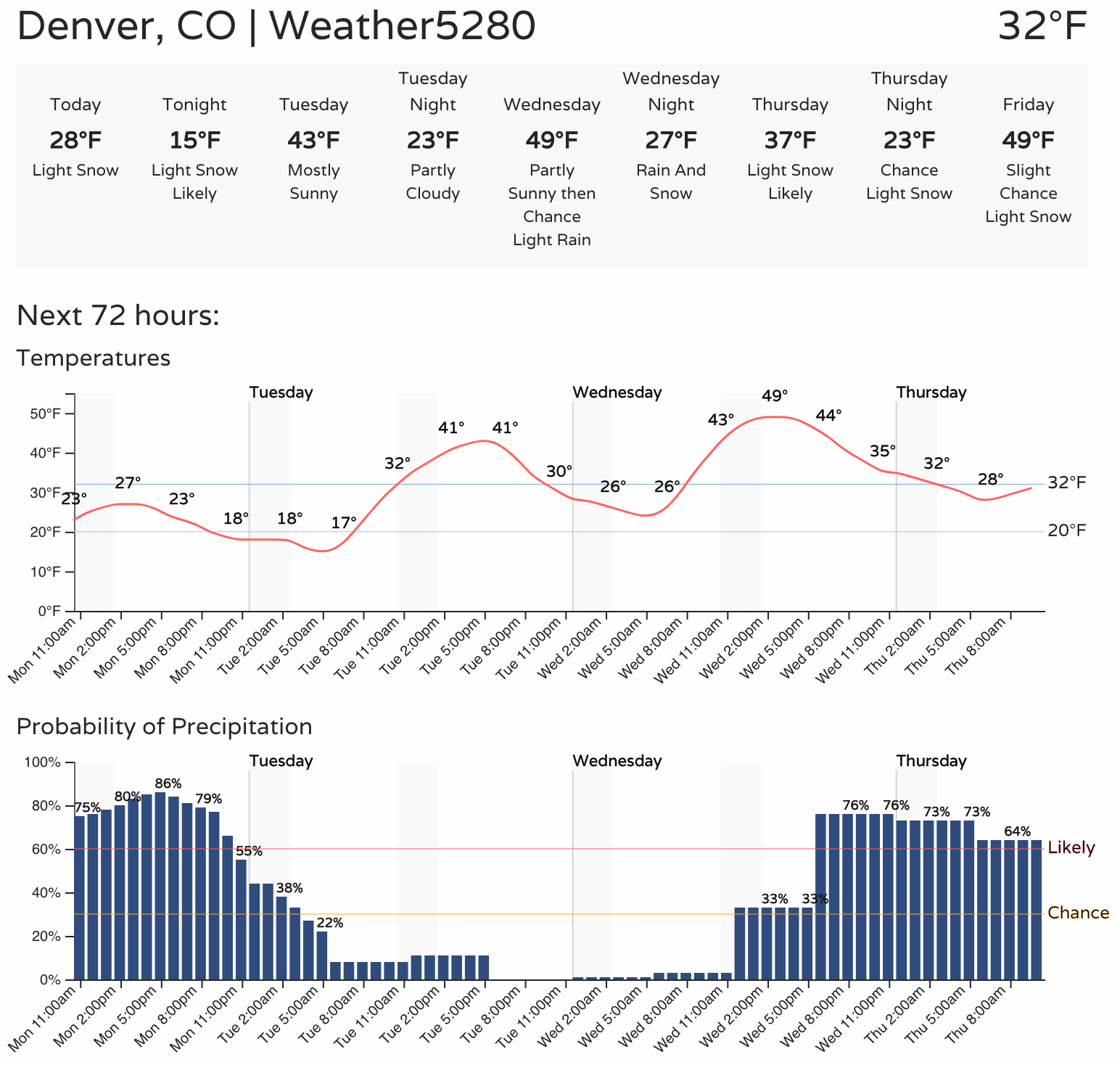 With that cold, we're likely to see light to moderate snow continue off and on well into tonight. The latest HRRR shows the greatest snowfall totals focusing over the Palmer Divide this afternoon and evening, where the National Weather Service has issued a Winter Weather Advisory. Here totals from 2 - 6" will be possible, perhaps closer to 4 - 9" for some spots given the cold in place.
The foothill west of Denver (again, Boulder and Jefferson counties) are also likely to see several more inches of snow through tonight.
For Denver and points north along the I-25 urban corridor, totals are likely to remain lower –– though a fluffy 1 - 4" is certainly possible in spots, with lower totals more likely the further north of Denver you go.
Here's the HRRR snowfall forecast through 1am tonight. Castle Rock, Monument, Colorado Springs (north), Elizabeth all with good chance at seeing some appreciable snow: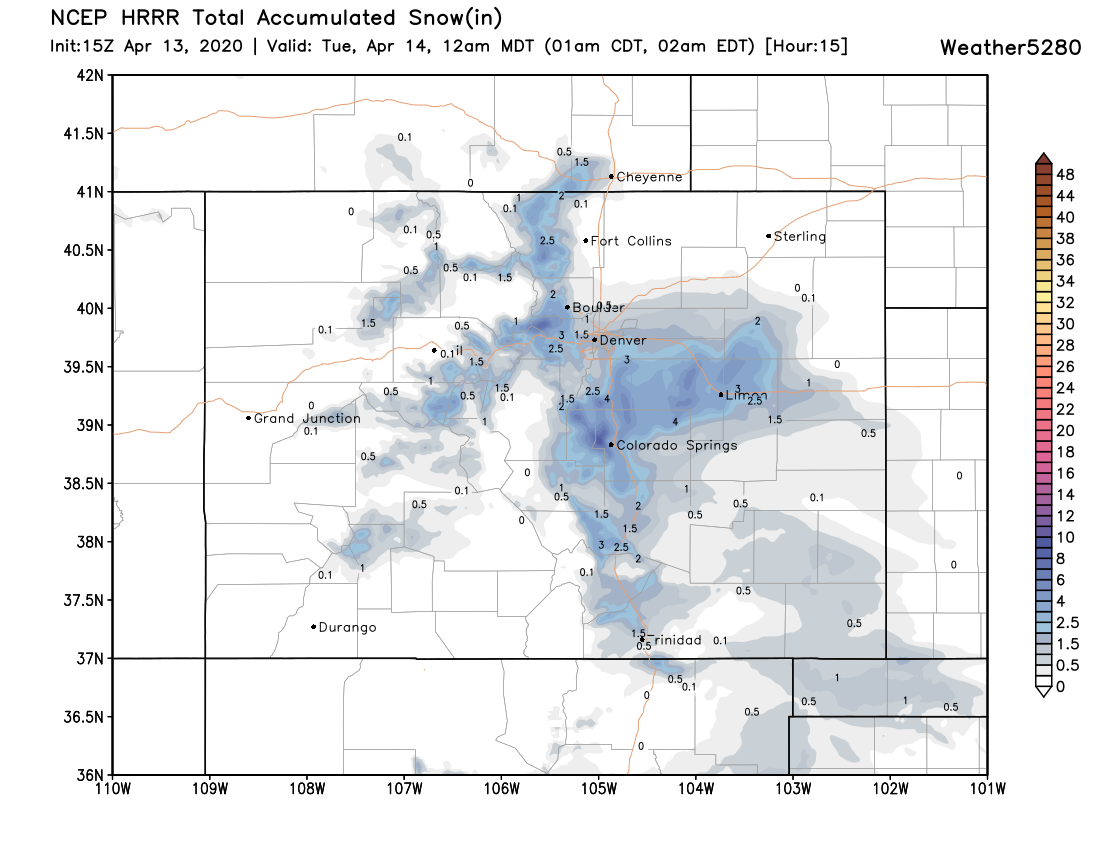 As the snow clears Tuesday morning, temperatures should warm into the low 40s for the Denver area. By Wednesday afternoon highs will be back near 50°F.
Wednesday through Friday
The rebound, however, looks to be short-lived. Another system swings through Wednesday night through Thursday night and it very well could deliver another round of snow to the Front Range.
Models show snow moving into Northern Colorado by early Thursday morning, and becoming widespread across the Front Range and all of Northeast Colorado Thursday during the day.
Some models show the potential for more significant totals in spots, but are having a difficult resolving on any consistency here –– much like with this current setup. For now, plan on the cold and unsettled weather sticking with us through Friday, and the chance we see another round of accumulating snowfall as well. For those well north of the Denver/Boulder area, this late week system may hold a bit more promise for banding across Northern Colorado. We shall see.
Here's the GFS forecast for early Thursday morning, snow filling in across Northern Colorado: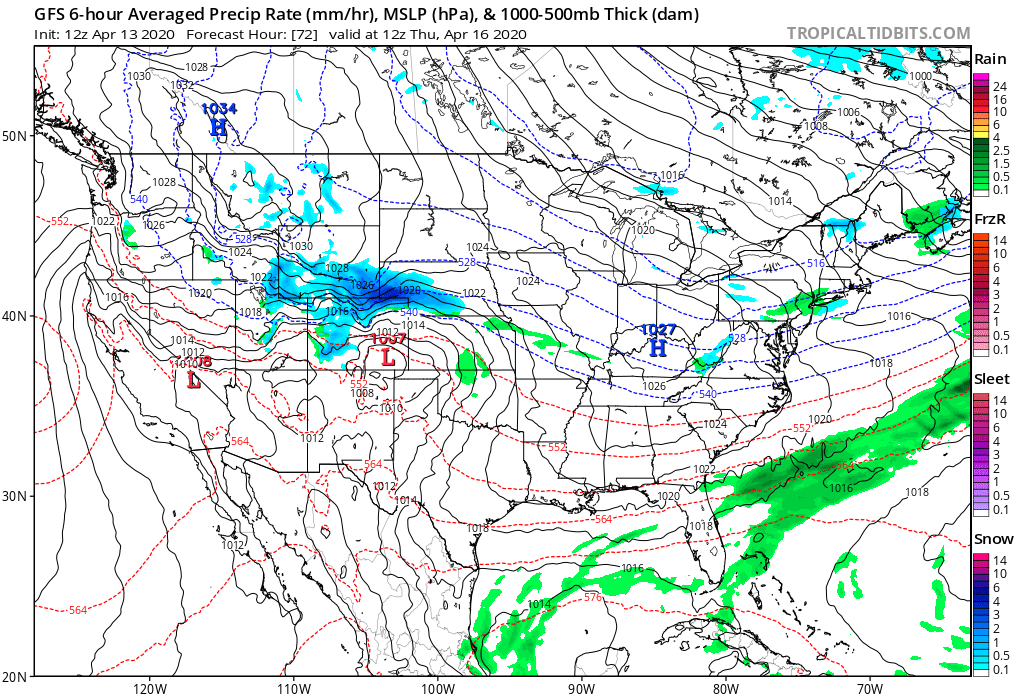 As our next wave digs in from the north: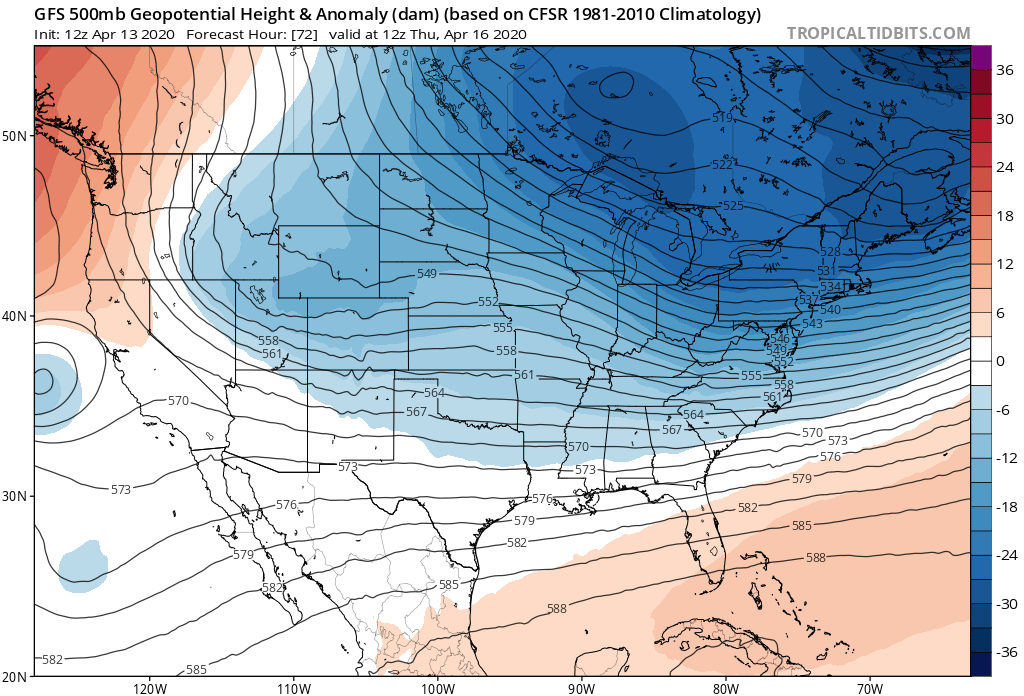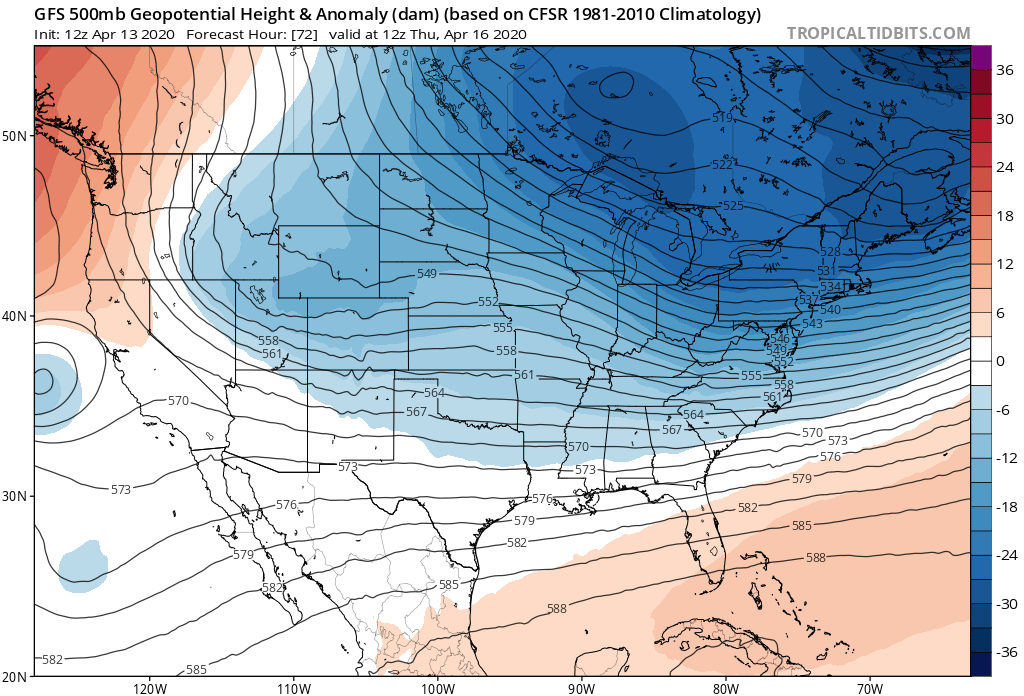 Here are the latest snowfall gamblers. These include this evening + Wed-Thur, so keep that in mind: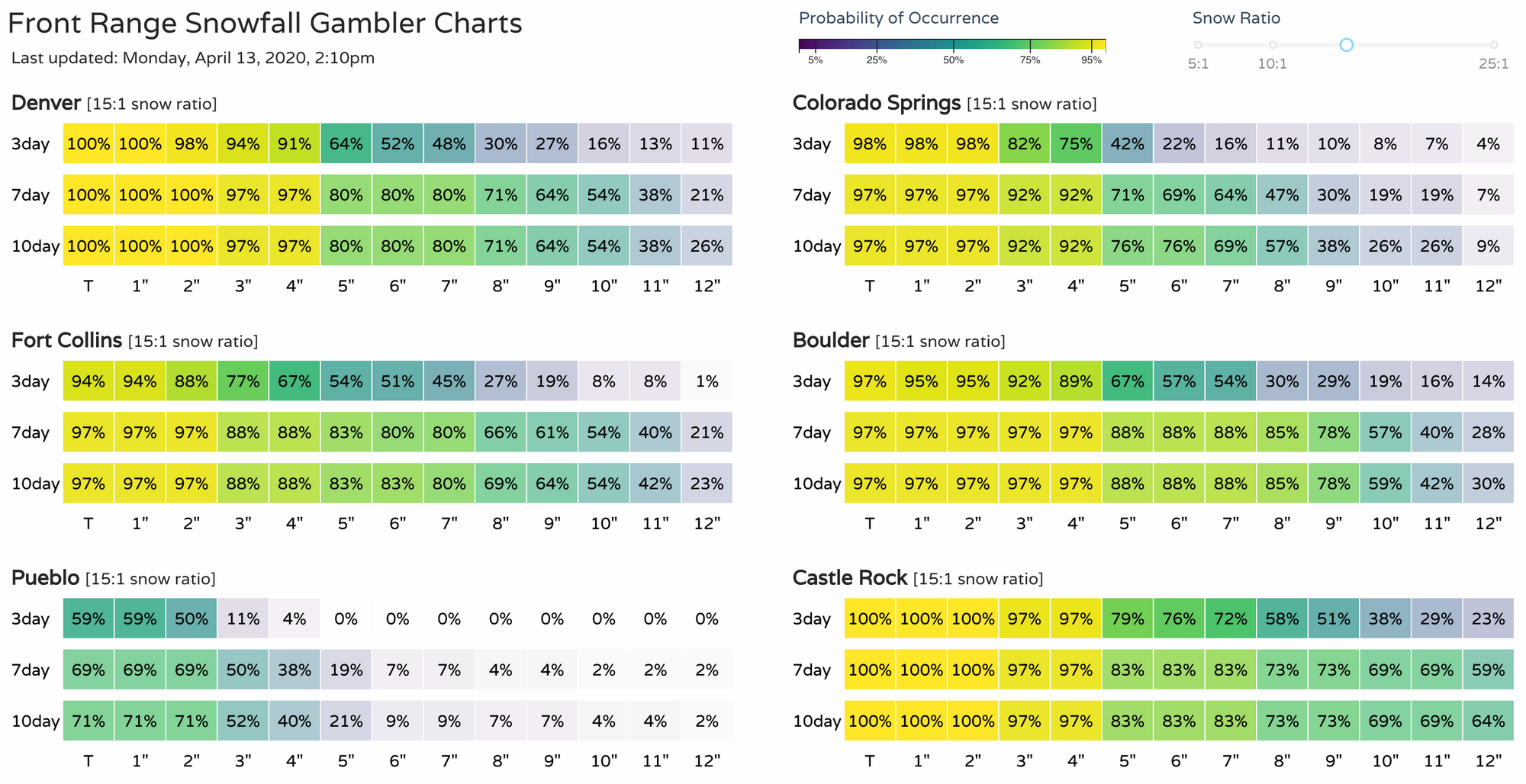 Stay tuned!