The season isn't over just yet, but many Colorado weather stations are ranked into their top 20 snowfall seasons on record already.
Boulder is in its snowiest season ever recorded there, and, as mentioned, we may see more snow there before the season ends next month.
As of this posting, 24 stations (with a minimum of 50 years of data) are within their respective top 20 snowfall years. Note that only those in the top ten (or bottom ten as shown below) are considered to be 20th percentile. I added the 11-20th ranks for my curiosity. Those locations here: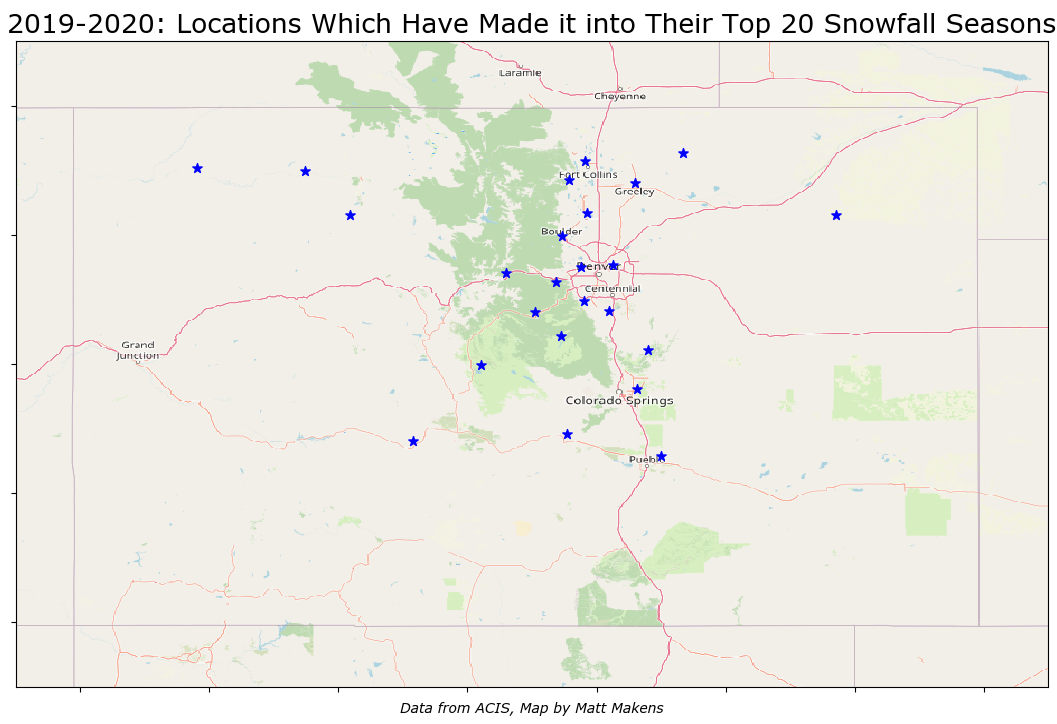 Here's a listing by station rank: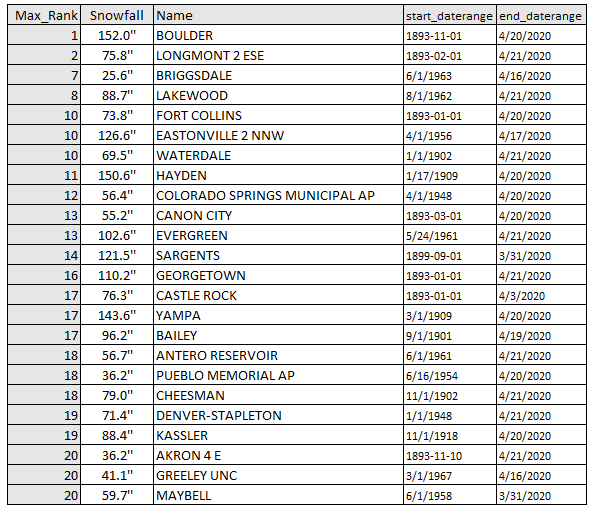 And, for those metro area locations with at least 30 years of data which are now in their top 5 seasons I give their histories for a basis of comparison:

Boulder easily secured the top spot this year. Loveland 2N is just an inch and a half from the top spot. Longmont 2ESE and Northglenn are in striking distance. (I include the period of record for each in parentheses. I also am using the NWS definition of a snow season of July 1st to June 30th).
I think with any snowfall analysis, it is important to make the point that period of record is vastly different for each, which is why I selected those at least 50 years old.
Further, reporting accuracy varies greatly among stations. Many have lots of missing values, many others may not be the ideal measurement sites, and others may not be accurately recording (I used to work at a site where some of the staff would just make something up to report, sheesh!).
I bring up the previous points to say that I tried to review the data to pull the most accurate sites and measurements –– I hope.
Anyway, let's move on.
It's important also to show Colorado's snowfall season to date to illustrate that much of the state hasn't been all that snowy at all, at least compared to average.
The season to date snowfall deviation from average: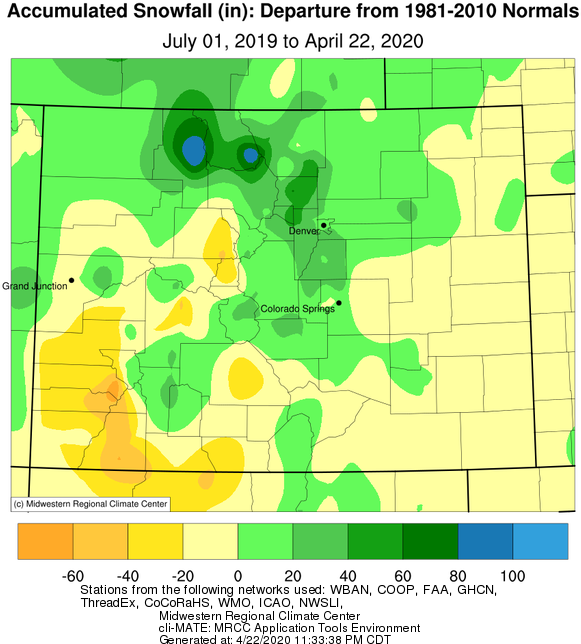 The southwest, parts of the central mountains, and most of the plains have had a snowfall deficit this season.
Still, the mountain river basins' snowpack is near average for this time of year –– 104% of average as of this post, which is positive news headed into the warm season.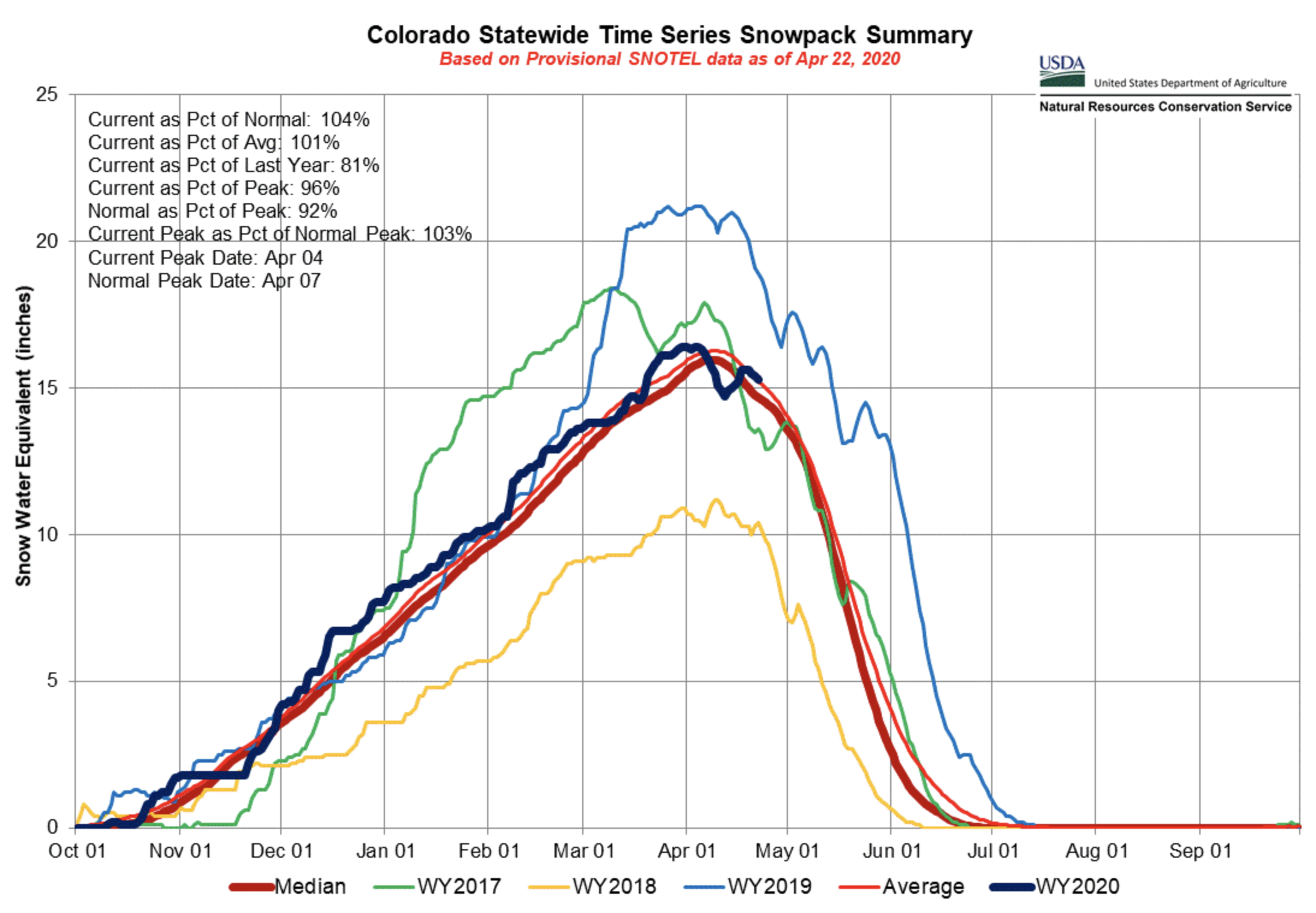 Here we have the lowest 20 ranks of snowfall for this season per station history: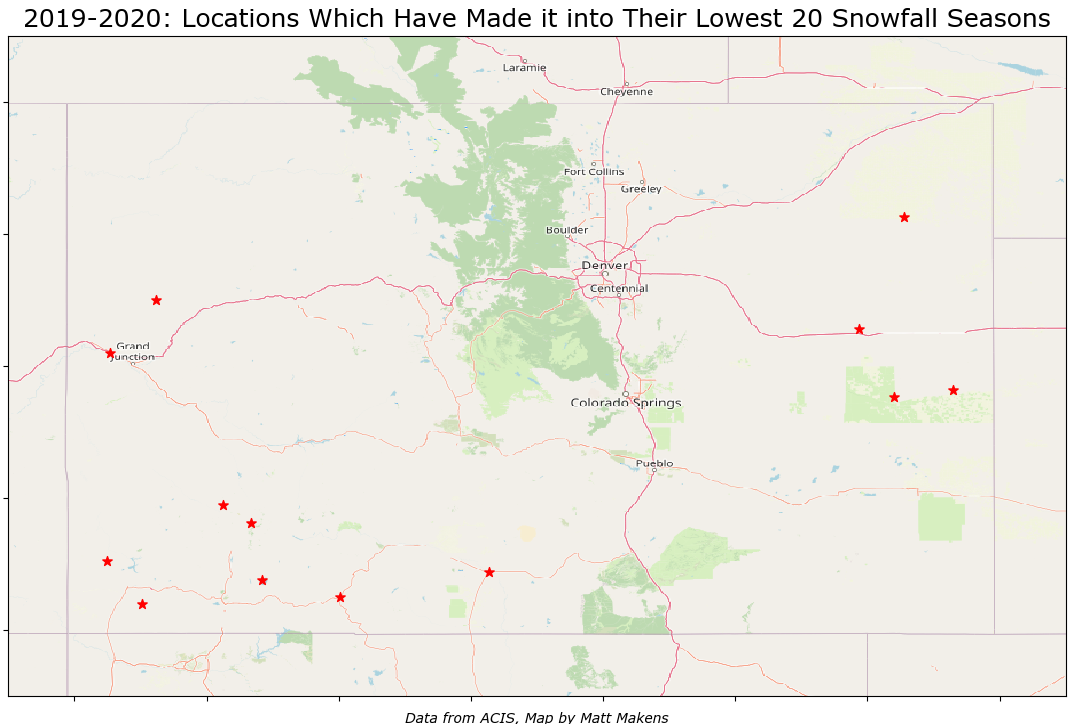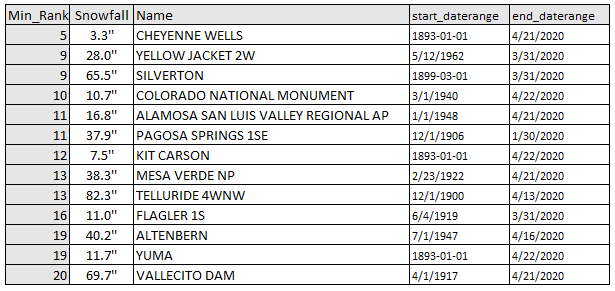 Again, station accuracy may come into play here just as I mentioned above.
We will revisit these numbers after we close out the season. No, we don't see epic snow on the way, but there is plenty of time to tally up some more snow before the end of the season. How many Mother's Day snows have we seen in recent years?