In the end, some good precipitation totals for many locations across Northeast and East-Central Colorado. Of course that wasn't the case for everyone, but for those areas (especially east of the urban corridor) that managed rain, a welcome couple of days to be sure.
Denver saw its best storms Friday evening, aligning with our highest probabilities as well. The main storms that moved through the metro area produced about a half inch to 3/4" of rain –– pretty well modeled, actually. Of course, not every neighborhood got in the action, some areas especially on the south side of the metro saw virtually no rain, and DIA saw just 0.14" of rain.
Here are the precipitation totals for the last three days: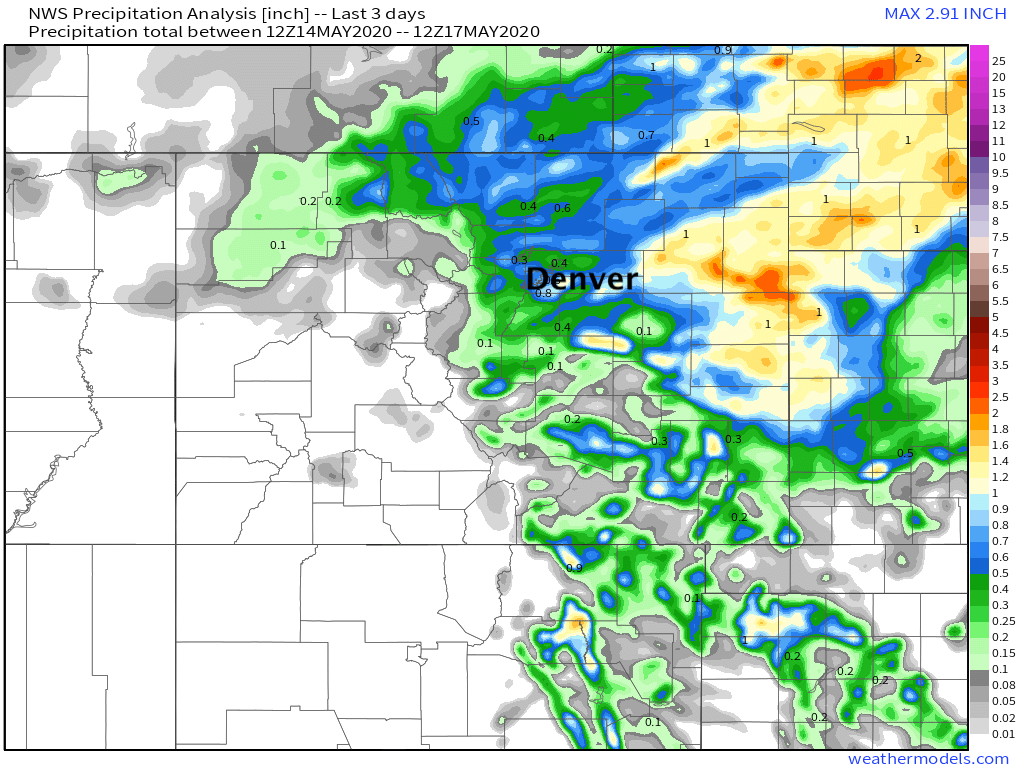 The weather story for the upcoming week will be all about the early season heat that will kick things off on Monday. Both Monday and Tuesday will likely reach 90°F in Denver, if not a few degrees above.
While not unheard of by this point in May, assuming we hit 90°F on either or both days it will be well ahead of schedule for our first 90°F+ day of the year. On average, the Denver Stapleton station does not see its first 90F day until June 5th, but over the last 20s years we've seen 90 degree days as early as May 5th.
So, probably not surprisingly, temperatures to start the week will be near record territory for highs in Denver, with a record high of 93°F on Monday and 90°F on Tuesday. Not sure we'll manage to break the record on Monday, but it'll be close. For Tuesday we are currently forecasting a tie with the current record. Record-setting or not, quite hot for this time of year!
Temperatures will moderate a bit by midweek, but in general it's a warm and mostly dry outlook for the week ahead.
While it's likely we see at least some high based storms as the week progresses, as things look today they won't provide much moisture to the region through the workweek. An isolated storm here or there bringing some brief heavy rain and gusty winds? Perhaps. But overall a much drier week ahead for the entire state it appears. Here are the expected precipitation anomalies through Friday morning –– browns are below average precip!
By next weekend and beyond it could be we start to see better storm coverage return, at least to the Northeast Plains. The European shows a cutoff low moving through the Four Corners region next week and pumping moisture into the Plains states: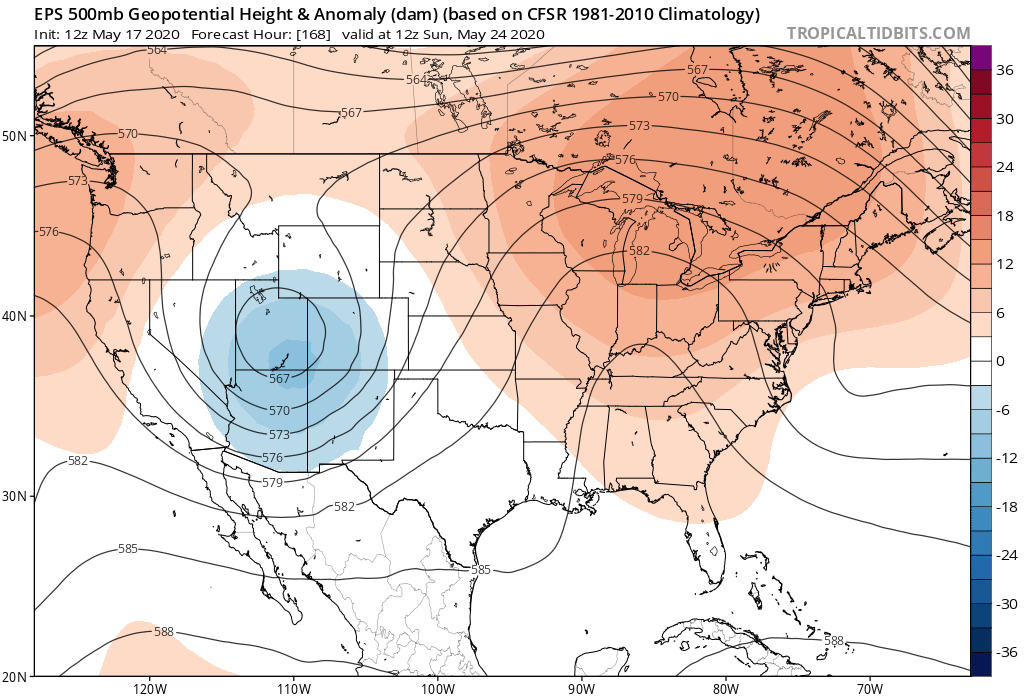 Its ensemble mean precipitation forecast shows much of that missing Eastern Colorado, but with a low like that moving through there's plenty of wiggle room, especially given it's a week out. Bottom line, after a quieter workweek ahead, keep an eye on the forecast as we head into next weekend.